Abstract
Introduction
The objective of this paper was to evaluate the relationship between urinary concentrations of InsP6, bone mass loss and risk fracture in postmenopausal women.
Materials and methods
A total of 157 postmenopausal women were included in the study: 70 had low (≤0.76 μM), 42 intermediate (0.76–1.42 μM) and 45 high (≥1.42 μM) urinary phytate concentrations. Densitometry values for neck were measured at enrollment and after 12 months (lumbar spine and femoral neck), and 10-year risk fracture was calculated using the tool FRAX®.
Results
Individuals with low InsP6 levels had significantly greater bone mass loss in the lumbar spine (3.08 ± 0.65 % vs. 0.43 ± 0.55 %) than did those with high phytate levels. Moreover, a significantly greater percentage of women with low than with high InsP6 levels showed more than 2 % of bone mass loss in the lumbar spine (55.6 vs. 20.7 %). The 10-year fracture probability was also significantly higher in the low-phytate group compared to the high-phytate group, both in hip (0.37 ± 0.06 % vs 0.18 ± 0.04 %) and major osteoporotic fracture (2.45 ± 0.24 % vs 1.83 ± 0.11 %).
Discussion
It can be concluded that high urinary phytate concentrations are correlated with reduced bone mass loss in lumbar spine over 12 months and with reduced 10-year probability of hip and major osteoporotic fracture, indicating that increased phytate consumption can prevent development of osteoporosis.
Access options
Buy single article
Instant access to the full article PDF.
USD 39.95
Price includes VAT (USA)
Tax calculation will be finalised during checkout.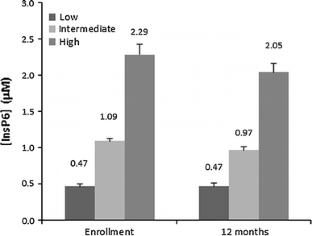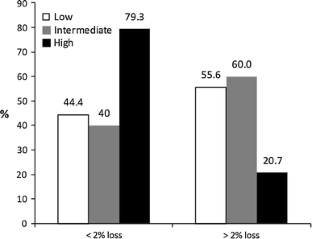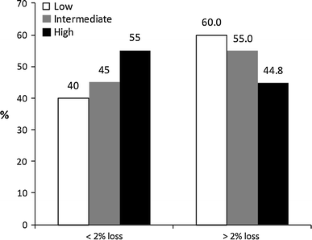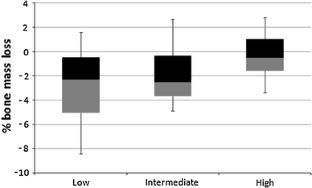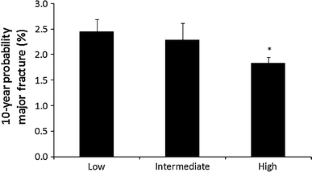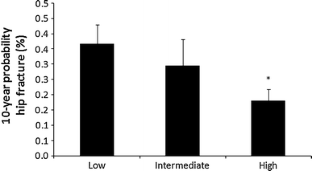 Abbreviations
SERMs:

Selective estrogen receptor modulators

FDA:

US food and drug administration

RANKL:

Receptor activator for nuclear factor κ B ligand

HRT:

Hormone replacement therapy

InsP6:

Myo-inositol hexaphosphate, phytate

HAP:

Hydroxyapatite

BMD:

Bone mineral density
References
1.

Kanis JA, Gluer CC (2000) An update on the diagnosis and assessment of osteoporosis with densitometry. Comm Sci Advisors Int Osteoporos Int 11:92–202

2.

Haralson RH, Zuckerman JD (2009) Prevalence, health care expenditures, and orthopedic surgery workforce musculoskeletal conditions. JAMA 302:1586–1587

3.

Kanis JA, Johnell O, Oden A, Johansson H, McCloskey E (2008) FRAX and the assessment of fracture probability in men and women from the UK. Osteoporos Int 19:385–397

4.

Kawai M, Modder UI, Khosla S, Rosen CJ (2011) Emerging therapeutic opportunities for skeletal restoration. Nat Rev Drug Discov 10:141–156

5.

Adami S, Zamberlan N (1996) Adverse effects of bisphosphonates—a comparative review. Drug Saf 14:158–170

6.

Khosla S, Burr D, Cauley J, Dempster DW et al (2007) Bisphosphonate-associated osteonecrosis of the jaw: report of a task force of the American Society for Bone and Mineral Research. J Bone Miner Res 22:1479–1491

7.

Cummings SR, San Martin J, McClung MR, Siris ES et al (2009) Denosumab for prevention of fractures in postmenopausal women with osteoporosis. N Engl J Med 361:756–765

8.

Pak CYC, Sakhaee K, Adamshuet B, Piziak V et al (1995) Treatment of postmenopausal osteoporosis with slow-release sodium-fluoride. Ann Intern Med 123:401–408

9.

Mamelle N, Dusan R, Martin JL, Prost A et al (1988) Risk-benefit ratio of sodium-fluoride treatment in primary vertebral osteoporosis. Lancet 2:361–365

10.

Quattrocchi E, Kourlas H (2004) Teriparatide: a review. Clin Ther 26:841–854

11.

Neer RM, Arnaud CD, Zanchetta JR, Prince R et al (2001) Effect of parathyroid hormone (1–34) on fractures and bone mineral density in postmenopausal women with osteoporosis. N Engl J Med 344:1434–1441

12.

Lindsay R, Nieves J, Formica C, Henneman E et al (1997) Randomized controlled study of effect of parathyroid hormone on vertebral-bone mass and fracture incidence among postmenopausal women on estrogen with osteoporosis. Lancet 350:550–555

13.

Writing group for the women's health initiative investigators (2002) Risks and benefits of estrogen plus progestin in healthy postmenopausal women. JAMA 288:321–333

14.

Meunier PJ, Roux C, Seeman E, Ortolani S et al (2004) The effects of strontium ranelate on the risk of vertebral fracture in women with postmenopausal osteoporosis. N Engl J Med 350:459–468

15.

Grases F, Simonet BM, Prieto RM, March JG (2001) Variation of InsP4, InsP5 and InsP6 levels in tissues and biological fluids depending on dietary phytate. J Nutr Biochem 12:595–601

16.

Grases F, Simonet BM, Prieto RM, March JG (2001) Dietary phytate and mineral bioavailability. J Trace Elem Med Biol 15:221–228

17.

Grases F, Simonet BM, Prieto RM, March JG (2001) Phytate levels in diverse rat tissues: influence of dietary phytate. Br J Nutr 86:225–231

18.

Schlemmer U, Frolich W, Prieto RM, Grases F (2009) Phytate in foods and significance for humans: food sources, intake, processing, bioavailability, protective role and analysis. Mol Nutr Food Res 53:S330–S375

19.

Grases F, Isern B, Sanchis P, Perello J et al (2007) Phytate acts as an inhibitor in formation of renal calculi. Front Biosci 12:2580–2587

20.

Hawkins PT, Poyner DR, Jackson TR, Letcher AJ et al (1993) Inhibition of iron-catalyzed hydroxyl radical formation by inositol polyphosphates—a possible physiological-function for myo-inositol hexakisphosphate. Biochem J 294:929–934

21.

Grases F, Sanchis P, Prieto RM, Perello J et al (2010) Effect of tetracalcium dimagnesium phytate on bone characteristics in ovariectomized rats. J Med Food 13:1301–1306

22.

Lopez-Gonzalez AA, Grases F, Roca P, Mari B et al (2008) Phytate (myo-inositol hexaphosphate) and risk factors for osteoporosis. J Med Food 11:747–752

23.

Lopez-Gonzalez AA, Grases F, Perello J, Tur F et al (2010) Phytate levels and bone parameters: a retrospective pilot clinical trial. Front Biosci (Elite Ed.) 2:1093–1098

24.

Shamsuddin AM, Von Fraunhofer JA (2007) Decreasing titratable acidity of foodstuff or beverage, e.g. nutrient-enriched drinks, used to treat and prevent degeneration of teeth and other bones, involves depositing inositol phosphate composition into foodstuff or beverage. Patent. WO2007103110-A2

25.

Grases F, Perello J, Isern B, Prieto RM (2004) Determination of myo-inositol hexakisphosphate (phytate) in urine by inductively coupled plasma atomic emission spectrometry. Anal Chim Acta 510:41–43

26.

March JG, Simonet BM, Grases F (2001) Determination of phytic acid by gas chromatography-mass spectroscopy: application to biological samples. J Chromatogr B 757:247–255

27.

Grases F, Garcia-Gonzalez R, Torres JJ, Llobera A (1998) Effects of phytic acid on renal stone formation in rats. Scand J Urol Nephrol 32:261–265

28.

Conte A, Piza P, Garcia-Raja A, Grases F et al (1999) Urinary lithogen risk test: usefulness in the evaluation of renal lithiasis treatment using crystallization inhibitors (citrate and phytate). Arch Esp Urol 52:305–310

29.

Grases F, March JG, Prieto RM, Simonet BM et al (2000) Urinary phytate in calcium oxalate stone formers and healthy people—dietary effects on phytate excretion. Scand J Urol Nephrol 34:162–164

30.

Grases F, Prieto RM, Simonet BM, March JG (2000) Phytate prevents tissue calcifications in female rats. BioFactors 1:171–177

31.

Curhan GC, Willett WC, Knight EL, Stampfer MJ (2004) Dietary factors and the risk of incident kidney stones in younger women—nurses' health study II. Arch Intern Med 164:885–891

32.

Grases F, Sanchis P, Perello J, Isern B et al (2006) Phytate (myo-inositol hexakisphosphate) inhibits cardiovascular calcifications in rats. Front Biosci 1:136–142

33.

Grases F, Sanchis P, Perello J, Isern B et al (2008) Phytate reduces age-related cardiovascular calcification. Front Biosci 13:7115–7122

34.

Grases F, Sanchis P, Perello J, Isern B et al (2007) Effect of crystallization inhibitors on vascular calcifications induced by vitamin D—a pilot study in Sprague-Dawley rats. Circ J 71:152–1156

35.

Grases F, Sanchis P, Costa-Bauza A, Bonnin O et al (2008) Phytate inhibits bovine pericardium calcification in vitro. Cardiovasc Pathol 17:139–145

36.

Grases F, Santiago C, Simonet BM, Costa-Bauza A (2003) Sialolithiasis: mechanism of calculi formation and etiologic factors. Clin Chim Acta 334:131–136

37.

Grases F, Perello J, Sanchis P, Isern B et al (2009) Anticalculus effect of a triclosan mouthwash containing phytate: a double-blind, randomized, three-period crossover trial. J Periodontal Res 44:616–621

38.

Millan A, Pavelkova M, Sohnel O, Grases F (1998) Inhibition of calcium oxalate monohydrate crystal growth in high and low ionic strength solutions. Crystal Res Tech 33:777–786

39.

Grases F, March JG (1991) Adsorption processes during crystalline growth—an analytical tool. Trends Analyt Chem 10:190–195

40.

Rodan GA, Fleisch HA (1996) Bisphosphonates: mechanisms of action. J Clin Invest 97:2692–2696

41.

Rogers MJ (2003) New insights into the molecular mechanisms of action of bisphosphonates. Curr Pharm Des 9:2643–2658

42.

Russell RGG (2007) Bisphosphonates: mode of action and pharmacology. Pediatrics 119:S150–S162

43.

William NA, Marc DM (2010) Inositol hexakisphosphate inhibits mineralization of MC3T3-E1 osteoblast cultures. Bone 46:1100–1107

44.

Grases F, Simonet BM, Vucenik I, Prieto RM et al (2001) Absorption and excretion of orally administered inositol hexaphosphate (IP6 or phytate) in humans. BioFactors 15:53–61

45.

Grases F, Simonet BM, March JG, Prieto RM (2002) Inositol hexakisphosphate in urine: the relationship between oral intake and urinary excretion. BJU Int 85:138–142
Acknowledgments
F.T. thanks the Ministerio de Ciencia e Innovación de España for a Torres Quevedo contract. This work was supported by the Conselleria d'Innovacio i Energia del Govern de les Illes Balears and by project grant no. CTQ2010-18271 from the Ministerio de Ciencia y Tecnologia de España.
Conflict of interest
F.G. and J.P. declare that they are inventors of a pending patent application based on some aspects of this work. F.T. is employee at Laboratoris Sanifit. J.P. is employee and stockholder at Laboratoris Sanifit.
About this article
Cite this article
López-González, Á.A., Grases, F., Monroy, N. et al. Protective effect of myo-inositol hexaphosphate (phytate) on bone mass loss in postmenopausal women. Eur J Nutr 52, 717–726 (2013). https://doi.org/10.1007/s00394-012-0377-6
Received:

Accepted:

Published:

Issue Date:
Keywords
Bone mass loss

Bone mineral density

Osteoporosis

Phytate

Risk of fracture