Abstract
Purpose
The effect of polyphenol-rich cloudy apple juice (CloA) consumption on plasma parameters related to the obesity phenotype and potential effects of interactions between CloA and allelic variants in obesity candidate genes were assessed in obese men.
Methods
In this controlled, randomized, and parallel study, n = 68, non-smoking, non-diabetic men with a BMI ≥27 kg/m2 received 750 mL/day CloA (802.5 mg polyphenols) or 750 mL/day control beverage (CB, isocaloric equivalent to CloA) for 4 weeks. Further, study participants were genotyped for single-nucleotide polymorphisms in PPARγ (rs1801282), UCP3 (rs1800849), IL-6 (rs1800795), FABP2 (rs1799883), INSIG2 (rs7566605), and PGC1 (rs8192678) genes. At the beginning and at the end of intervention plasma lipids, distinct adipokines and cytokines as well as anthropometric parameters were determined.
Results
CloA compared to CB had no significant effect on plasma lipids, plasma adipokine and cytokine levels, BMI, and waist circumference. However, CloA consumption significantly reduced percent body fat compared to CB (∆ % body fat: CloA: −1.0 ± 1.3 vs. CB: −0.2 ± 0.9, p < 0.05). The IL-6-174 G/C polymorphism showed an interaction with body fat reduction induced by CloA. Solely in C/C, but not in G/C or G/G variants, a significant reduction in body fat after 4 weeks of CloA intervention was detectable.
Conclusion
The observed diet–gene interaction might be a first indication for the impact of individual genetic background on CloA-mediated bioactivity on obesity-associated comorbidities.
Access options
Buy single article
Instant access to the full article PDF.
US$ 39.95
Tax calculation will be finalised during checkout.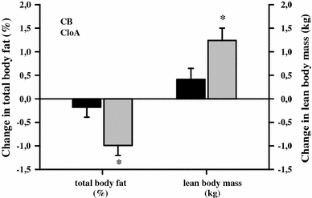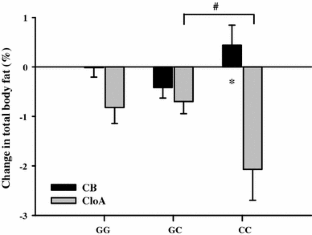 References
1.

Berghofer A, Pischon T, Reinhold T, Apovian CM, Sharma AM, Willich SN (2008) Obesity prevalence from a European perspective: a systematic review. BMC Public Health 8:200

2.

Kopelman PG (2000) Obesity as a medical problem. Nature 404:635–643

3.

Rolls BJ, Ello-Martin JA, Tohill BC (2004) What can intervention studies tell us about the relationship between fruit and vegetable consumption and weight management? Nutr Rev 62:1–17

4.

Prentice AM, Jebb SA (2003) Fast foods, energy density and obesity: a possible mechanistic link. Obes Rev 4:187–194

5.

Hsu CL, Yen GC (2008) Phenolic compounds: evidence for inhibitory effects against obesity and their underlying molecular signaling mechanisms. Mol Nutr Food Res 52:53–61

6.

Pinent M, Blade C, Salvado MJ, Blay M, Pujadas G, Fernandez-Larrea J, Arola L, Ardevol A (2006) Procyanidin effects on adipocyte-related pathologies. Crit Rev Food Sci Nutr 46:543–550

7.

Tsuda T (2008) Regulation of adipocyte function by anthocyanins; possibility of preventing the metabolic syndrome. J Agric Food Chem 56:642–646

8.

Knekt P, Kumpulainen J, Jarvinen R, Rissanen H, Heliovaara M, Reunanen A, Hakulinen T, Aromaa A (2002) Flavonoid intake and risk of chronic diseases. Am J Clin Nutr 76:560–568

9.

Vinson JA, Su X, Zubik L, Bose P (2001) Phenol antioxidant quantity and quality in foods: fruits. J Agric Food Chem 49:5315–5321

10.

Aprikian O, Busserolles J, Manach C, Mazur A, Morand C, Davicco MJ, Besson C, Rayssiguier Y, Remesy C, Demigne C (2002) Lyophilized apple counteracts the development of hypercholesterolemia, oxidative stress, and renal dysfunction in obese Zucker rats. J Nutr 132:1969–1976

11.

Osada K, Suzuki T, Kawakami Y, Senda M, Kasai A, Sami M, Ohta Y, Kanda T, Ikeda M (2006) Dose-dependent hypocholesterolemic actions of dietary apple polyphenol in rats fed cholesterol. Lipids 41:133–139

12.

Ohta Y, Sami M, Kanda T, Saito K, Osada K, Kato H (2006) Gene expression analysis of the anti-obesity effect by apple polyphenols in rats fed a high fat diet or a normal diet. J Oleo Sci 55:305–314

13.

Osada K, Funayama M, Fuchi S, Sami M, Ohta Y, Kanda T, Ikeda M (2006) Effects of dietary procyanidins and tea polyphenols on adipose tissue mass and fatty acid metabolism in rats on a high fat diet. J Oleo Sci 55:79–89

14.

Nagasako-Akazome Y, Kanda T, Ohtake Y, Shimasaki H, Kobayashi T (2007) Apple polyphenols influence cholesterol metabolism in healthy subjects with relatively high body mass index. J Oleo Sci 56:417–428

15.

deOliveira MC, Sichieri R, Venturim MR (2008) A low-energy-dense diet adding fruit reduces weight and energy intake in women. Appetite 51:291–295

16.

Song Y, Manson JE, Buring JE, Sesso HD, Liu S (2005) Associations of dietary flavonoids with risk of type 2 diabetes, and markers of insulin resistance and systemic inflammation in women: a prospective study and cross-sectional analysis. J Am Col Nutr 24:376–384

17.

Scalbert A, Manach C, Morand C, Remesy C, Jimenez L (2005) Dietary polyphenols and the prevention of disease. Crit Rev Food Sci Nutr 45:287–306

18.

Koch TC, Briviba K, Watzl B, Fähndrich C, Bub A, Rechkemmer G, Barth SW (2009) Prevention of colon carcinogenesis by apple juice in vivo: impact of juice constituents and obesity. Mol Nutr Food Res 53:1289–1302

19.

Matsui N, Ito R, Nishimura E, Yoshikawa M, Kato M, Kamei M, Shibata H, Matsumoto I, Abe K, Hashizume S (2005) Ingested cocoa can prevent high-fat diet-induced obesity by regulating the expression of genes for fatty acid metabolism. Nutrition 21:594–601

20.

Terra X, Montagut G, Bustos M, Llopiz N, Ardevol A, Blade C, Fernandez-Larrea J, Pujadas G, Salvado J, Arola L, Blay M (2009) Grape-seed procyanidins prevent low-grade inflammation by modulating cytokine expression in rats fed a high-fat diet. J Nutr Biochem 20:210–218

21.

Hofker M, Wijmenga C (2009) A supersized list of obesity genes. Nat Genet 41:139–140

22.

Rankinen T, Zuberti A, Chagnon YC, Weisnagel SJ, Argyropoulos G, Walts B (2006) The human obesity gene map: the 2005 update. Obesity 14:529–644

23.

Barth SW, Fahndrich C, Bub A, Dietrich H, Watzl B, Will F, Briviba K, Rechkemmer G (2005) Cloudy apple juice decreases DNA damage, hyperproliferation and aberrant crypt foci development in the distal colon of DMH-initiated rats. Carcinogenesis 26:1414–1421

24.

Newton CR, Graham A, Heptinstall LE, Powell SJ, Summers C, Kalsheker N, Smith JC, Markham AF (1989) Analysis of any point mutation in DNA. The amplification refractory mutation system (ARMS). Nucleic Acids Res 17:2503–2516

25.

Okayama H, Curiel DT, Brantly ML, Holmes MD, Crystal RG (1989) Rapid, nonradioactive detection of mutations in the human genome by allele-specific amplification. J Lab Clin Med 114:105–113

26.

Nazarenko IA, Bhatnagar SK, Hohman RJ (1997) A closed tube format for amplification and detection of DNA based on energy transfer. Nucleic Acids Res 25:2516–2521

27.

Nakazato K, Song H, Waga T (2006) Effects of dietary apple polyphenol on adipose tissues weights in Wistar rats. Exp Anim 55:383–389

28.

Akazome Y, Kametani N, Kanda T, Shimasaki H, Kobayashi S (2010) Evaluation of safety of excessive intake and efficacy of long-term intake of beverages containing apple polyphenols. J Oleo Sci 59:321–333

29.

Moreno-Aliaga MJ, Santos JL, Marti A, Martinez JA (2005) Does weight loss prognosis depend on genetic make-up? Obes Rev 6:155–168

30.

Wernstedt I, Eriksson AL, Berndtsson A, Hoffstedt J, Skrtic S, Hedner T, Hultén LM, Wiklund O, Ohlsson C, Jansson JO (2004) A common polymorphism in the interleukin-6 gene promoter is associated with overweight. Int J Obes Relat Metab Disord 28:1272–1279

31.

Strandberg L, Mellström D, Ljunggren O, Grundberg E, Karlsson MK, Holmberg AH, Orwoll ES, Eriksson AL, Svedberg J, Bengtsson M, Ohlsson C, Jansson JO (2008) IL6 and IL1B polymorphisms are associated with fat mass in older men: the MrOS Study Sweden. Obesity 16:710–713

32.

Humphries SE, Luong LA, Ogg MS, Hawe E, Miller GJ (2001) The interleukin-6-174 G/C promoter polymorphism is associated with risk of coronary heart disease and systolic blood pressure in healthy men. Eur Heart J 22:2243–2252

33.

Herbert A, Liu C, Karamohamed S, Liu J, Manning A, Fox CS, Meigs JB, Cupples LA (2006) BMI modifies associations of IL-6 genotypes with insulin resistance: the Framingham Study. Obesity 14:1454–1461

34.

Goyenechea E, Parra D, Martínez JA (2007) Impact of interleukin 6–174G>C polymorphism on obesity-related metabolic disorders in people with excess in body weight. Metabolism 56:1643–1648

35.

Bobe G, Murphy G, Albert PS, Sansbury LB, Young MR, Lanza E, Schatzkin A, Colburn NH, Cross AJ (2011) Do interleukin polymorphisms play a role in the prevention of colorectal adenoma recurrence by dietary flavonols? Eur J Cancer Prev 20:86–95

36.

Marotta F, Koike K, Lorenzetti A, Naito Y, Fayet F, Shimizu H, Marandola P (2007) Nutraceutical strategy in aging: targeting heat shock protein and inflammatory profile through understanding interleukin-6 polymorphism. Ann NY Acad Sci 1119:196–202

37.

Ukkola O, Tremblay A, Sun G, Chagnon YC, Bouchard C (2001) Genetic variation at the uncoupling protein 1, 2 and 3 loci and the response to long-term overfeeding. Eur J Clin Nutr 55:1008–1015

38.

Yoon Y, Park BL, Cha MN, Kim KS, Cheong HS, Choi YH, Shin HD (2007) Effects of genetic polymorphisms of UCP2 and UCP3 on very low calorie diet-induced body fat reduction in Korean female subjects. Biochem Biophys Res Commun 359:451–456

39.

Ricciardi R, Talbot LA (2007) Use of bioelectrical impedance analysis in the evaluation, treatment, and prevention of overweight and obesity. J Am Acad Nurse Pract 19:235–241

40.

Sugiyama H, Akazome Y, Shoji T, Yamaguchi A, Yasue M, Kanda T, Ohtake Y (2007) Oligomeric procyanidins in apple polyphenol are main active components for inhibition of pancreatic lipase and triglyceride absorption. J Agric Food Chem 55:4604–4609

41.

de la Garza AL, Milagro FI, Boque N, Campión J, Martínez JA (2011) Natural inhibitors of pancreatic lipase as new players in obesity treatment. Planta Med 77:773–785

42.

Pinent M, Blade MC, Salvado MJ, Arola L, Ardevol A (2005) Intracellular mediators of procyanidin-induced lipolysis in 3T3-L1 adipocytes. J Agric Food Chem 53:262–266

43.

Vogels N, Nijs IM, Westerterp-Plantenga MS (2004) The effect of grape-seed extract on 24 h energy intake in humans. Eur J Clin Nutr 58:667–673

44.

Ardevol A, Blade C, Salvado MJ, Arola L (2000) Changes in lipolysis and hormone-sensitive lipase expression caused by procyanidins in 3T3-L1 adipocytes. Int J Obes Relat Metab Disord 24:319–324

45.

Hsu CL, Yen GC (2007) Effects of flavonoids and phenolic acids on the inhibition of adipogenesis in 3T3-L1 adipocytes. J Agric Food Chem 55:8404–8410

46.

Pinent M, Blade MC, Salvado MJ, Arola L, Hackl H, Quackenbush J, Trajanoski Z, Ardevol A (2005) Grape-seed derived procyanidins interfere with adipogenesis of 3T3-L1 cells at the onset of differentiation. Int J Obes 29:934–941

47.

Fruhbeck G, Jebb SA, Prentice AM (1998) Leptin: physiology and pathophysiology. Clin Physiol 18:399–419

48.

Steppan CM, Bailey ST, Bhat S, Brown EJ, Banerjee RR, Wright CM, Patel HR, Ahima RS, Lazar MA (2001) The hormone resistin links obesity to diabetes. Nature 409:307–312

49.

Xu A, Wang Y, Xu JY, Stejskal D, Tam S, Zhang J, Wat NM, Wong WK, Lam KS (2006) Adipocyte fatty acid-binding protein is a plasma biomarker closely associated with obesity and metabolic syndrome. Clin Chem 52:405–413

50.

Yang Q, Graham TE, Mody N, Preitner F, Peroni OD, Zabolotny JM, Kotani K, Quadro L, Kahn BB (2005) Serum retinol binding protein 4 contributes to insulin resistance in obesity and type 2 diabetes. Nature 436:356–362

51.

Lumeng CN, Saltiel AR (2011) Inflammatory links between obesity and metabolic disease. J Clin Invest 121:2111–2117

52.

Tilg H, Moschen AR (2006) Adipocytokines: mediators linking adipose tissue, inflammation and immunity. Nat Rev Immunol 6:772–783

53.

Bantle JP, Raatz SK, Thomas W, Georgopoulos A (2000) Effects of dietary fructose on plasma lipids in healthy subjects. Am J Clin Nutr 72:1128–1134

54.

Parks EJ, Hellerstein MK (2000) Carbohydrate-induced hypertriacylglycerolemia: historical perspective and review of biological mechanisms. Am J Clin Nutr 71:412–433

55.

Miller M, Stone NJ, Ballantyne C et al (2011) Triglycerides and cardiovascular disease: a scientific statement from the American Heart Association. Circulation 123:2292–2333

56.

Singleton VL, Rossi JA (1965) Colorimetry of total phenolics with phosphomolybdic–phosphotungstic acid reagents. Am J Enol Vitic 16:144–158

57.

Oki K, Yamane K, Kamei N, Asao T, Awaya T, Kohno N (2009) The single nucleotide polymorphism upstream of insulin-induced gene 2 (INSIG2) is associated with the prevalence of hypercholesterolaemia, but not with obesity, in Japanese American women. Br J Nutr 101:322–327
Acknowledgments
This study was supported by the German Federal Ministry of Education and Research (Project grant -01-EA0505-). The technical staff of the Department of Physiology and Biochemistry of Nutrition at the Max Rubner-Institut is acknowledged for the valuable contribution. Further, we thank all study participants for taking part in this study.
Conflict of interest
The authors declare no conflict of interest.
About this article
Cite this article
Barth, S.W., Koch, T.C.L., Watzl, B. et al. Moderate effects of apple juice consumption on obesity-related markers in obese men: impact of diet–gene interaction on body fat content. Eur J Nutr 51, 841–850 (2012). https://doi.org/10.1007/s00394-011-0264-6
Received:

Accepted:

Published:

Issue Date:
Keywords
Polyphenols

Human intervention study

Inflammation

Adipokines

Cytokines