Abstract
Background
Sodium-bicarbonated mineral waters are reported to have beneficial digestive and hypocholesterolaemic properties. The aim of the study was to investigate the effects of consumption of a sodium-bicarbonated mineral water (BW) with or without a meal, compared to a low mineral content water as the control water (CW), on postprandial serum triacylglycerols (TAG), cholecystokinin (CCK) and gallbladder volume.
Methods
The study design was a four-way randomised controlled crossover trial. Healthy adult men and women (>18 and <40 years, TAG <2.82 mmol/L) consumed 0.5 L of CW + standard meal; 0.5 L of BW + standard meal; and 0.5 L of CW without meal or 0.5 L of BW without meal.
Results
BW consumed without meal had no significant effect on the study parameters compared to CW. However, BW with meal induced a lower concentration of serum TAG at 30 min (p = 0.01) and 60 min (p = 0.03) postprandial times, lower CCK concentrations at 30 min (p = 0.002), and higher gallbladder volume at 30 min (p = 0.03), 60 min (p = 0.01) and 120 min (p = 0.04). Gallbladder ejection fraction was lower with the BW (p = 0.03), whilst area under the curve and peak contraction amplitude (lowest gallbladder volume) were higher (p = 0.01, p = 0.02, respectively) compared to the CW.
Conclusion
Consumption of BW with a meal induces lower levels of CCK and reduces gallbladder emptying and postprandial TAG levels. It is proposed that this sodium-bicarbonated mineral water could be used as part of the habitual diet by the general population in order to reduce cardiovascular risk.
Access options
Buy single article
Instant access to the full article PDF.
US$ 39.95
Tax calculation will be finalised during checkout.
Subscribe to journal
Immediate online access to all issues from 2019. Subscription will auto renew annually.
US$ 159
Tax calculation will be finalised during checkout.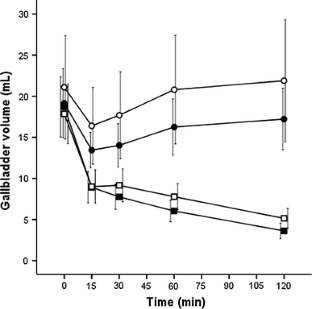 References
1.

Marktl W (2009) Health-related effects of natural mineral waters. Wien Klin Wochenschr 121(17–18):544–550. doi:10.1007/s00508-009-1244-1

2.

Capurso A, Solfrizzi V, Panza F, Mastroianni F, Torres F, Del Parigi A, Colacicco AM, Capurso C, Nicoletti G, Veneziani B, Cellamare S, Scalabrino A (1999) Increased bile acid excretion and reduction of serum cholesterol after crenotherapy with salt-rich mineral water. Aging (Milano) 11(4):273–276

3.

Bertoni M, Olivieri F, Manghetti M, Boccolini E, Bellomini MG, Blandizzi C, Bonino F, Del Tacca M (2002) Effects of a bicarbonate-alkaline mineral water on gastric functions and functional dyspepsia: a preclinical and clinical study. Pharmacol Res 46(6):525–531

4.

Cuomo R, Grasso R, Sarnelli G, Capuano G, Nicolai E, Nardone G, Pomponi D, Budillon G, Ierardi E (2002) Effects of carbonated water on functional dyspepsia and constipation. Eur J Gastroenterol Hepatol 14(9):991–999

5.

Schoppen S, Perez-Granados AM, Carbajal A, Oubina P, Sanchez-Muniz FJ, Gomez-Gerique JA, Vaquero MP (2004) A sodium-rich carbonated mineral water reduces cardiovascular risk in postmenopausal women. J Nutr 134(5):1058–1063

6.

Perez-Granados AM, Navas-Carretero S, Schoppen S, Vaquero MP (2010) Reduction in cardiovascular risk by sodium-bicarbonated mineral water in moderately hypercholesterolemic young adults. J Nutr Biochem 21(10):948–953. doi:10.1016/j.jnutbio.2009.07.010

7.

Boegehold MA, Kotchen TA (1989) Relative contributions of dietary Na+ and Cl- to salt-sensitive hypertension. Hypertension 14(6):579–583

8.

Kunes J, Zicha J, Jelinek J (2004) The role of chloride in deoxycorticosterone hypertension: selective sodium loading by diet or drinking fluid. Physiol Res 53(2):149–154

9.

Ziomber A, Machnik A, Dahlmann A, Dietsch P, Beck FX, Wagner H, Hilgers KF, Luft FC, Eckardt KU, Titze J (2008) Sodium-, potassium-, chloride-, and bicarbonate-related effects on blood pressure and electrolyte homeostasis in deoxycorticosterone acetate-treated rats. Am J Physiol Renal Physiol 295(6):F1752–F1763. doi:10.1152/ajprenal.00531.2007

10.

Schoppen S, Perez-Granados AM, Carbajal A, de la Piedra C, Pilar Vaquero M (2005) Bone remodelling is not affected by consumption of a sodium-rich carbonated mineral water in healthy postmenopausal women. Br J Nutr 93(3):339–344

11.

Schoppen S, Perez-Granados AM, Carbajal A, Sarria B, Sanchez-Muniz FJ, Gomez-Gerique JA, Pilar Vaquero M (2005) Sodium bicarbonated mineral water decreases postprandial lipaemia in postmenopausal women compared to a low mineral water. Br J Nutr 94(4):582–587

12.

Schoppen S, Perez-Granados AM, Carbajal A, Sarria B, Navas-Carretero S, Pilar Vaquero M (2008) Sodium-bicarbonated mineral water decreases aldosterone levels without affecting urinary excretion of bone minerals. Int J Food Sci Nutr 59(4):347–355. doi:10.1080/09637480701560308

13.

Schoppen S, Sanchez-Muniz FJ, Perez-Granados M, Gomez-Gerique JA, Sarria B, Navas-Carretero S, Pilar Vaquero M (2007) Does bicarbonated mineral water rich in sodium change insulin sensitivity of postmenopausal women? Nutr Hosp 22(5):538–544

14.

Alipour A, Elte JW, van Zaanen HC, Rietveld AP, Castro Cabezas M (2008) Novel aspects of postprandial lipemia in relation to atherosclerosis. Atheroscler Suppl 9(2):39–44. doi:10.1016/j.atherosclerosissup.2008.05.007

15.

Ginsberg HN (2002) New perspectives on atherogenesis: role of abnormal triglyceride-rich lipoprotein metabolism. Circulation 106(16):2137–2142

16.

Bansal S, Buring JE, Rifai N, Mora S, Sacks FM, Ridker PM (2007) Fasting compared with nonfasting triglycerides and risk of cardiovascular events in women. JAMA 298(3):309–316. doi:10.1001/jama.298.3.309

17.

Wilhelm MG, Cooper AD (2003) Induction of atherosclerosis by human chylomicron remnants: a hypothesis. J Atheroscler Thromb 10(3):132–139

18.

Schoppen S, Perez-Granados AM, Navas-Carretero S, Vaquero MP (2010) Postprandial lipaemia and endothelial adhesion molecules in pre- and postmenopausal Spanish women. Nutr Hosp 25(2):256–261

19.

Kindel T, Lee DM, Tso P (2010) The mechanism of the formation and secretion of chylomicrons. Atheroscler Suppl 11(1):11–16. doi:10.1016/j.atherosclerosissup.2010.03.003

20.

Otsuki M (1999) Interaction among fat, lipase, CCK, and gastric emptying. J Gastroenterol 34(4):542–544

21.

Schoppen S, Pérez-Granados AM, Sarriá B, Navas S, Carvajal A, Sánchez-Muñiz F, Vaquero MP (2003) Influence of an alkaline mineral water on postprandial lipaemia in postmenopausal women. P Nutr Soc 62:43

22.

Toxqui L, Pérez-Granados AM, Blanco-Rojo R, Vaquero MP (2011) Sodium-bicarbonated mineral water reduces postprandial lipaemia in moderately hypercholesterolaemic young adults. http://www.nutritionsociety.org/files/uploads/24__OCS_Wednesday_6_July.pdf. Accessed 7 Sept 2011

23.

Konturek JW, Konturek SJ, Domschke W (1995) Cholecystokinin in the control of gastric acid secretion and gastrin release in response to a meal at low and high pH in healthy subjects and duodenal ulcer patients. Scand J Gastroenterol 30(8):738–744

24.

Gasbarrini G, Arienti V, Magri F, Boriani L, Ugenti F, Belotti M (1991) Effects of bicarbonated-alkaline water (Uliveto) on gastric and gallbladder emptying in normal subjects. Ultrasonic evaluation. Minerva Med 82(1–2):59–62

25.

Coiro V, Volpi R, Vescovi PP (1997) Choleretic and cholagogic effect of sulphuric sulfate water from the springs of Tobiano in cholestasis in alcohol related liver diseases. Clin Ter 148(1–2):15–22

26.

Bellini M, Spataro M, Costa F, Tumino E, Ciapparrone G, Flandoli F, Rucco M, Maltinti G, Marchi S (1995) Gallbladder motility following intake of mineral bicarbonate-alkaline water. Ultrasonographic assessment. Minerva Med 86(3):75–80

27.

Woollett LA, Wang Y, Buckley DD, Yao L, Chin S, Granholm N, Jones PJ, Setchell KD, Tso P, Heubi JE (2006) Micellar solubilisation of cholesterol is essential for absorption in humans. Gut 55(2):197–204. doi:10.1136/gut.2005.069906

28.

Lima J, Fonollosa V, Chacon P (2005) Selective cholesterol absorption inhibition as a new prospect in treatment of hypercholesterolemia. Med Clin (Barc) 125(1):16–23

29.

Aloulou A, Carriere F (2008) Gastric lipase: an extremophilic interfacial enzyme with medical applications. Cell Mol Life Sci 65(6):851–854. doi:10.1007/s00018-008-7546-z

30.

Embleton JK, Pouton CW (1997) Structure and function of gastro-intestinal lipases. Adv Drug Deliv Rev 25(1):15–32. doi:10.1016/S0169-409X(96)00488-7

31.

Watanabe S, Lee KY, Chang TM, Berger-Ornstein L, Chey WY (1988) Role of pancreatic enzymes on release of cholecystokinin-pancreozymin in response to fat. Am J Physiol 254(6 Pt 1):G837–G842

32.

Hildebrand P, Petrig C, Burckhardt B, Ketterer S, Lengsfeld H, Fleury A, Hadvary P, Beglinger C (1998) Hydrolysis of dietary fat by pancreatic lipase stimulates cholecystokinin release. Gastroenterology 114(1):123–129
Acknowledgments
The authors are grateful to I. Wright and A. Díaz-Alvarez for technical support, and to the volunteers of this study. This study was supported by Vichy Catalán SL (Barcelona, Spain) and a JAE-predoc grant from European Social Fund and CSIC, Spain.
Conflict of interest
The authors have declared no conflict of interest.
About this article
Cite this article
Toxqui, L., Pérez-Granados, A.M., Blanco-Rojo, R. et al. A sodium-bicarbonated mineral water reduces gallbladder emptying and postprandial lipaemia: A randomised four-way crossover study. Eur J Nutr 51, 607–614 (2012). https://doi.org/10.1007/s00394-011-0244-x
Received:

Accepted:

Published:

Issue Date:
Keywords
Cardiovascular risk

Cholecystokinin

Gallbladder emptying

Humans

Postprandial triacylglycerols

Sodium-bicarbonated mineral water