Abstract
Purpose
Acute antioxidant supplementation may modulate oxidative stress and some immune perturbations that typically occur following prolonged exercise. The aims of the present study were to examine the effects of acutely consuming dark chocolate (high polyphenol content) on plasma antioxidant capacity, markers of oxidative stress and immunoendocrine responses to prolonged exercise.
Methods
Fourteen healthy men cycled for 2.5 h at ~60% maximal oxygen uptake 2 h after consuming 100 g dark chocolate (DC), an isomacronutrient control bar (CC) or neither (BL) in a randomised-counterbalanced design.
Results
DC enhanced pre-exercise antioxidant status (P = 0.003) and reduced by trend (P = 0.088) 1 h post-exercise plasma free [F2-isoprostane] compared with CC (also, [F2-isoprostane] increased post-exercise in CC and BL but not DC trials). Plasma insulin concentration was significantly higher pre-exercise (P = 0.012) and 1 h post-exercise (P = 0.026) in the DC compared with the CC trial. There was a better maintenance of plasma glucose concentration on the DC trial (2-way ANOVA trial × time interaction P = 0.001), which decreased post-exercise in all trials but was significantly higher 1 h post-exercise (P = 0.039) in the DC trial. There were no between trial differences in the temporal responses (trial × time interactions all P > 0.05) of hypothalamic–pituitary–adrenal axis stress hormones, plasma interleukin-6, the magnitude of leukocytosis and neutrophilia and changes in neutrophil function.
Conclusion
Acute DC consumption may affect insulin, glucose, antioxidant status and oxidative stress responses, but has minimal effects on immunoendocrine responses, to prolonged exercise.
Access options
Buy single article
Instant access to the full article PDF.
USD 39.95
Price includes VAT (USA)
Tax calculation will be finalised during checkout.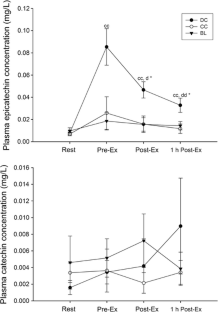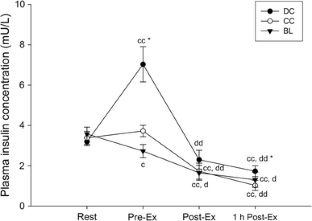 References
1.

Alessio HM, Goldfarb AH, Cao G (1997) Exercise-induced oxidative stress before and after vitamin C supplementation. Int J Sport Nutr 7:1–9

2.

Ashton T, Young IS, Peters JR, Jones E, Jackson SK, Davies B, Rowlands CC (1999) Electron spin resonance spectroscopy, exercise, and oxidative stress: an ascorbic acid intervention study. J Appl Physiol 87:2032–2036

3.

Fischer CP, Hiscock NJ, Penkowa M, Basu S, Vessby B, Kallner A, Sjöberg LB, Pedersen BK (2004) Supplementation with vitamins C and E inhibits the release of interleukin-6 from contracting human skeletal muscle. J Physiol 558(Pt 2):633–645

4.

Mastaloudis A, Morrow JD, Hopkins DW, Devaraj S, Traber MG (2004) Antioxidant supplementation prevents exercise-induced lipid peroxidation, but not inflammation, in ultramarathon runners. Free Radic Biol Med 36:1329–1341

5.

Morillas-Ruiz J, Zafrilla P, Almar M, Cuevas MJ, López FJ, Abellán P, Villegas JA, González-Gallego J (2005) The effects of an antioxidant-supplemented beverage on exercise-induced oxidative stress: results from a placebo-controlled double-blind study in cyclists. Eur J Appl Physiol 95:543–549

6.

Morillas-Ruiz JM, Villegas García J, López FJ, Vidal-Guevara ML, Zafrilla P (2006) Effects of polyphenolic antioxidants on exercise-induced oxidative stress. Clin Nutr 25:444–453

7.

Davison G, Gleeson M (2007) The effects of acute vitamin C supplementation on cortisol, interleukin-6, and neutrophil responses to prolonged cycling exercise. Eur J Sports Sci 7:15–25

8.

Nieman DC, Henson DA, McAnulty SR, McAnulty L, Swick NS, Utter AC, Vinci DM, Opiela SJ, Morrow JD (2002) Influence of vitamin C supplementation on oxidative and immune changes after an ultramarathon. J Appl Physiol 92:1970–1977

9.

Nieman DC, Henson DA, McAnulty SR, McAnulty LS, Morrow JD, Ahmed A, Heward CB (2004) Vitamin E and immunity after the Kona Triathlon World Championship. Med Sci Sports Exerc 36(8):1328–1335

10.

Davison G, Gleeson M, Phillips S (2007) Antioxidant supplementation and immunoendocrine responses to prolonged exercise. Med Sci Sports Exerc 39:645–652

11.

Davison G, Gleeson M (2005) Influence of acute vitamin C and/or carbohydrate ingestion on hormonal, cytokine, and immune responses to prolonged exercise. Int J Sport Nutr Exerc Metab 15:465–479

12.

Allgrove JE, Farrell E, Gleeson M, Williamson G, Cooper K (2011) Regular dark chocolate consumption's reduction of oxidative stress and increase of free-fatty-acid mobilization in response to prolonged cycling. Int J Sport Nutr Exerc Metab 21:113–123

13.

Kondo K, Hirano R, Matsumoto A, Igarashi O, Itakura H (1996) Inhibition of LDL oxidation by cocoa. Lancet 348:1514

14.

Gruendel S, Otto B, Garcia AL, Wagner K, Mueller C, Weickert MO, Heldwein W, Koebnick C (2007) Carob pulp preparation rich in insoluble dietary fibre and polyphenols increases plasma glucose and serum insulin responses in combination with a glucose load in humans. Br J Nutr 98:101–105

15.

Brand-Miller J, Holt SHA, Jong V, de Petocz P (2003) Cocoa powder increases postprandial insulinemia in lean young adults. J Nutr 133:3149–3152

16.

Gleeson M (2007) Immune function in sport and exercise. J Appl Physiol 103:693–699

17.

Davison G, Gleeson M (2006) The effect of 2 weeks vitamin C supplementation on immunoendocrine responses to 2.5 h cycling exercise in man. Eur J Appl Physiol 97:454–461

18.

Davison G, Diment BC (2010) Bovine colostrum supplementation attenuates the decrease of salivary lysozyme and enhances the recovery of neutrophil function after prolonged exercise. Br J Nutr 103:1425–1432

19.

Li T-L, Cheng P-Y (2007) Alterations of immunoendocrine responses during the recovery period after acute prolonged cycling. Eur J Appl Physiol 101:539–546

20.

Robson PJ, Blannin AK, Walsh NP, Castell LM, Gleeson M (1999) Effects of exercise intensity, duration and recovery on in vitro neutrophil function in male athletes. Int J Sports Med 20:128–135

21.

Robson PJ, Bouic PJD, Myburgh KH (2003) Antioxidant supplementation enhances neutrophil oxidative burst in trained runners following prolonged exercise. Int J Sport Nutr Exerc Metab 13:369–381

22.

Scharhag J, Meyer T, Gabriel HHW, Auracher M, Kindermann W (2002) Mobilization and oxidative burst of neutrophils are influenced by carbohydrate supplementation during prolonged cycling in humans. Eur J Appl Physiol 87:584–587

23.

Walrand S, Guillet C, Boirie Y, Vasson MP (2004) In vivo evidences that insulin regulates human polymorphonuclear neutrophil functions. J Leukoc Biol 76:1104–1110

24.

Rassias AJ, Givan AL, Marrin CA, Whalen K, Pahl J, Yeager MP (2002) Insulin increases neutrophil count and phagocytic capacity after cardiac surgery. Anesth Analg 94:1113–1119

25.

Dill DB, Costill DL (1974) Calculation of percentage changes in volumes of blood, plasma, and red cells in dehydration. J Appl Physiol 37:247–248

26.

Liu TZ, Chin N, Kiser MD, Bigler WN (1982) Specific spectrophotometry of ascorbic acid in serum or plasma by use of ascorbate oxidase. Clin Chem 28:2225–2228

27.

Lee C (2000) Antioxidant ability of caffeine and its metabolites based on the study of oxygen radical absorbing capacity and inhibition of LDL peroxidation. Clinica Chimica Acta 295(1–2):141–154

28.

Holt RR, Lazarus SA, Sullards MC, Zhu QY, Schramm DD, Hammerstone JF, Fraga CG, Schmitz HH, Keen CL (2002) Procyanidin dimer B2 [epicatechin-(4beta-8)-epicatechin] in human plasma after the consumption of a flavanol-rich cocoa. Am J Clin Nutr 76:798–804

29.

Anderson RA, Polansky MM (2002) Tea enhances insulin activity. J Agric Food Chem 50:7182–7186

30.

Hanhineva K, Törrönen R, Bondia-Pons I, Pekkinen J, Kolehmainen M, Mykkänen H, Poutanen K (2010) Impact of dietary polyphenols on carbohydrate metabolism. Int J Mol Sci 11:1365–1402

31.

Strobel P, Allard C, Perez-Acle T, Calderon R, Aldunate R, Leighton F (2005) Myricetin, quercetin and catechin-gallate inhibit glucose uptake in isolated rat adipocytes. Biochem J 386(Pt 3):471–478

32.

Lee C-yung Y, Man-Fan Wan J (2000) Vitamin E supplementation improves cell-mediated immunity and oxidative stress of Asian men and women. J Nutr 130:2932–2937
Acknowledgments
This study received financial support from the Nestle Research Centre, Switzerland. At the time of submission, both Karen Cooper and Gary Williamson were employed by the Nestle Research Centre. Glen Davison, Robin Callister and Michael Gleeson have no conflicts of interest. GD, KAC, GW and MG were responsible for study design. GD, RC and MG conducted the research; GD and MG analysed the data. All authors contributed to writing the paper, and all authors have read and approved the final manuscript. The authors thank Dominic Grathwohl for statistical advice.
About this article
Cite this article
Davison, G., Callister, R., Williamson, G. et al. The effect of acute pre-exercise dark chocolate consumption on plasma antioxidant status, oxidative stress and immunoendocrine responses to prolonged exercise. Eur J Nutr 51, 69–79 (2012). https://doi.org/10.1007/s00394-011-0193-4
Received:

Accepted:

Published:

Issue Date:
Keywords
Polyphenols

Dark chocolate

Exercise

Neutrophil

Oxidative stress

Innate immune system