Abstract
Background
Weight change was analyzed in a cohort of obese patients whose eating habits were changed individually mainly on the basis of food energy density (ED) to evaluate the feasibility of this concept for a larger controlled trial.
Method
Five hundred and thirteen outpatients were treated between January 2003 and December 2006. Dietary counseling was based on a pretreatment food diary. In January 2008, a follow-up (FU) was made. For pre- and post-change eating habits, 5184 dietary protocols of 189 patients were analyzed.
Results
During 10.5 months of treatment, patients lost weight from an initial BMI of 38.8 ± 8.5 by −0.195 kg/m2 per month; 36% had weight loss >5%, 44% lost 0–4.9% and 20% had weight gain. At follow-up, 413 patients (80.5%) were reached of whom 80 were still in treatment while 333 were considered as self-treatment (ST) group. The ST group had further weight loss by −0.053 kg/m2 per month over 16.8 months (40% weight loss, 46% maintenance and 14% weight gain), and 164 patients with type-2-diabetes had greater weight loss compared to those without diabetes during ST (Δ-BMI-0.166 vs. −0.028 points/month; p < 0.0001). Energy intake (EI) was reduced by lower ED, beverages and number of meals. Average carbohydrate, fat and protein intake was reduced by 28, 42, and 7%, respectively.
Conclusion
In a unselected cohort of substantially obese patients, the individual change of eating habits based primarily on food ED in conjunction with beverage intake and meal frequency weight loss continued beyond the supported treatment phase indicating a good patient adherence. We consider these data as an encouraging pilot study that certainly requires confirmation under controlled conditions.
This is a preview of subscription content,
to check access.
Access this article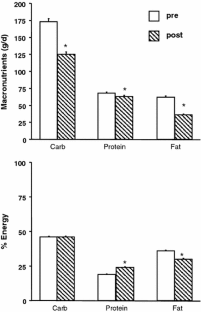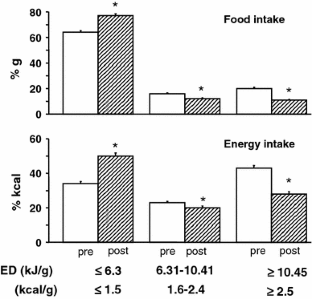 References
World Health Organisation Consultation on Obesity (1998) Global prevalence and secular trends in obesity. Obesity: preventing and managing the global epidemic. World Health Organisation, Switzerland, pp 17–40

Goldstein DJ (1992) Beneficial health effects of modest weight loss. Int J Obes Relat Metab Disord 16:397–415

Dattilo AM, Kris-Etherton PM (1992) Effects of weight reduction on blood lipids and lipoproteins: a meta-analysis. Am J Clin Nutr 56:320–328

Wing RR, Jeffery RW (1995) Effect of modest weight loss on changes in cardiovascular risk factors: are there differences between men and women or between weight loss and maintenance? Int J Obes Relat Metab Disord 19:67–73

Williamson DF, Thompson TJ, Thun M, Flanders D, Pamuk E, Byers T (2000) Intentional weight loss and mortality among overweight individuals with diabetes. Diabetes Care 23:1499–1504

MacDonald KG Jr, Long SD, Swanson MS, Brown BM, Morris P, Dohm GL, Pories WJ (1997) The gastric bypass operation reduces the progression and mortality of non-insulin-dependent diabetes mellitus. J Gastrointest Surg 1:213–220

Sjostrom L, Narbro K, Sjostrom CD, Karason K, Larsson B, Wedel H, Lystig T, Sullivan M, Bouchard C, Carlsson B, Bengtsson C, Dahlgren S, Gummesson A, Jacobson P, Karlsson J, Lindroos AK, Lonroth H, Naslund I, Olbers T, Stenlof K, Torgerson J, Agren G, Carlsson LM (2007) Effects of bariatric surgery on mortality in Swedish obese subjects. N Engl J Med 357:741–752

Adams TD, Gress RE, Smith SC, Halverson RC, Simper SC, Rosamund WD, Lamonte MJ, Stroup AM, Hunt SC (2007) Long-term mortality after gastric bypass surgery. N Engl J Med 357:753–761

Sacks FM, Bray GA, Carey VJ, Smith SR, Ryan DH, Anton SD, McManus K, Champagne CM, Bishop LM, Laranjo N, Leboff MS, Rood JC, de Jonge L, Greenway FL, Loria CM, Obarzanek E, Williamson DA (2009) Comparison of weight-loss diets with different compositions of fat, protein, and carbohydrates. N Engl J Med 360:859–873

Torgerson JS, Hauptman J, Boldrin MN, Sjostrom L (2004) XENical in the prevention of diabetes in obese subjects (XENDOS) study: a randomized study of orlistat as an adjunct to lifestyle changes for the prevention of type 2 diabetes in obese patients. Diabetes Care 27:155–161

Anderson JW, Konz EC, Frederich RC, Wood CL (2001) Long-term weight-loss maintenance: a meta-analysis of US studies. Am J Clin Nutr 74:579–584

Douketis JD, Macie C, Thabane L, Williamson DF (2005) Systematic review of long-term weight loss studies in obese adults: clinical significance and applicability to clinical practice. Int J Obes (Lond) 29:1153–1167

Dansinger ML, Tatsioni A, Wong JB, Chung M, Balk EM (2007) Meta-analysis: the effect of dietary counselling for weight loss. Ann Intern Med 147:41–50

Astrup A, Grunwald GK, Melanson EL, Saris WH, Hill JO (2000) The role of low-fat diets in body weight control: a meta-analysis of ad libitum dietary intervention studies. Int J Obes Relat Metab Disord 24:1545–1552

Nordmann AJ, Nordmann A, Briel M, Briel M, Keller U, Yancy WS Jr, Brehm BJ, Bucher HC (2006) Effects of low-carbohydrate vs. low-fat diets on weight loss and cardiovascular risk factors: a meta-analysis of randomized controlled trials. Arch Intern Med 166:285–293

Baba NH, Sawaya S, Torbay N, Habbal Z, Azar S, Hashim SA (1999) High protein vs. high carbohydrate hypoenergetic diet for the treatment of obese hyperinsulinemic subjects. Int J Obes Relat Metab Disord 23:1202–1206

Skov AR, Toubro S, Ronn B, Holm L, Astrup A (1999) Randomized trial on protein vs. carbohydrate in ad libitum fat reduced diet for the treatment of obesity. Int J Obes Relat Metab Disord 23:528–536

Due A, Toubro S, Skov AR, Astrup A (2004) Effect of normal-fat diets, either medium or high in protein, on body weight in overweight subjects: a randomised 1-year trial. Int J Obes Relat Metab Disord 28:1283–1290

Dansinger ML, Gleason JA, Griffith JL, Selker HP, Schaefer EJ (2005) Comparison of the Atkins, Ornish, Weight Watchers, and Zone diets for weight loss and heart disease risk reduction: a randomized trial. JAMA 293:43–53

Gardner CD, Kiazand A, Alhassan S, Kim S, Stafford RS, Balise RR, Kraemer HC, King AC (2007) Comparison of the Atkins, Zone, Ornish, and LEARN diets for change in weight and related risk factors among overweight premenopausal women: the a to z weight loss study: a randomized trial. JAMA 297:969–977

Shai I, Schwarzfuchs D, Henkin Y, Shahar DR, Witkow S, Greenberg I, Golan R, Fraser D, Bolotin A, Vardi H, Tangi-Rozental O, Zuk-Ramot R, Sarusi B, Brickner D, Schwartz Z, Sheiner E, Marko R, Katorza E, Thiery J, Fiedler GM, Bluher M, Stumvoll M, Stampfer MJ (2008) Weight loss with a low-carbohydrate, Mediterranean, or low-fat diet. N Engl J Med 359:229–241

Wing RR (1998) Behavioral approaches to the treatment of obsesity. In: Bray G, Bouchard C, James P (eds) Handbook of obesity. Marcel Dekker, Inc., New York, pp 855–873

Wing RR (2003) Behavioral interventions for obesity: recognizing our progress and future challenges. Obes Res 11(Suppl):3S–6S

Kral TV, Rolls BJ (2004) Energy density and portion size: their independent and combined effects on energy intake. Physiol Behav 82:131–138

Bell EA, Rolls BJ (2001) Energy density of foods affects energy intake across multiple levels of fat content in lean and obese women. Am J Clin Nutr 73:1010–1018

Stubbs RJ, Johnstone AM, Harbron CG, Reid C (1998) Covert manipulation of energy density of high carbohydrate diets in 'pseudo free-living' humans. Int J Obes Relat Metab Disord 22:885–892

Stubbs RJ, Ritz P, Coward WA, Prentice AM (1995) Covert manipulation of the ratio of dietary fat to carbohydrate and energy density: effect on food intake and energy balance in free-living men eating ad libitum. Am J Clin Nutr 62:330–337

Schick RR, Schusdziarra V (1994) Regulation of food intake. In: Ditschuneit HH, Gies FA, Hauner H, Schusdziarra V, Wechsler JG (eds) Obesity in Europe 93. J. Libbey, London, pp 335–348

Erdmann J, Leibl M, Wagenpfeil S, Lippl F, Schusdziarra V (2006) Ghrelin response to protein and carbohydrate meals in relation to food intake and glycerol levels in obese subjects. Reg Pep 135:23–29

Westerterp-Plantenga MS (2004) Modulatory factors in the effect of energy density on energy intake. Br J Nutr 92(Suppl 1):S35-S39

Westerterp-Plantenga MS, Pasman WJ, Yedema MJ, Wijckmans-Duijsens NE (1996) Energy intake adaptation of food intake to extreme energy densities of food by obese and non-obese women. Eur J Clin Nutr 50:401–407

Poppitt SD, Prentice AM (1996) Energy density and its role in the control of food intake: evidence from metabolic and community studies. Appetite 26:153–174

Kant AK, Graubard BI (2005) Energy density of diets reported by American adults: association with food group intake, nutrient intake, and body weight. Int J Obes (Lond) 29:950–956

Ledikwe JH, Blanck HM, Kettel KL, Serdula MK, Seymour JD, Tohill BC, Rolls BJ (2006) Dietary energy density is associated with energy intake and weight status in US adults. Am J Clin Nutr 83:1362–1368

Rolls BJ, Roe LS, Beach AM, Kris-Etherton PM (2005) Provision of foods differing in energy density affects long-term weight loss. Obes Res 13:1052–1060

Ledikwe JH, Rolls BJ, Smiciklas-Wright H, Mitchell DC, Ard JD, Champagne C, Karanja N, Lin PH, Stevens VJ, Appel LJ (2007) Reductions in dietary energy density are associated with weight loss in overweight and obese participants in the PREMIER trial. Am J Clin Nutr 85:1212–1221

Ello-Martin JA, Roe LS, Ledikwe JH, Beach AM, Rolls BJ (2007) Dietary energy density in the treatment of obesity: a year-long trial comparing 2 weight-loss diets. Am J Clin Nutr 85:1465–1477

Ullrich A, Erdmann J, Margraf J, Schusdziarra V (2003) Impact of carbohydrate and fat intake on weight-reducing efficacy of orlistat. Aliment Pharmacol Ther 17:1007–1013

Schusdziarra V, Hausmann M (2007) Satt essen und abnehmen–individuelle Ernährungsumstellung ohne Diät. MMI Verlag, Neu-Isenburg

Schusdziarra V, Sassen M, Hausmann M, Barth C, Erdmann J (2009) Food intake of overweight and obsese subjects (German). Aktuel Ernahrungsmed 34:19–32

Schusdziarra V, Kellner M, Mittermeier J, Hausmann M, Erdmann J (2010) Energy intake, food quantity and frequency of consumption during main meals and snacks in normal weight subjects (German). Aktuel Ernahrungsmed 35:29–41

Rolls BJ, Bell EA, Thorwart ML (1999) Water incorporated into a food but not served with a food decreases energy intake in lean women. Am J Clin Nutr 70:448–455

Schusdziarra V, Hausmann M, Wittke C, Mittermeier J, Kellner M, Wagenpfeil S, Erdmann J (2010) Contribution of energy density and food quantity to short-term fluctuations of energy intake in normal weight and obese subjects. Eur J Nutr 49:37–43

Schusdziarra V, Sassen M, Hausmann M, Wittke C, Erdmann J (2009) Food items, energy intake, food quantity and energy density during main meals and snacks of overweight and obese subjects (German). Aktuel Ernahrungsmed 34:186–194

Sjostrom L, Rissanen A, Andersen T, Boldrin M, Golay A, Koppeschaar HP, Krempf M (1998) Randomised placebo-controlled trial of orlistat for weight loss and prevention of weight regain in obese patients. European multicentre orlistat study group. Lancet 352:167–172

Wirth A, Krause J (2001) Long-term weight loss with sibutramine: a randomized controlled trial. JAMA 286:1331–1339

Wolf AM, Conaway MR, Crowther JQ, Hazen KY, Nadler L, Oneida B, Bovbjerg VE (2004) Translating lifestyle intervention to practice in obese patients with type 2 diabetes: improving control with activity and nutrition (ICAN) study. Diabetes Care 27:1570–1576

Elmer PJ, Grimm R Jr, Laing B, Grandits G, Svendsen K, Van Heel N, Betz E, Raines J, Link M, Stamler J (1995) Lifestyle intervention: results of the treatment of mild hypertension study (TOMHS). Prev Med 24:378–388

Flechtner-Mors M, Ditschuneit HH, Johnson TD, Suchard MA, Adler G (2000) Metabolic and weight loss effects of long-term dietary intervention in obese patients: four-year results. Obes Res 8:399–402

Samaha FF, Iqbal N, Seshadri P, Chicano KL, Daily DA, McGrory J, Williams T, Williams M, Gracely EJ, Stern L (2003) A low-carbohydrate as compared with a low-fat diet in severe obesity. N Engl J Med 348:2074–2081

Yancy WS Jr, Olsen MK, Guyton JR, Bakst RP, Westman EC (2004) A low-carbohydrate, ketogenic diet versus a low-fat diet to treat obesity and hyperlipidemia: a randomized, controlled trial. Ann Intern Med 140:769–777

Tate DF, Jackvony EH, Wing RR (2006) A randomized trial comparing human e-mail counseling, computer-automated tailored counseling, and no counseling in an Internet weight loss program. Arch Intern Med 166:1620–1625

Heshka S, Anderson JW, Atkinson RL, Greenway FL, Hill JO, Phinney SD, Kolotkin RL, Miller-Kovach K, Pi-Sunyer FX (2003) Weight loss with self-help compared with a structured commercial program: a randomized trial. JAMA 289:1792–1798

Li Z, Maglione M, Tu W, Mojica W, Arterburn D, Shugarman LR, Hilton L, Suttorp M, Solomon V, Shekelle PG, Morton SC (2005) Meta-analysis: pharmacologic treatment of obesity. Ann Intern Med 142:532–546

Buchwald H, Avidor Y, Braunwald E, Jensen MD, Pories W, Fahrbach K, Schoelles K (2004) Bariatric surgery: a systematic review and meta-analysis. JAMA 292:1724–1737

Jones DW, Miller ME, Wofford MR, Anderson DC Jr, Cameron ME, Willoughby DL, Adair CT, King NS (1999) The effect of weight loss intervention on antihypertensive medication requirements in the hypertension optimal treatment (HOT) study. Am J Hypertens 12:1175–1180

Mayer-Davis EJ, D'Antonio AM, Smith SM, Kirkner G, Levin MS, Parra-Medina D, Schultz R (2004) Pounds off with empowerment (POWER): a clinical trial of weight management strategies for black and white adults with diabetes who live in medically underserved rural communities. Am J Public Health 94:1736–1742

Appel LJ, Champagne CM, Harsha DW, Cooper LS, Obarzanek E, Elmer PJ, Stevens VJ, Vollmer WM, Lin PH, Svetkey LP, Stedman SW, Young DR (2003) Effects of comprehensive lifestyle modification on blood pressure control: main results of the PREMIER clinical trial. JAMA 289:2083–2093

Djuric Z, DiLaura NM, Jenkins I, Darga L, Jen CK, Mood D, Bradley E, Hryniuk WM (2002) Combining weight-loss counselling with the weight watchers plan for obese breast cancer survivors. Obes Res 10:657–665

Sjostrom CD, Lissner L, Wedel H, Sjostrom L (1999) Reduction in incidence of diabetes, hypertension and lipid disturbances after intentional weight loss induced by bariatric surgery: the SOS intervention study. Obes Res 7:477–484

Anderson JW, Hamilton CC, Brinkman-Kaplan V (1992) Benefits and risks of an intensive very-low-calorie diet program for severe obesity. Am J Gastroenterol 87:6–15

Holden JH, Darga LL, Olson SM, Stettner DC, Ardito EA, Lucas CP (1992) Long-term follow-up of patients attending a combination very-low calorie diet and behaviour therapy weight loss programme. Int J Obes Relat Metab Disord 16:605–613

Sharma AM, Pischon T, Hardt S, Kunz I, Luft FC (2001) Hypothesis: beta-adrenergic receptor blockers and weight gain: a systematic analysis. Hypertension 37:250–254

Schwartz TL, Nihalani N, Jindal S, Virk S, Jones N (2004) Psychiatric medication-induced obesity: a review. Obes Rev 5:115–121

Anderson JW, Kendall CW, Jenkins DJ (2003) Importance of weight management in type 2 diabetes: review with meta-analysis of clinical studies. J Am Coll Nutr 22:331–339

Henry RR, Wiest-Kent TA, Scheaffer L, Kolterman OG, Olefsky JM (1986) Metabolic consequences of very-low-calorie diet therapy in obese non-insulin-dependent diabetic and nondiabetic subjects. Diabetes 35:155–164

Jackson RA, Moloney M, Lowy C, Wright AD, Hartog M, Pilkington TR, Fraser TR (1971) Differences between metabolic responses to fasting in obese diabetic and obese nondiabetic subjects. Diabetes 20:214–227

Wing RR, Marcus MD, Epstein LH, Salata R (1987) Type II diabetic subjects lose less weight than their overweight nondiabetic spouses. Diabetes Care 10:563–566

Rabkin SW, Boyko E, Wilson A, Streja DA (1983) A randomized clinical trial comparing behaviour modification and individual counselling in the nutritional therapy of non-insulin-dependent diabetes mellitus: comparison of the effect on blood sugar, body weight, and serum lipids. Diabetes Care 6:50–56

Guare JC, Wing RR, Grant A (1995) Comparison of obese NIDDM and nondiabetic women: short- and long-term weight loss. Obes Res 3:329–335

Stewart AL (1982) The reliability and validity of self-reported weight and height. J Chronic Dis 35:295–309

Stunkard AJ, Albaum JM (1981) The accuracy of self-reported weights. Am J Clin Nutr 34:1593–1599

McGuire MT, Wing RR, Klem ML, Lang W, Hill JO (1999) What predicts weight regain in a group of successful weight losers? J Consult Clin Psychol 67:177–185

Stevens J, Keil JE, Waid LR, Gazes PC (1990) Accuracy of current, 4-year, and 28-year self-reported body weight in an elderly population. Am J Epidemiol 132:1156–1163

Casey VA, Dwyer JT, Berkey CS, Coleman KA, Gardner J, Valadian I (1991) Long-term memory of body weight and past weight satisfaction: a longitudinal follow-up study. Am J Clin Nutr 53:1493–1498

Clark M, Hampson SE, Avery L, Simpson R (2004) Effects of a tailored lifestyle self-management intervention in patients with type 2 diabetes. Br J Health Psychol 9(Pt 3):365–379

Gorin AA, Phelan S, Hill JO, Wing RR (2004) Medical triggers are associated with better short- and long-term weight loss outcomes. Prev Med 39:612–616

Uusitupa M, Laitinen J, Siitonen O, Vanninen E, Pyorala K (1993) The maintenance of improved metabolic control after intensified diet therapy in recent type 2 diabetes. Diabetes Res Clin Pract 19:227–238

Foster GD, Wyatt HR, Hill JO, McGuckin BG, Brill C, Mohammed BS, Szapary PO, Rader DJ, Edman JS, Klein S (2003) A randomized trial of a low-carbohydrate diet for obesity. N Engl J Med 348:2082–2090

Stern L, Iqbal N, Seshadri P, Chicano KL, Daily DA, McGrory J, Williams M, Gracely EJ, Samaha FF (2004) The effects of low-carbohydrate versus conventional weight loss diets in severely obese adults: one-year follow-up of a randomized trial. Ann Intern Med 140:778–785

Weigle DS, Breen PA, Matthys CC, Callahan HS, Meeuws KE, Burden VR, Purnell JQ (2005) A high-protein diet induces sustained reductions in appetite, ad libitum caloric intake, and body weight despite compensatory changes in diurnal plasma leptin and ghrelin concentrations. Am J Clin Nutr 82:41–48

Johnston CS, Tjonn SL, Swan PD (2004) High-protein, low-fat diets are effective for weight loss and favorably alter biomarkers in healthy adults. J Nutr 134:586–591

Layman DK, Boileau RA, Erickson DJ, Painter JE, Shiue H, Sather C, Christou DD (2003) A reduced ratio of dietary carbohydrate to protein improves body composition and blood lipid profiles during weight loss in adult women. J Nutr 133:411–417

Westerterp-Plantenga MS, Lejeune MP, Nijs I, van Ooijen M, Kovacs EM (2004) High protein intake sustains weight maintenance after body weight loss in humans. Int J Obes Relat Metab Disord 28:57–64

Bemelmans W, van Baal P, Wendel-Vos W, Schuit J, Feskens E, Ament A, Hoogenveen R (2008) The costs, effects and cost-effectiveness of counteracting overweight on a population level. A scientific base for policy targets for the Dutch national plan for action. Prev Med 46:127–132

Galani C, Schneider H, Rutten FF (2007) Modelling the lifetime costs and health effects of lifestyle intervention in the prevention and treatment of obesity in Switzerland. Int J Public Health 52:372–382
About this article
Cite this article
Schusdziarra, V., Hausmann, M., Wiedemann, C. et al. Successful weight loss and maintenance in everyday clinical practice with an individually tailored change of eating habits on the basis of food energy density. Eur J Nutr 50, 351–361 (2011). https://doi.org/10.1007/s00394-010-0143-6
Received:

Accepted:

Published:

Issue Date:

DOI: https://doi.org/10.1007/s00394-010-0143-6
Keywords