Abstract
Purpose
The serum 25-hydroxyvitamin D (25(OH)D) levels are lower in obese than lean subjects. The present study examines the cross-sectional and longitudinal relations between body mass index (BMI) and serum 25(OH)D, and the serum 25(OH)D response to vitamin D supplementation in relation to BMI.
Methods
The Tromsø study is a longitudinal population-based multipurpose study. The fourth survey was conducted in 1994 and the sixth in 2008. The intervention study was a 1-year placebo-controlled randomized intervention trial, where the results from the 93 subjects given 40,000 IU per week are presented.
Results
A total of 10,229 subjects were included in the 2008 cross-sectional study. There was a significant negative association between serum 25(OH)D levels and BMI which was also present during the winter months. Serum 25(OH)D levels varied through seasons, but not BMI. In the longitudinal study from 1994 to 2008 which included 2,656 subjects, change in BMI was a significant negative predictor of change in 25(OH)D. In the intervention study, there was a significant and negative correlation between BMI and serum 25(OH)D both at baseline and at the end of the study. The increase in serum 25(OH)D after 1 year was significantly and inversely related to baseline BMI.
Conclusions
We have confirmed the strong association between serum 25(OH)D and BMI. The very obese need higher vitamin D doses than lean subjects to achieve the same serum 25(OH)D levels.
Access options
Buy single article
Instant access to the full article PDF.
US$ 39.95
Tax calculation will be finalised during checkout.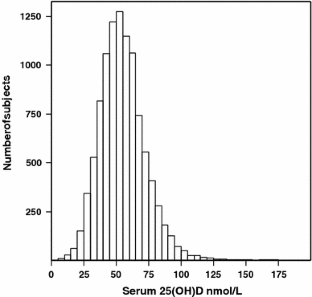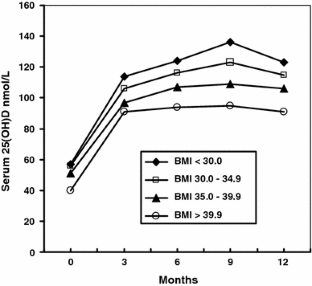 References
1.

Arunabh S, Pollack S, Yeh J, Aloia JF (2003) Body fat content and 25-hydroxyvitamin D levels in healthy women. J Clin Endocrinol Metab 88:157–161

2.

Snijder MB, van Dam RM, Visser M et al (2005) Adiposity in relation to vitamin D status and parathyroid hormone levels: a population-based study in older men and women. J Clin Endocrinol Metab 90:4119–4123

3.

Young KA, Engelman CD, Langefeld CD et al (2009) Association of plasma vitamin D levels with adiposity in Hispanic and African Americans. J Clin Endocrinol Metab 94:3306–3313

4.

Foss YJ (2009) Vitamin D deficiency is the cause of common obesity. Med Hypotheses 72:314–321

5.

DeLuca HF (2004) Overview of general physiologic features and functions of vitamin D. Am J Clin Nutr 80:1689S–1696S

6.

McCarty MF, Thomas CA (2003) PTH excess may promote weight gain by impeding catecholamine-induced lipolysis-implications for the impact of calcium, vitamin D, and alcohol on body weight. Med Hypotheses 61:535–542

7.

Zemel MB (2002) Regulation of adiposity and obesity risk by dietary calcium: mechanisms and implications. J Am Coll Nutr 21:146S–151S

8.

Liel Y, Ulmer E, Shary J, Hollis BW, Bell NH (1988) Low circulating vitamin D in obesity. Calcif Tissue Int 43:199–201

9.

Forde OH, Thelle DS (1977) The Tromso heart study: risk factors for coronary heart disease related to the occurrence of myocardial infarction in first degree relatives. Am J Epidemiol 105:192–199

10.

Sneve M, Figenschau Y, Jorde R (2008) Supplementation with cholecalciferol does not result in weight reduction in overweight and obese subjects. Eur J Endocrinol 159:675–684

11.

Jorde R, Sundsfjord J, Fitzgerald P et al (1999) Serum calcium and cardiovascular risk factors and diseases: the Tromsø study. Hypertension 34:484–490

12.

Leino A, Turpeinen U, Koskinen P (2008) Automated measurement of 25-OH vitamin D3 on the Roche Modular E170 analyzer. Clin Chem 54:2059–2062

13.

Kamycheva E, Joakimsen RM, Jorde R (2003) Intakes of calcium and vitamin d predict body mass index in the population of Northern Norway. J Nutr 133:102–106

14.

Wortsman J, Matsuoka LY, Chen TC, Lu Z, Holick MF (2000) Decreased bioavailability of vitamin D in obesity. Am J Clin Nutr 72:690–693

15.

Harris SS, Dawson-Hughes B (2007) Reduced sun exposure does not explain the inverse association of 25-hydroxyvitamin D with percent body fat in older adults. J Clin Endocrinol Metab 92:3155–3157

16.

Rosenstreich SJ, Rich C, Volwiler W (1971) Deposition in and release of vitamin D3 from body fat: evidence for a storage site in the rat. J Clin Invest 50:679–687

17.

Mawer EB, Backhouse J, Holman CA, Lumb GA, Stanbury SW (1972) The distribution and storage of vitamin D and its metabolites in human tissues. Clin Sci 43:413–431

18.

Aloia JF, Patel M, Dimaano R et al (2008) Vitamin D intake to attain a desired serum 25-hydroxyvitamin D concentration. Am J Clin Nutr 87:1952–1958

19.

Lee P, Greenfield JR, Seibel MJ, Eisman JA, Center JR (2009) Adequacy of vitamin D replacement in severe deficiency is dependent on body mass index. Am J Med 122:1056–1060

20.

Zittermann A, Frisch S, Berthold HK et al (2009) Vitamin D supplementation enhances the beneficial effects of weight loss on cardiovascular disease risk markers. Am J Clin Nutr 89:1321–1327
Acknowledgments
The superb assistance by Inger Myrnes, Astrid Lindvall and Ole Martin Ryen Sand at the Department of Medical Biochemistry, and the staff at the Clinical Research Unit at University Hospital of North Norway, is gratefully acknowledged. The present study was supported by a grant from The Northern Norway Regional Health Authority.
Conflict of interest
Non-declared.
About this article
Cite this article
Jorde, R., Sneve, M., Emaus, N. et al. Cross-sectional and longitudinal relation between serum 25-hydroxyvitamin D and body mass index: the Tromsø study. Eur J Nutr 49, 401–407 (2010). https://doi.org/10.1007/s00394-010-0098-7
Received:

Accepted:

Published:

Issue Date:
Keywords
Body mass index

Vitamin D

Obesity

Longitudinal study

Intervention study