Abstract
Objective
Secular trends in obesity and related lifestyle factors are reported in two generations of 38- and 50-year old Swedish women. Specifically, we describe changes in obesity and fat patterning, while examining concurrent shifts in factors that are proposed to be causally related to the modern obesity epidemic.
Methods
A total of 1,270 women aged 38 or 50 were selected from population registries and examined in 1968/69 (born 1930 or 1918) or 2004/05 (born 1966 or 1954). Anthropometric methods and lifestyle questions were unchanged between earlier and later surveys. Dietary comparisons were based on 24-h recall, with additional questions about usual alcohol and salt consumption patterns. In subgroups, 24-h urinary sodium was determined.
Results
Weight, height, waist circumference, waist-hip ratio, triceps and subscapular skinfold measures were all significantly higher in later-born cohorts, although BMI and obesity were not significantly changed. Higher sodium excretion was observed among later-born sub-groups, consistent with reports of increasing salt preference. Lower proportions of energy as fat and sucrose, but higher carbohydrate, protein and fiber concentrations were reported by later-born cohorts. There were shifts towards increased frequency of wine and liquor consumption, but decreased beer. Leisure time physical activity and perceived stress levels both increased significantly over 36 years.
Conclusions
A number of anthropometric and lifestyle differences between two generations of Swedish women were observed. Increases in subcutaneous and abdominal fatness were detected without significantly increasing BMI. While some aspects of diet showed improvement, increases in salt preference and sodium excretion are cause for concern.
Access options
Buy single article
Instant access to the full article PDF.
US$ 39.95
Tax calculation will be finalised during checkout.
Subscribe to journal
Immediate online access to all issues from 2019. Subscription will auto renew annually.
US$ 159
Tax calculation will be finalised during checkout.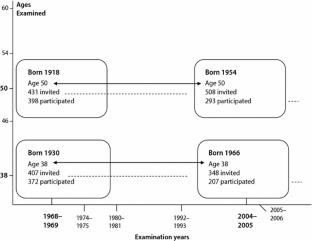 References
1.

Becker W (1990) Fat consumption in Sweden—recent trends illustrated by food balance sheet data. Näringsforskning 34:70–3. http://www.slv.se/templates/SLV_Page.aspx?id=12445&epslanguage=SV

2.

Bengtsson C, Blohmé G, Hallberg L et al (1973) The study of women in Gothenburg 1968–1969—a population study. General design, purpose and sampling results. Acta Med Scand 193:311–318

3.

Bengtsson C, Björkelund C, Lapidus L et al (1993) Associations of serum lipid concentrations and obesity with mortality in women: 20 year follow up of participants in prospective population study in Gothenburg, Sweden. BMJ 307:1385–1388

4.

Berg C, Rosengren A, Aires N et al (2005) Trends in overweight and obesity from 1985 to 2002 in Göteborg, West Sweden. Int J Obes 29:916–924

5.

Björkelund C, Andersson-Hange D, Andersson K et al (2008) Secular trends in cardiovascular risk factors with a 36-year perspective: observations from 38- and 50-year old women in the population study of women in Gothenburg. Scand J Primary Health Care 56:1087–1091

6.

Björkelund C, Bengtsson C, Rödström K et al (2002) Women's sleep: longitudinal changes and secular trends in a 24 year perspective. Results from the population study of women in Gothenburg, Sweden. Sleep 25:894–896

7.

Björntorp P (2001) Do stress reactions cause abdominal obesity and comorbidities? Obes Rev 2:73–86

8.

Cournot M, Ruidavets JB, Marquie JC et al (2001) Environmental factors associated with body mass index in a population of southern France. Eur J Cardiovasc Prev Rehabil 11:291–297

9.

De Lorenzo A, Martinoli R, Vaia F et al (2006) Normal weight obese (NWO) women: an evaluation of a candidate new syndrome. Nutr Metab Cardiovasc Dis 16:513–523

10.

Elobeid MA, Desmond RA, Thomas O et al (2007) Waist circumference values are increasing beyond those expected from BMI increases. Obesity 15:2380–2383

11.

Field AE, Willett WC, Lissner L et al (2007) Dietary fat and weight gain among women in the nurses' health study. Obesity 15:967–976

12.

He FJ, Marrero NM, MacGregor GA (2008) Salt intake is related to soft drink consumption in children and adolescents: a link to obesity? Hypertension 51:629–654

13.

Heitmann B, Stroger U, Mikkelsen K et al (2004) Large heterogeneity of the obesity epidemic in Danish adults. Public Health Nutr 7:453–460

14.

Heitmann BL, Lissner L, Sørensen TIA et al (1995) Dietary fat intake and weight gain in women genetically predisposed for obesity. Am J Clin Nutr 61:1213–1217

15.

Helgesson Ö, Cabrera C, Lapidus L et al (2003) Self-reported stress levels predict subsequent breast cancer in a cohort of Swedish women. Eur J Cancer Prev 12:377–381

16.

Intersalt Cooperative Research Group (1988) Intersalt: an international study of electrolyte excretion and blood pressure. Results for 24 h urinary sodium and potassium excretion. BMJ 297:319–328

17.

Laatikainen T, Pietinen P, Valsta L et al (2006) Sodium in the Finnish diet: 20-year trends in urinary sodium excretion among the adult population. Eur J Clin Nutr 60:965–970

18.

Li C, Ford ES, McGuire LC et al (2007) Increasing trends in waist circumference and abdominal obesity among US adults. Obesity 15:216–223

19.

Lissner L, Bengtsson C, Björkelund C et al (1996) Physical activity levels and changes in relation to longevity: a prospective study of Swedish women. Am J Epidemiol 143:54–62

20.

Lissner L, Björkelund C, Heitmann BL et al (1998) Secular increases in waist-hip ratio among Swedish women. Int J Obes 22:1116–1120

21.

Lissner L, Heitmann BL (1995) Dietary fat and obesity: evidence from epidemiology. Eur J Clin Nutr 49:79–90

22.

Lissner L, Skoog I, Andersson K et al (2003) Participation bias in longitudinal studies–experiences from the population study of women in Gothenburg. Scand J Prim Health Care 21:242–247

23.

Malik VS, Schulze MB, Hu FB (2006) Intake of sugar-sweetened beverages and weight gain: a systematic review. Am J Clin Nutr 84:274–288

24.

McCarthy HD, Ellis SM, Cole TJ (2003) Central overweight and obesity in British youth aged 11–16 years: cross sectional surveys of waist circumference. BMJ 326:624–626

25.

Mehlig K, Skoog I, Guo X et al (2008) Alcoholic beverages and incidence of dementia: 34-year follow-up of the prospective population study of women in Gothenburg. Am J Epidemiol 167:684–691

26.

Reinivuo H, Valsta LM, Laatikainen T et al (2006) Sodium in the Finnish diet: II Trends in dietary sodium intake and comparison between intake and 24-h excretion of sodium. Eur J Clin Nutr 60:1160–1167

27.

Roberts SB, Morrow FD, Evans WJ et al (1990) Use of p-aminobenzoic acid to monitor compliance with prescribed dietary regimens during metabolic balance studies in man. Am J Clin Nutr 51:485–488

28.

Sarlio-Lahteenkorva S, Silventoinen K, Lahti-Koski M et al (2006) Socio-economic status and abdominal obesity among Finnish adults 1992 to 2002. Int J Obes 30:1653–1660

29.

Sjöberg A, Lissner L, Albertsson-Wikland K et al (2008) Recent anthropometric trends among Swedish school children: evidence for decreasing prevalence of overweight in girls. Acta Paediatrica 97:118–123

30.

Sundblom E, Petzold M, Rasmussen F et al (2008). Childhood overweight and obesity prevalences leveling off in Stockholm but socioeconomic differences persist. Int J Obesity (e-pub ahead of print)

31.

Vgontzas AN, Lin HM, Papaliaga M et al (2008) Short sleep duration and obesity: the role of emotional stress and sleep disturbances. Int J Obes (e-pub ahead of print)
Acknowledgments
Funded by the Swedish Council for Working Conditions and Social Research, and the Swedish Research Council.
About this article
Cite this article
Lissner, L., Sjöberg, A., Schütze, M. et al. Diet, obesity and obesogenic trends in two generations of Swedish women. Eur J Nutr 47, 424 (2008). https://doi.org/10.1007/s00394-008-0744-5
Received:

Accepted:

Published:
Keywords
obesity

diet

salt

lifestyle

secular trends