Abstract
Background
The role of some nutritional factors and hypocaloric diets on oxidative balance is a matter of debate, especially related to the prevention and treatment of obesity and co-morbidities.
Aim of the study
The aim was to investigate the antioxidant capacity of different energy restricted diets in the treatment of obesity, paying emphasis to the effect of incorporating omega-3 fatty acids with or without other seafood components.
Methods
The study was a randomized 8-weeks parallel intervention trial prescribed to lose weight, which was implemented in 276 subjects aged 31.4 ± 5.4 y.o. following four different balanced hypocaloric diets (TEE-30%): fish-restricted (control), cod and salmon based diets and DHA+EPA supplemented administration. At baseline (day 0) and at the end of the trial (day 56), anthropometry, dietary intake, erythrocyte membrane fatty acid content, circulating malondialdehyde (MDA) and plasma antioxidant status (AOP) were determined.
Results
Overall, percent weight loss was −5.8 ± 3.2% (P < 0.001) and the AOP statistically increased after the energy restriction period (P = 0.015), basically due to the seafood-based diets. In contrast, MDA statistically only decreased (P = 0.026) after the cod-based diet intake with no changes after the other nutritional treatments. In fact, the cod-based intervention statistically decreased oxidative stress when expressed as the MDA/AOP ratio (P = 0.006).
Conclusions
A moderate calorie-restricted cod-based diet was found as a useful strategy to lose weight, which was accompanied by a specific improvement on oxidative stress markers. The low saturated fat content and the seafood protein source of this diet may be important factors involved in these findings.
Access options
Buy single article
Instant access to the full article PDF.
US$ 39.95
Tax calculation will be finalised during checkout.
Subscribe to journal
Immediate online access to all issues from 2019. Subscription will auto renew annually.
US$ 159
Tax calculation will be finalised during checkout.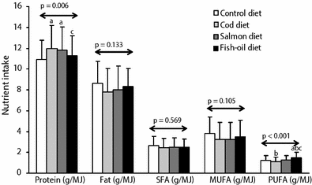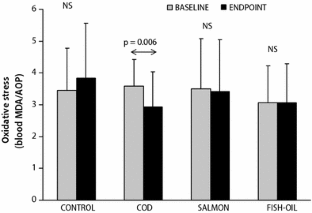 References
1.

Aeberli I, Molinari L, Spinas G, Lehmann R, l'Allemand D, Zimmermann MB (2006) Dietary intakes of fat and antioxidant vitamins are predictors of subclinical inflammation in overweight Swiss children. Am J Clin Nutr 84:748–755

2.

Antoniades C, Tousoulis D, Marinou K, Vasiliadou C, Tentolouris C, Bouras G, Pitsavos C, Stefanadis C (2006) Asymmetrical dimethylarginine regulates endothelial function in methionine-induced but not in chronic homocystinemia in humans: effect of oxidative stress and proinflammatory cytokines. Am J Clin Nutr 84:781–788

3.

Auer J, Weber T, Berent R, Lassnig E, Maurer E, Lamm G, Kvas E, Eber B (2005) Obesity, body fat and coronary atherosclerosis. Int J Cardiol 98:227–235

4.

Bandarra NM, Calhau MA, Oliveira L, Ramos M, Dias MG, Bartolo H, Faria MR, Fonseca MC, Gonçalves J, Batista I, Nunes ML (2004) Composiçao e valor nutritional dos produtos da pesca mais consumidos em Portugal. Publicaçones avulsas do IPIMAR 11:103

5.

Bandarra NM, Palma P, Batista I, Nunes ML, Morais G, Bruges M, Dickson J, Barata JD, Silva Lima B (2002) Effect of a supplemented diet with canned sardine on the lipid fraction of human plasma and erythrocytes. J Aquat Food Prod Technol 11:177–185

6.

Couillard C, Pomerleau S, Ruel G, Archer WR, Bergeron J, Couture P, Lamarche B, Bergeron N (2006) Associations between hypertriglyceridemia, dietary fat intake, oxidative stress, and endothelial activation in men. Nutrition 22:600–608

7.

Covas MI, Nyyssonen K, Poulsen HE, Kaikkonen J, Zunft HJ, Kiesewetter H, Gaddi A, de la Torre R, Mursu J, Baumler H, Nascetti S, Salonen JT, Fito M, Virtanen J, Marrugat J, EUROLIVE Study Group (2006) The effect of polyphenols in olive oil on heart disease risk factors: a randomized trial. Ann Intern Med 145:333–341

8.

Crujeiras AB, Parra D, Abete I, Martínez JA (2007) A hypocaloric diet enriched in legumes specifically mitigates lipid peroxidation in obese subjects: Free Rad Res 41:498–506

9.

Crujeiras AB, Parra MD, Rodriguez MC, Martinez de Morentin BE, Martínez JA (2006) A role for fruit content in energy-restricted diets in improving antioxidant status in obese women during weight loss. Nutrition 22:593–599

10.

Dandona P, Mohanty P, Ghanim H, Aljada A, Browne R, Hamouda W, Prabhala A, Afzal A, Garg R (2001) The suppressive effect of dietary restriction and weight loss in the obese on the generation of reactive oxygen species by leukocytes, lipid peroxidation, and protein carbonylation. J Clin Endocrinol Metab 86:355–362

11.

Furukawa S, Fujita T, Shimabukuro M, Iwaki M, Yamada Y, Nakajima Y, Nakayama O, Makishima M, Matsuda M, Shimomura I (2004) Increased oxidative stress in obesity and its impact on metabolic syndrome. J Clin Invest 114:1752–1761

12.

Higdon JV, Frei B (2003) Obesity and oxidative stress: a direct link to CVD? Arterioscler Thromb Vasc Biol 23:365–367

13.

Hung CR (2006) Effect of taurine on gastric oxidative stress and hemorrhagic erosion in brain ischemic rats. Chin J Physiol 49:152–159

14.

Jahangiri A, Leifert WR, Kind KL, McMurchie EJ (2006) Dietary fish oil alters cardiomyocyte Ca2+ dynamics and antioxidant status. Free Radic Biol Med 40:1592–1602

15.

Jang Y, Kim OY, Ryu HJ, Kim JY, Song SH, Ordovas JM, Lee JH (2003) Visceral fat accumulation determines postprandial lipemic response, lipid peroxidation, DNA damage, and endothelial dysfunction in nonobese Korean men. J Lipid Res 44:2356–2364

16.

Kitts D, Weiler K (2003) Bioactive proteins and peptides from food sources. Applications of bioprocesses used in isolation and recovery. Curr Pharm Des 9:1309–1323

17.

Komatsu F, Kagawa Y, Sakuma M, Kawabata T, Kaneko Y, Otgontuya D, Chimedregzen U, Narantuya L, Purvee B (2006) Investigation of oxidative stress and dietary habits in Mongolian people, compared to Japanese people. Nutr Metab (Lond) 3:21

18.

Larsson SC, Kumlin M, Ingelman-Sundberg M, Wolk A (2004) Dietary long-chain n-3 fatty acids for the prevention of cancer: a review of potential mechanisms. Am J Clin Nutr 79:935–945

19.

Lucotti P, Setola E, Monti LD, Galluccio E, Costa S, Sandoli EP, Fermo I, Rabaiotti G, Gatti R, Piatti P (2006) Beneficial effects of a long-term oral L-arginine treatment added to a hypocaloric diet and exercise training program in obese, insulin-resistant type 2 diabetic patients. Am J Physiol Endocrinol Metab 291:E906–E912

20.

Martinez-Gonzalez MA (2006) The SUN cohort study (Seguimiento University of Navarra). Public Health Nutr 9:127–131

21.

Martinez-Gonzalez MA, Varo JJ, Santos JL, De Irala J, Gibney M, Kearney J, Martinez JA (2001) Prevalence of physical activity during leisure time in the European Union. Med Sci Sports Exerc 33:1142–1146

22.

Mas MR, Isik AT, Yamanel L, Inal V, Tasci I, Deveci S, Mas N, Comert B, Akay C (2006) Antioxidant treatment with taurine ameliorates chronic pancreatitis in an experimental rat model. Pancreas 33:77–81

23.

Mera R, Thompson HW, Prasad C (1998) Analyzing data in which the outcome is time to an event part II: the presence of multiple covariates. Nutr Neurosci 1:87–91

24.

Miller ER III, Erlinger TP, Sacks FM, Svetkey LP, Charleston J, Lin PH, Appel LJ (2005) A dietary pattern that lowers oxidative stress increases antibodies to oxidized LDL: results from a randomized controlled feeding study. Atherosclerosis 183:175–182

25.

Moore CS, Bryant SP, Mishra GD, Krebs JD, Browning LM, Miller GJ, Jebb SA (2006) Oily fish reduces plasma triacylglycerols: a primary prevention study in overweight men and women. Nutrition 22:1012–1024

26.

Moreno-Aliaga MJ, Campion J, Milagro FI, Berjón A, Martínez JA (2005) Adiposity and proinflammatory state: the chicken or the egg. Adipocytes 1:1–16

27.

Nakashima E, Pop-Busui R, Towns R, Thomas TP, Hosaka Y, Nakamura J, Greene DA, Killen PD, Schroeder J, Larkin DD, Ho YL, Stevens MJ (2005) Regulation of the human taurine transporter by oxidative stress in retinal pigment epithelial cells stably transformed to overexpress aldose reductase. Antioxid Redox Signal 7:1530–1542

28.

Oriyanhan W, Yamazaki K, Miwa S, Takaba K, Ikeda T, Komeda M (2005) Taurine prevents myocardial ischemia/reperfusion-induced oxidative stress and apoptosis in prolonged hypothermic rat heart preservation. Heart Vessels 20:278–285

29.

Parra MD, Martinez de Morentin BE, Martinez JA (2005) Postprandial insulin response and mitochondrial oxidation in obese men nutritionally treated to lose weight. Eur J Clin Nutr 59:334–340

30.

Pérez A, Parra MD, Martínez de Morentin BE, Rodríguez MC, Martínez JA (2005) Evaluación de la variabilidad intraindividual de la medida de composición corporal mediante bioimpedancia en voluntarias sanas y su relación con el índice de masa corporal y el pliegue tricipital. Enfermería Clínica 15:343–347

31.

Philibert A, Vanier C, Abdelouahab N, Man Chan H, Mergler D (2006) Fish intake and serum fatty acid profiles from freshwater fish. Am J Clin Nutr 84:1299–1307

32.

Rebrin I, Zicker S, Wedekind KJ, Paetau-Robinson I, Packer L, Sohal RS (2005) Effect of antioxidant-enriched diets on glutathione redox status in tissue homogenates and mitochondria of the senescence-accelerated mouse. Free Radic Biol Med 39:549–557

33.

Skeaff CM, Hodson L, McKenzie JE (2006) Dietary-induced changes in fatty acid composition of human plasma, platelet, and erythrocyte lipids follow a similar time course. J Nutr 136:565–569

34.

Song JH, Fujimoto K, Miyazawa T (2000) Polyunsaturated (n-3) fatty acids susceptible to peroxidation are increased in plasma and tissue lipids of rats fed docosahexaenoic acid-containing oils. J Nutr 130:3028–3033

35.

Thomson CA, Giuliano AR, Shaw JW, Rock CL, Ritenbaugh CK, Hakim IA, Hollenbach KA, Alberts DS, Pierce JP (2005) Diet and biomarkers of oxidative damage in women previously treated for breast cancer. Nutr Cancer 51:146–154

36.

Thorsdottir I, Tomasson H, Gunnarsdottir I, Gisladottir E, Kiely M, Parra MD, Bandarra NM, Schaafsma G, Matinez JA (2007) Randomized trial of weight-loss-diets for young adults varying in fish and fish oil content. Int J Obes 31:1560–1566

37.

Velthuis-te Wierik EJ, van den Berg H, Weststrate JA, van het Hof KH, de Graaf C (1996) Consumption of reduced-fat products: effects on parameters of anti-oxidative capacity. Eur J Clin Nutr 50:214–219

38.

Yilmaz MI, Saglam M, Caglar K, Cakir E, Ozgurtas T, Sonmez A, Eyileten T, Yenicesu M, Acikel C, Oguz Y, Ozcan O, Bozlar U, Erbil K, Aslan I, Vural A (2005) Endothelial functions improve with decrease in asymmetric dimethylarginine (ADMA) levels after renal transplantation. Transplantation 80:1660–1666
Acknowledgments
Thanks are given to the EU-Commission for financial support by a grant from the 6th framework for the project SEAFOODplus: A better life with seafood (FOOD-CT-2004-506359), as well as to volunteers who participated in the study. Financial support: This work is included in the SEAFOODplus YOUNG, being part of the SEAFOODplus Integrated Project, which is funded by the European Commission through the 6th Framework Programme Contract with Ref. FOOD-CT-2004-506359.
About this article
Cite this article
Parra, D., Bandarra, N.M., Kiely, M. et al. Impact of fish intake on oxidative stress when included into a moderate energy-restricted program to treat obesity. Eur J Nutr 46, 460–467 (2007). https://doi.org/10.1007/s00394-007-0686-3
Received:

Accepted:

Published:

Issue Date:
Key words
obesity

oxidative stress

weight loss

PUFA

MDA