Abstract
Background
Endothelial dysfunction, common to diabetes and cardiovascular diseases, is an early step in the development of atherosclerosis and diabetic angiopathies. Deficiencies of taurine have been related to diabetes and cardiovascular diseases.
Aims of the study
We investigated whether taurine provides protective action against endothelial dysfunction induced by hyperglycemia and/or oxidized low density lipoproteins (oxLDL).
Methods
Quiescent human umbilical cord venous endothelial cells were exposed for 20 h to high glucose (35 mM) and/or oxLDL (60 µg/ml) alone and in presence of taurine (0.5–2.5 mg/ml). Apoptosis, caspase-3 activity, soluble(s) and cell surface expressions of vascular cellular (VCAM-1) and intercellular (ICAM-1) adhesion molecules were determined. Results are given as a percentage of the low glucose medium control. Apoptosis, VCAM-1 and ICAM-1 expressions were related to cell number.
Results
Hyperglycemia increased apoptosis to 162.5 ± 19.2%, caspase-3 activity to 153.2 ± 10.3%, cell-surface exp ression of VCAM-1 to 125.1 ±  5.8%, the expression of ICAM-1 to 123.7 ± 2.8% and sICAM-1 to 146.5 ± 7.9%. Taurine (0.5–2.5  mg/ml) restored apoptosis, caspase-3 activity and expressions of VCAM-1 and ICAM-1. OxLDL (60 µg/ml) increased apoptosis to 114.8 ± 3.1%; taurine (2.5 mg/ml) reduced this apoptosis to 40.5 ± 4.1%. The combination of hyperglycemia and oxLDL increased apoptosis to 211.7 ±  11.6%. This increase was normalized by taurine (2.5 mg/ml) to 97.9 ± 12.8%.
Conclusion
Taurine protects HUVECs from endothelial dysfunction induced by hyperglycemia through down-regulation of apoptosis and adhesion molecules. Counteracting the combination of oxLDL and hyperglycemia requires pharmacological concentrations of taurine.
Access options
Buy single article
Instant access to the full article PDF.
USD 39.95
Price includes VAT (USA)
Tax calculation will be finalised during checkout.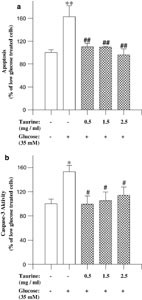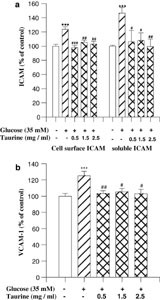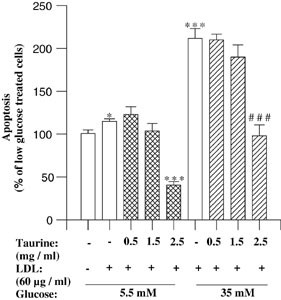 References
1.

Alfieri RR, Cavazzoni A, Petronini PG, Bonelli MA, Caccamo AE, Borhgetti AF, Wheeler KP (2002) Compatible osmolytes modulate the response of porcine endothelial cells to hypertonicity and protect them from apoptosis. J Physiol 540(pt2):499–508

2.

Arcaro G, Cretti A, Balzano S, Lechi A, Muggeo M, Bonora E, Bonadonna RC (2002) Insulin causes endothelial dysfunction in humans. Circulation 105:576–582

3.

Baumgartner-Parzer SM, Wagner L, Pettermann M, Grillari J, Gessl A, Waldhausl W (1995) High glucose-triggered apoptosis in cultured endothelial cells. Diabetes 44:1323–1327

4.

Bombeli T, Schwarzt BR, Harlan JM (1999) Endothelial cells undergoing apoptosis become proadhesive for nonactivated platelets. Blood 93:3831–3838

5.

Boujendar S, Reusens B, Merezak S, Ahn MT, Arany E, Hill D, Ramacle C (2002) Taurine supplementation to a low protein diet during foetal and early postnatal life restores a normal proliferation and apoptosis of rat pancreatic islets. Diabetologia 45(6):856–866

6.

Brons C, Spohr C, Storgaard H, Dyerberg J, Vaag A (2004) Effect of taurine treatment on insulin secretion and action, and on serum lipid levels in overweight men with a genetic predisposition for type II diabetes mellitus. Eur J Clin Nutr 58(9):1239–1247

7.

Casey RG, Gang C, Joyce M, Bouchier-Hayes DJ (2006) Taurine attenuates acute hyperglycemia-induced endothelial cell apoptosis, leucocyte-endothelial cell interactions and cardiac dysfunction. J Vasc Res 44(1):31–39

8.

Claise C, Edeas M, Chaoouchi N, Chalas J, Capel L, Kalimouttous S, Vazques A, Lindenbaum A (1999) Oxidized LDL induce apoptosis in HUVEC but not in endothelial cell line EA.Hy 926. Atherosclerosis 147:95–104

9.

Di Leo MA, Santini SA, Silveri NG, Giardina B, Franconi F, Ghirlanda G (2004) Long-term taurine supplementation reduces mortality rate in streptozotocin-induced diabetic rats. Amino Acids 27(2):187–191

10.

Du XL, Sui GZ, Stockklauser-Färber K, Weiß J, Zink S, Schwipper B, Wu QX, Tschöpe D, Rösen P (1998) Induction of apoptosis by high proinsulin and glucose in cultured human umbilical vein endothelial cells is mediated by reactive oxygen species. Diabetologia 41:249–256

11.

Fennessy FM, Moneley DS, Wnag JH, Kelly CJ, Bouchier-Hayes DJ (2003) Taurine and vitamin C modify monocyte and endothelial dysfunction in young smokers. Circulation 107(3):410–415

12.

Franconi F, Bennardini F, Mattana A, Miceli M, Ciuti M, Mian M, Gironi A, Antchini Ran, Seghierei G (1995) Plasma and platelet taurine are reduced in subjects with insulin-dependent diabetes mellitus: effects of taurine supplementation. Am J Clin Nutr 61:1115–1119

13.

Franconi F, Di Leo MA, Bennardini F, Ghirlanda G (2004) Is taurine beneficial in reducing risk factors for diabetes mellitus? Neurochem Res 29(1):143–150

14.

Franconi F, Loizzo A, Ghirlanda G, Seghieri G (2006) Taurine supplementation and diabetes mellitus. Curr Opin Clin Nutr Metab Care 9(1):32–36

15.

Grundy SM, Benjamin IJ, Burke GL, Chait A, Eckel RH, Howard BV, Mitch W, Smith SC Jr, Sowers JR (1999) Diabetes and cardiovascular disease: a statement for health professionals from the American Heart Association. Circulation 100:1134–1146

16.

Harada-Shiba M, Kinoshita M, Kamido H, Shimikado K (1998) Oxidized low density lipoprotein induces apoptosis in cultured human umbilical vein endothelial cells by common and unique mechanisms. J Biol Chem 16:9681–9687

17.

Hardikar AA, Risbud MV, Remacle C, Reusens B, Hoet JJ, Bhonde RR (2001) Islet cryopreservation: improved recovery following taurine pretreatment. Cell Transplant 10(3):247–253

18.

Heitzer T, Ylä-Hertuala S, Luoma J et al (1996) Cigarette smoking potentiates endothelial dysfunction of forearm resistance vessels in patients with hypercholesterolemia. Role of oxidized LDL. Circulation 93:1346–1353

19.

Ho FM, Liu SH, Lin WW, Liau CS (2007) opposite effects of high glucose on MMP-2 and TIMP-2 in human endothelial cells. J Cell Biol 101(2):442–450

20.

Huxtable RJ (1992) Physiological actions of taurine. Physiol Rev 72/1:101–163

21.

Kinumi T, Ogawa Y, Kimata J, Saito Y, Yoshida Y, Niki E (2005) Proteomic characterization of oxidative dysfunction in human umbilical vein endothelial cells (HUVECS) induced by exposure to oxidized LDL. Free Radic Res 39(12):1335–1344

22.

Laight DW, Carrier MJ, Änggard EE (2000) Antioxidants, diabetes and endothelial dysfunction. Cardiovasc Res 47:457–464

23.

Lorenzi M (1992) Glucose toxicity in the vascular complications of diabetes: the cellular prospective. Diabetes Metab Rev 8:85–103

24.

Lorenzi M, Cagliero E, Toledo S (1985) Glucose toxicity for human endothelial cells in culture: delayed replication, disturbed cell cycle and accelerated death. Diabetes 34:621–627

25.

Lorenzi M, Montisano DF, Toledo S, Barrieux A (1986) High glucose induces DNA damage in cultured human endothelial cells. J Clin Invest 77:322–325

26.

Lotito SB, Frei B (2006) Dietary flavonoids attenuate tumor necrosis factor α-induced adhesion molecule expression in human aortic endothelial cells. J Biol Chem 281(48):37102–37110

27.

Metzner C, Ulrich-Merzenich G (2001) Arginin und Taurin—präventive Nahrungsfaktoren bei kardiovaskulären Erkrankungen? Ernährungs-Umschau 48:188–192

28.

Milei J, Ferreira R, Llesay S, Forcada P, Covarrubias J, Boveria A (1992) Reduction of reperfusion injury with preoperative rapid intravenous infusion of taurine during myocardial revascularisation. Am Heart J 123:339–345

29.

Moran J, Hernandez-Pech X, Merchant-Larios H, Pasantes-Morales H (2000) Release of taurine in apoptotic cerebellar granule neurons in culture. Pflugers Arch 439(3):271–277

30.

Mäkimattila S, Luoma JS, Ylä-Herttuala S, Bergholm R, Utriainen T, Virkamäki A, Mäntysaari M, Summanen P, Yki-Järvinen H (1999) Autoantibodies against oxidized LDL and endothelium-dependent vasodilatation in insulin-dependent diabetes mellitus. Atherosclerosis 147:115–122

31.

Ouchi N, Kihara S, Arita Y, Maeda K, Kuriyama H, Okamoto Y, Hotta K, Nishida M, Takahashi M, Nakamura T, Yamashita S, Funahashi T, Matsuzawa Y (1999) Novel Modulator for endothelial adhesion molecules. Adipocyte-derived plasma protein adiponectin. Circulation 100:2473–2476

32.

Piconi L, Quagliaro L, Assaloni R, DaRos R, Maier A, Zuodar G, Ceriello A (2006) Constant and intermittent high glucose enhances endothelial cell apoptosis through mitochondrial superoxide. Diabetes Metab Res Rev 22(3):198–203

33.

Rabini RA, Cesten N, Staffolani R, Salvolini E, Moretti N, Vingnini A, Fumelli D, Mazzanti L (1999) Modifications induced by LDL from type 1 diabetic patients on endothelial cells obtained from human umbilical vein. Diabetes 48:2221–2228

34.

Redmond HP, Wang JH, Bouchier-Hayes D (1996) Taurine attenuates nitric oxide and reactive oxygen intermediate-dependent hepatocyte injury. Arch Surg 131:1280–1288

35.

Redmond HP, Wang JH, Watson RWG, Boucheier-Hayes D (1994) Restoration of "tired" neutrophil antimicrobial function by aprotinin is dependent on the presence of taurine. Surg Forum 80:573–575

36.

Schwartz SM, Gajdusek CM, Selden SC III (1981) Vascular wall growth control. Arteriosclerosis 1:107–161

37.

Spohr C, Brons C, Winther K, Dyerberg J, Vaag A (2005) No effect of taurine on platelet aggregation in men with a predisposition to type 2 diabetes mellitus. Platelets 16(5):301–305

38.

Tan B, Jiang DJ, Huang H, Jia Sj, Jiang JL, Hu CP, Li Yj (2007) Taurine protects against low-density lipoprotein-induced endothelial dysfunction by the DDAH/ADMA pathway. Vasc Pharmacol 46(5):338–345

39.

Ulrich-Merzenich G, Metzner C, Bhonde RR, Malsch G, Schiermeyer B, Vetter H (2002) Simultaneous isolation of endothelial and smooth muscle cells from human umbilical artery or vein and their growth response to low density lipoproteins. In Vitro Cell Dev Anim 38:265–272

40.

Ulrich-Merzenich G, Metzner C, Schiermeyer B, Vetter H (2002) Vitamin C and E antagonistically modulate human vascular endothelial and smooth muscle cell DNA synthesis and proliferation. Eur J Nutr 41:27–34

41.

Ulrich-Merzenich G, Zeitler H, Panek D, Bokemeyer D, Vetter H (2007) Vitamin C activates the ERK-signaling pathway. Eur J Nutr 46:87–94

42.

Wu CD, Wang JH, Fennessy F, Redmond HP, Bouchier-Hayes D (1999) Taurine prevents high glucose-induced human vascular endothelial cell apoptosis. Am J Physiol 277:C1229–C1238

43.

Zhang M, Bi LF, Fang JH, Su XL, Da GL, Kuwamori T, Kagamimori S (2004) Beneficial effects of taurine on serum lipids in overweight or obese non-diabetic subjects. Amino Acids 26(3):267–271
Acknowledgments
The authors wish to thank the Deutsche Forschungsgemeinschaft (DFG)/Indian National Acadamy of Sciences (INSA) for their support of RR Bhonde as a visiting scientist under the DFG/INSA scientist exchange programme and Frederik Hartbrod for his excellent technical assistance.
Additional information
Gudrun Ulrich-Merzenich and Heike Zeitler have contributed equally to the manuscript.
About this article
Cite this article
Ulrich-Merzenich, G., Zeitler, H., Vetter, H. et al. Protective effects of taurine on endothelial cells impaired by high glucose and oxidized low density lipoproteins. Eur J Nutr 46, 431 (2007). https://doi.org/10.1007/s00394-007-0682-7
Received:

Accepted:

Published:
Key words
taurine

endothelium

oxLDL

diabetes

apoptosis

adhesion molecules