Abstract
Background
Long term cocoa ingestion leads to an increased resistance against UV-induced erythema and a lowered transepidermal water loss.
Aim of the study
To investigate the acute effects of a single dose of cocoa rich in flavanols on dermal microcirculation.
Methods
In a crossover design study, 10 healthy women ingested a cocoa drink (100 ml) with high (329 mg) or low (27 mg) content of flavanols. The major flavanol monomer in both drinks was epicatechin, 61 mg in the high flavanol, and 6.6 mg in the low flavanol product per 100 ml. Dermal blood flow and oxygen saturation of hemoglobin were examined by laser Doppler flowmetry and spectroscopically at 1 mm skin depth at t = 0, 1, 2, 4, and 6 h. At the same time points, plasma levels of total epicatechin (free compound plus conjugates) were measured by means of HPLC.
Results
Subsequent to the intake of high flavanol cocoa, dermal blood flow was significantly increased by 1.7-fold at t = 2 h and oxygen saturation was elevated 1.8-fold. No statistically significant changes were found upon intake of low flavanol cocoa. Maximum plasma levels of total epicatechin were observed 1 h after ingestion of the high flavanol cocoa drink, 11.6 ± 7.4 nmol/l at baseline, and 62.9 ± 35.8 nmol/l at 1 h. No change of total epicatechin was found in the low flavanol group.
Conclusion
Flavanol-rich cocoa consumption acutely increases dermal blood flow and oxygen saturation.
Access options
Buy single article
Instant access to the full article PDF.
USD 39.95
Price excludes VAT (USA)
Tax calculation will be finalised during checkout.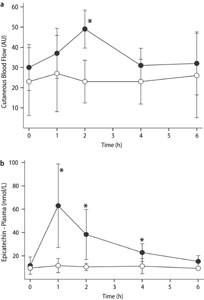 References
Boelsma E, vande Vijver LP, Goldbohm RA, Klopping-Ketelaars IA, Hendriks HF, Roza L (2003) Human skin condition and its associations with nutrient concentrations in serum and diet. Am J Clin Nutr 77:348–355

Sies H, Stahl W (2004) Nutritional protection against skin damage from sunlight. Annu Rev Nutr 24:173–200

F'guyer S, Afaq F, Mukhtar H (2003) Photochemoprevention of skin cancer by botanical agents. Photodermatol Photoimmunol Photomed 19:56–72

Gu L, Kelm MA, Hammerstone JF, Beecher G, Holden J, Haytowitz D, Gebhardt S, Prior RL (2004) Concentrations of proanthocyanidins in common foods and estimations of normal consumption. J Nutr 134:613–617

Heinrich U, Neukam K, Tronnier H, Sies H, Stahl W (2006) Long-term ingestion of high flavanol cocoa provides photoprotection against UV-induced erythema and improves skin condition in women. J Nutr 136:1565–1569

Baba S, Osakabe N, Natsume M, Yasuda A, Takizawa T, Nakamura T, Terao J (2000) Cocoa powder enhances the level of antioxidative activity in rat plasma. Br J Nutr 84:673–680

Sies H, Schewe T, Heiss C, Kelm M (2005) Cocoa polyphenols and inflammatory mediators. Am J Clin Nutr 81:304S–312S

Warden BA, Smith LS, Beecher GR, Balentine DA, Clevidence BA (2001) Catechins are bioavailable in men, women drinking black tea throughout the day. J Nutr 131:1731–1737

Berardesca E, Leveque JL, Masson P (2002) EEMCO guidance for the measurement of skin microcirculation. Skin Pharmacol Appl Skin Physiol 15:442–456

Heiss C, Dejam A, Kleinbongard P, Schewe T, Sies H, Kelm M (2003) Vascular effects of cocoa rich in flavan-3-ols. JAMA 290:1030–1031

Schroeter H, Heiss C, Balzer J, Kleinbongard P, Keen CL, Hollenberg NK, Sies H, Kwik-Uribe C, Schmitz HH, Kelm M (2006) (−)-Epicatechin mediates beneficial effects of flavanol-rich cocoa on vascular function in humans. Proc Natl Acad Sci USA 103:1024–1029

Heiss C, Kleinbongard P, Dejam A, Perre S, Schroeter H, Sies H, Kelm M (2005) Acute consumption of flavanol-rich cocoa and the reversal of endothelial dysfunction in smokers. J Am Coll Cardiol 46:1276–1283

Fisher ND, Hughes M, Gerhard-Herman M, Hollenberg NK (2003) Flavanol-rich cocoa induces nitric-oxide-dependent vasodilation in healthy humans. J Hypertens 21:2281–2286
Acknowledgments
The project was supported by "Krebsforschung International" (Düsseldorf, Germany). H.S. is a Fellow of the National Foundation for Cancer Research (NFCR), Bethesda, MD.
About this article
Cite this article
Neukam, K., Stahl, W., Tronnier, H. et al. Consumption of flavanol-rich cocoa acutely increases microcirculation in human skin. Eur J Nutr 46, 53–56 (2007). https://doi.org/10.1007/s00394-006-0627-6
Received:

Accepted:

Published:

Issue Date:

DOI: https://doi.org/10.1007/s00394-006-0627-6
Keywords
epicatechin

microcirculation

skin

human

flavonoids

blood flow