Abstract
Background
The contribution of biologically active non-nutrient chemicals to the health benefits of the Mediterranean diet is controversial because of their low dietary concentrations. Hydroxytyrosol is a dopamine metabolite, and also a very active naturally occurring phenol compound in olive oil.
Aim of the study
To examine the disposition of hydroxytyrosol in humans, given that we discovered its presence in red wine in the frame of the study.
Methods
The pharmacokinetics of hydroxytyrosol from two clinical trials, designed to assess the short-term and postprandial effects of moderate doses of wine and olive oil in healthy volunteers, were compared.
Results
Despite a five-fold difference in the doses of hydroxytyrosol administered (0.35 mg for red wine and 1.7 mg for olive oil), urinary recoveries of hydroxytyrosol were higher after red wine administration. An interaction between ethanol and dopamine after red wine ingestion leading to the formation of hydroxytyrosol was observed.
Conclusions
Biological effects after red wine ingestion should be re-examined on the basis of combined hydroxytyrosol concentrations from red wine and dopamine turnover.
Access options
Buy single article
Instant access to the full article PDF.
US$ 39.95
Tax calculation will be finalised during checkout.
Subscribe to journal
Immediate online access to all issues from 2019. Subscription will auto renew annually.
US$ 159
Tax calculation will be finalised during checkout.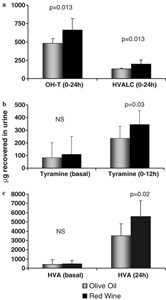 References
1.

Trichopoulou A, Costacou T, Bamia C, Trichopoulos D (2003) Adherence to a Mediterranean diet and survival in a Greek population. N Engl J Med 348:2599–2608

2.

Visioli F, Galli C, Plasmati E, Viappiani S, Hernandez A, Colombo C, Sala A (2000) Olive phenol hydroxytyrosol prevents passive smoking-induced oxidative stress.Circulation 102:2169–2171

3.

Halliwell B, Rafter J, Jenner A (2005) Health promotion by flavonoids, tocopherols, tocotrienols, and other phenols: direct or indirect effects? Antioxidant or not?. Am J Clin Nutr 81:268S–276S

4.

Sharp D (2003) Chateau resveratrol. Lancet 361:1404

5.

Miro-Casas E, Covas MI, Farre M, Fito M, Ortuno J, Weinbrenner T, Roset P, de la Torre R (2003) Hydroxytyrosol disposition in humans. Clin Chem 49:945–952

6.

Miro-Casas E, Farre Albaladejo M, Covas MI, Rodriguez JO, Menoyo Colomer E, Lamuela Raventos RM, de la Torre R (2001) Capillary gas chromatography-mass spectrometry quantitative determination of hydroxytyrosol and tyrosol in human urine after olive oil intake. Anal Biochem 294:63–72

7.

Marrugat J, Covas MI, Fito M, Schroder H, Miro-Casas E, Gimeno E, Lopez-Sabater MC, de la Torre R, Farre M, SOLOS Investigators (2004) Effects of differing phenolic content in dietary olive oils on lipids and LDL oxidation–a randomized controlled trial. Eur J Nutr 43:140–147

8.

Miro-Casas E, Covas MI, Fito M, Farre-Albadalejo M, Marrugat J, de la Torre R (2003) Tyrosol and hydroxytyrosol are absorbed from moderate and sustained doses of virgin olive oil in humans. Eur J Clin Nutr 57:186–190

9.

Weinbrenner T, Fito M, de la Torre R, Saez GT, Rijken P, Tormos C, Coolen S, Albaladejo MF, Abanades S, Schroder H, Marrugat J, Covas MI (2004) Olive oils high in phenolic compounds modulate oxidative/antioxidative status in men. J Nutr 134:2314–2321

10.

Hiroi T, Imaoka S, Funae Y (1998) Dopamine formation from tyramine by CYP2D6. Biochem Biophys Res Commun 249:838–843

11.

Solans A, Carnicero M, de la Torre R, Segura J (1995) Comprehensive screening procedure for detection of stimulants, narcotics, adrenergic drugs, and their metabolites in human urine. J Anal Toxicol 19:104–114

12.

Boileau I, Assaad JM, Pihl RO, Benkelfat C, Leyton M, Diksic M, Tremblay RE, Dagher A (2003) Alcohol promotes dopamine release in the human nucleus accumbens. Synapse 49:226–231

13.

Bonfigli AR, Coppa G, Testa R, Testa I, De Sio G (1997) Determination of vanillylmandelic, 5-hydroxyindoleacetic and homovanillic acid in urine by isocratic liquid chromatography. Eur J Clin Chem Clin Biochem 35:57–61
Acknowledgement
Financial support from Instituto Nacional de Investigaciones Agrarias (INIA-MAPA VIN00-027-C3-01) and the PREDIMED network (ISCIII G03/140) is acknowledged.
About this article
Cite this article
de la Torre, R., Covas, M.I., Pujadas, M.A. et al. Is dopamine behind the health benefits of red wine?. Eur J Nutr 45, 307–310 (2006). https://doi.org/10.1007/s00394-006-0596-9
Received:

Accepted:

Published:

Issue Date:
Keywords
Resveratrol

Tyramine

Grape Juice

Oleuropein

Hydroxytyrosol