Abstract
Defatted milled grape seed (DMGS) is a wine by-product obtained from the oil extraction of the grape seed that contains different types of phenolic compounds. The present study was designed to evaluate the possible protective effect of DMGS on toxicity induced by adriamycin (ADR) in isolated rat hepatocytes. The study was carried out by examining the results of lactate dehydrogenase (LDH) release to estimate cytotoxicity; the thiobarbituric acid reactant substances (TBARS) and carbonyl group levels were measured as biomarkers of oxidative stress and ATP and GSH levels as estimation of intracellular effect. The results showed that DMGS extract protects the cellular membrane from oxidative damage and consequently prevents protein and lipid oxidation. The levels of ATP and GSH changes for the ADR toxicity were restored to control value in the presence of DMGS extract. The experimental results suggest that this wine by-product may be used to decrease oxidative stress.
Access options
Buy single article
Instant access to the full article PDF.
US$ 39.95
Tax calculation will be finalised during checkout.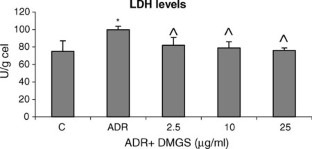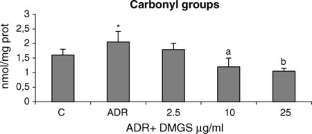 Abbreviations
DMGS:

defatted milled grape seed

LDH:

lactate dehydrogenase

TBARS:

thiobarbituric acid reactant substances

GSH:

glutathione

ADR:

adriamycin
References
1.

Halliwell B, Gutteridge JMC (1989) Free radicals in biology and medicine. Claredon Press, Oxford

2.

Halliwell B (1996) Oxidative stress, nutrition and health. Experimental strategies for optimisation of nutritional antioxidant intake in humans. Free Rad Res 25:57–74

3.

Hill MJ (1997) Nutrition and human cancer. Ann NY Acad Sci 833:68–78

4.

Dragsted LO (1998) Natural antioxidants in chemoprevention. Arch Toxicol Suppl 20:209–226

5.

Wargovich MJ (1999) Nutrition and cancer: the herbal revolution. Curr Opin Clin Nutr Metab Care 2:421–424

6.

Shrikhande AJ (2000) Wine by-products with health benefits. Food Res Internat 33:469–474

7.

Vitaglione P, Morisco F, Caporaso N, Fogliano V (2004) Dietary antioxidant compounds and liver health. Crit Rev Food Sci Nutr 44:575–586

8.

Shi J, Yu J, Pohorly JE, Kakuda Y (2003) Polyphenolics in grape seeds. Biochemistry and Functionality. J Med Food 6(4):291–299

9.

Cook NC, Sammam S (1996) Flavonoids-chemistry, metabolism cardioprotective effects and dietary sources. J Nutr Biochem 7:66–76

10.

Sharma G, Tyagi AK, Singh RP, Chan DD, Agarwal R (2004) Synergistic anti-cancer effects of grape seed extract and conventional cytotoxic agent doxorubicin against human breast carcinoma cells. Breast Cancer Res Treat 85:1–12

11.

Silva RC, Rigaud J, Cheynier V, Chemina A (1991) Procyanidin dimers and trimers from grape seeds. Phytochemistry 30:1259–1264

12.

Bagchi D, Bagchi M, Stohs SJ, Das DK, Ray CA, Kuszynski SS, Joshi HG (2000) Free radicals and grape seed proanthocyanidin extract: importance in human health and disease prevention. Toxicology 148:187–197

13.

Rice-Evans CA, Packer L (1997) Flavonoids in health and diseases. Marcel Decker, New York

14.

Prieur C, Rigaud J, Cheynier V (1994) Oligomeric and polymeric procyanidins from grape seeds. Phytochemistry 36:781–784

15.

Stahl W, van den Berg H, Arthur H, Bast A, Dainty J, Faulks RM (2002) Bioavailability and metabolism. Mol Aspects Med 23:39–100

16.

Hortobagyi G (1997) Anthracyclines in the treatment of cancer. Drugs 54:1–7

17.

Gewirt AD (1999) A critical evaluation of the mechanisms of action proposed for the antitumor effects of the anthracycline antibiotics adriamycin and daunorubicin. Biochem Pharmacol 57:727–741

18.

Doroshow JH, Davies KJA (1986) Redox cycling of anthracyclin by cardiac mitochondria. II. Formation of superoxide anion, hydrogen peroxide and hydroxyl radical. J Biol Chem 261:3068–3074

19.

Valls V, Castellucio C, Fato E, Genova ML, Bovina C, Sáez GT, Marchitti M, Parenti-Castelli G, Lenaz G (1994) Protective effect of exogenous coenzyme Q against damage liver. Biochem Mol Biol Inter 33(4):633–642

20.

Lee V, Randhawa AK, Singal PK (1991) Adriamycin-induced myocardial dysfunction in vitro is mediated by free radicals. Am J Physiol 261:989–995

21.

van Acker FAA, Hulshof JW, Haenen GRM, Menge WMP, van der Vigh WJF, Bast A (2001) New synthetic flavonoids as potent protectors against doxorubicin-induced cardiotoxicity. Free Radic Biol Med 31(1):31–37

22.

Tyagi AK, Agarwal C, Chan DC, Agarwal R (2004) Synergistic anti-cancer effects of silibinin with conventional cytotoxic agents doxorubicin, cisplatin and carboplatin against human breast carcinoma MCF-7 and MDA-MB468 cells. Oncol Rep 11(2):493–499

23.

Valls V, Torres MC, Muñiz P, Boix L, Gonzalez-SanJose ML, Codoñer-Franch P (2004) The protective effects of melanoidins in adriamycin-induced oxidative stress in isolated rat hepatocytes. J Sci Food Agric 84:1701–1707

24.

Remy M (1999) Les tannins du vin rouge: characterisation de structures natives et derivées. PhD Thesis, Institut National Agronomique, Paris-Grignon, France

25.

Perez-Magariño S, Revilla I, González-SanJosé ML, Beltrán S (1999) Various applications of liquid chromatography—mass spectrometry to the analysis of phenolic compounds. J Chromatogr 847:75–81

26.

Miller NJ, Rice-Evans CA (1997) Factors influencing the antioxidant activity determined by the ABTS radical cation assay. Free Radic Res 26:195–199

27.

Berry MN, Friend DJ (1969) High yield preparation of isolated rat liver parenchymal cells. J Cell Biol 43:506–520

28.

Bergmeyer H, Bernt T (1974) Lactate dehydrogenase, assay with pyruvate and NADH. In: Bergmeyer (ed) Methods of enzymatic analysis, pp574–579

29.

Stacey N, Priestly BG (1978) Lipid peroxidation in isolated rat hepatocytes: relationship to toxicity of diethyl maleate. Tox Appl Pharmacol 45:41–48

30.

Levine RL, Garland D, Oliver CN, Amici A, Climent I, Lenz AG, Ahn BW, Shaltiel S, Stadtman ER (1990) Oxygen radicals in biological systems. Part B: Oxygen radicals and antioxidants. In: Paker L, Glazer A (eds) Academic Press Inc, London, Meth Enzymol 186:466–478

31.

Tian L, Cai Q, Wei H (1998) Alterations of antioxidant enzymes and oxidative damage to macromolecules in different organs of rats during aging. Free Radic Biol Med 24(9):1477–1484

32.

Lamprecht W, Trautschold I (1974) Adenosin triphosphate (ATP) determination with hexoquinase and glucose-6-phosphate dehydrogenase. In: Bergmeyer (ed) Methods of enzymatic analysis, pp2101–2110

33.

Brigelius R, Muckel C, Ackerboom TPM, Sies H (1983) Identification and quantification of glutathione in hepatic protein mixed disulphides and its relation to glutathione disulphide. Biochem Pharmacol 32:2529–2534

34.

Lowry OH, Rosebrough NJ, Farr AL, Ronald RJ (1951) Protein measurement with the folin phenol reagent. J Biol Chem 193:265–275

35.

Markwell MA, Haas SM, Bieber LL, Tolbert NE (1978) A modification of the Lowry procedure to simplify protein determination in membrane and lipoprotein samples. Anal Biochem 87(1):206–210

36.

Waterhouse LA (2002) Wine phenolics. Ann NY Acad Sci 957:21–36

37.

Valls-Belles V, Muñiz P, Gonzalez P, Gonzalez-SanJose ML, Beltrán S (2002) Mechanism of protection by epicatechin against tert-butylhydroperoxide induced oxidative cell injury in isolated rat hepatocytes and calf thymus DNA. Process Biochem 37(6):659–664

38.

Singletary KW, Meline B (2001) Effect of grape seed proanthocyanidins on colon aberrant crypts and breast tumours in a rat dual-organ tumour model. Nutr Cancer 39:252–258

39.

Murga R, Ruiz R, Beltran S, Cabezas J (2000) Extraction of natural complex phenols and tannins from grape seeds by using supercritical mixtures of carbon dioxide and alcohol. J Agric Food Chem 48:3408–3412

40.

Garcia J, Nicodemus N, Carbaño R, De Blas JC (2002) Effect of inclusion of defatted grape seed meal in the diet on digestion and performance of growing rabbits. J Anim Sci 80:162–170

41.

Bravo L (1998) Polyphenols: chemistry, dietary sources, metabolism, and nutritional significance. Nutr Rev 56(11):317–333

42.

Martínez-Flórez S, González-Gallego J, Culebras JM, Tuñón MJ (2002) Flavonoids: properties and antioxidizing action. Nutr Hosp XVII(6):271–278

43.

Rivero D, Perez-Magarino S, Gonzalez-Sanjose ML, Valls-Belles V, Codoner P, Muniz P (2005) Inhibition of induced DNA oxidative damage by beers: correlation with the content of polyphenols and melanoidins. J Agric Food Chem 53(9):3637–3642

44.

Sadzuka Y, Sugiyama T, Shimoi K, Kinae N, Hirota S (1997) Protective effect of flavonoids on doxorubicin-induced cardiotoxicity. Toxicol Lett 92:1–7

45.

Barogi S, Baracca A, Cavazzoni M, Parenti-Castelli G, Lenaz G (2000) Effect of the oxidative stress induced by adriamycin on rat hepatocytes bioenergetics during ageing. Mech Ageing Dev 24:113(1):1–21

46.

Comporti M (1985) Lipid peroxidation and cellular damage in toxic liver injury. Lab Invest 503:599–623

47.

Griffiths HR, Moller L, Bartosz G, Bast A, Bertoni-Freddari C, Collins A, Cooke M, Coolen S, Haenen G, Hoberg AM, Loft S, Lunec J, Olinski R, Parry J, Pompella A, Poulsen H, Verhagen H, Astley SB (2002) Biomarkers. Mol Aspects Med 23(1–3):101–208

48.

Zwart L, Meerman JH, Commandeur JNM, Vermeulen NPE (1999) Biomarkers of free radical damage. Applications in experimental animals and in humans. Free Radic Biol Med 26(1/2):202–226

49.

Eguchi Y, Shimizu S, Tsujimoto Y (1997) Intracellular ATP levels determine cell death fate by apoptosis or necrosis. Cancer Res 57:1835–1840

50.

Jackson MJ, Papa S, Bolanos J, Bruckdorfer R, Carlsen H, Elliott RM, Flier J, Griffiths HR, Heales S, Holst B, Lorusso M, Luna E, Moskaug J, Moser U, Di Paola M, Polidori MC, Signorile A, Stahl W, Vina-Ribes J, Astley SB (2002) Antioxidants, reactive oxygen and nitrogen species, gene induction and mitochondrial function. Mol Aspects Med 23(1–3):209–285

51.

Bagchi D, Sen CK, Ray SD, Das DK, Bagchi M, Preuss HG, Vinson JA (2003) Molecular mechanisms of cardioprotection by a novel grape seed proanthocyanidin extract. Mut Res 524:87–97

52.

Cao Y, Kennedy R, Klimberg VS (1999) Glutamine protects against doxorubicin-induced cardiotoxicity. J Surg Res 85:178–182

53.

Sugiyama T, Sadzuka Y (2004) Theanine, a specific glutamate derivative in green tea, reduces the adverse reactions of doxorubicin by changing the glutathione level. Cancer Lett 30(2):177–184

54.

Perez D, Strobel P, Foncea R, Diez S, Vazquez L, Urquiaga I, Castill O, Suevas A, Martín A, Leighton F (2002) Wine, diet, antioxidant defences and oxidative damage. Ann NY Acad Sci 957:136–145

55.

Yang CS, Landau JM, Huang MT, Newmark HL (2001) Inhibition of carcinogenesis by dietary polyphenolic compounds. Annu Rev Nutr 21:381–406
Acknowledgements
The authors want to grateful to the programs FEDER (F-1FD97-1471/QUI) for their financial support. We thank Miss Yolanda Fernandez for her help with the English revision.
About this article
Cite this article
Valls-Belles, V., Torres, M., Muñiz, P. et al. Defatted milled grape seed protects adriamycin-treated hepatocytes against oxidative damage. Eur J Nutr 45, 251–258 (2006). https://doi.org/10.1007/s00394-006-0591-1
Received:

Accepted:

Published:

Issue Date:
Keywords
DMGS extract

phenolics

adriamycin

oxidative damage