Abstract
Objective
The aim of this study was to assess disease characteristics, autoantibodies, and disease activity in granulomatosis with polyangiitis (GPA) patients with ocular manifestations.
Methods
The cohort included 46 GPA patients visiting the ophthalmology clinic. Ocular manifestations were recorded, clinical and slit lamp examinations were performed. The Birmingham Vasculitis Activity Score (BVAS) was recorded. Laboratory investigations and the antineutrophil cytoplasmic antibody (ANCA) assay were performed.
Results
Median age of the 22 male and 24 female patients was 44.5 (32–63) years, median disease duration 6.5 (1–16) years. Ocular manifestations were present in all patients: 12 (26.1%) had proptosis; 40 (87%) had scleritis/episcleritis, with perforation in 3 (6.5%); 33 (71.7%) had keratoconjunctivitis (KC), with acute infiltrative stromal keratitis in 11, peripheral ulcerative keratitis in 15, and sclerosing keratitis in 11 patients. Uveitis was present in 11 (23.9%) and retinal changes including vasculitis, exudates, and hemorrhage were present in 7 (15.2%). Blurred vision was present in 43 (93.5%) patients and 2 (4.3%) had vision loss. Glaucoma was present in 4 (8.7%) and hypotony in 2 (4.3%) patients. Involvement was bilateral in 32 (69.6%) patients. Rheumatoid factor (RF) was positive in 56.5% and significantly associated with uveitis (p = 0.04), while antinuclear antibody (ANA) was positive in 45.7% and significantly associated with KC (p = 0.04). BVAS tended to be higher in patients with uveitis (p = 0.49).
Conclusion
Ocular involvement must be considered in all GPA patients and referral to an experienced ophthalmologist is mandatory for proper management and improved outcome of such a rare systemic disease. ANA and RF positivity may raise suspicion for KC or uveitis, respectively. There was a remarkable association between uveitis and disease activity.
Zusammenfassung
Ziel
Ziel der vorliegenden Studie war es, Krankheitsmerkmale, Autoantikörper und Krankheitsaktivität bei Patienten mit Granulomatose und Polyangiitis (GPA) bei Vorliegen okulärer Manifestationen zu untersuchen.
Methoden
Die Kohorte umfasste 46 GPA-Patienten der ophthalmologischen Klinik. Die okulären Manifestationen wurden dokumentiert, es erfolgte eine klinische und eine Spaltlampenuntersuchung. Außerdem wurde der Birmingham Vasculitis Activity Score (BVAS) ermittelt. Neben anderen Laboruntersuchungen wurde die Bestimmung der antineutrophilen zytoplasmatischen Antikörper (ANCA) durchgeführt.
Ergebnisse
Das Durchschnittsalter der 22 männlichen und 24 weiblichen Patienten betrug 44,5 (32–63) Jahre, die mittlere Krankheitsdauer lag bei 6,5 (1–16) Jahren. Bei allen Patienten lagen okuläre Manifestationen vor: Bei 12 (26,1 %) eine Proptosis bulbi; 40 (87 %) wiesen eine Skleritis/Episkleritis auf, 3 mit Perforation 3 (6,5 %); bei 33 (71,7 %) bestand eine Keratokonjunktivitis (KC), mit akuter infiltrativer stromaler Keratitis in 11 Fällen, mit peripherer ulzerativer Keratitis bei 15 und mit sklerosierender Keratitis bei 11 Patienten. Eine Uveitis lag bei 11 Patienten vor (23,9 %), und Retinaveränderungen einschließlich Vaskulitis, Exudaten und Blutungen bestanden in 7 Fällen (15,2 %). Verschwommensehen bestand bei 43 (93,5 %) Patienten, und in 2 Fällen (4,3 %) lag eine Einschränkung der Sehkraft vor. Ein Glaukom bestand in 4 (8,7 %) und eine Hypotonie in 2 (4,3 %) Fällen. Bei 32 (69,6 %) Patienten war die Beteiligung bilateral. Der Rheumafaktor (RF) war in 56,5 % der Fälle positiv und in signifikanter Weise mit einer Uveitis assoziiert (p = 0,04), während antinukleäre Antikörper (ANA) in 45,7 % der Fälle positiv und signifikant mit einer KC assoziiert waren (p = 0,04). Der BVAS war bei Patienten mit Uveitis tendenziell höher (p = 0,49).
Schlussfolgerung
Die okuläre Beteiligung muss bei allen GPA-Patienten berücksichtigt werden, eine Überweisung an einen erfahrenen Ophthalmologen ist zwingend für die angemessene Versorgung und einen besseren Verlauf bei einer solchen seltenen systemischen Erkrankung. ANA- und RF-Positivität können den Verdacht auf eine KC oder Uveitis wecken. Es bestand eine beachtliche Assoziation zwischen einer Uveitis und der Krankheitsaktivität.
Access options
Buy single article
Instant access to the full article PDF.
US$ 39.95
Tax calculation will be finalised during checkout.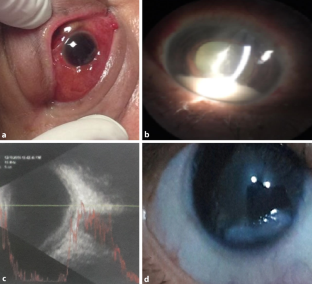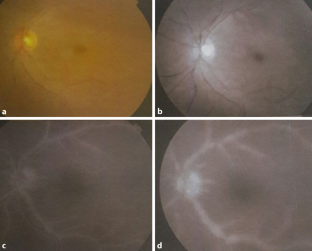 References
1.

Kubaisi B, Samra AK, Foster CS (2016) Granulomatosis with polyangiitis (Wegener's disease): an updated review of ocular disease manifestations. Intractable Rare Dis Res 5(2):61–69

2.

Ntatsaki E, Watts RA, Scott DG (2010) Epidemiology of ANCA-associated vasculitis. Rheum Dis Clin North Am 36:447–461

3.

Andrews M, Edmunds M, Campbell A et al (1990) Systemic vasculitis in the 1980s ? is there an increasing incidence of Wegener's granulomatosis and microscopic polyarteritis? J R Coll Physicians Lond 24:284–288

4.

Chung S, Monach PA (2017) Anti-neutrophil cutoplasmic antibody-associated vasculitis. In: Firestein GS, Budd RC, Gabriel SE, McInnes IB, O'Dell JR (eds) Kelley and Firestein's textbook of rheumatology. Elsevier, Philadelphia, pp 1541–1558 (Chapter 89)

5.

Cisternas M, Soto L, Jacobelli S et al (2005) Clinical features of Wegener granulomatosis and microscopic polyangiitis in Chilean patients. Rev Med Chil 133(3):273–278

6.

Rothschild PR, Pagnoux C, Seror R et al (2013) Ophthalmologic manifestations of systemic necrotizing vasculitides at diagnosis: a retrospective study of 1286 patients and review of the literature. Semin Arthritis Rheum 42(5):507–514

7.

Gheita TA, Samad HM, Mahdy MA (2014) Pattern of primary vasculitis with peripheral ischemic manifestations: report of a case series and role of vascular surgery. Curr Rheumatol Rev 10(2):126–130

8.

Niederkorn JY (2006) See no evil, hear no evil, do no evil: the lessons of immune privilege. Nat Immunol 7:353–359

9.

Rosenbaum JT (2017) The eye and rheumatic diseases. In: Firestein GS, Budd RC, Gabriel SE, McInnes IB, O'Dell JR (eds) Kelley and Firestein's textbook of rheumatology. Elsevier, Philadelphia, pp 645–653 (Chapter 44)

10.

Leavitt RY, Fauci AS, Bloch DA et al (1990) The American College of Rheumatology 1990 criteria for the classification of Wegener's granulomatosis. Arthritis Rheum 33:1101–1107

11.

Luqmani RA, Bacon PA, Moots RJ et al (1994) Birmingham Vasculitis Activity Score (BVAS) in systemic necrotizing vasculitis. QJM 87:671–678

12.

Wang T, Shi W, Fan T, Wan X, Chen YH, Ruan Q (2016) c‑Rel is required for the induction of pTregs in the eye but not in the Gut Mucosa. Immunol Invest 45(8):776–786

13.

Aldasoro-Cáceres V, Aldasoro-Cáceres I, Pérez-Moreiras JV et al (2014) C‑ANCA positive necrotising scleritis and multiple sclerosis compatible with ocular Wegener: treatment with rituximab. Arch Soc Esp Oftalmol 89(1):31–34

14.

Hoffman GS, Kerr GS, Leavitt RY, Hallahan CW et al (1992) Wegener's granulomatosis: an analysis of 158 patients. Ann Intern Med 116:488–498

15.

Torres RM, Herreras JM, Becerra E et al (2004) Ocular presentation in Wegener granulomatosis. Arch Soc Esp Oftalmol 79(3):135–138

16.

García C, Voorduin S, Pedroza-Seres M (2006) Diagnosis of Wegener's granulomatosis in patients with ocular inflamatory disease. Gac Med Mex 142(6):477–482

17.

Cogan D (1995) Corneoscleral lesions in periarteritis nodosa and Wegener's granulomatosis. Trans Am Ophthalmol Soc 53:321–342

18.

Spalton DJ, Graham EM, Page NG et al (1981) Ocular changes in limited forms of Wegener's granulomatosis. Br J Ophthalmol 1981(65):553–563

19.

Sadiq SA, Jennings CR, Jones NS et al (2000) Wegener's granulomatosis: the ocular manifestations revisited. Orbit 19(4):253–261

20.

Holle JU, Voigt C, Both M et al (2013) Orbital masses in granulomatosis with polyangiitis are associated with a refractory course and a high burden of local damage. Rheumatology (Oxford) 52:875–882

21.

Jinnah HA, Dixon A, Brat DJ, Hellmann DB (1997) Review chronic meningitis with cranial neuropathies in Wegener's granulomatosis. Case report and review of the literature. Arthritis Rheum 40(3):573–577

22.

Akpek EK, Thorne JE, Qazi FA et al (2004) Evaluation of patients with scleritis for systemic disease. Ophthalmology 111(3):501–506

23.

Cocho L, Gonzalez-Gonzalez LA, Molina-Prat N et al (2016) Scleritis in patients with granulomatosis with polyangiitis (Wegener). Br J Ophthalmol 100(8):1062–1065

24.

Sainz de la Maza M, Foster CS, Jabbur NS (1995) Scleritis associated with systemic vasculitic diseases. Ophthalmology 102:687–692

25.

Wieringa WG, Wieringa JE, ten Dam-van Loon NH et al (2013) Visual outcome, treatment results, and prognostic factors in patients with scleritis. Ophthalmology 120:379–386

26.

Fortney AC, Chodosh J (2002) Conjunctival ulceration in recurrent Wegener granulomatosis. Cornea 21(6):623–624

27.

Messmer EM, Foster CS (1999) Vasculitic peripheral ulcerative keratitis. Surv Ophthalmol 43:379–396

28.

Palmowski AM, Hille K, Ruprecht KW (1994) Non-syphilitic interstitial keratitis and inner ear deafness in the initial phase of Wegener's granulomatosis. Klin Monbl Augenheilkd 205:364–367

29.

Cassan SM, Coles DT, Harrison EG Jr. (1970) The concept of limited forms of Wegener's granulomatosis. Am J Med 49:366–379

30.

Straatsma BR (1957) Ocular manifestations of Wegener's granulomatosis. Am J Ophthalmol 144:789–799

31.

Watkins AS, Kempen JH, Choi D et al (2009) Ocular disease in patients with ANCA-positive vasculitis. J Ocul Biol Dis Infor 3:12–19

32.

du Huong LT, Tran TH, Piette JC (2006) Granulomatous uveitis revealing Wegener's granulomatosis. J Rheumatol 33:1209–1210

33.

Woo TL, Francis IC, Wilcsek GA et al (2001) Australasian orbital and adnexal Wegener's granulomatosis. Ophthalmology 108:1535–1543

34.

Harper SL, Letko E, Samson CM et al (2001) Wegener's granulomatosis: the relationship between ocular and systemic disease. J Rheumatol 28:1025–1032

35.

Schonermarck U, Lamprecht P, Csernok E et al (2001) Prevalence and spectrum of rheumatic diseases associated with proteinase 3‑antineutrophil cytoplasmic antibodies (ANCA) and myeloperoxidase-ANCA. Rheumatology 40:178–184

36.

Falk RJ, Hogan S, Carey TS et al (1990) Clinical course of anti-neutrophil cytoplasmic autoantibodyassociated glomerulonephritis and systemic vasculitis. The glomerular disease collaborative network. Ann Intern Med 113:656–663

37.

Power WJ, Rodriguez A, Neves RA et al (1995) Disease relapse in patients with ocular manifestations of Wegener granulomatosis. Ophthalmology 102(1):154–160

38.

Pagnoux C, Hogan SL, Chin H et al (2008) Predictors of treatment resistance and relapse in antineutrophil cytoplasmic antibody associated small-vessel vasculitis: comparison of two independent cohorts. Arthritis Rheum 58:2908–2918

39.

Savige JA, Chang L, Wilson D et al (1996) Autoantibodies and target antigens in antineutrophil cytoplasmic antibody (ANCA)-associated vasculitides. Rheumatol Int 16(3):109–114
Ethics declarations
Conflict of interest
T. A. Gheita and E. M. Abd El Latif declare that they have no competing interests.
All procedures performed in studies involving human participants were in accordance with the ethical standards of the institutional and/or national research committee and with the 1964 Helsinki declaration and its later amendments or comparable ethical standards. Informed consent was obtained from all individual participants included in the study. Additional informed consent was obtained from all individual participants from whom identifying information is included in this article.
Additional information
Redaktion
U. Müller-Ladner, Bad Nauheim
U. Lange, Bad Nauheim
About this article
Cite this article
Gheita, T.A., Abd El Latif, E.M. Relationship of ocular presentation in granulomatosis with polyangiitis to autoantibodies and disease activity. Z Rheumatol 78, 281–286 (2019). https://doi.org/10.1007/s00393-018-0495-5
Keywords
Anti-neutrophil cytoplasmic antibody-associated vasculitis

Rheumatoid factor

Uveitis

Keratoconjunctivitis

Ophthalmologists
Schlüsselwörter
Mit antineutrophilen zytoplasmatischen Antikörpern assoziierte Vaskulitis

Rheumafaktor

Uveitis

Keratokonjunktivitis

Ophthalmologen