Zusammenfassung
Hintergrund
Die juvenile Dermatomyositis (jDM) ist eine seltene Autoimmunerkrankung, klinisch charakterisiert durch typische Hautveränderungen und Muskelschwäche. Bei einigen Patienten können myositisassoziierte (MAA) oder myositisspezifische Antikörper (MSA) nachgewiesen werden. Diese sind bedeutsam für Krankheitsspektrum und Prognose.
Methodik
Bei 12 aktuell betreuten jDM-Patienten des Rheumazentrums Sankt Augustin erfolgte eine Untersuchung auf MAA und MSA mittels eines Line-Immunoassays.
Ergebnisse
Bei 10 von 12 Patienten konnten insgesamt 15 Myositisantikörper nachgewiesen werden. Je 3 Patienten hatten Mi2-, SRP- oder NXP2-Antikörper, 2 hatten TIF-1γ-Antikörper und je 1 Patient Jo1- oder Mi2β-Antikörper. Zwei Patienten hatten zusätzlich PM-Scl-Antikörper. Bei den 10 Patienten mit nachgewiesenen Antikörpern zeigte sich eine gute Phänotyp-Serotyp-Korrelation mit Abweichung von den in der Literatur beschriebenen Phänotypen bei 3 Patienten.
Schlussfolgerung
Der häufige Nachweis von spezifischen Antikörpern und die gute Korrelation mit den in der Literatur beschriebenen Phänotypen zeigen, dass die Bestimmung von MSA ein wichtiges diagnostisches Hilfsmittel ist, um Verlauf, Komplikationen und Outcome abzuschätzen und frühzeitig eine adäquate Therapie einzuleiten.
Abstract
Background
Juvenile dermatomyositis (JDM) is a rare autoimmune disease associated with typical skin changes and muscle weakness. Within the framework of the diagnostics, myositis-associated (MAA) and myositis-specific antibodies (MSA) can be detected. These are important for the assessment of the course of the disease and the prognosis.
Method
In this study we searched for MAA and MSA by means of a line immunoassay in 12 currently supervised JDM patients in the Rheumatism Center Sankt Augustin.
Results
In 10 of the 12 patients a total of 15 myositis antibodies were detected where 3 patients each had Mi2, SRP or NXP2 antibodies, 2 had TIF-1γ antibodies and Jo1 or Mi2β antibodies were found in 1 patient each. Of the patients two had additional PM-Scl antibodies. In the 10 patients with detected antibodies, a good phenotype-serotype correlation was found with deviation from the phenotypes described in the literature in only 3 patients.
Conclusion
The frequent detection of certain antibodies and the good correlation with those phenotypes described in the literature, show that the determination of MSA is an important diagnostic tool to assess the course, complications and outcome and to initiate adequate therapy at an early stage.
Access options
Buy single article
Instant access to the full article PDF.
US$ 39.95
Tax calculation will be finalised during checkout.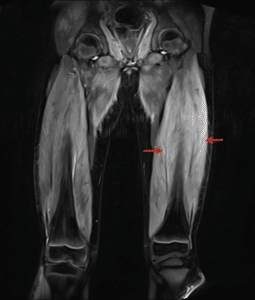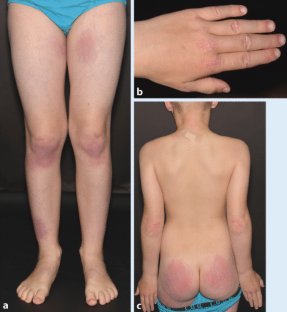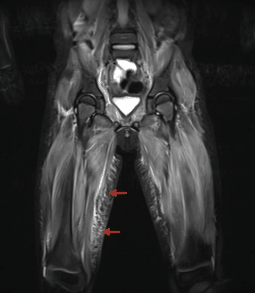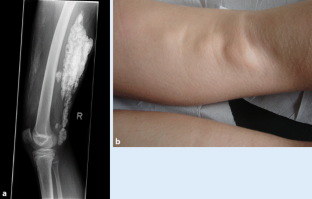 Literatur
1.

Betteridge ZE, Gunawardena H, McHugh NJ (2011) Novel autoantibodies and clinical phenotypes in adult and juvenile myositis. Arthritis Res Ther 13:209

2.

Bohan A, Peter JB (1975) Polymyositis and dermatomyositis (first of two parts). N Engl J Med 292:344–347

3.

Brown VE et al (2006) An international consensus survey of the diagnostic criteria for juvenile dermatomyositis (JDM). Rheumatology (Oxford) 45:990–993

4.

Feldman BM, Reichlin M, Laxer RM, Targoff IN, Stein LD, Silverman ED (1996) Clinical significance of specific autoantibodies in juvenile dermatomyositis. J Rheumatol 23:1794–1797

5.

Feldmann BM, Rider LG, Reed AM, Pachmann LM (2008) Juvenile dermatomyositis and other idiopathic inflammatory myopathies of childhood. Lancet 371:2201–2212

6.

Gunawardena H, Betteridge Z, McHugh NJ (2009) Myositis-specific autoantibodies: their clinical and pathogenic significance in desease expression. Rheumatology (Oxford) 48:607–612

7.

Gunawardena H, Wedderburn LR, Chinoy H et al (2009) Juvenile Dermatomyositis Research Group, UK and Ireland: autoantibodies to a 140-kd protein in juvenile dermatomyositis are associated with calcinosis. Arthritis Rheum 60:1807–1814

8.

Gunarwardena H, Wedderburn LR, North J, Betteridge Z, Dunphy J, Chinoy H et al (2008) Clinical associations of autoantibodies to a p155/140 kDa doublet protein in juvenile dermatomyositis. Rheumatology (Oxford) 47:324–328

9.

Kimura Y, Sakai F, Nakano O et al (2002) The newly identified human nuclear protein NXP-2 possesses three distinct domains, the nuclear matrix-binding, RNA-binding and coiled-coil domains. J Biol Chem 277:20611–20617

10.

Kobayashi N, Takezaki S, Kobayashi I, Iwata N, Mori M, Nagai K, Nakano N, Miyoshi M, Kinjo N, Murata T, Masunaga K, Umebayashi H, Imagawa T, Agematsu K, Sato S, Kuwana M, Yamada M, Takei S, Yokota S, Koike K, Ariga T (2015) Clinical and laboratory features of fatal rapidly progressive interstitial lung disease associated with juvenile dermatomyositis. Rheumatology (Oxford) 54(5):784–791

11.

Love LA, Leff RL, Fraser DD et al (1991) A new approach to the classification of idiopathic inflammatory myopathy: myositis-specific autoantibodies define useful homogeneous patient groups. Medicine (Baltimore) 70:360–374

12.

Lundberg IE et al (2017) 2017 European League Against Rheumatism/American College of Rheumatology classification criteria for adult and juvenile idiopathic inflammatory myopathies and their major subgroups. Arthritis Rheumatol. https://doi.org/10.1002/art.40320

13.

Mammen AL (2011) Autoimmune myopathies: autoantibodies, phenotypes and pathogenesis. Nat Rev Neurol 7:343–354

14.

Mendez EP et al (2003) US incidence of juvenile dermatomyositis, 1995–1998: results from the National Institute of Arthritis and Musculoskeletal and Skin Diseases Registry. Arthritis Rheum 49:300–305

15.

Morris P, Dare J (2010) Juvenile dermatomyositis as a paraneoplastic phenomenon: an update. J Pediatr Hematol Oncol 32:189–191

16.

Oberle EJ, Bayer ML, Chiu YE, Co DO (2017) How often are pediatric patients with clinically amyopathic dermatomyositis truly amyopathic? Pediatr Dermatol 34:50–57

17.

Reeves WH, Nigam SK, Blobel G (1986) Human autoantibodies reactive with signal-recognition particle. Proc Natl Acad Sci Usa 83:9507–9570

18.

Rider LG, Miller FW, Targoff IN, Sherry DD, Samayoa E, Lindahl M, Wener MH, Pachman LM, Plotz PH (1994) A broadened spectrum of juvenile myositis. Myositis-specific autoantibodies in children. Arthritis Rheum 37:1534–1538

19.

Rider LG, Nistala K (2016) The juvenile idiopathic inflammatory myopathies: pathogenesis, clinical and autoantibody phenotypes, and outcomes. J Intern Med 280:24–38

20.

Rider LG, Shah M, Mamyrova G, Huber AM, Rice MM, Targoff IN, Miller FW (2013) Childhood Myositis Heterogeneity Collaborative Study Group. The myositis autoantibody phenotypes of the juvenile idiopathic inflammatory myopathies. Medicine (Baltimore) 92:223–243

21.

Shah M, Mamyrova G, Targoff IN et al (2013) The clinical phenotypes of the juvenile idiopathic inflammatory myopathies. Medicine (Baltimore) 92:25–41

22.

Symmons DP, Sills JA, Davis SM (1995) The incidence of juvenile dermatomyositis: results from a nation-wide study. Br J Rheumatol 34:732–736

23.

Tansley S, Betteridge Z, Gunawardena H et al (2012) Clinical differences between adult and juvenile dermatomyositis associated with anti-NXP2 autoantibodies. ACR, Atlanta (abstract)

24.

Tansley SL, McHugh NJ (2014) Myositis specific and associated autoantibodies in the diagnosis and management of juvenile and adult idiopathic inflammatory myopathies. Curr Rheumatol Rep 16:464

25.

Targoff IN, Trieu EP, Levy-Neto M, Fertig N, Oddis CV (2007) Sera with autoantibodies to the MJ antigen react with NXP2. Arthritis Rheum 56:787

26.

Wang HB, Zhang Y (2001) Mi2, an auto-antigen for dermatomyositis, is an ATP-dependent nucleosome remodeling factor. Nucleic Acids Res 29:2517–2521

27.

Wedderburn LR, McHugh NJ, Chinoy H, Cooper RG, Salway F, Ollier WE, McCann LJ, Varsani H, Dunphy J, North J, Davidson JE Juvenile Dermatomyositis Research Group (JDRG) (2007) HLA class II haplotype and autoantibody associations in children with juvenile dermatomyositis and juvenile dermatomyositis-scleroderma overlap. Rheumatology (Oxford) 46:1786–1791
Ethics declarations
Interessenkonflikt
K. Eising, J. Peitz, N. Unterwalder, C. Meisel und G. Horneff geben an, dass kein Interessenkonflikt besteht.
Dieser Beitrag beinhaltet keine von den Autoren durchgeführten Studien an Menschen oder Tieren. Alle Patienten, die über Bildmaterial oder anderweitige Angaben innerhalb des Manuskripts zu identifizieren sind, haben hierzu ihre schriftliche Einwilligung gegeben.
Additional information
Redaktion
U. Müller-Ladner, Bad Nauheim
U. Lange, Bad Nauheim
About this article
Cite this article
Eising, K., Peitz, J., Unterwalder, N. et al. Myositisspezifische Antikörper bei juveniler Dermatomyositis. Z Rheumatol 77, 735–740 (2018). https://doi.org/10.1007/s00393-017-0415-0
Schlüsselwörter
Juvenile Dermatomyositis

Myositisspezifische Antikörper

Myositisassoziierte Antikörper

Phänotyp-Serotyp-Korrelation
Keywords
Juvenile dermatomyositis

Myositis-specific antibodies

Myositis-associated antibodies

Phenotype serotype correlation