Abstract
Aim
We aimed at investigating the ultrasonographic (US) and clinical prevalence of enthesopathy in patients with rheumatoid arthritis (RA), and axial spondyloarthropathy (SpA), as well as the correlation between this condition and disease activity, along with the quality of life.
Methods
Included in the study were 30 axial SpA, 21 patients with RA, and 25 healthy cases. Bath Anklylosing Spondylitis Disease Activity Index (BASDAI), Ankylosing Spondylitis Quality of Life (ASQoL), Disease activity index  28 (DAS28), and Health Assessment Questionnaire (HAQ) were used for clinical evaluation, and enthesal pain was evaluated by VAS, whereas enthesitis US evaluation was performed by using the MAdrid Sonographic Enthesitis Index (MASEI). A total of 152 knees, ankles, and elbow regions of all patients and controls were examined by US.
Results
Total scores of physical examination of enthesitis were 1.97 ± 2.68 in axial SpA, 2.43 ± 1.80 in RA, and 0.23 ± 0.12 in the control groups. No statistically significant difference was identified in the enthesitis examination between axial SpA and RA groups (p = 0.123). According to the MASEI, no significant difference was observed in quadriceps tendon enthesitis or in distal patellar ligament enthesitis between axial SpA and RA groups (MASEI 3, 4, 5: p = 0.993, p = 0.124, p = 0.652). Aside from those points, axial SpA patients had statistically higher enthesitis scores at all MASEI enthesitis points (p < 0.05). In the axial SpA group, a significant and positive correlation was identified between BASDAI scores and total scores of enthesitis physical examination and MASEI total scores (r = 0.739, p = 0.0001, r = 0.516, p = 0.002). A moderately significant correlation was identified between ASQoL total scores and MASEI total scores (r = 0.466, p = 0.006), but not between the HAQ total scores and MASEI total scores (r = 0.213, p = 0.065).
Conclusions
Compared to RA, US and clinical examination of enthesitis in patients with axial SpA should focus on the calcaneal enthesitis region. In axial SpA, ultrasonographic enthesitis is associated with impaired quality of life.
Zusammenfassung
Zielsetzung
Ermittelt werden sollten die sonographische (US) wie die klinische Prävalenz der Enthesopathie bei Patienten mit rheumatoider Arthritis (RA) und Patienten mit axialer Spondyloarthropathie (SpA) sowie die Korrelationen mit der Krankheitsaktivität und der Lebensqualität.
Methoden
In die Studie aufgenommen waren 30 Patienten mit axialer SpA, 21 mit RA und 25 gesunde Kontrollpersonen. Zur klinischen Evaluation dienten "Bath Anklylosing Spondylitis Disease Activity Index" (BASDAI), "Ankylosing Spondylitis Quality of Life" (ASQoL), "Disease activity index 28" (DAS28) und "Health Assessment Questionnaire" (HAQ), Schmerzen im Bereich von Sehnen wurde mittels einer VAS (visuelle Analogskala) dokumentiert, die sonographische Evaluation dagegen erfolgte unter Verwendung des MASEI (MAdrid Sonographic Enthesitis Index). Insgesamt 152 Knie‑, Sprunggelenk- und Ellenbogenregionen aller Patienten und Kontrollen wurden sonographiert.
Ergebnisse
Die Summenscores der körperlichen Untersuchung betrugen bei axialer SpA 1,97 ± 2,68 in axial SpA, bei RA 2,43 ± 1,80 und bei den Kontrollpersonen 0,23 ± 0,12. Kein statistisch signifikanter Unterschied ließ sich bei der Untersuchung auf Enthesitis zwischen den beiden Patientengruppen ausmachen (p = 0,123). Gemäß dem MASEI wurde zwischen diesen Gruppen ebenfalls kein signifikanter Unterschied beobachtet hinsichtlich einer Enthesitis der Quadrizeps- oder der distalen Patellarsehne (MASEI 3, 4, 5: p = 0,993, p = 0,124, p = 0,652). Neben diesen Aspekten hatten die SpA-Patienten statistisch signifikant höhere Scores an allen MASEI-Enthesitispunkten (p < 0,05). In der Patientengruppe mit axialer SpA zeigte sich eine signifikante, positive Korrelation zwischen BASDAI-Scores und Summenscores der körperlichen Untersuchung auf Enthesitiden und den MASEI-Summenscores (r = 0,739, p = 0,0001, r = 0,516, p = 0,002). Eine mäßig signifikante Korrelation bestand zwischen den ASQoL- und den MASEI-Summenscores (r = 0,466, p = 0,006), keine statistisch signifikante Korrelation dagegen zwischen den HAQ- und den MASEI-Summenscores (r = 0,213, p = 0,065).
Schlussfolgerungen
Anders als bei RA sollten bei axialer SpA die sonographische und die klinische Untersuchung auf Enthesitis auf mögliche entsprechende Befunde in der kalkanearen Region fokussiert sein. Bei Patienten mit axialer SpA ist eine sonographisch dargestellte Enthesitis mit einer beeinträchtigten Lebensqualität verbunden.
Access options
Buy single article
Instant access to the full article PDF.
US$ 39.95
Tax calculation will be finalised during checkout.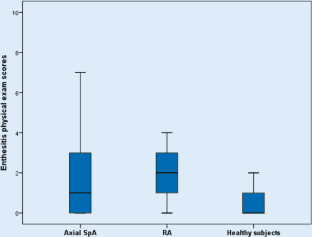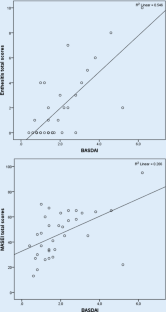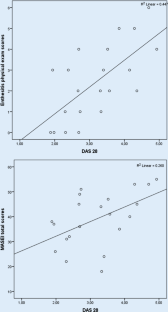 References
1.

Braun JV, Van Den Berg R, Baraliakos X et al (2011) 2010 update of the ASAS/EULAR recommendations for the management of ankylosing spondylitis. Ann Rheum Dis 70:896–904

2.

Falsetti P, Frediani B, Fioravanti A, Acciai C, Baldi F, Filippou G, Marcolongo R (2003) Sonographic study of calcaneal entheses in erosive osteoarthritis, nodal osteoarthritis, rheumatoid arthritis and psoriatic arthritis. Scand J Rheumatol 32:229–234

3.

Resnick D, Niwayama G (1983) Entheses and enthesopathy. Anatomicsl, patological, and radiological correlation. Radiology 146:1–9

4.

Benjamin M, McGonagle D (2009) The enthesis organ concept and its relevance to the spondyloarthropathies. Adv Exp Med Biol 649:57–70

5.

Benjamin M, Rufai A, Ralphs JR (2000) The mechanism of formation of bony spurs (enthesophytes) in the Achilles tendon. Arthritis Rheum 43:576–583

6.

Frediani B, Falsetti P, Storri L et al (2002) Ultrasound and clinical evaluation of quadricipital tendon enthesitis in patients with psoriatic arthritis and rheumatoid arthritis. Clin Rheumatol 21(4):294–298

7.

De Miguel E, Cobo T, Munoz-Fernandez S et al (2009) Validity of enthesis ultrasound assessment in spondyloarthropathy. Ann Rheum Dis 68:169–174

8.

Moriggl B, Jax P, Milz S, Buttner A, Benjamin M (2001) Fibrocartilage at the entheses of the suprascapular (superior transverse scapular) ligament of man—a ligament spanning two regions of a single bone. J Anat 199(Pt 5):539–545

9.

McGonagle D, Lories RJ, Tan AL, Benjamin M (2007) The concept of a "synovioentheseal complex" and its implications for understanding joint inflammation and damage in psoriatic arthritis and beyond. Arthritis Rheum 56(8):2482–2491

10.

Rudwaleit M, van der Heijde D, Landewé R et al (2009) The development of assessment of spondyloarthritis international society classification criteria for axial spondyloarthritis (part II): validation and final selection. Ann Rheum Dis 68(6):777–783

11.

Neogi T, Aletaha D, Silman AJ et al (2010) The 2010 American College of Rheumatology/European League Against Rheumatism classification criteria for rheumatoid arthritis: phase 2 methodological report. Arthritis Rheum 62:2582–2591

12.

Wolfe F, Smythe HA, Yunus MB et al (1990) The American College of Rheumatology 1990 criteria for classification of fibromyalgia. Report of the multicenter criteria committee. Arthritis Rheum 33:160–172

13.

Wolfe F, Pincus T, O'Dell J (2001) Evaluation and documentation of rheumatoid arthritis disease status in the clinic: which variables best predict change in therapy. J Rheumatol 28(7):1712–1717

14.

Garrett S, Jenkinson T, Kenneddy L, Whitlelock H, Gaisford P, Calin A (1994) A new approach to defining disease status in ankylosing spondylitis: the Bath Ankylosing Spondylitis Disease Activity Index. J Rheumatol 21:2286–2291

15.

Doward LC, Spoorenberg A, Cook SA et al (2003) Development of the ASQoL: a quality of life instrument specific to ankylosing spondylitis. Ann Rheum Dis 62(1):20–26

16.

Cohen JD, Dougados M, Goupille P et al (2006) Health assessment questionnaire score is the best predictor of 5‑year quality of life in early rheumatoid arthritis. J Rheumatol 33(10):1936–1941

17.

Olivieri I, Padula A, Giasi V, Scarano E (2003) Enthesitis of spondyloarthritis can m1asquerade as Osgood-Schlatter disease by radiographic findings. Arthritis Rheum 49:147–148

18.

McGonagle D, Benjamin M (2008) Enthesopaties. In: Hochberg MC, Silman AJ, Smolen JS, Weinblatt ME, Weisman MH (eds) Rheumatology, 4th edn., pp 1197–1204

19.

Helliwell PS, Porter G, group Cs (2007) Sensitivity and specificity of plain radiographic features of peripheral enthesopathy at major sites in psoriatic arthritis. Skelet Radiol 36(11):1061–1066

20.

Ibrahim GH, Groves C, Chandramohan M et al (2011) Clinical and ultrasound validation of the Leeds Enthesitis Index in psoriatic arthritis and rheumatoid arthritis. ISRN Rheumatol 731917:5

21.

Kaya T, Bal S, Günaydun R (2007) Relationship between the severity of enthesitis and clinical and laboratory parameters in patients with ankylosing spondylitis. Rheumatol Int 27:323–327

22.

Sivas F, Mermerci Başkan B, Erkol İnal E et al (2009) The relationship between enthesitis indices and disease activity parameters in patients with ankylosing spondylitis. Clin Rheumatol 28:259–264

23.

Turan Y, Duruöz MT, Cerrahoglu L (2009) Relationship between enthesitis, clinical parameters and quality of life in spondyloarthritis. Joint Bone Spine 76:642–647

24.

Laatiris A, Amine B, Ibn Yacoub Y (2012) Enthesitis and its relationships with disease parameters in Moroccan patients with ankylosing spondylitis. Rheumatol Int 32(3):723–727

25.

Maksymowych WP, Inman RD, Salonen D et al (2005) Spondyloarthritis research Consortium of Canada magnetic resonance imaging index for assessment of sacroiliac joint inflammation in ankylosing spondylitis. Arthritis Rheum 53(5):703–709

26.

Carneiro S, Bortoluzzo A, Gonçalves C et al (2013) Effect of enthesitis on 1505 Brazilian patients with spondyloarthritis. J Rheumatol 40(10):1719–1725

27.

D'Agostino MA, Said-Nahal R, Hacquard-Bouder C et al (2003) Assessment of peripheral enthesitis in the spondylarthropathies by ultrasonography combined with power Doppler: a cross-sectional study. Arthritis Rheum 48(2):523–533

28.

Genc H, Cakit BD, Tuncbilek I, Erdem HR (2005) Ultrasonographic evaluation of tendons and enthesal sites in rheumatoid arthritis: comparison with ankylosing spondylitis and healthy subjects. Clin Rheumatol 24:272–277
Ethics declarations
Conflict of interest
E. Süleyman, K. Nas, H. Harman and N. Kaban declare that they have no competing interests.
The study has been performed in accordance with the Declaration of Helsinki and was approved by the independent ethics committee of Sakarya University of Faculty of Medicine. All patients signed informed consent to participate in the study for the collection and publication of the data.
Additional information
Redaktion
U. Müller-Ladner, Bad Nauheim
U. Lange, Bad Nauheim
About this article
Cite this article
Süleyman, E., Nas, K., Harman, H. et al. Clinical and ultrasonographic enthesopathy in inflammatory rheumatic diseases. Z Rheumatol 77, 719–726 (2018). https://doi.org/10.1007/s00393-017-0405-2
Keywords
Joints

Rheumatoid arthritis

Spondyloarthropathies

Tendons

Ultrasound imaging
Schlüsselwörter
Gelenke

Rheumatoide Arthritis

Spondyloarthropathien

Sehnen

Sonographische Bildgebung