Zusammenfassung
Schmerzen im Bereich der Lendenwirbelsäule haben bei Patienten mit rheumatoider Arthritis (RA) bislang nur wenig Beachtung gefunden. Wissenschaftliche Arbeiten beschäftigten sich überwiegend mit der rheumatischen Instabilität der Halswirbelsäule. In einer aktuellen Studie konnten wir jedoch nachweisen, dass Kreuzschmerzen beim RA-Patienten zu einer signifikanten Reduktion der Funktionskapazität und Lebensqualität führen. Entstehen die lumbalen Beschwerden aufgrund von spezifischen Veränderungen wie einer Lumbalkanalstenose oder einer segmentalen lumbalen Instabilität, kann eine gezielte operative Behandlung zu einer deutlichen Verbesserung der Funktionskapazität und Lebensqualität führen. Für eine erfolgreiche Behandlung ist es wichtig, bei Auswahl und Durchführung des chirurgischen Eingriffes den besonderen Aspekten des RA-Patienten, wie z. B. reduzierte Knochenqualität und immunsuppressive medikamentöse Therapie, Rechnung zu tragen. So sollten, wenn möglich, minimalinvasive Operationstechniken bei der operativen Behandlung zum Einsatz kommen und immunsuppressive Medikamente rechtzeitig vor der Operation abgesetzt werden.
Abstract
Low back pain (LBP) in patients with rheumatoid arthritis (RA) has so far been of little concern in clinical investigations. The main focus of scientific publications on spinal problems in RA was the cervical spine. In a recent study, we could demonstrate that LBP in RA patients leads to a significantly higher degree of disability and depression as well as to a reduction in quality of life compared to RA patients without LBP. If there is a specific reason for the additional symptom of LBP, such as spinal stenosis or segmental instability, surgical treatment may be indicated to improve disability and quality of life. For a successful outcome of spinal surgery it is important to address the specific aspects of RA patients, such as poor bone quality and the immunosuppressive effect of antirheumatic drug treatment. Whenever possible, minimally invasive surgical techniques should be used and the immunosuppressive medication should be stopped before surgery.
Access options
Buy single article
Instant access to the full article PDF.
USD 39.95
Price includes VAT (USA)
Tax calculation will be finalised during checkout.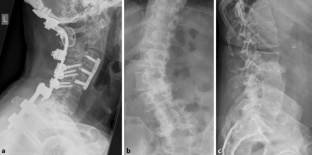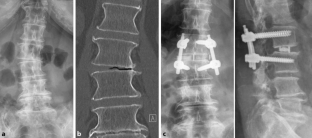 Literatur
1.

Baykara RA, Bozgeyik Z, Akgul O, Ozgocmen S (2013) Low back pain in patients with rheumatoid arthritis: clinical characteristics and impact of low back pain on functional ability and health related quality of life. J Back Musculoskelet Rehabil 26:367–374

2.

Crawford CH III, Carreon LY, Djurasovic M, Glassmann SD (2008) Lumbar fusion outcomes in patients with rheumatoid arthritis. Eur Spine J 17:822–825

3.

Helliwell PS, Zebouni LNP, Porter G, Wright V (1993) A clinical and radiographical study of back pain in rheumatoid arthritis. Br J Rheumatol 32:216–221

4.

Klemencsics I, Lazary A, Szoverfi Z et al (2016) Risk factors for surgical site infection in elective routine degenerative lumbar surgeries. Spine J 16:1377–1383

5.

Kothe R, Kohlmann T, Klink T, Rüther W, Klinger R (2007) Impact of low back pain on functional limitations, depressed mood and quality of life in patients with rheumatoid arthritis. Pain 127:103–108

6.

Kothe R (2016) Zervikale Wirbelsäulenchirurgie des Rheumatikers. Akt Rheumatol 41:455–461

7.

Kothe R (2017) Management von immunsupprimierten Patienten. In: Börm W, Meyer F, Bullmann V, Knop C (Hrsg) Wirbelsäule interdisiplinär: Operative und konservative Therapie. Schattauer, Stuttgart, S 655–656

8.

Makino T, Kaito T, Fujiwara H, Yonenobu K (2013) Lumbar scoliosis in rheumatoid arthritis. Epidemiological research with a DXA cohort. Spine 38:E339–E343

9.

Makino T, Kaito T, Tsuboi H, Fujiwara H, Yonenobu K (2014) Late-onset deep surgical-site infection after posterior lumbar interbody fusion in a patient treated with tocilizumab; unusual changes in inflammatory markers. Eur Spine J 23:S296–S301

10.

Malmivaara A, Slatis P, Heliovaara M et al (2007) Surgical or nonoperative treatment for lumbar spinal stenosis? A randomized controlled clinical trial. Spine 32:1–8

11.

Ohishi M, Miyahara H, Kondo M et al (2014) Characteristics of lumbar scoliosis in patients with rheumatoid arthritis. J Orthop Surg Res 9:30–35

12.

Papavero L, Thiel M, Fritzsche E, Westphal M, Kothe R (2009) Lumbar spinal stenosis: prognostic factors of bilateral microsurgical decompression via an unilateral approach. Neurosurgery 65:182–187

13.

Sakai T, Sairyo K, Hamada D et al (2008) Radiological features of lumbar spine lesions in patients with rheumatoid arthritis with special reference to the changes around the intervertebral discs. Spine J 8:605–611

14.

Yamada K, Suzuki A, Takahashi S et al (2015) Severe low back pain in patients with rheumatoid arthritis is associated with disease activity score but not with radiological findings on plain X‑rays. Mod Rheumatol 25:56–61

15.

Weinstein JN, Tosteson TD, Lurie JD et al (2008) Surgical versus nonsurgical treatment for lumbar spinal stenosis. N Engl J Med 358:794–810

16.

Weinstein JN, Lurie JD, Tosteson TD et al (2009) Surgical compared with nonoperative treatment for lumbar degenerative spondylolisthesis. four-year results in the Spine Patient Outcomes Research Trial (SPORT) randomized and observational cohorts. J Bone Joint Surg Am 91:1295–1304

17.

http://www.leitlinien.de/nvl/html/kreuzschmerz. Zugegriffen: 02. Juli 2017
Ethics declarations
Interessenkonflikt
R. Kothe gibt an, dass kein Interessenkonflikt besteht.
Dieser Beitrag beinhaltet keine vom Autor durchgeführten Studien an Menschen oder Tieren. Alle Patienten, die über Bildmaterial oder anderweitige Angaben innerhalb des Manuskripts zu identifizieren sind, haben hierzu ihre schriftliche Einwilligung gegeben. Im Falle von nicht mündigen Patienten liegt die Einwilligung eines Erziehungsberechtigten oder des gesetzlich bestellten Betreuers vor.
Additional information
Redaktion
B. Swoboda, Erlangen
W. Rüther, Hamburg
About this article
Cite this article
Kothe, R. Rückenschmerz bei rheumatoider Arthritis. Z Rheumatol 76, 869–875 (2017). https://doi.org/10.1007/s00393-017-0363-8
Schlüsselwörter
Lendenwirbelsäule

Lumbale Spinalkanalstenose

Lebensqualität

Funktion

Operation
Keywords
Lumbar spine

Lumbar spinal canal stenosis

Quality of life

Function

Surgical procedures