Zusammenfassung
Hintergrund
Patienten im rheumatologischen Versorgungsalltag unterscheiden sich in ihrem individuellen Risikoprofil entscheidend von Teilnehmern an klinischen Zulassungsstudien, z. B. durch Begleiterkrankungen oder Alter. Die Übertragung der Ergebnisse aus klinischen Studien in den Praxisalltag ist daher nur bedingt möglich.
Fragestellung
Welchen Beitrag leisten Beobachtungsstudien für Entscheidungen in der rheumatologischen Praxis?
Material und Methoden
Datengrundlage ist das Biologikaregister RABBIT, in dem Patienten mit einer rheumatoiden Arthritis (RA) mit Beginn einer synthetischen (s) oder biologischen (b) DMARD ("disease-modifying antirheumatic drugs")-Therapie eingeschlossen und mindestens 5 Jahre beobachtet werden. Komorbiditäten und wichtige anamnestische Angaben (wie z. B. Tumorhistorie) werden bei Einschluss erhoben, im Verlauf werden unerwünschte Ereignisse regelmäßig dokumentiert.
Ergebnisse
Nur etwa ein Drittel der in RABBIT mit bDMARDs behandelten Patienten erfüllte die Einschlusskriterien entsprechender Zulassungsstudien. Anhand der Registerdaten wurde ein Modell erstellt, mit dem das individuelle Risiko eines Patienten für schwerwiegende Infektionen unter verschiedenen Therapiekombinationen berechnet werden kann. Mithilfe eines Online-Risikorechners kann dies vom behandelnden Rheumatologen einfach ermittelt werden. Weitere Ergebnisse zeigen, dass vor allem eine hohe Krankheitsaktivität ein bedeutender Risikofaktor für die Verschlechterung bestehender Komorbiditäten ist. Für Patienten mit einer Herzinsuffizienz scheint die Behandlung mit TNF-Inhibitoren wegen der effektiven Kontrolle der Krankheitsaktivität eher protektiv als schädlich.
Schlussfolgerungen
Auswertungen von Beobachtungsstudien tragen heutzutage bedeutend zur Beurteilung des individuellen Risikos eines Patienten bei. Ergebnisse der Biologikaregister stellen nicht nur eine Ergänzung zu klinischen Studien dar, sondern sind eine wichtige Grundlage für Entscheidungen im Praxisalltag und erhöhen die Handlungssicherheit bei der Behandlung von Patienten mit Komorbiditäten oder in höherem Alter.
Abstract
Background
Patients in daily rheumatological care differ in their individual risk profiles from participants in randomized controlled trials (RCT), e.g. due to comorbidities and age. Transferring results from RCTs into routine daily practice is therefore limited.
Objective
The aim of this study was to evaluate the contribution of observational studies for decision-making in routine rheumatology practice.
Material and methods
We used data from the German biologics register RABBIT which includes patients with rheumatoid arthritis (RA) when starting synthetic (s) or biologic (b) disease-modifying antirheumatic drugs (DMARD). They are observed for at least 5 years. Comorbidities and clinically relevant aspects (e.g. history of malignancies) are reported at baseline and adverse events at regular follow-up.
Results
Only one out of three patients treated with bDMARDs in RABBIT would have fulfilled the inclusion criteria of the respective pivotal study. Register data enabled developing a risk scoring model which evaluates the individual risk of a patient for serious infections depending on different risk factors and the respective DMARD treatment. Open online access to the score provides the possibility of risk estimation for all rheumatologists. Further results identified long-standing high disease activity as a dominant risk factor for a worsening of prevalent comorbidities. In patients with heart failure it was shown that effective treatment and control of disease activity with tumor necrosis factor (TNF) inhibitors was more likely to be protective than harmful.
Conclusion
Observational studies contribute essentially to the assessment of individual risks of patients. The results provide valuable information to support clinical decision-making and therefore strengthen the evidence when treating patients of higher age or with existing comorbidities.
This is a preview of subscription content, log in to check access.
Access options
Buy single article
Instant access to the full article PDF.
US$ 39.95
Price includes VAT for USA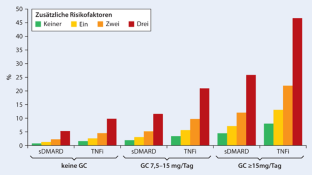 Literatur
1.

Zink A, Listing J, Klindworth C et al (2001) The national database of the German Collaborative Arthritis Centres: I. structure, aims, and patients. Ann Rheum Dis 60:199–206

2.

Ziegler S, Huscher D, Karberg K et al (2010) Trends in treatment and outcomes of rheumatoid arthritis in Germany 1997–2007: results from the National Database of the German Collaborative Arthritis Centres. Ann Rheum Dis 69:1803–1808

3.

Zink A, Strangfeld A, Schneider M et al (2006) Effectiveness of tumor necrosis factor inhibitors in rheumatoid arthritis in an observational cohort study: comparison of patients according to their eligibility for major randomized clinical trials. Arthritis Rheum 54:3399–3407

4.

Listing J, Gerhold K, Zink A (2013) The risk of infections associated with rheumatoid arthritis, with its comorbidity and treatment. Rheumatology 52:53–61

5.

Raviglione M, Marais B, Floyd K et al (2012) Scaling up interventions to achieve global tuberculosis control: progress and new developments. Lancet 379:1902–1913

6.

Keane J, Gershon S, Wise RP et al (2001) Tuberculosis associated with infliximab, a tumor necrosis factor alpha-neutralizing agent. N Engl J Med 345:1098–1104

7.

Wallis RS, Broder M, Wong J et al (2004) Granulomatous infections due to tumor necrosis factor blockade: correction. Clin Infect Dis 39:1254–1255

8.

Gomez-Reino JJ, Carmona L, Valverde VR et al (2003) Treatment of rheumatoid arthritis with tumor necrosis factor inhibitors may predispose to significant increase in tuberculosis risk: a multicenter active-surveillance report. Arthritis Rheum 48:2122–2127

9.

Gomez-Reino JJ, Carmona L, Angel Descalzo M (2007) Risk of tuberculosis in patients treated with tumor necrosis factor antagonists due to incomplete prevention of reactivation of latent infection. Arthritis Care Res 57:756–761

10.

Dixon WG, Hyrich KL, Watson KD et al (2010) Drug-specific risk of tuberculosis in patients with rheumatoid arthritis treated with anti-TNF therapy: results from the British Society for Rheumatology Biologics Register (BSRBR). Ann Rheum Dis 69:522–528

11.

Sharma R, Anker SD (2002) Immune and neurohormonal pathways in chronic heart failure. Congest Heart Fail 8:23–28

12.

Mann DL, McMurray JJ, Packer M et al (2004) Targeted anticytokine therapy in patients with chronic heart failure: results of the Randomized Etanercept Worldwide Evaluation (RENEWAL). Circulation 109:1594–1602

13.

Chung ES, Packer M, Lo KH et al (2003) Randomized, double-blind, placebo-controlled, pilot trial of infliximab, a chimeric monoclonal antibody to tumor necrosis factor-alpha, in patients with moderate-to-severe heart failure: results of the anti-TNF Therapy Against Congestive Heart Failure (ATTACH) trial. Circulation 107:3133–3140

14.

Listing J, Strangfeld A, Kekow J et al (2008) Does tumor necrosis factor alpha inhibition promote or prevent heart failure in patients with rheumatoid arthritis? Arthritis Rheum 58:667–677

15.

Westlake SL, Colebatch AN, Baird J et al (2011) Tumour necrosis factor antagonists and the risk of cardiovascular disease in patients with rheumatoid arthritis: a systematic literature review. Rheumatology 50:518–531

16.

Listing J, Strangfeld A, Kary S et al (2005) Infections in patients with rheumatoid arthritis treated with biologic agents. Arthritis Rheum 52:3403–3412

17.

Dixon WG, Watson K, Lunt M et al (2006) Rates of serious infection, including site-specific and bacterial intracellular infection, in rheumatoid arthritis patients receiving anti-tumor necrosis factor therapy: results from the British Society for Rheumatology Biologics Register. Arthritis Rheum 54:2368–2376

18.

Askling J, Fored CM, Brandt L et al (2007) Time-dependent increase in risk of hospitalisation with infection among Swedish ra-patients treated with tnf-antagonists. Ann Rheum Dis 66:1339–1344

19.

Bongartz T, Sutton AJ, Sweeting MJ et al (2006) Anti-TNF antibody therapy in rheumatoid arthritis and the risk of serious infections and malignancies: systematic review and meta-analysis of rare harmful effects in randomized controlled trials. JAMA 295:2275–2285

20.

Dixon WG, Symmons DP, Lunt M et al (2007) Serious infection following anti-tumor necrosis factor alpha therapy in patients with rheumatoid arthritis: lessons from interpreting data from observational studies. Arthritis Rheum 56:2896–2904

21.

Galloway JB, Hyrich KL, Mercer LK et al (2010) Anti-TNF therapy is associated with an increased risk of serious infections in patients with rheumatoid arthritis especially in the first 6 months of treatment: updated results from the British Society for Rheumatology Biologics Register with special emphasis on risks in the elderly. Rheumatology (Oxford) 50:124–131

22.

Strangfeld A, Eveslage M, Schneider M et al (2011) Treatment benefit or survival of the fittest: what drives the time-dependent decrease in serious infection rates under TNF inhibition and what does this imply for the individual patient? Ann Rheum Dis 70:1914–1920

23.

Robins JM, Hernan MA, Brumback B (2000) Marginal structural models and causal inference in epidemiology. Epidemiology 11:550–560

24.

Zink A, Manger B, Kaufmann J et al (2014) Evaluation of the RABBIT risk score for serious infections. Ann Rheum Dis 73:1673–1676

25.

Listing J, Kekow J, Manger B et al (2015) Mortality in rheumatoid arthritis: the impact of disease activity, treatment with glucocorticoids, TNF-alpha inhibitors and rituximab. Ann Rheum Dis 74(2):415–421

26.

Rassen JA, Shelat AA, Myers J et al (2012) One-to-many propensity score matching in cohort studies. Pharmacoepidemiol Drug Saf 21:69–80

27.

Strangfeld A, Hierse F, Kekow J et al (2009) Comparative effectiveness of tumour necrosis factor alpha inhibitors in combination with either methotrexate or leflunomide. Ann Rheum Dis 68:1856–1862

28.

Richter A, Strangfeld A, Herzer P et al (2014) Sustainability of rituximab therapy in different treatment strategies: results of a 3-year followup of a German biologics register. Arthritis Care Res 66:1627–1633

29.

Chatzidionysiou K, Lie E, Nasonov E et al (2012) Effectiveness of disease-modifying antirheumatic drug co-therapy with methotrexate and leflunomide in rituximab-treated rheumatoid arthritis patients: results of a 1-year follow-up study from the CERERRA collaboration. Ann Rheum Dis 71:374–377

30.

Zwarenstein M, Treweek S, Gagnier JJ et al (2008) Improving the reporting of pragmatic trials: an extension of the CONSORT statement. BMJ 337:a2390
Einhaltung ethischer Richtlinien
Interessenkonflikt. A. Strangfeld: Referententätigkeit für AbbVie, BMS, Merck-Sharp & Dohme, Pfizer, Roche, Sanofi-Aventis, UCB. A. Richter: kein Interessenkonflikt.
Alle im vorliegenden Manuskript beschriebenen Untersuchungen am Menschen wurden mit Zustimmung der zuständigen Ethik-Kommission, im Einklang mit nationalem Recht sowie gemäß der Deklaration von Helsinki von 1975 (in der aktuellen, überarbeiteten Fassung) durchgeführt. Von allen beteiligten Patienten liegt eine Einverständniserklärung vor.
About this article
Cite this article
Strangfeld, A., Richter, A. Wie unterstützen Registerdaten die klinische Entscheidungsfindung?. Z. Rheumatol. 74, 119–124 (2015). https://doi.org/10.1007/s00393-014-1449-1
Schlüsselwörter
Rheumatoide Arthritis

Therapie

Biologika

Risiken

Komorbiditäten
Keywords
Rheumatoide arthritis

Biologics

Treatment

Risks

Comorbidities