Zusammenfassung
Hintergrund
In der histopathologischen Synovialitis-Diagnostik und der SLIM-Diagnostik ("synovia like interface membrane") kommt der Kristall- und Partikelidentifikation und den hiermit verbundenen inflammatorischen Reaktionen ein wichtiger Stellenwert zu. Die Vielfalt der endogenen Kristalle, die Variabilität von Endoprothesenmaterialien und Materialkombinationen sowie die Unterschiedlichkeit der Partikelpathogenese erklären die hohe morphologische Partikelheterogenität, die eine diagnostische Partikelidentifikation erschwert.
Ziel der Arbeit
Aus diesen Gründen wurde ein histopathologischer Partikelalgorithmus entworfen, der mit geringem methodischem Aufwand eine orientierende Partikelidentifikation ermöglicht. Definiert wurden drei Kriterien: 1) lichtmikroskopisch-morphologische Charakteristika (Größenbestimmung, Formbestimmung und Farbbestimmung), 2) polarisationsoptische Eigenschaften und 3) enzymhistochemischen Charakteristika (Öl-Rot-Färbung, Berliner-Blau-Reaktion).Nach einem dichotomen Prinzip, basierend auf dem Färbeverhalten in der Berliner-Blau-Reaktion, in der Öl-Rot-Färbung, der Größe und dem polarisationsoptischem Verhalten erfolgt die Charakterisierung der Partikel.
Material und Methoden
Es erfolgte dementsprechend die Identifikation und Validierung der Partikel in 35 klinisch charakterisierten gelenkpathologischen Fällen.
Ergebnisse und Schlussfolgerungen
Vorgeschlagen wird eine zusammenfassende Bewertung (Partikel-Score) für die Synovialitis- und SLIM-Diagnostik, der die wichtigsten Informationen zusammenfasst: 1) Nichtprothesenpartikelmaterial vorhanden, nicht vorhanden; 2) dominierendes Prothesenpartikelmaterial: makro-/mikropartikulär; 3) partikelinduziertes Reaktionsmuster: Nekrosen, orientierende Flächenangabe in Flächenprozent, lymphozytäre Infiltrate/Makrophagen, Riesenzellen, Epitheloidzellreaktionen (vorhanden, nicht vorhanden).
Abstract
Background
In the histopathological diagnostics of synovitis and the synovium-like interface membrane (SLIM) the identification of crystals and crystal-like deposits and the associated inflammatory reactions play an important role. The multitude of endogenous crystals, the range of implant materials and material combinations, and the variability in the formation process of different particles explain the high morphological particle heterogeneity which complicates the diagnostic identification of diagnostic particles.
Study design and methods
A simple histopathological particle algorithm has been designed which allows methodological particle identification based on (1) conventional transmitted light microscopy with a guide to particle size, shape and color, (2) optical polarization criteria and (3) enzyme histochemical properties (oil red staining and Prussian blue reaction). These methods, the importance for particle identification and the differential diagnostics from non-prosthetic materials are summarized in the so-called histopathological particle algorithm.
Results
A total of 35 cases of synovitis and SLIM were analyzed and validated according to these criteria. Based on these criteria and a dichotomous differentiation the complete spectrum of particles in the SLIM and synovia can be defined histopathologically.
Conclusion
For histopathological diagnosis a particle score for synovitis and SLIM is recommended to evaluate (1) the predominant type of prothetic wear debris with differentiation between microparticles, and macroparticles, (2) the presence of non-prosthesis material particles and (3) the quantification of particle-association necrosis and lymphocytosis. An open, continuously updated web-based particle algorithm would be helpful to address the issue of particle heterogeneity and include all new particle materials generated in a rapidly changing field.
This is a preview of subscription content,
to check access.
Access this article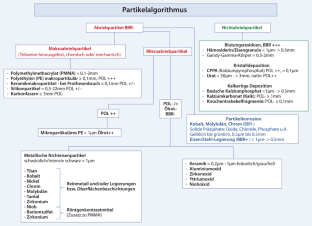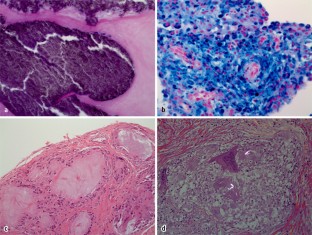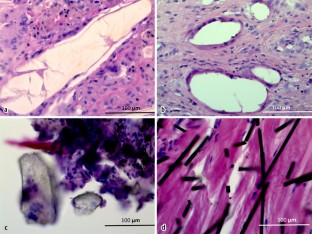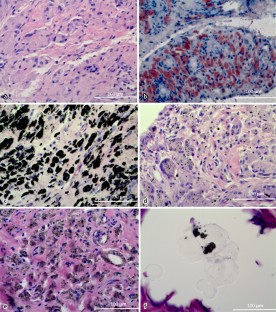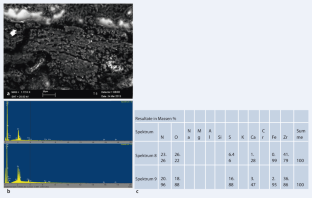 Literatur
Asencio G, Essig J, Nourissat C, Caremeau C (2011) Abnormal local tissue reaction after total hip arthroplasty with a modular Co-Cr femoral piece. SOFCOT 269

Bader R, Bergschmidt P, Fritsche A et al (2008) Alternative materials and solutions in total knee arthroplasty for patients with metal allergy. Orthopäde 37:136–142

Bergschmidt P, Bader R, Mittelmeier W (2012) Metal hypersensitivity in total knee arthroplasty: revision surgery using a ceramic femoral component – a case report. Knee 19:144–147

Bergschmidt P, Bader R, Kluess D et al (2012) The all-ceramic knee endoprosthesis – the gap between expectation and experience with ceramic implants. Semin Arthroplasty 23:262–267

Bertz S, Kriegsmann J, Eckardt A et al (2006) Correlation of quantitative histopathological morphology and quantitative radiological analysis during aseptic loosening of hip endoprostheses. J Appl Biomat Biomech 4:153–164

Bos I (2001) Gewebereaktionen um gelockerte Hüftgelenksendoprothesen. Orthopäde 30:881–889

Bos I, Berner J, Diebold J et al (1995) Histologische und morphometrische Untersuchungen an Femora mit stabilen Hüftgelenksendoprothesen. Z Orthop 133:460–466

Campbell P, Ma S, Yeom B et al (1995) Isolation of predominantly submicron-sized UHMWPE wear particles from periprosthetic tissues. J Biomed Mater Res 29:127–131

Cooper HJ, Della Valle CJ, Jacobs JJ (2012) Biologic implications of taper corrosion in total hip arthroplasty. Semin Arthroplasty 23:273–278

Fuerst M, Zustin J, Rüther W (2011) Crystal arthropathies. Pathologe 32:193–199

Gallo J, Kolár M, Novotný R et al (2003) Pathogenesis of prosthesis-related infection. Biomed Papers 147:27–35

Haddad FS, Thakrar RR, Hart AJ et al (2011) Metal-on-metal bearings. The Evidence so far. J Bone Joint Surg Br 93-B:572–579

Hansen T, Otto M, Buchhorn GH et al (2002) New aspects in the histological examination of polyethylene wear particles in failed total joint replacements. Acta Histochem 104:263–269

Hirakawa K, Bauer TW, Stulberg BN et al (1996) Comparison and quantitation of wear debris of failed total hip and total knee arthroplasty. J Biomed Mater Res 31:257–263

Harvie P, Giele H, Fang C et al (2008) The treatment of femoral neuropathy due to pseudotumour caused by metal-on-metal resurfacing arthroplasty. Hip Int 18:313–320

Huber M, Reinisch G, Trettenhahn G et al (2009) Presence of corrosion products and hypersensitivity-associated reactions in periprosthetic tissue after aseptic loosening of total hip replacements with metal bearing surfaces. Acta Biomater 5:172–180

Jacobs JJ, Gilbert JL, Urban RM (1998) Corrosion of metal orthopaedic implants. J Bone Joint Surg Am 80:268–282

Krenn V, Morawietz L, König A et al (2006) Differenzialdiagnostik der chronischen Synovialitis. Pathologe 27:402–408

Krenn V, Poremba C, Schneider J et al (2013) Histopathological differential diagnostics in context of joint implant allergic reactions. Orthopade 42:614–621

Krenn V, Morawietz L, Kienapfel H et al (2013) Revised consensus classification: Histopathological classification of diseases associated with joint endoprostheses. Z Rheumatol 72:383–392

Kubo T, Sawada K, Hirakawa K et al (1999) Histiocyte reaction in rabbit femurs to UHMWPE, metal, and ceramic particles in different sizes. J Biomed Mater Res 45:363–369

Kretzer JP, Zietz C, Schröder C et al (2012) Principles of tribological analysis of endoprostheses. Orthopäde 41:844–852

Langton DJ, Sidaginamale R, Lord JK et al (2012) Taper junction failure in large-diameter metal-on-metal bearings. Bone Joint Res 1:56–63

Lintner F, Böhm G, Huber M et al (2003) Histologisch-immunhistologische, morphometrische und bakteriologische Untersuchungen des Gelenkkapselgewebes nach Reoperation totaler Hüftendoprothesen unter Verwendung der Metall/Metallpaarung. Osteologie 12:233–246

Mahendra G, Pandit H, Kliskey K et al (2009) Necrotic and inflammatory changes in metal-on-metal resurfacing hip arthroplasties. Acta Orthop 80:653–659

Maurer-Ertl W, Friesenbichler J, Liegl-Atzwanger B et al (2011) Noninflammatory pseudotumor simulating venous thrombosis after metal-on-metal hip resufacing. Orthopedics 34:678

Mehandra G, Pandit H, Kliskey K et al (2009) Necrotic and inflammatory changes in metal-on-metal resur- facing hip arthroplasties. Acta Orthopaedica 80:653–659

Morawietz L, Classen RA, Schröder JH et al (2006) Proposal for a histopathological consensus classification of the periprosthetic interface membrane. J Clin Pathol 59:591–597

Mortier J, Engelhardt M (2000) Foreign body reaction in carbon fiber prosthesis implantation in the knee joint-case report and review of the literature. Z Orthop Ihre Grenzgeb 138:390–394

Otto M, Kriegsmann J, Gehrke T et al (2006) Wear particles: key to aseptic prosthetic loosening? Pathologe 27:447–460

Siemon B, Schubert T, Grifka J et al (2004) Unusual complication of silicon synovitis in the rheumatoid wrist. Z Rheumatol 63:230–234

Thomas P, Braathen LR, Dörig M et al (2009) Increased metal allergy in patients with failed metal-on-metal hip arthroplasty and periimplant T-lymphocytic inflammation. Allergy 64:1157–1165

Thomas P, Schuh A, Ring J et al (2008) Orthopädisch-chirurgische Implantate und Allergien. Orthopäde 37:75–88

Thomsen M, Kretzer JP, Krenn V et al (2013) Different symptoms in patients with prostheses with metal-metal bearings. Orthopade 42:637–642

Thomas P, Helm C von der, Schopf C et al (2012) Periimplant histology and cytokine pattern in metal-allergic knee arthroplasty patients with improvement after revision with hypoallergenic materials. Semin Arthroplasty 23:268–272

Vundelinckx BJ, Luk A, Verhelst LA et al (2013) Taper corrosion in modular hip prostheses analysis of serum metal ions in 19 patients. J Arthroplasty 28:1218–1223

Watters TS, Cardona DM, Menon KS et al (2010) Aseptic lymphocyte-dominated vasculitis-associated lesion: a clinicopathologic review of an underrecognized cause of prosthetic failure. Am J Clin Pathol 134:886–893

Witzleb W-C, Hanisch U, Kolar N et al (2007) Neo-capsule tissue reactions in metal-on-metal hip arthroplasty. Acta Orthopaedica 78:211–220

Wolfarth DL, Han DW, Bushar G, Parks NL (1997) Separation and characterization of polyethylene wear debris from synovial fluid and tissue samples of revised knee replacements. J Biomed Mater Res 34:57–61
Einhaltung ethischer Richtlinien
Interessenkonflikt. Die Autoren weisen auf folgende Beziehungen hin: V. Krenn, P. Thomas, M. Thomsen, J.P. Kretzer, G. Perino, W. Rüther, R. v. Welser, F. Hopf und M. Huber geben an, dass kein Interessenkonflikt besteht. S. Usbeck und L. Scheuber gehören der wissenschaftlichen Abteilung der Firma CeramTec GmbH an. Ungeachtet eines möglichen Interessenkonflikts ist dieser wissenschaftliche Beitrag unabhängig und produktneutral. Dieser Beitrag beinhaltet keine Studien an Menschen oder Tieren.
Additional information
Um die Anschaulichkeit der histologischen Partikel-Morphologie zu vereinfachen sind die Partikelabbildungen in gleicher Vergrößerung (Balken:100 µm) und mehrheitlich unter gleichen Konditionen (HE-Färbung, einfache Durchlichtanalyse, POL-Analyse, Berliner-Blau-Reaktion Originalvergrößerung bis 350-fach) dargestellt.
About this article
Cite this article
Krenn, V., Thomas, P., Thomsen, M. et al. Histopathologischer Partikelalgorithmus . Z. Rheumatol. 73, 639–649 (2014). https://doi.org/10.1007/s00393-013-1315-6
Published:

Issue Date:

DOI: https://doi.org/10.1007/s00393-013-1315-6
Schlüsselwörter
Keywords