Zusammenfassung
Zum Heiltorf, seinen Wirkungen und der Wirksamkeit liegen von allen medizinisch genutzten Peloidarten die meisten Studien vor. Dachte man bisher, dass die thermisch physikalischen Wirkungen der Torfwirkungen im Vordergrund stehen, so wird durch die in den letzten Jahren erschienenen Veröffentlichungen immer deutlicher, dass beide Wirkungen gleichberechtigt nebeneinander stehen. Während die thermischen Wirkungen aller Torfarten gleich sind, gibt es Unterschiede in den chemischen Wirkungen. Diese Erkenntnisse müssen zukünftig in die bislang gültige Peloidanalyse einfließen. Die Indikationen und Kontraindikationen der Moortherapien bedürfen aufgrund der neuen Kenntnisse einer Überarbeitung. Einige hypothetische chemische Wirkungen sind durch klinische Studien noch bezüglich des Wirksamkeitsnachweises zu erbringen. Sie erlauben es aber, bereits bekannte klinische Erfahrungen, die mit der Moortherapie gemacht werden, erklärbar zu machen. Dazu haben insbesondere neue molekulare Untersuchungen beigetragen. Die Kenntnisse zu den chemischen Wirkungen sind nicht zuletzt notwendige Voraussetzungen für die Planung klinischer Studien, da die Patientengruppen besser definiert werden können und damit das Studiendesign gezielter erstellt werden kann. Exemplarisch erfolgt die indikative Anwendung bei rheumatischen Erkrankungen und bei der Kinderwunschbehandlung.
Abstract
Numerous peloids for balneotherapy are currently available but in terms of effects and efficacy therapeutic peat has been studied best. Recent studies revealed that both thermal and physical effects of therapeutic peat are comparable and synergistic. The thermal effects of all types of peat used are approximately the same but chemical effects differ. These results have to been taken into account in future peloid analyses and indications and contraindications of mud therapy have to be reviewed in this respect. Some hypothetical aspects of these chemical effects have to be investigated in future clinical studies but clinical experience with mud therapy allows preliminary conclusions to be drawn. This statement is especially supported by recent molecular investigations. Knowledge about the chemical effects is also necessary for planning, defining and designing clinical studies and patients groups. Exemplarily, the therapeutic use of peat in rheumatic diseases and for fertility treatment will be demonstrated.
This is a preview of subscription content, log in to check access.
Access options
Buy single article
Instant access to the full article PDF.
US$ 39.95
Price includes VAT for USA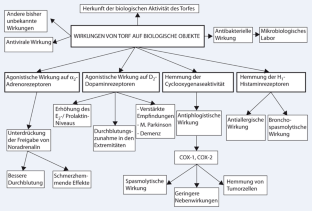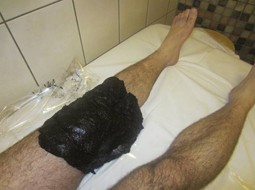 Literatur
1.

Lüttig G (2008) Was sind Peloide? In: Käss W, Käss H (Hrsg) Deutsches Bäderbuch. Schweizerbart'sche Verlagsbuchhandlung, Stuttgart, S 160–174

2.

Deutscher Bäderverband e.V., Deutscher Tourismusverband e.V. (Hrsg) (2005) Begriffsbestimmungen – Qualitätsstandards für die Prädikarisierung von Kurorten, Erholungsorten und Heilbrunnen, 12. Aufl. Flöttmann, Gütersloh, S 52–54

3.

Eichelsdörfer D (1990) Moor in der Heilkunde. In: Göttlich KH (Hrsg) Moor- und Torfkunde. Schweizerbart'sche Verlagsbuchhandlung, Stuttgart, S 477

4.

Forcher R (2000) Wirtschaftliche Faktoren beim Einsatz des Heilmittels Badetorf. In: Beer A-M, Lüttig G, Lukanov J (Hrsg) Moortherapie 2000. BAW, Sofia, S 105–108

5.

Gündling PW (2012) Lehmpackungen und Wasseranwendungen bei Venenleiden. Praxismagazin 2(2):6–11

6.

Beer AM, Adler M (Hrsg) (2011) Leitfaden für Naturheilverfahren für die ärztliche Praxis, 1. Aufl. Elsevier, München, S 14 ff

7.

Hildebrandt G, Gutenbrunner C (1999) Balneologie. In: Gutenbrunner C, Hildebrand G (Hrsg) Handbuch der Balneologie und medizinischen Klimatologie. Springer, Berlin, S 188 ff

8.

Kleinschmidt J (1989) Physikalische Wirkfaktoren der Peloidtherapie. In: Schmidt KL (Hrsg) Kompendium der Balneologie und Kurortmedizin. Steinkopff, Darmstadt, S 107–117

9.

Heerd E (1985) Die Moortherapie und das menschliche Integument. Z Phys Med Baln Med Klim 14:389–391

10.

Pasca D, Kiss S (2000) Enzymatic potential of some interstadial peats utilizable in balneotherapy. In: Beer A-M, Lüttig G, Lukanov J (Hrsg) Moortherapie 2000. BAW, Sofia, S 245–252

11.

Ziechmann W (1980) Huminstoffe. Verlag Chemie, Weinheim, S 408–409

12.

Loschen G (1988) Wirkung von einigen Moorinhaltsstoffen auf die Arachidonsäurekaskade. In: Gille J (Hrsg) 32. Tagung des Arbeitskreises "Gynäkologische Balneotherapie". Selbstverlag, Lüneburg, S 86–97

13.

Naglitsch F (1981) Ein neues Verfahren zur Bestimmung der antimikrobiellen Wirkung von Mooren. Z Physiother 33:65–74

14.

Lukasik J, Klyszesjko CZ (1964) Klinische und experimentelle Forschungen über die antibakterielle Wirkung der Moorbehandlung auf die Genitalflora der Gebärmutterzervix der Adnexkranken. Zbl Gynäkol 86:252

15.

Klöcking R, Helbig B, Wutzler P (2000) Untersuchungen zur antiviralen Aktivität von polyanionischen Moorinhaltsstoffen in vitro und in vivo. Geburtsh Frauenheilkd 60:192–195

16.

Jablkowsi M, Stankiewicz W, Szmigielski S (2000) Therapeutic effects of peat extract PPT in patients with prolonged viral B hepatitis-clinical and immunological assessment. In: Beer AM, Lüttig G, Lukanov J (Hrsg) Moortherapie 2000. BAW, Sofia, S 121–135

17.

Stankiewicz W, Dabrowski M, Dabrowska-Bernstein B et al (1997) Therapeutic efficacy of peat extract TTP Tolpa reflected by clinical and immunological results in treatment of patients with chronic sinusitis. Int Rev Allegol Clin Immunol 3(4):201–204

18.

Jankowski A, Nienartowicz B, Polanska B, Lewandowicz-Uszynska A (1993) A randomised, double-blind study on the efficacy of Tolpa Moor Preparation (TTP) in the treatment of recurrent respiratory tract infections. Arch Immunol Ther Exp 41(1):95–97

19.

Goecke C, Riede N (1993) Biologische Wirkungen von Moorinhaltsstoffen. Heilbad Kurort 45(4):115–116

20.

Kristof O, Gatzen M, Hellenbrecht D, Saller R (2002) Analgesic efficacy of the serial application of a sulfurated mud bath at home. Forsch Komplementarmed Klass Naturheilkd 7(5):233–236

21.

Beer AM, Lukanov J, Sagorchev P (2000) Der Wirkungsmechanismus von wässrigem Moorextrakt auf die spontane kontraktile Aktivität der glatten Muskulatur. Forsch Komplementärmed Klass Naturheilkd 7(5):237–241

22.

Fetaj S (2000) Die Moortherapie bei rheumatisch-degenerativen Erkrankungen. In: Beer AM, Lüttig G, Lukanov J (Hrsg) Moortherapie 2000. BAW, Sofia, S 96–104

23.

Conradi E, Brenke R (2010) Sauna, Dampfbad und weitere Verfahren zur Ganzkörperhyperthermie. In: Kraft K, Stange R (Hrsg) Lehrbuch Naturheilverfahren. Hippokrates, Stuttgart, S 209–222

24.

Jokic A, Sremcevic N, Karagülle Z et al (2010) Oxidative stress, hemoglobin content, superoxide dismutase and catalase activity influenced by sulphur baths and mud packs in patients with osteoarthritis. Vojnosanit Pregl 67(7):573–578

25.

Fraioli A, Serio A, Mennuni G et al (2009) Efficacy of mud-bath therapy with mineral water from Sillene spring at Italy's Chianciano Spa for osteoarthritis of the knee: a clinical statistical study. Clin Ther 160(6):e63–e74

26.

Fraioli A, Serio A, Mennuni G et al (2011) A study on the efficacy of treatment with mud packs and baths with Sillene mineral water (Chianciano Spa Italy) in patients suffering from knee osteoarthritis. Rheumatol Int 31(10):1333–1340

27.

Fioravanti A, Iacoponi F, Bellisai B et al (2010) Short- and long-term effects of spa therapy in knee osteoarthritis. Am J Phys Med Rehabil 89(2):125–132

28.

Forestier R, Desfour H, Tessier JM et al (2010) Spa therapy in the treatment of knee osteoarthritis: a large randomised multicentre trial. Ann Rheum Dis 69(4):660–665

29.

Bellometti S, Richelmi P, Tassoni T, Berté F (2005) Production of matrix metalloproteinases and their inhibitors in osteoarthritic patients undergoing mud bath therapy. Int J Clin Pharmacol Res 25(2):77–94

30.

Mahboob N, Sousan K, Shirzad A et al (2009) The efficacy of topical gel prepared using Lake Urmia mud in patients with knee osteoarthritis. J Altern Complement Med 15(11):1239–1242

31.

Bellometti S, Galzigna L (1998) Serum levels of prostaglandin and a leukotriene after thermal mud pack therapy. J Investig Med 46(4):140–145

32.

Fioravanti A, Perpignano G, Tirri G et al (2007) Effects of mud-bath treatment on fibromyalgia patients: a randomized clinical trial. Rheumatol Int 27(12):1157–1161

33.

Britschka ZM, Teodoro WR, Velosa AP, Mello SB de (2007) The efficacy of Brazilian black mud treatment in chronic experimental arthritis. Rheumatol Int 28(1):39–45

34.

Cozzi F, Carrara M, Sfriso P et al (2004) Anti-inflammatory effect of mud-bath application on adjuvant arthritis in rats. Clin Exp Rheumatol 22(6):763–768

35.

Bellometti S, Poletto M, Gregotti C et al (2000) Mud bath therapy influences nitric oxide, myeloperoxidase and gluthathione peroxidase serum levels in arthritic patients. Int J Clin Pharmacol Res 20(3–4):69–80

36.

Lange U, Ehnert M, Goronzy JE, Fetaj S (2012) Wirkeffekte serieller Heiltorfapplikationen (Moorbäder, Moorpackungen) und einer physikalischen Komplextherapie auf die funktionale und funktionelle Gesundheit sowie molekulare Wirkungsebene bei Gon- und Coxarthrose. Phys Med Rehab Kuror 22(41):225

37.

Lange U, Goronzy JE, Ehnert M, Fetaj S (2012) Wirkeffekte serieller Moorbäder und einer physikalischen Komplextherapie bei degenerativen und entzündlich-rheumatischen Erkrankungen. Phys Med Rehab Kuror 22(40):224

38.

Hosemann H (1960) Der Östrogengehalt der organischen Bademoore und dessen therapeutische Bedeutung. Arch Phys Ther 12:471–482

39.

Cee K, Luksch F, Brozek B (1966) Zur Frage der perkutanen Östrogenresorption aus dem Bademoor. Z Angew Bäder Klimaheilkd 13:55–63

40.

Dietrich J (1995) Endokrinologische Veränderungen nach Moortherapie. ISMH, Geretsried, S 327–334

41.

Beer AM, Fey S, Walch S et al (2001) The effect and safety of peat-components. Results of two pilot studies. Clin Lab 47:161–167

42.

Beer AM, Tuschen E, Duan T (1994) Permeationsuntersuchungen zum normalen und beschleunigten Transport von höhermolekularen Huminsäuren durch menschliche Haut und Schlangenhemden unter besonderer Berücksichtigung eines Penetrationsbeschleunigers. Telma 24:107–116

43.

Beer AM, Junginger HE, Lukanov J, Sagorschev P (2003) Evaluation of the permeation of peat substances through human skin in vitro. Int J Pharm 253:169–175

44.

VDB-Physiotherapieverband e.V., Spitzenverband der Landwirtschaftlichen Sozialversicherung (Hrsg) (2012) Vergütungsvereinbarung gem. § 150 SGB V für die Abrechung physiotherapeutischer Leistungen, Massagen und med. Bäder gültig ab 01.03.2012. Therapie Praxis 25(2):6 ff

45.

VDB-Physiotherapieverband e.V. (Hrsg) (2011) Richtlinien des gemeinsamen Bundesausschusses über die Verordnung von Heilmitteln in der vertragsärztlichen Versorgung. Heilmittel-Richtlinien. Therapie Praxis 24(3):8 ff
Interessenkonflikt
Der korrespondierende Autor gibt für sich und seine Koautoren an, dass kein Interessenkonflikt besteht.
About this article
Cite this article
Beer, A., Fetaj, S. & Lange, U. Peloidtherapie. Z. Rheumatol. 72, 581–589 (2013). https://doi.org/10.1007/s00393-013-1144-7
Schlüsselwörter
Torf

Moortherapie

Rheumatische Erkrankungen

Kinderwunschbehandlung

Indikationen
Keywords
Peat

Peloid therapy

Rheumatic diseases

Fertility treatment

Indications