Access options
Buy single article
Instant access to the full article PDF.
US$ 39.95
Tax calculation will be finalised during checkout.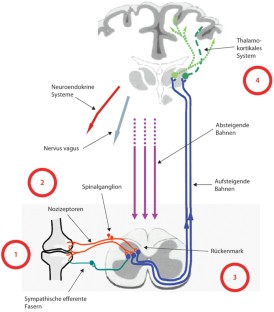 Literatur
1.

Ebbinghaus M, Gajda M, Boettger MK et al (2012) The anti-inflammatory effects of sympathectomy in murine antigen-induced arthritis are associated with a reduction of Th1 and Th17 responses. Ann Rheum Dis 71:253–261

2.

Opolka A, Straub RH, Pasoldt A et al (2012) Substance P and norepinephrine modulate murine chondrocyte proliferation and apoptosis. Arthritis Rheum 64:729–739

3.

Stein C, Machelska H (2011) Modulation of peripheral sensory neurons by the immune system: implications for pain therapy. Pharmacol Rev 63:860–881

4.

Vazquez E, Kahlenbach J, Segond von Banchet G et al (2012) Spinal interleukin-6 is an amplifier of arthritic pain. Arthritis Rheum 64:2233–2242

5.

Hess A, Axmann R, Rech J et al (2011) Blockade of TNF-α rapidly inhibits pain responses in the central nervous system. PNAS 108:3731–3736

6.

Straub RH, Buttgereit F, Cutolo M (2011) Alterations of the hypothalamic-pituitary-adrenal axis in systemic immune diseases: a role for misguided energy regulation. Clin Exp Rheumatol 29:S23–31
Interessenkonflikt
Der korrespondierende Autor gibt an, dass kein Interessenkonflikt besteht.
About this article
Cite this article
Schaible, HG. Neuroimmunverbindungen bei Entzündung und Schmerz. Z. Rheumatol. 71, 698–700 (2012). https://doi.org/10.1007/s00393-012-1005-9