Abstract
Introduction
18F-fluorodeoxyglucose positron emission tomography (18F-FDG-PET/CT) is not routinely recommended for the diagnosis of infective endocarditis (IE) due to the lack of clinical impact.
Materials and methods
Between January 2016 and January 2020, clinical data from patients with a possible diagnosis of IE were reviewed retrospectively to evaluate the value of 18F-FDG-PET/CT in the diagnosis of IE. 18F-FDG PET/CT scan was performed as an additional diagnostic tool in possible IE when echocardiography was inconclusive or in patients with definite IE to identify extracardiac complications. Cases were classified according to modified Duke criteria as rejected, definite or possible.
Results
313 patients with suspected IE were included. 72 (23%) patients underwent 18F-FDG PET/CT. 18F-FDG PET/CT resulted in a reclassification of Duke criteria in 29/72 (40%) patients, from "possible" to "definite" (n, 10) and to "rejected" (n, 19). Patients who benefited from a Duke criteria reclassification following 18F-FDG PET/CT were more frequently classified as possible IE at inclusion or had a non-conclusive baseline echocardiography (100% vs 58%; p 0.001) and had more likely a prosthetic metallic valve replacement (59% vs 21%; p 0.001). Abnormal perivalvular uptake was identified in 46 patients (71% prosthetic vs 50% native; p 0.118). 18F-FDG PET/CT identified extracardiac uptake consistent with septic emboli in 14/72 (19%) patients. In addition, extracardiac uptake indicative of an alternative diagnosis was identified in 5 patients (2% prosthetic vs 17% native; p 0.039).
Conclusion
The use of 18F-FDG-PET/CT has shown to be useful in the diagnosis of IE, particularly in prosthetic IE and may provide additional value in the detection of septic emboli and/or the identification of an alternative diagnosis different from IE.
Graphical abstract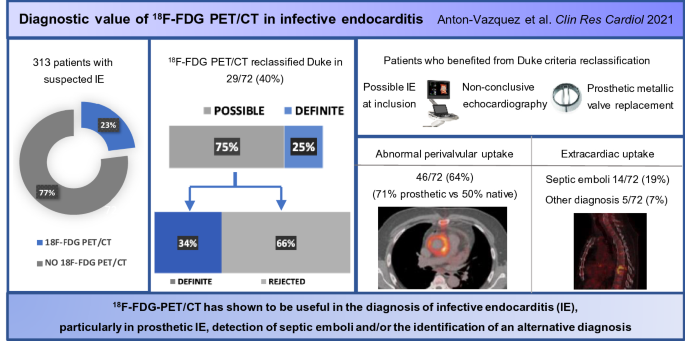 Access options
Buy single article
Instant access to the full article PDF.
USD 39.95
Price includes VAT (USA)
Tax calculation will be finalised during checkout.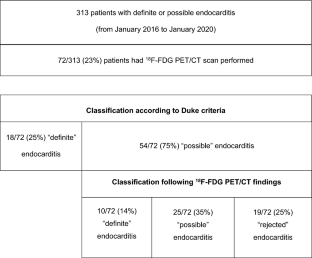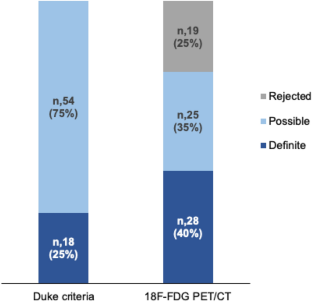 References
1.

Toyoda N et al (2017) Trends in infective endocarditis in California and New York State, 1998–2013. JAMA 317(16):1652–1660

2.

Habib G et al (2015) 2015 ESC Guidelines for the management of infective endocarditis: The Task Force for the Management of Infective Endocarditis of the European Society of Cardiology (ESC). Endorsed by: European Association for Cardio-Thoracic Surgery (EACTS), the European Association of Nuclear Medicine (EANM). Eur Heart J 36(44):3075–3128

3.

Feuchtner GM et al (2009) Multislice computed tomography in infective endocarditis: comparison with transesophageal echocardiography and intraoperative findings. J Am Coll Cardiol 53(5):436–444

4.

Rouzet F et al (2008) Technetium 99m-labeled annexin V scintigraphy of platelet activation in vegetations of experimental endocarditis. Circulation 117(6):781–789

5.

Van Riet J et al (2010) (18)F-FDG PET/CT for early detection of embolism and metastatic infection in patients with infective endocarditis. Eur J Nucl Med Mol Imaging 37(6):1189–1197

6.

Vind SH, Hess S (2010) Possible role of PET/CT in infective endocarditis. J Nucl Cardiol 17(3):516–519

7.

Bruun NE et al (2014) Cardiac imaging in infectious endocarditis. Eur Heart J 35(10):624–632

8.

Pizzi MN et al (2015) Improving the diagnosis of infective endocarditis in prosthetic valves and intracardiac devices with 18F-fluordeoxyglucose positron emission tomography/computed tomography angiography: initial results at an infective endocarditis referral center. Circulation 132(12):1113–1126

9.

Tlili G et al (2015) High performances of (18)F-fluorodeoxyglucose PET-CT in cardiac implantable device infections: a study of 40 patients. J Nucl Cardiol 22(4):787–798

10.

Hoen B, Duval X (2013) Clinical practice infective endocarditis. N Engl J Med 368(15):1425–1433

11.

Wang A, Gaca JG, Chu VH (2018) management considerations in infective endocarditis: a review. JAMA 320(1):72–83

12.

Li JS et al (2000) Proposed modifications to the Duke criteria for the diagnosis of infective endocarditis. Clin Infect Dis 30(4):633–638

13.

Corp I (2012) IBM SPSS Statistics for Windows, Version 21.0. IBM Corp, Armonk

14.

Asmar A et al (2014) Clinical impact of 18F-FDG-PET/CT in the extra cardiac work-up of patients with infective endocarditis. Eur Heart J Cardiovasc Imaging 15(9):1013–1019

15.

Bonfiglioli R et al (2013) 18F-FDG PET/CT diagnosis of unexpected extracardiac septic embolisms in patients with suspected cardiac endocarditis. Eur J Nucl Med Mol Imaging 40(8):1190–1196

16.

Duval X et al (2021) Impact of systematic whole-body 18F-fluorodeoxyglucose PET/CT on the management of patients suspected of infective endocarditis: the prospective multicenter TEPvENDO study. Clin Infect Dis 73(3):393–403

17.

Dahl A, Bruun NE (2013) Enterococcus faecalis infective endocarditis: focus on clinical aspects. Expert Rev Cardiovasc Ther 11(9):1247–1257

18.

Dahl A et al (2019) Prevalence of infective endocarditis in Enterococcus faecalis Bacteremia. J Am Coll Cardiol 74(2):193–201

19.

Pericàs JM et al (2021) Prevalence of colorectal neoplasms among patients with Enterococcus faecalis endocarditis in the GAMES cohort (2008–2017). Mayo Clin Proc 96(1):132–146

20.

Saby L et al (2013) Positron emission tomography/computed tomography for diagnosis of prosthetic valve endocarditis: increased valvular 18F-fluorodeoxyglucose uptake as a novel major criterion. J Am Coll Cardiol 61(23):2374–2382

21.

Roque A et al (2017) (18)F-FDG-PET/CT Angiography for the Diagnosis of Infective Endocarditis. Curr Cardiol Rep 19(2):15
Supplementary Information
Below is the link to the electronic supplementary material.
About this article
Cite this article
Anton-Vazquez, V., Cannata, A., Amin-Youssef, G. et al. Diagnostic value of 18F-FDG PET/CT in infective endocarditis. Clin Res Cardiol (2021). https://doi.org/10.1007/s00392-021-01975-z
Received:

Accepted:

Published:
Keywords
18F-FDG-PET/CT

Infective endocarditis