Abstract
Background
North America has been experiencing an unprecedented epidemic of drug overdose. This study investigated the associations of drug overdose with the risk of cardiovascular disease (CVD) and 11 major CVD subtypes.
Methods
This nested case–control study was based on a cohort of 20% random sample of residents in British Columbia, Canada, who were aged 18–80 years and did not have known CVD at baseline (n = 617,863). During a 4-year follow-up period, persons who developed incident CVD were identified as case subjects, and the onset date of CVD was defined as the index date. For each case subject, we used incidence density sampling to randomly select up to five control subjects from the cohort members who were alive and did not have known CVD by the index date, were admitted to an emergency department or hospital on the index date for non-CVD causes, and were matched on age, sex, and region of residence. Overdose exposure on the index date and each of the previous 5 days was examined for each subject.
Results
This study included 16,113 CVD case subjects (mean age 53 years, 59% male) and 66,875 control subjects. After adjusting for covariates, overdose that occurred on the index date was strongly associated with CVD [odds ratio (OR), 2.9; 95% confidence interval (CI), 2.4–3.5], especially for arrhythmia (OR, 8.6; 95% CI, 6.2–12.0), ischemic stroke (OR, 5.3; 95% CI, 2.0–14.1), hemorrhagic stroke (OR, 3.1; 95% CI, 1.2–8.3), and myocardial infarction (OR, 3.0; 95% CI, 1.5–5.8). The CVD risk was decreased but remained significantly elevated for overdose that occurred on the previous day, and was not observed for overdose that occurred on each of the previous 2–5 days.
Conclusions
Drug overdose appears to be associated with increased risk of cardiovascular diseases.
Graphic abstract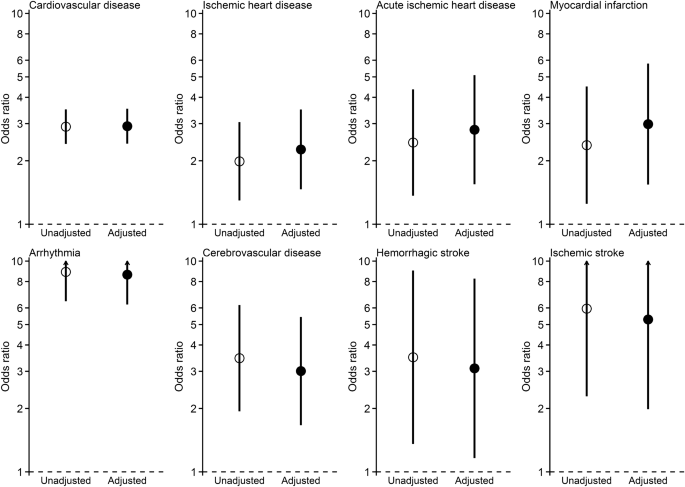 Access options
Buy single article
Instant access to the full article PDF.
USD 39.95
Price includes VAT (USA)
Tax calculation will be finalised during checkout.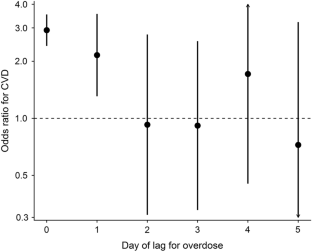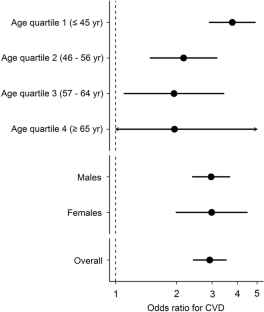 Abbreviations
BC:

British Columbia

CI:

Confidence interval

COPD:

Chronic obstructive pulmonary disease

CVD:

Cardiovascular disease

ED:

Emergency department

ICD:

International Classification of Diseases

IHD:

Ischemic heart disease

MI:

Myocardial infarction

NACRS:

National Ambulatory Care Reporting System

OR:

Odds ratio

SES:

Socioeconomic status

SUD:

Substance use disorder
References
1.

Roth GA, Johnson C, Abajobir A, Abd-Allah F, Abera SF, Abyu G et al (2017) Global, regional, and national burden of cardiovascular diseases for 10 causes, 1990 to 2015. J Am Coll Cardiol 70:1–25. https://doi.org/10.1016/j.jacc.2017.04.052

2.

World Health Organization (2021) Cardiovascular diseases. https://www.who.int/en/news-room/fact-sheets/detail/cardiovascular-diseases-(cvds). Accessed 5 Sep 2021

3.

Krantz MJ, Palmer RB, Haigney MCP (2021) Cardiovascular complications of opioid use: JACC state-of-the-art review. J Am Coll Cardiol 77:205–223. https://doi.org/10.1016/j.jacc.2020.11.002

4.

Murthy VH (2017) Surgeon general's report on alcohol, drugs, and health. JAMA 317:133–134. https://doi.org/10.1001/jama.2016.18215

5.

Schwartz BG, Rezkalla S, Kloner RA (2010) Cardiovascular effects of cocaine. Circulation 122:2558–2569. https://doi.org/10.1161/CIRCULATIONAHA.110.940569

6.

Finkel JB, Marhefka GD (2011) Rethinking cocaine-associated chest pain and acute coronary syndromes. Mayo Clin Proc 86:1198–1207. https://doi.org/10.4065/mcp.2011.0338

7.

Doshi R, Majmundar M, Kansara T, Desai R, Shah J, Kumar A et al (2019) Frequency of cardiovascular events and in-hospital mortality with opioid overdose hospitalizations. Am J Cardiol 124:1528–1533. https://doi.org/10.1016/j.amjcard.2019.07.068

8.

Manini AF, Nelson LS, Stimmel B, Vlahov D, Hoffman RS (2012) Incidence of adverse cardiovascular events in adults following drug overdose. Acad Emerg Med 19:843–849. https://doi.org/10.1111/j.1553-2712.2012.01397.x

9.

Onyeka IN, Beynon CM, Ronkainen K, Tiihonen J, Fohr J, Kuikanmaki O et al (2015) Hospitalization in a cohort seeking treatment for illicit drug use in Finland. J Subst Abuse Treat 53:64–70. https://doi.org/10.1016/j.jsat.2014.12.009

10.

Onyeka IN, Beynon CM, Hannila ML, Tiihonen J, Fohr J, Tuomola P et al (2014) Patterns and 14-year trends in mortality among illicit drug users in Finland: the HUUTI study. Int J Drug Policy 25:1047–1053. https://doi.org/10.1016/j.drugpo.2014.07.008

11.

Belzak L, Halverson J (2018) The opioid crisis in Canada: a national perspective. Health Promot Chronic Dis Prev Can 38:224–233. https://doi.org/10.24095/hpcdp.38.6.02

12.

Olfson M, Rossen LM, Wall MM, Houry D, Blanco C (2019) Trends in intentional and unintentional opioid overdose deaths in the United States, 2000–2017. JAMA 322:2340–2342. https://doi.org/10.1001/jama.2019.16566

13.

BC Centre for Disease Control. Overdose response indicator report—February 2020. http://www.bccdc.ca/resource-gallery/Documents/Statistics%20and%20Research/Statistics%20and%20Reports/Overdose/Overdose%20Response%20Indicator%20Report.pdf. Accessed 5 Sep 2021

14.

BC Coroners Service Illicit drug toxicity deaths in BC (January 1, 2010 to December 31, 2020). https://www2.gov.bc.ca/assets/gov/birth-adoption-death-marriage-and-divorce/deaths/coroners-service/statistical/illicit-drug.pdf. Accessed 5 Sep 2021

15.

Ministry of Health. Medical Services Plan (MSP) for British Columbia (B.C.) Residents. https://www2.gov.bc.ca/gov/content/health/health-drug-coverage/msp/bc-residents. Accessed 5 Sep 2021

16.

MacDougall L, Smolina K, Otterstatter M, Zhao B, Chong M, Godfrey D et al (2019) Development and characteristics of the Provincial Overdose Cohort in British Columbia. Canada Plos One 14:e0210129. https://doi.org/10.1371/journal.pone.0210129

17.

Ministry of Mental Health and Additions. Escalating BC's response to the overdose emergency. https://www2.gov.bc.ca/assets/gov/overdose-awareness/mmha_escalating_bcs_response_report_final_26feb.pdf. Accessed 5 Sep 2021

18.

Li L, Setoguchi S, Cabral H, Jick S (2013) Opioid use for noncancer pain and risk of myocardial infarction amongst adults. J Intern Med 273:511–526. https://doi.org/10.1111/joim.12035

19.

Essebag V, Genest J Jr, Suissa S, Pilote L (2003) The nested case-control study in cardiology. Am Heart J 146:581–590. https://doi.org/10.1016/S0002-8703(03)00512-X

20.

Gan WQ, Davies HW, Koehoorn M, Brauer M (2012) Association of long-term exposure to community noise and traffic-related air pollution with coronary heart disease mortality. Am J Epidemiol 175:898–906. https://doi.org/10.1093/aje/kwr424

21.

Wacholder S, Silverman DT, McLaughlin JK, Mandel JS (1992) Selection of controls in case–control studies. II Types of controls. Am J Epidemiol 135:1029–1041. https://doi.org/10.1093/oxfordjournals.aje.a116397

22.

Keen C, Kinner SA, Young JT, Snow K, Zhao B, Gan W et al (2021) Periods of altered risk for non-fatal drug overdose: a self-controlled case series. Lancet Public Health 6:e249–e259. https://doi.org/10.1016/S2468-2667(21)00007-4

23.

Pampalon R, Hamel D, Gamache P, Philibert MD, Raymond G, Simpson A (2012) An area-based material and social deprivation index for public health in Quebec and Canada. Can J Public Health 103:S17-22

24.

Gan WQ, Kinner SA, Nicholls TL, Xavier CG, Urbanoski K, Greiner L et al (2021) Risk of overdose-related death for people with a history of incarceration. Addiction 116:1460–1471. https://doi.org/10.1111/add.15293

25.

Therneau TM (2021) Survival analysis. https://cran.r-project.org/web/packages/survival/survival.pdf. Accessed 5 Sep 2021

26.

Cheng YC, Ryan KA, Qadwai SA, Shah J, Sparks MJ, Wozniak MA et al (2016) Cocaine use and risk of ischemic stroke in young adults. Stroke 47:918–922. https://doi.org/10.1161/STROKEAHA.115.011417

27.

Petitti DB, Sidney S, Quesenberry C, Bernstein A (1998) Stroke and cocaine or amphetamine use. Epidemiology 9:596–600

28.

Kaku DA, Lowenstein DH (1990) Emergence of recreational drug abuse as a major risk factor for stroke in young adults. Ann Intern Med 113:821–827. https://doi.org/10.7326/0003-4819-113-11-821

29.

Qureshi AI, Akbar MS, Czander E, Safdar K, Janssen RS, Frankel MR (1997) Crack cocaine use and stroke in young patients. Neurology 48:341–345. https://doi.org/10.1212/wnl.48.2.341

30.

Smolina K, Crabtree A, Chong M, Zhao B, Park M, Mill C et al (2019) Patterns and history of prescription drug use among opioid-related drug overdose cases in British Columbia, Canada, 2015–2016. Drug Alcohol Depend 194:151–158. https://doi.org/10.1016/j.drugalcdep.2018.09.019

31.

Armenian P, Vo KT, Barr-Walker J, Lynch KL (2018) Fentanyl, fentanyl analogs and novel synthetic opioids: a comprehensive review. Neuropharmacology 134:121–132. https://doi.org/10.1016/j.neuropharm.2017.10.016

32.

Payer DE, Young MM, Maloney-Hall B, Mill C, Leclerc P, Buxton J et al (2020) Canadian centre on substance use and addiction. Adulterants, contaminants and co-occurring substances in drugs on the illegal market in Canada: an analysis of data from drug seizures, drug checking and urine toxicology. https://www.ccsa.ca/sites/default/files/2020-04/CCSA-CCENDU-Adulterants-Contaminants-Co-occurring-Substances-in-Drugs-Canada-Report-2020-en.pdf. Accessed 5 Sep 2021

33.

Behzadi M, Joukar S, Beik A (2018) Opioids and cardiac arrhythmia: a literature review. Med Princ Pract 27:401–414. https://doi.org/10.1159/000492616

34.

Vongpatanasin W, Mansour Y, Chavoshan B, Arbique D, Victor RG (1999) Cocaine stimulates the human cardiovascular system via a central mechanism of action. Circulation 100:497–502. https://doi.org/10.1161/01.cir.100.5.497

35.

Havakuk O, Rezkalla SH, Kloner RA (2017) The cardiovascular effects of cocaine. J Am Coll Cardiol 70:101–113. https://doi.org/10.1016/j.jacc.2017.05.014

36.

Wiley LK, Shah A, Xu H, Bush WS (2013) ICD-9 tobacco use codes are effective identifiers of smoking status. J Am Med Inform Assoc 20:652–658. https://doi.org/10.1136/amiajnl-2012-001557

37.

Pope CA 3rd, Ezzati M, Dockery DW (2009) Fine-particulate air pollution and life expectancy in the United States. N Engl J Med 360:376–386. https://doi.org/10.1056/NEJMsa0805646

38.

Krieger N (1992) Overcoming the absence of socioeconomic data in medical records: validation and application of a census-based methodology. Am J Public Health 82:703–710. https://doi.org/10.2105/ajph.82.5.703
Acknowledgements
Data for this publication were provided by the BC Coroners Service, the BC Emergency Health Services, the BC Drug and Poison Information Centre, the BC Ministry of Health (Discharge Abstract Database, National Ambulatory Care Reporting System, Medical Services Plan, and PharmaNet), and the Emergency Departments in Interior, Island, and Northern Health Authorities. All inferences, opinions, and conclusions are those of the authors, and do not reflect the opinions or policies of the data stewards.
Ethics declarations
Conflict of interest
The author(s) declared no potential conflicts of interest with respect to the research, authorship, and/or publication of this article.
Ethical approval
This study was conducted using de-identified administrative health data from the BC Provincial Overdose Cohort as part of the provincial response to the epidemic of drug overdose; therefore, institutional ethics approval was not required.
Supplementary Information
Below is the link to the electronic supplementary material.
About this article
Cite this article
Gan, W.Q., Buxton, J.A., Palis, H. et al. Drug overdose and the risk of cardiovascular diseases: a nested case–control study. Clin Res Cardiol (2021). https://doi.org/10.1007/s00392-021-01945-5
Received:

Accepted:

Published:
Keywords
Cardiovascular diseases

Case–control studies

Drug overdose

Epidemiology

Opioid-related disorders

Risk factors