Abstract
Background
Available information about prognostic implications of potassium levels alteration in the setting of acute heart failure (AHF) is scarce.
Objectives
We aim to describe the prevalence of dyskalemia (hypo or hyperkalemia), its dynamic changes during AHF-hospitalization, and its long-term clinical impact after hospitalization.
Methods
We analyzed 1779 patients hospitalized with AHF who were included in the REDINSCOR II registry. Patients were classified in three groups, according to potassium levels both on admission and discharge: hypokalemia (potassium < 3.5 mEq/L), normokalemia (potassium = 3.5–5.0 mEq/L and, hyperkalemia (potassium > 5 mEq/L).
Results
The prevalence of hypokalemia and hyperkalemia on admission was 8.2 and 4.6%, respectively, and 6.4 and 2.7% at discharge. Hyperkalemia on admission was associated with higher in-hospital mortality (OR = 2.32 [95% CI: 1.04–5.21] p = 0.045). Among patients with hypokalemia on admission, 79% had normalized potassium levels at discharge. In the case of patients with hyperkalemia on admission, 89% normalized kalemia before discharge. In multivariate Cox regression, dyskalemia was associated with higher 12-month mortality, (HR = 1.48 [95% CI, 1.12–1.96], p = 0.005). Among all patterns of dyskalemia persistent hypokalemia (HR = 3.17 [95% CI: 1.71–5.88]; p < 0.001), and transient hyperkalemia (HR = 1.75 [95% CI: 1.07–2.86]; p = 0.023) were related to reduced 12-month survival.
Conclusions
Potassium levels alterations are frequent and show a dynamic behavior during AHF admission. Hyperkalemia on admission is an independent predictor of higher in-hospital mortality. Furthermore, persistent hypokalemia and transient hyperkalemia on admission are independent predictors of 12-month mortality.
This is a preview of subscription content, log in to check access.
Access options
Buy single article
Instant access to the full article PDF.
US$ 39.95
Price includes VAT for USA
Subscribe to journal
Immediate online access to all issues from 2019. Subscription will auto renew annually.
US$ 199
This is the net price. Taxes to be calculated in checkout.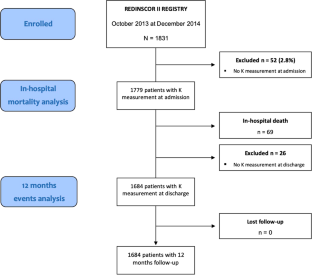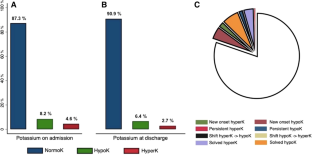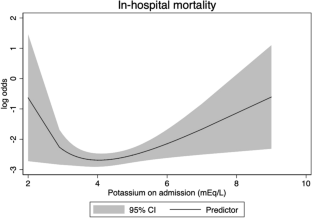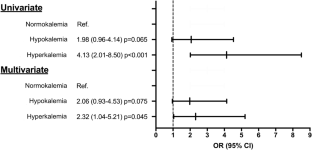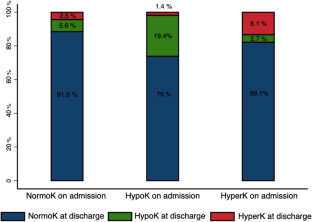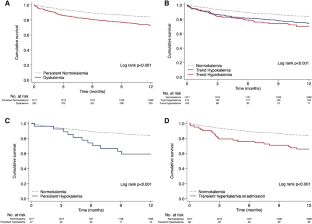 Availability of data and material
Abbreviations
ACE:

Angiotensin-converting enzyme

AHF:

Acute heart failure

ARB:

Angiotensin II receptor blocker

HF:

Heart failure

MRA:

Mineralocorticoid receptor antagonist

RAAS:

Renin–angiotensin–aldosterone system
Funding
This work is funded by the Instituto de Salud Carlos III (Ministry of Economy, Industry, and Competitiveness) and co-funded by the European Regional Development Fund, through the CIBER in cardiovascular diseases (CB16/11/00502).
Ethics declarations
Conflicts of interest
The authors have no conflict of interest to declare.
Ethics approval
Yes.
Consent to participate
Yes.
Consent for publication
Yes.
About this article
Cite this article
Caravaca Perez, P., González-Juanatey, J.R., Nuche, J. et al. Serum potassium dynamics during acute heart failure hospitalization. Clin Res Cardiol (2020). https://doi.org/10.1007/s00392-020-01753-3
Received:

Accepted:

Published:
Keywords
Dyskalemia

Hyperkalemia

Hypokalemia

Potassium

Heart failure