Abstract
Background
The randomized BASKET-SMALL 2 trial showed non-inferiority for treatment with drug-coated balloon (DCB) compared with drug-eluting stents (DES) in patients undergoing percutaneous coronary intervention (PCI) for de novo lesions in small coronary arteries regarding clinical endpoints at 1 year. In this predefined substudy, we investigated the angiographic findings in patients undergoing a clinically indicated follow-up angiography during the study phase.
Methods
Eight-hundred and eighty-three patients underwent PCI with either DES or DCB in a culprit vessel < 3 mm in diameter for stable coronary artery disease or acute coronary syndrome. Event-driven re-angiographies and the corresponding images at baseline were analyzed for angiographic endpoints.
Results
One-hundred and eleven patients (117 lesions, 66 DES versus 51 DCB) presented for an unscheduled re-angiography at median 5.7 months after the index procedure. At baseline, mean reference vessel diameter was 2.05 mm and the residual in-segment stenosis after the index procedure was less in DES compared to DCB (23.7% vs 33.8%, p = 0.001). At follow-up angiography, diameter stenosis in the DES group (29.0%) was still somewhat smaller than after DCB angioplasty (35.8%) when adjusting for time since PCI (p = 0.047), whereas lumen loss (LL) did not differ between the two treatment arms (LL-DES 0.06 mm vs LL-DCB 0.10 mm, p = 0.20). Eight patients following DES implantation presented with a complete occlusion of the target lesion compared to no occlusion in the DCB group (p = 0.009).
Conclusions
The clinically indicated follow-up angiography within 1 year showed no difference in LL. Complete thrombotic vessel occlusions were found only in the DES group.
Clinical Trial Registration
www.clinicaltrials.gov; number, NCT01574534
Access options
Buy single article
Instant access to the full article PDF.
USD 39.95
Price includes VAT (USA)
Tax calculation will be finalised during checkout.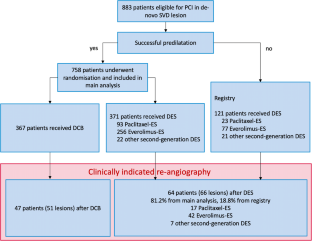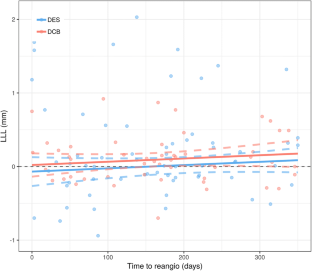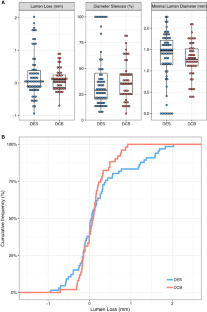 Abbreviations
DES:

Drug-eluting stent

DCB:

Drug-coated balloon

SVD:

Small vessel disease

PCI:

Percutaneous coronary intervention

ACS:

Acute coronary syndrome

DAPT:

Dual antiplatelet therapy

QCA:

Quantitative coronary angiography

LL:

Lumen loss

MLD:

Minimal lumen diameter

RVD:

Reference vessel diameter

DS:

Diameter stenosis
References
1.

Akiyama T, Moussa I, Reimers B et al (1998) Angiographic and clinical outcome following coronary stenting of small vessels: a comparison with coronary stenting of large vessels. J Am Coll Cardiol 20:20

2.

Alfonso F, Scheller B (2017) State of the art: balloon catheter technologies—drug-coated balloon. EuroIntervention 13:680–695

3.

Colleran R, Kastrati A (2018) Percutaneous coronary intervention: balloons, stents and scaffolds. Clin Res Cardiol 107:55–63

4.

Jeger RV, Farah A, Ohlow M-A et al (2018) Drug-coated balloons for small coronary artery disease (BASKET-SMALL 2): an open-label randomised non-inferiority trial. Lancet 392:849–856

5.

Cortese B, Micheli A, Picchi A et al (2010) Paclitaxel-coated balloon versus drug-eluting stent during PCI of small coronary vessels, a prospective randomised clinical trial. The PICCOLETO study. Heart 96:1291–1296

6.

Latib A, Colombo A, Castriota F et al (2012) A randomized multicenter study comparing a paclitaxel drug-eluting balloon with a paclitaxel-eluting stent in small coronary vessels: the BELLO (Balloon Elution and Late Loss Optimization) study. J Am Coll Cardiol 60:2473–2480

7.

Tang Y, Qiao S, Su X et al (2018) Drug-Coated balloon versus drug-eluting stent for small-vessel disease: the RESTORE SVD China randomized trial. JACC Cardiovasc Interv 11:2381–2392

8.

Kleber FX, Rittger H, Bonaventura K et al (2013) Drug-coated balloons for treatment of coronary artery disease: updated recommendations from a consensus group. Clin Res Cardiol 102:785–797

9.

Sianos G, Papafaklis MI, Serruys PW (2010) Angiographic thrombus burden classification in patients with ST-segment elevation myocardial infarction treated with percutaneous coronary intervention. J Invasive Cardiol 22:6B–14B

10.

Maechler M, Rousseeuw P, Croux C, et al. 2019 robustbase: basic robust statistics. R package version 0.93-4

11.

R Core Team (2018) R: a language and environment for statistical computing. R Foundation for Statistical Computing, Vienna

12.

Serruys PW, Garcia-Garcia HM, Onuma Y (2012) From metallic cages to transient bioresorbable scaffolds: change in paradigm of coronary revascularization in the upcoming decade? Eur Heart J 33:16–25b

13.

Varenhorst C, Lindholm M, Sarno G et al (2018) Stent thrombosis rates the first year and beyond with new- and old-generation drug-eluting stents compared to bare metal stents. Clin Res Cardiol 107:816–823

14.

Glagov S, Weisenberg E, Zarins CK, Stankunavicius R, Kolettis GJ (1987) Compensatory enlargement of human atherosclerotic coronary arteries. N Engl J Med 316:1371–1375

15.

Unverdorben M, Kleber FX, Heuer H et al (2010) Treatment of small coronary arteries with a paclitaxel-coated balloon catheter. Clin Res Cardiol 99:165–174

16.

Post MJ, Borst C, Kuntz RE (1994) The relative importance of arterial remodeling compared with intimal hyperplasia in lumen renarrowing after balloon angioplasty. A study in the normal rabbit and the hypercholesterolemic Yucatan micropig. Circulation 89:2816–2821

17.

Diletti R, Farooq V, Girasis C et al (2013) Clinical and intravascular imaging outcomes at 1 and 2 years after implantation of absorb everolimus eluting bioresorbable vascular scaffolds in small vessels. Late lumen enlargement: does bioresorption matter with small vessel size? Insight from the ABSORB cohort B trial. Heart 99:98–105

18.

Latib A, Ruparelia N, Menozzi A et al (2015) 3-year follow-up of the balloon elution and late loss optimization study (BELLO). JACC Cardiovasc Interv 8:1132–1134

19.

Venetsanos D, Lawesson SS, Panayi G et al (2018) Long-term efficacy of drug coated balloons compared with new generation drug-eluting stents for the treatment of de novo coronary artery lesions. Catheter Cardiovasc Interv 92:E317–E326

20.

Sarno G, Lagerqvist B, Fröbert O et al (2012) Lower risk of stent thrombosis and restenosis with unrestricted use of "new-generation" drug-eluting stents: a report from the nationwide Swedish Coronary Angiography and Angioplasty Registry (SCAAR). Eur Heart J 33:606–613

21.

Cortese B, Silva Orrego P, Agostoni P et al (2015) Effect of drug-coated balloons in native coronary artery disease left with a dissection. JACC Cardiovasc Interv 8:2003–2009
Funding
This work was supported by the Swiss National Science Foundation, the Basel Cardiovascular Research Foundation, and B. Braun Medical AG, Switzerland.
Ethics declarations
Conflict of interest
Dr. Jeger reports Grants from Swiss National Foundation, Grants from Basel Cardiovascular Research Foundation, Grants, personal fees and non-financial support from B. Braun Medical AG, Sempach, Switzerland during the conduct of the study; Dr. Mangner reports personal fees from Edwards Lifesciences, personal fees from Medtronic, personal fees from Biotronik, personal fees from Sanofi Genzyme, personal fees from Astra Zeneca and personal fees from Novartis outside the submitted work; Dr. Scheller reports other support from B.Braun, InnoRa GmbH and Charite University Hospital outside the submitted work; Dr. Twerenbold reports personal fees from Abbott, Roche, Siemens, Brahms, Singulex and Amgen, Grants from Swiss National Science Foundation, Swiss Heart Foundation, Swiss Society of Cardiology, University of Basel and Cardiovascular Research Foundation Basel outside the submitted work; all the other authors have nothing to disclose.
Electronic supplementary material
Below is the link to the electronic supplementary material.
About this article
Cite this article
Fahrni, G., Scheller, B., Coslovsky, M. et al. Drug-coated balloon versus drug-eluting stent in small coronary artery lesions: angiographic analysis from the BASKET-SMALL 2 trial. Clin Res Cardiol 109, 1114–1124 (2020). https://doi.org/10.1007/s00392-020-01603-2
Received:

Accepted:

Published:

Issue Date:
Keywords
Percutaneous coronary intervention

Small vessel disease

De novo

Drug-eluting balloon

Drug-coated balloon

Quantitative coronary analysis