Abstract
Background
Geographical differences may impact the treatment of heart failure (HF) and the results of clinical trials. We have investigated the differences between geographical areas across Europe in the BIOSTAT-CHF program.
Methods
Patients with worsening HF enrolled in BIOSTAT-CHF were subdivided, according to the European geographical areas, into those from Northern countries (The Netherlands, Norway, Sweden, UK), Central countries (Germany, Poland, Serbia, Slovenia), and Mediterranean countries (France, Greece, Italy). Patients were compared for baseline characteristics, treatment, and outcomes. The primary endpoint was a composite of all-cause mortality or HF hospitalization.
Results
Among 2516 patients enrolled in BIOSTAT-CHF, 814 (32.3%) were from Northern European centers, 816 (32.4%) from Central European centers, and 886 (35.2%) from Mediterranean centers. Patients from Northern European centers were older, had more severe signs and symptoms of HF, and with lower incidence of non-cardiac comorbidities such as chronic kidney dysfunction, diabetes and, hypertension, compared to those from the Central and Mediterranean centers. Patients receiving ≥ 50% of the target dose of both ACE-I/ARB after the up-titration phase were higher in the Northern European centers compared with the other regions (60% versus 58.7% in the Central European centers and 46.5% in the Mediterranean ones; p < 0.001). The primary endpoint occurred at a higher rate in the Northern centers (44.3% versus 37.4% in central centers and 39.6% in Mediterranean centers; p = 0.014), this difference became non-significant after the adjustment for important confounders. Importantly, treatment up-titration reduced the event rates regardless of the geographical region (p for interaction > 0.05).
Conclusion
The BIOSTAT-CHF study showed significant differences in the clinical features, treatment and prognosis in European patients with HF. Patients from the Mediterranean centers less often had the HF treatments up-titrated; however, the treatment up-titration benefited patients irrespective of their geographical region and should be part of the "default" clinical practice.
We're sorry, something doesn't seem to be working properly.
Please try refreshing the page. If that doesn't work, please contact support so we can address the problem.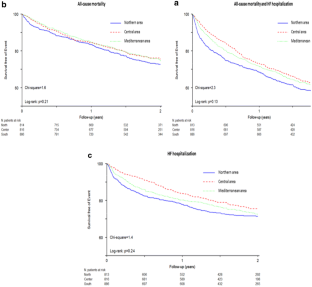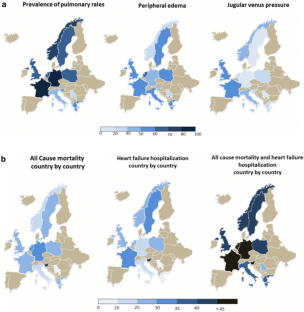 References
1.

Ponikowski P, Voors AA, Anker SD, Bueno H, Cleland JG, Coats AJ, Falk V, Gonzalez-Juanatey JR, Harjola VP, Jankowska EA, Jessup M, Linde C, Nihoyannopoulos P, Parissis JT, Pieske B, Riley JP, Rosano GM, Ruilope LM, Ruschitzka F, Rutten FH, van der Meer P, Authors/Task Force M, and Document R (2016) 2016 ESC Guidelines for the diagnosis and treatment of acute and chronic heart failure: the task force for the diagnosis and treatment of acute and chronic heart failure of the European Society of Cardiology (ESC). Developed with the special contribution of the Heart Failure Association (HFA) of the ESC. Eur J Heart Fail 18:891–975

2.

Schmidt M, Ulrichsen SP, Pedersen L, Botker HE, Sorensen HT (2016) Thirty-year trends in heart failure hospitalization and mortality rates and the prognostic impact of co-morbidity: a Danish nationwide cohort study. Eur J Heart Fail 18:490–499

3.

Omersa D, Farkas J, Erzen I, Lainscak M (2016) National trends in heart failure hospitalization rates in Slovenia 2004–2012. Eur J Heart Fail 18:1321–1328

4.

Metra M, Teerlink JR (2017) Heart failure. Lancet 28:1981–1995

5.

Massie BM, Cleland JG, Armstrong PW, Horowitz JD, Packer M, Poole-Wilson PA, Ryden L (1998) Regional differences in the characteristics and treatment of patients participating in an international heart failure trial. The Assessment of Treatment with Lisinopril and Survival (ATLAS) Trial Investigators. J Cardiac Fail 4:3–8

6.

Blair JE, Zannad F, Konstam MA, Cook T, Traver B, Burnett JC Jr, Grinfeld L, Krasa H, Maggioni AP, Orlandi C, Swedberg K, Udelson JE, Zimmer C, Gheorghiade M, Investigators E (2008) Continental differences in clinical characteristics, management, and outcomes in patients hospitalized with worsening heart failure results from the EVEREST (Efficacy of Vasopressin Antagonism in Heart Failure: Outcome Study with Tolvaptan) program. J Am Coll Cardiol 52:1640–1648

7.

O'Connor CM, Fiuzat M, Swedberg K, Caron M, Koch B, Carson PE, Gattis-Stough W, Davis GW, Bristow MR (2011) Influence of global region on outcomes in heart failure beta-blocker trials. J Am Coll Cardiol 58:915–922

8.

Metra M, Ponikowski P, Cotter G, Davison BA, Felker GM, Filippatos G, Greenberg BH, Hua TA, Severin T, Unemori E, Voors AA, Teerlink JR (2013) Effects of serelaxin in subgroups of patients with acute heart failure: results from RELAX-AHF. Eur Heart J 34:3128–3136

9.

Pfeffer MA, Claggett B, Assmann SF, Boineau R, Anand IS, Clausell N, Desai AS, Diaz R, Fleg JL, Gordeev I, Heitner JF, Lewis EF, O'Meara E, Rouleau JL, Probstfield JL, Shaburishvili T, Shah SJ, Solomon SD, Sweitzer NK, McKinlay SM, Pitt B (2015) Regional variation in patients and outcomes in the treatment of preserved cardiac function heart failure with an aldosterone antagonist (TOPCAT) trial. Circulation 131:34–42

10.

Metra M, Mentz RJ, Hernandez AF, Heizer GM, Armstrong PW, Clausell N, Corbalan R, Costanzo MR, Dickstein K, Dunlap ME, Ezekowitz JA, Howlett JG, Komajda M, Krum H, Lombardi C, Fonarow GC, McMurray JJ, Nieminen MS, Swedberg K, Voors AA, Starling RC, Teerlink JR, O'Connor CM (2016) Geographic differences in patients in a global acute heart failure clinical trial (from the ASCEND-HF trial). Am J Cardiol 117:1771–1778

11.

Kristensen SL, Martinez F, Jhund PS, Arango JL, Belohlavek J, Boytsov S, Cabrera W, Gomez E, Hagege AA, Huang J, Kiatchoosakun S, Kim KS, Mendoza I, Senni M, Squire IB, Vinereanu D, Wong RC, Gong J, Lefkowitz MP, Rizkala AR, Rouleau JL, Shi VC, Solomon SD, Swedberg K, Zile MR, Packer M, McMurray JJ (2016) Geographic variations in the PARADIGM-HF heart failure trial. Eur Heart J 37:3167–3174

12.

Dokainish H, Teo K, Zhu J, Roy A, AlHabib KF, ElSayed A, Palileo-Villaneuva L, Lopez-Jaramillo P, Karaye K, Yusoff K, Orlandini A, Sliwa K, Mondo C, Lanas F, Prabhakaran D, Badr A, Elmaghawry M, Damasceno A, Tibazarwa K, Belley-Cote E, Balasubramanian K, Islam S, Yacoub MH, Huffman MD, Harkness K, Grinvalds A, McKelvie R, Bangdiwala SI, Yusuf S, Investigators I-C (2017) Global mortality variations in patients with heart failure: results from the international congestive heart failure (INTER-CHF) prospective cohort study. Lancet Glob Health. 5:e665–e672

13.

van Veldhuisen DJ, Charlesworth A, Crijns HJ, Lie KI, Hampton JR (1999) Differences in drug treatment of chronic heart failure between European countries. Eur Heart J 20:666–672

14.

Maggioni AP, Dahlstrom U, Filippatos G, Chioncel O, Leiro MC, Drozdz J, Fruhwald F, Gullestad L, Logeart D, Fabbri G, Urso R, Metra M, Parissis J, Persson H, Ponikowski P, Rauchhaus M, Voors AA, Nielsen OW, Zannad F, Tavazzi L, Heart Failure Association of the European Society of C (2013) EURObservational Research Programme: regional differences and 1-year follow-up results of the Heart Failure Pilot Survey (ESC-HF Pilot). Eur J Heart Fail 15:808–817

15.

Crespo-Leiro MG, Anker SD, Maggioni AP, Coats AJ, Filippatos G, Ruschitzka F, Ferrari R, Piepoli MF, Delgado Jimenez JF, Metra M, Fonseca C, Hradec J, Amir O, Logeart D, Dahlstrom U, Merkely B, Drozdz J, Goncalvesova E, Hassanein M, Chioncel O, Lainscak M, Seferovic PM, Tousoulis D, Kavoliuniene A, Fruhwald F, Fazlibegovic E, Temizhan A, Gatzov P, Erglis A, Laroche C, Mebazaa A, Heart Failure Association of the European Society of C (2016) European Society of Cardiology Heart Failure Long-Term Registry (ESC-HF-LT): 1-year follow-up outcomes and differences across regions. Eur J Heart Fail 18:613–625

16.

Chioncel O, Mebazaa A, Harjola VP, Coats AJ, Piepoli MF, Crespo-Leiro MG, Laroche C, Seferovic PM, Anker SD, Ferrari R, Ruschitzka F, Lopez-Fernandez S, Miani D, Filippatos G, Maggioni AP, Investigators ESCHFL-TR (2017) Clinical phenotypes and outcome of patients hospitalized for acute heart failure: the ESC Heart Failure Long-Term Registry. Eur J Heart Fail 19:1242–1254

17.

Voors AA, Anker SD, Cleland JG, Dickstein K, Filippatos G, van der Harst P, Hillege HL, Lang CC, Ter Maaten JM, Ng L, Ponikowski P, Samani NJ, van Veldhuisen DJ, Zannad F, Zwinderman AH, Metra M (2016) A systems biology study to tailored treatment in chronic heart failure: rationale, design, and baseline characteristics of BIOSTAT-CHF. Eur J Heart Fail 18:716–726

18.

Ferreira JP, Rossignol P, Machu JL, Sharma A, Girerd N, Anker SD, Cleland JG, Dickstein K, Filippatos G, Hillege HL, Lang CC, Ter Maaten JM, Metra M, Ng L, Ponikowski P, Samani NJ, van Veldhuisen DJ, Zwinderman AH, Voors A, Zannad F (2017) Mineralocorticoid receptor antagonist pattern of use in heart failure with reduced ejection fraction: findings from BIOSTAT-CHF. Eur J Heart Fail. 19(10):1284–1293

19.

Voors AA, Ouwerkerk W, Zannad F, van Veldhuisen DJ, Samani NJ, Ponikowski P, Ng LL, Metra M, Ter Maaten JM, Lang CC, Hillege HL, van der Harst P, Filippatos G, Dickstein K, Cleland JG, Anker SD, Zwinderman AH (2017) Development and validation of multivariable models to predict mortality and hospitalization in patients with heart failure. Eur J Heart Fail. 19(5):627–634

20.

Assarsson E, Lundberg M, Holmquist G, Björkesten J, Thorsen SB, Ekman D, Eriksson A, Rennel Dickens E, Ohlsson S, Edfeldt G, Andersson AC, Lindstedt P, Stenvang J, Gullberg M, Fredriksson S (2014) Homogenous 96-plex PEA immunoassay exhibiting high sensitivity, specificity, and excellent scalability. PLoS ONE 9(4):e95192

21.

https://data.worldbank.org/about/country-and-lending-groups. Accessed Oct 2019

22.

Ouwerkerk W, Voors AA, Anker SD, Cleland JG, Dickstein K, Filippatos G, van der Harst P, Hillege HL, Lang CC, Ter Maaten JM, Ng LL, Ponikowski P, Samani NJ, van Veldhuisen DJ, Zannad F, Metra M, Zwinderman AH (2017) Determinants and clinical outcome of uptitration of ACE-inhibitors and beta-blockers in patients with heart failure: a prospective European study. Eur Heart J 38:1883–1890

23.

Komajda M, Cowie MR, Tavazzi L, Ponikowski P, Anker SD, Filippatos GS, QUALIFY Investigators (2017) Physicians' guideline adherence is associated with better prognosis in outpatients with heart failure with reduced ejection fraction: the QUALIFY international registry. Eur J Heart Fail. 19(11):1414–1423

24.

Peterson PN, Chan PS, Spertus JA, Tang F, Jones PG, Ezekowitz JA, Allen LA, Masoudi FA, Maddox TM (2013) Practice-level variation in use of recommended medications among outpatients with heart failure: Insights from the NCDR PINNACLE program. Circ Heart Fail. 6(6):1132–1138

25.

Schultz WM, Kelli HM, Lisko JC, Varghese T, Shen J, Sandesara P, Quyyumi AA, Taylor HA, Gulati M, Harold JG, Mieres JH, Ferdinand KC, Mensah GA, Sperling LS (2018) Socioeconomic status and cardiovascular outcomes: challenges and interventions. Circulation 137(20):2166–2178

26.

Callender T, Woodward M, Roth G, Farzadfar F, Lemarie JC, Gicquel S, Atherton J, Rahimzadeh S, Ghaziani M, Shaikh M, Bennett D, Patel A, Lam CS, Sliwa K, Barretto A, Siswanto BB, Diaz A, Herpin D, Krum H, Eliasz T, Forbes A, Kiszely A, Khosla R, Petrinic T, Praveen D, Shrivastava R, Xin D, MacMahon S, McMurray J, Rahimi K (2014) Heart failure care in low- and middle-income countries: a systematic review and meta-analysis. PLoS Med. 11(8):e10016

27.

Kondo N, Sembajwe G, Kawachi I, van Dam RM, Subramanian SV, Yamagata Z (2009) Income inequality, mortality, and self rated health: meta-analysis of multilevel studies. BMJ 10(339):b4471

28.

Khariton Y, Nassif ME, Thomas L et al (2018) Health status disparities by sex, race/ethnicity, and socioeconomic status in outpatients with heart failure. JACC Heart Fail. 6(6):465–473

29.

Townsend N, Wilson L, Bhatnagar P, Wickramasinghe K, Rayner M, Nichols M (2016) Cardiovascular disease in Europe: epidemiological update 2016. Eur Heart J 37(42):3232–3245

30.

Finegold JA, Asaria P, Francis DP (2013) Mortality from ischaemic heart disease by country, region, and age: statistics from World Health Organisation and United Nations. Int J Cardiol. 168(2):934–945

31.

Raatikainen MJP, Arnar DO, Merkely B, Nielsen JC, Hindricks G, Heidbuchel H, Camm J (2017) A decade of information on the use of cardiac implantable electronic devices and interventional electrophysiological procedures in the European Society of Cardiology Countries: 2017 report from the European Heart Rhythm Association. Europace. 19(1):ii1–ii90

32.

Ghislandi S, Krulichova I, Garattini L (2005) Pharmaceutical policy in Italy: towards a structural change? Health Policy 72:53–63

33.

Lund LH, Braunschweig F, Benson L, Stahlberg M, Dahlstrom U, Linde C (2017) Association between demographic, organizational, clinical, and socio-economic characteristics and underutilization of cardiac resynchronization therapy: results from the Swedish Heart Failure Registry. Eur J Heart Fail 19:1270–1279

34.

Ferreira JP, Rossignol P, Dewan P, Lamiral Z, White WB, Pitt B, McMurray JJV, Zannad F (2019) Income level and inequality as complement to geographical differences in cardiovascular trials. Am Heart J. 1(218):66–74

35.

Devaux M (2015) Income-related inequalities and inequities in health care services utilisation in 18 selected OECD countries. Eur J Health Econ. 16:21–33

36.

Yusuf S, Rangarajan S, Teo K, Islam S, Li W, Liu L, Bo J, Lou Q, Lu F, Liu T, Yu L, Zhang S, Mony P, Swaminathan S, Mohan V, Gupta R, Kumar R, Vijayakumar K, Lear S, Anand S, Wielgosz A, Diaz R, Avezum A, Lopez-Jaramillo P, Lanas F, Yusoff K, Ismail N, Iqbal R, Rahman O, Rosengren A, Yusufali A, Kelishadi R, Kruger A, Puoane T, Szuba A, Chifamba J, Oguz A, McQueen M, McKee M, Dagenais G, Investigators P (2014) Cardiovascular risk and events in 17 low-, middle-, and high-income countries. N Engl J Med 371:818–827

37.

Dewan P, Rørth R, Jhund PS, Ferreira JP, Zannad F, Shen L, Køber L, Abraham WT, Desai AS, Dickstein K, Packer M, Rouleau JL, Solomon SD, Swedberg K, Zile MR, McMurray JJ, ATMOSPHERE Investigators (2019) Income inequality and outcomes in heart failure: a global between-country analysis. JACC Heart Fail. 7:336–346

38.

Maggioni AP (2017) Uncovering difference: a glimpse at patients with heart failure in low-income and middle-income countries. Lancet Glob Health. 5(7):e634–e635
Funding
BIOSTAT-CHF was funded by a grant from the European Commission: FP7-242209-BIOSTAT-CHF.
Ethics declarations
Conflict of interest
The authors declare no competing financial interest with this post-hoc analysis.
Electronic supplementary material
Below is the link to the electronic supplementary material.
About this article
Cite this article
Lombardi, C.M., Ferreira, J.P., Carubelli, V. et al. Geographical differences in heart failure characteristics and treatment across Europe: results from the BIOSTAT-CHF study. Clin Res Cardiol 109, 967–977 (2020). https://doi.org/10.1007/s00392-019-01588-7
Received:

Accepted:

Published:

Issue Date:
Keywords
Heart failure

Geographical variations

Geographical differences

Treatment up-titration

Income

Outcomes

BIOSTAT-CHF