Abstract
Purpose
Calcification of aortic valve and mitral annulus is associated with cardiovascular risk factors, morbidity and mortality. Assessment of cardiac calcification with echocardiography is feasible, however, only few structured scoring systems have been established so far with limited prognostic data. This study aimed to evaluate an echocardiographic calcification score (echo-CCS) in patients with low/intermediate cardiovascular risk.
Methods
Digitally stored echocardiography studies of 151 patients (median age 64, 49.7% male) from February 2008 to December 2009 were retrospectively reviewed for calcifications of the aortic valve, aortic root, mitral annulus, papillary muscles and ventricular septum. A calcification score ranging from 0 to 5 was assigned to every patient and its relation to computed tomography calcium score, coronary stenosis and ESC SCORE was assessed. Follow-up data were collected from 149 patients (98.7%) with a median of 6.2 years. Logistic regression and Kaplan–Meier analysis were performed to assess the association of the echo-CCS with significant coronary artery disease (≥ 50% stenosis) and risk for cardiac events and all-cause mortality.
Results
An association of the echo-CCS with the ESC SCORE (ρ = 0.5; p < 0.001) and a good correlation of the echo-CCS with the Agatston score (ρ = 0.73; p < 0.001) can be observed. Univariate regressions revealed that echo-CCS is a significant predictor for cardiac events [OR = 5.1 (CI: 1.7–15.0); p = 0.003], coronary intervention [OR = 2.8 (CI: 1.3–5.7); p = 0.006], hospitalisation for cardiac symptoms [OR = 2.0 (CI: 1.2–3.4); p = 0.007], all-cause mortality [OR = 2.6 (CI: 1.3–5.5); p = 0.01] and significant CAD [OR = 3.2 (CI: 1.9–5.4); p < 0.001].
Conclusions
We demonstrated the prevalence of an easily obtainable, radiation-free calcification score in patients with low/intermediate cardiovascular risk. The strong association with CT-calcium scoring may evoke its potential as an alternative method in CV risk assessment.
This is a preview of subscription content, log in to check access.
Access options
Buy single article
Instant access to the full article PDF.
US$ 39.95
Price includes VAT for USA
Subscribe to journal
Immediate online access to all issues from 2019. Subscription will auto renew annually.
US$ 199
This is the net price. Taxes to be calculated in checkout.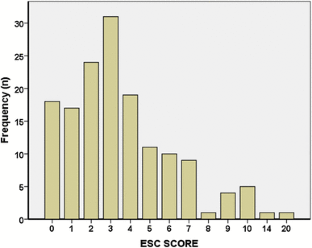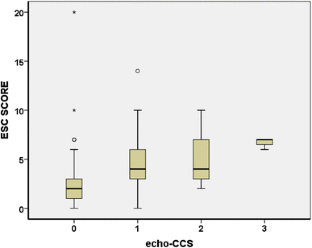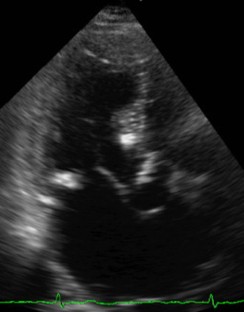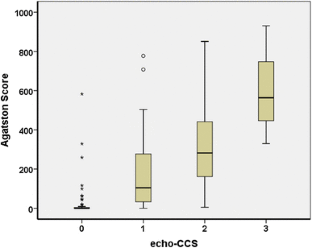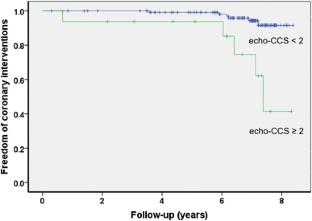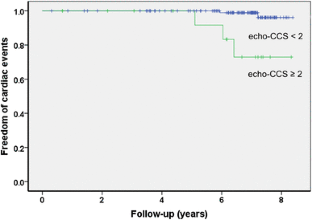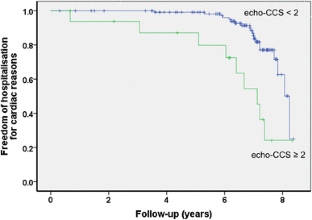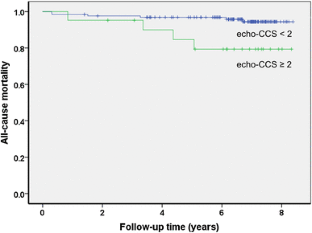 References
1.

Lopez AD et al (2006) Global and regional burden of disease and risk factors, 2001: systematic analysis of population health data. Lancet 367(9524):1747–1757

2.

World Health Organization, ed (2007) Prevention of cardiovascular disease: guidelines for assessment and management of total cardiovascular risk. WHO, Geneva

3.

Boland LL et al (2002) Occurrence of unrecognized myocardial infarction in subjects aged 45 to 65 years (the ARIC study). Am J Cardiol 90(9):927–931

4.

Schmermund A et al (2001) Coronary atherosclerosis in unheralded sudden coronary death under age 50: histo-pathologic comparison with 'healthy' subjects dying out of hospital. Atherosclerosis 155(2):499–508

5.

Piepoli MF et al (2016) European Guidelines on cardiovascular disease prevention in clinical practice: the Sixth Joint Task Force of the European Society of Cardiology and Other Societies on Cardiovascular Disease Prevention in Clinical Practice (constituted by representatives of 10 societies and by invited experts)Developed with the special contribution of the European Association for Cardiovascular Prevention & Rehabilitation (EACPR). Eur Heart J 37(29):2315–2381

6.

Graversen P et al (2016) Cardiovascular risk prediction: can Systematic Coronary Risk Evaluation (SCORE) be improved by adding simple risk markers? Results from the Copenhagen City Heart Study. Eur J Prev Cardiol 23(14):1546–1556

7.

Buckert D et al (2017) Left ventricular ejection fraction and presence of myocardial necrosis assessed by cardiac magnetic resonance imaging correctly risk stratify patients with stable coronary artery disease: a multi-center all-comers trial. Clin Res Cardiol 106(3):219–229

8.

Sinning C et al (2016) SYNTAX score-0 patients: risk stratification in nonobstructive coronary artery disease. Clin Res Cardiol 105(11):901–911

9.

Weber A et al (2017) Role of exercise cardiogoniometry in coronary artery disease diagnostics. Clin Res Cardiol 106(8):573–581

10.

van Werkhoven JM et al (2009) Multislice computed tomography coronary angiography for risk stratification in patients with an intermediate pretest likelihood. Heart 95(19):1607–1611

11.

Hadamitzky M et al (2009) Prognostic value of coronary computed tomographic angiography for prediction of cardiac events in patients with suspected coronary artery disease. JACC Cardiovasc Imaging 2(4):404–411

12.

Abdulla J et al (2007) 64-multislice detector computed tomography coronary angiography as potential alternative to conventional coronary angiography: a systematic review and meta-analysis. Eur Heart J 28(24):3042–3050

13.

Agatston AS et al (1990) Quantification of coronary artery calcium using ultrafast computed tomography. J Am Coll Cardiol 15(4):827–832

14.

Ochs MM et al (2017) Limits of the possible: diagnostic image quality in coronary angiography with third-generation dual-source CT. Clin Res Cardiol 106(7):485–492

15.

Schmermund A et al (2017) Declining radiation dose of coronary computed tomography angiography: German cardiac CT registry experience 2009–2014. Clin Res Cardiol 106(11):905–912

16.

Chang SM, Hakeem A, Nagueh SF (2009) Predicting clinically unrecognized coronary artery disease: use of two- dimensional echocardiography. Cardiovasc Ultrasound 7:10

17.

Corciu AI et al (2010) Cardiac calcification by transthoracic echocardiography in patients with known or suspected coronary artery disease. Int J Cardiol 142(3):288–295

18.

Gaibazzi N et al (2014) Cardiac calcification at transthoracic echocardiography predicts stress echo results: a multicentre study. Int J Cardiol 174(2):393–395

19.

Lacalzada J et al (2012) Prognostic value of echocardiographic-derived calcium index in coronary artery disease diagnosed by 64-multidetector computed tomography. Echocardiography 29(9):1120–1127

20.

Nucifora G et al (2009) Usefulness of echocardiographic assessment of cardiac and ascending aorta calcific deposits to predict coronary artery calcium and presence and severity of obstructive coronary artery disease. Am J Cardiol 103(8):1045–1050

21.

Pressman GS et al (2011) Can total cardiac calcium predict the coronary calcium score? Int J Cardiol 146(2):202–206

22.

Kohsaka S et al (2008) Impact of mitral annular calcification on cardiovascular events in a multiethnic community: the Northern Manhattan Study. JACC Cardiovasc Imaging 1(5):617–623

23.

Otto CM et al (1999) Association of aortic-valve sclerosis with cardiovascular mortality and morbidity in the elderly. N Engl J Med 341(3):142–147

24.

Rossi A, Targner G et al (2012) Aortic an mitral annular calcification are predictive of all-cause and cardiovascular mortality in patients withe type 2 diabetes. Diabetes Care 35:1781–1786

25.

Volzke H et al (2010) Heart valve sclerosis predicts all-cause and cardiovascular mortality. Atherosclerosis 209(2):606–610

26.

Hirschberg K et al (2015) Diagnostic and prognostic value of a novel cardiac calcification score for coronary artery disease by transthoracic echocardiography. Int J Cardiol 190:332–334

27.

Cai Q, Mukku VK, Ahmad M (2013) Coronary artery disease in patients with chronic kidney disease: a clinical update. Curr Cardiol Rev 9(4):331–339

28.

Kramer H et al (2005) Association between chronic kidney disease and coronary artery calcification: the Dallas Heart Study. J Am Soc Nephrol 16(2):507–513

29.

Lang RM et al (2005) Recommendations for chamber quantification: a report from the American Society of Echocardiography's Guidelines and Standards Committee and the Chamber Quantification Writing Group, developed in conjunction with the European Association of Echocardiography, a branch of the European Society of Cardiology. J Am Soc Echocardiogr 18(12):1440–1463

30.

Gaibazzi N et al (2014) Cardiac calcification at transthoracic echocardiography predicts stress echo results: a multicentre study. Int J Cardiol 174:393–395

31.

Gaibazzi N et al (2015) Prognostic value of echocardiographic calcium score in patients with a clinical indication for stress echocardiography. JACC Cardiovasc Imaging 8(4):389–396

32.

Lu ML et al (2016) Cardiac calcifications on echocardiography are associated with mortality and stroke. J Am Soc Echocardiogr 29(12):1171–1178

33.

Jeon DS et al (2001) Association of mitral annulus calcification, aortic valve sclerosis and aortic root calcification with abnormal myocardial perfusion single photon emission tomography in subjects age < or = 65 years old. J Am Coll Cardiol 38(7):1988–1993

34.

Soydinc S et al (2006) Relationship between aortic valve sclerosis and the extent of coronary artery disease in patients undergoing diagnostic coronary angiography. Cardiology 106(4):277–282

35.

Yamazato R et al (2012) Association between aortic valve calcification and myocardial ischemia, especially in asymptomatic patients. J Nucl Med 53(8):1216–1221

36.

Fox CS et al (2003) Mitral annular calcification predicts cardiovascular morbidity and mortality: the Framingham Heart Study. Circulation 107(11):1492–1496

37.

Alexopoulos D, Moulias A (2013) In the search of coronary calcium. Int J Cardiol 167(2):310–317
Funding
There was no funding for this work.
Ethics declarations
Conflict of interest
On behalf of all authors, the corresponding author states that there is no conflict of interest.
About this article
Cite this article
Hirschberg, K., Reinhart, M., Mereles, D. et al. Echocardiographic calcification score in patients with low/intermediate cardiovascular risk. Clin Res Cardiol 108, 194–202 (2019). https://doi.org/10.1007/s00392-018-1343-y
Received:

Accepted:

Published:

Issue Date:
Keywords
Echocardiography

Computed tomography

Calcification

Score

Coronary artery disease