Abstract
Background
Anxiety has been identified as a cardiac risk factor. However, less is known about the impact of generalized anxiety disorder (GAD) on prehospital delay during an acute myocardial infarction (AMI). This study assessed the impact of GAD on prehospital delay and delay related cognition and behavior.
Methods
Data were from the cross-sectional Munich examination of delay in patients experiencing acute myocardial infarction (MEDEA) study with a total of 619 ST-elevated myocardial infarction (STEMI) patients. Data on socio-demographic, clinical and psycho-behavioral characteristics were collected at bedside. The outcome was assessed with the Generalized Anxiety Disorder scale (GAD-7). A GAD-7 score greater than or equal to 10 indicates general anxiety disorder.
Results
A total of 11.47% (n = 71) MI patients suffered from GAD. GAD was associated with decreased odds of delay compared to patients without GAD (OR 0.58, 95% CI 0.35–0.96), which was more significant in women (112 vs. 238 min, p = 0.02) than in men (150 vs. 198 min, p = 0.38). GAD was highly correlated with acute anxiety (p = 0.004) and fear of death (p = 0.005). Nevertheless, the effect remained significant after controlling for these two covariates. GAD patients were more likely to perceive a higher cardiovascular risk (OR 2.56, 95% CI 1.37–4.76) in 6 months before MI, which leads to the higher likelihood of making self-decision to go to the hospital (OR 2.68, 95% CI 1.48–4.85) in the acute phase. However, GAD was also highly associated with impaired psychological well-being, stress and fatigue (p < 0.0001).
Conclusions
In AMI patients, GAD was independently associated with less prehospital delay, but led to an impaired psychological state.
Access options
Buy single article
Instant access to the full article PDF.
US$ 39.95
Tax calculation will be finalised during checkout.
Subscribe to journal
Immediate online access to all issues from 2019. Subscription will auto renew annually.
US$ 107.76
Tax calculation will be finalised during checkout.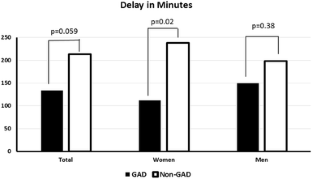 Abbreviations
AMI:

Acute myocardial infarction

STEMI:

ST segment elevation myocardial infarction

PHD:

Prehospital delay

MEDEA:

Munich examination of delay in patients experiencing acute myocardial infarction

CHD:

Coronary heart disease

MACE:

Major adverse cardiac event
References
1.

Grupe DW, Nitschke JB (2013) Uncertainty and anticipation in anxiety: an integrated neurobiological and psychological perspective. Nat Rev Neurosci 14(7):488–501. https://doi.org/10.1038/nrn3524

2.

Tovote P, Fadok JP, Luthi A (2015) Neuronal circuits for fear and anxiety. Nat Rev Neurosci 16(6):317–331. https://doi.org/10.1038/nrn3945

3.

Moser DK (2007) "The rust of life": impact of anxiety on cardiac patients. Am J Crit Care 16(4):361–369

4.

Celano CM, Millstein RA, Bedoya CA, Healy BC, Roest AM, Huffman JC (2015) Association between anxiety and mortality in patients with coronary artery disease: A meta-analysis. Am Heart J 170(6):1105–1115. https://doi.org/10.1016/j.ahj.2015.09.013

5.

American Psychiatric Association (2013) Diagnostic and statistical manual of mental disorders, 5th edn. American Psychiatric Publishing, Arlington, VA

6.

WHO (1992) The ICD-10 classification of mental and behavioural disorders: clinical descriptions and diagnostic guidelines. World Health Organization, Geneva

7.

Hoge EA, Ivkovic A, Fricchione GL (2012) Generalized anxiety disorder: diagnosis and treatment. BMJ 345:e7500. https://doi.org/10.1136/bmj.e7500

8.

Wittchen HU (2002) Generalized anxiety disorder: prevalence, burden, and cost to society. Depress Anxiety 16(4):162–171. https://doi.org/10.1002/da.10065

9.

Tully PJ, Cosh SM, Baumeister H (2014) The anxious heart in whose mind? A systematic review and meta-regression of factors associated with anxiety disorder diagnosis, treatment and morbidity risk in coronary heart disease. J Psychosom Res 77(6):439–448. https://doi.org/10.1016/j.jpsychores.2014.10.001

10.

Blumenthal JA, Feger BJ, Smith PJ, Watkins LL, Jiang W, Davidson J, Hoffman BM, Ashworth M, Mabe SK, Babyak MA, Kraus WE, Hinderliter A, Sherwood A (2016) Treatment of anxiety in patients with coronary heart disease: rationale and design of the UNderstanding the benefits of exercise and escitalopram in anxious patients WIth coroNary heart Disease (UNWIND) randomized clinical trial. Am Heart J 176:53–62. https://doi.org/10.1016/j.ahj.2016.03.003

11.

Emdin CA, Odutayo A, Wong CX, Tran J, Hsiao AJ, Hunn BH (2016) Meta-analysis of anxiety as a risk factor for cardiovascular disease. Am J Cardiol 118(4):511–519. https://doi.org/10.1016/j.amjcard.2016.05.041

12.

Perez-Pinar M, Ayerbe L, Gonzalez E, Mathur R, Foguet-Boreu Q, Ayis S (2017) Anxiety disorders and risk of stroke: a systematic review and meta-analysis. Eur Psychiatry 41:102–108. https://doi.org/10.1016/j.eurpsy.2016.11.004

13.

Martens EJ, de Jonge P, Na B, Cohen BE, Lett H, Whooley MA (2010) Scared to death? Generalized anxiety disorder and cardiovascular events in patients with stable coronary heart disease: the heart and soul study. Arch Gen Psychiatry 67(7):750–758. https://doi.org/10.1001/archgenpsychiatry.2010.74

14.

Parker G, Hyett M, Hadzi-Pavlovic D, Brotchie H, Walsh W (2011) GAD is good? Generalized anxiety disorder predicts a superior five-year outcome following an acute coronary syndrome. Psychiatry Res 188(3):383–389. https://doi.org/10.1016/j.psychres.2011.05.018

15.

Herrmann C, Brand-Driehorst S, Buss U, Ruger U (2000) Effects of anxiety and depression on 5-year mortality in 5,057 patients referred for exercise testing. J Psychosom Res 48(4–5):455–462. https://doi.org/10.1016/S0022-3999(99)00086-0

16.

Meyer T, Herrrmann-Lingen C, Chavanon ML, Nolte K, Pasedach CA, Binder L, Pieske B, Hasenfuss G, Wachter R, Edelmann F (2015) Higher plasma levels of MR-pro-atrial natriuretic peptide are linked to less anxiety: results from the observational DIAST-CHF study. Clin Res Cardiol 104(7):574–581. https://doi.org/10.1007/s00392-015-0820-9

17.

Kobe J, Hucklenbroich K, Geisendorfer N, Bettin M, Frommeyer G, Reinke F, Dechering D, Burgmer M, Eckardt L (2017) Posttraumatic stress and quality of life with the totally subcutaneous compared to conventional cardioverter-defibrillator systems. Clin Res Cardiol 106(5):317–321. https://doi.org/10.1007/s00392-016-1055-0

18.

O'Gara PT, Kushner FG, Ascheim DD, Casey DE Jr, Chung MK, de Lemos JA, Ettinger SM, Fang JC, Fesmire FM, Franklin BA, Granger CB, Krumholz HM, Linderbaum JA, Morrow DA, Newby LK, Ornato JP, Ou N, Radford MJ, Tamis-Holland JE, Tommaso JE, Tracy CM, Woo YJ, Zhao DX (2013) 2013 ACCF/AHA guideline for the management of ST-elevation myocardial infarction: executive summary: a report of the American College of Cardiology Foundation/American Heart Association Task Force on Practice Guidelines. Circulation 127(4):529–555. https://doi.org/10.1161/CIR.0b013e3182742c84

19.

Ladwig KH, Meisinger C, Hymer H, Wolf K, Heier M, von Scheidt W, Kuch B (2011) Sex and age specific time patterns and long term time trends of pre-hospital delay of patients presenting with acute ST-segment elevation myocardial infarction. Int J Cardiol 152(3):350–355. https://doi.org/10.1016/j.ijcard.2010.08.003

20.

Spitzer RL, Kroenke K, Williams JB, Lowe B (2006) A brief measure for assessing generalized anxiety disorder: the GAD-7. Arch Intern Med 166(10):1092–1097. https://doi.org/10.1001/archinte.166.10.1092

21.

Olsen LR, Jensen DV, Noerholm V, Martiny K, Bech P (2003) The internal and external validity of the major depression inventory in measuring severity of depressive states. Psychol Med 33(2):351–356

22.

Birket-Smith M, Rasmussen A (2008) Screening for mental disorders in cardiology outpatients. Nord J Psychiatry 62(2):147–150. https://doi.org/10.1080/08039480801983562

23.

Bech P (2004) Measuring the dimension of psychological general well-being by the WHO-5. QoL Newslett 32:15–16

24.

Kop WJ, Gottdiener JS, Tangen CM, Fried LP, McBurnie MA, Walston J, Newman A, Hirsch C, Tracy RP (2002) Inflammation and coagulation factors in persons > 65 years of age with symptoms of depression but without evidence of myocardial ischemia. Am J Cardiol 89(4):419–424. https://doi.org/10.1016/S0002-9149(01)02264-0

25.

Burnett RE, Blumenthal JA, Mark DB, Leimberger JD, Califf RM (1995) Distinguishing between early and late responders to symptoms of acute myocardial infarction. Am J Cardiol 75(15):1019–1022

26.

von Elm E, Altman DG, Egger M, Pocock SJ, Gotzsche PC, Vandenbroucke JP (2008) The strengthening the reporting of observational studies in epidemiology (STROBE) statement: guidelines for reporting observational studies. J Clin Epidemiol 61(4):344–349. https://doi.org/10.1016/j.jclinepi.2007.11.008

27.

Moser DK, McKinley S, Dracup K, Chung ML (2005) Gender differences in reasons patients delay in seeking treatment for acute myocardial infarction symptoms. Patient Educ Couns 56(1):45–54. https://doi.org/10.1016/j.pec.2003.11.011

28.

Khraim FM, Carey MG (2009) Predictors of pre-hospital delay among patients with acute myocardial infarction. Patient Educ Couns 75(2):155–161. https://doi.org/10.1016/j.pec.2008.09.019

29.

Abed MA, Khalil AA, Moser DK (2015) The contribution of symptom incongruence to prehospital delay for acute myocardial infarction symptoms among Jordanian patients. Res Nurs Health 38(3):213–221. https://doi.org/10.1002/nur.21658

30.

Albarqouni L, Rothe AV, Ronel J, Meinertz T, Ladwig KH (2016) Frequency and covariates of fear of death during myocardial infarction and its impact on prehospital delay: findings from the multicentre MEDEA study. Clin Res Cardiol 105(2):135–144. https://doi.org/10.1007/s00392-015-0895-3

31.

Dubayova T, van Dijk JP, Nagyova I, Rosenberger J, Havlikova E, Gdovinova Z, Middel B, Groothoff JW (2010) The impact of the intensity of fear on patient's delay regarding health care seeking behavior: a systematic review. Int J Public Health 55(5):459–468. https://doi.org/10.1007/s00038-010-0149-0

32.

Guerchicoff A, Brener SJ, Maehara A, Witzenbichler B, Fahy M, Xu K, Gersh BJ, Mehran R, Gibson CM, Stone GW (2014) Impact of delay to reperfusion on reperfusion success, infarct size, and clinical outcomes in patients with ST-segment elevation myocardial infarction: the INFUSE-AMI trial (INFUSE-Anterior Myocardial Infarction). JACC Cardiovasc Interv 7(7):733–740. https://doi.org/10.1016/j.jcin.2014.01.166

33.

Tyrer P, Baldwin D (2006) Generalised anxiety disorder. Lancet 368(9553):2156–2166. https://doi.org/10.1016/s0140-6736(06)69865-6

34.

Bunz M, Lenski D, Wedegartner S, Ukena C, Karbach J, Bohm M, Kindermann I (2016) Heart-focused anxiety in patients with chronic heart failure before implantation of an implantable cardioverter defibrillator: baseline findings of the Anxiety-CHF study. Clin Res Cardiol 105(3):216–224. https://doi.org/10.1007/s00392-015-0909-1

35.

Kroenke K, Spitzer RL, Williams JB, Monahan PO, Lowe B (2007) Anxiety disorders in primary care: prevalence, impairment, comorbidity, and detection. Ann Intern Med 146(5):317–325
Acknowledgements
Cooperating clinics in the city of Munich (Germany): Klinikum-Augustinum (Prof. Dr. Michael Block), Klinikum-Bogenhausen (Prof.Dr. Ellen Hoffmann), Deutsche-Herz-Zentrum München (Prof. Dr.Heribert Schunkert), Klinikum-Harlaching (Prof. Dr. Harald Kühl), Universitäts-Klinikum der LMU-Innenstadt (Prof. Dr. Axil Bauer), Klinikum-Neuperlach (Prof. Dr. Harald Mudra), Universitäts-Klinikum Rechts der Isar-der-TUM (Prof. Dr. Karl-Ludwig Laugwitz) and Klinikum-Schwabing (Prof. Dr. Stefan Sack).
Funding
Our work was supported by a research grant from the Deutsche Herzstiftung (8810002296) (to Prof. Dr. KH Ladwig). This investigation was realized under the umbrella of the Munich Heart Alliance (MHA).
Ethics declarations
Conflict of interest
None to declare.
Ethic statements
All patients were informed of the aim and procedures of the study and also that taking part in the study would have no effect on their treatment. All patients were required to sign a declaration of consent. Details that might disclose the identity of the subjects under study has been omitted.
Additional information
X.Y. Fang and D. Spieler shared the first authorship.
About this article
Cite this article
Fang, X.Y., Spieler, D., Albarqouni, L. et al. Impact of generalized anxiety disorder (GAD) on prehospital delay of acute myocardial infarction patients. Findings from the multicenter MEDEA study. Clin Res Cardiol 107, 471–478 (2018). https://doi.org/10.1007/s00392-018-1208-4
Received:

Accepted:

Published:

Issue Date:
Keywords
Generalized anxiety disorder

Behavior response

Decision time

Prehospital delay