Comprehensive endovascular treatment of multiple arterial emboli involving LIMA graft, distal aorta and upper and lower extremities in a patient with subacute cerebral hemorrhage
Sirs:
A 64-year-old diabetic female with atrial fibrillation and prior coronary bypass surgery was admitted with cardiogenic shock due to acute anterior ST-elevation myocardial infarction (STEMI). Additionally, she suffered from critical ischemia of both lower and upper left extremities. Seven days ago, she had presented at an external hospital with new-onset right-sided hemianopia and hemiparesis due to left central lobe hemorrhage. Phenprocoumon which the patient took because of persistent atrial fibrillation had been discontinued and prolonged INR had been reversed by inactivated prothrombin-concentrate complex and vitamin K administration. External CT scan performed shortly after onset of acute chest pain and critical ischemia had revealed a floating left atrial appendage thrombus with consequential embolic occlusion of the LIMA graft, the distal aorta (Fig.
1
a, b), the superior mesenteric artery (SMA) and the left subclavian artery (SA).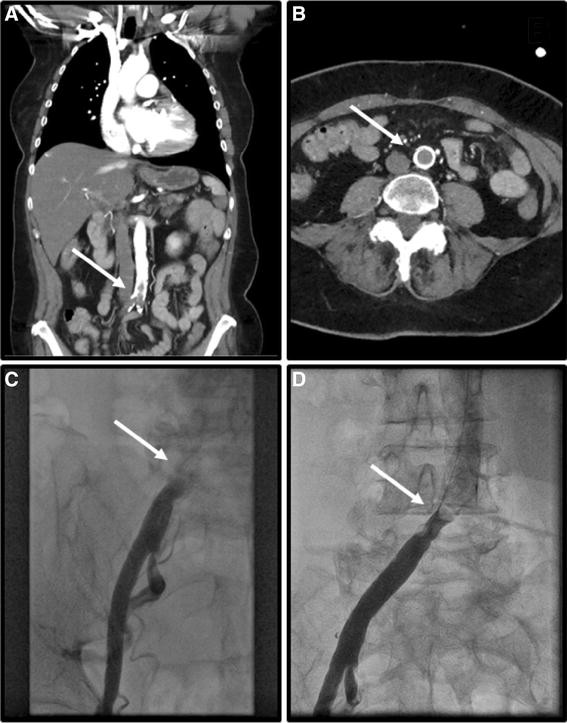 Keywords
Subclavian Artery 
Critical Limb Ischemia 
Mechanical Thrombectomy 
Distal Aorta 
Critical Ischemia 
These keywords were added by machine and not by the authors. This process is experimental and the keywords may be updated as the learning algorithm improves.
Notes
Compliance with ethical standards
Conflict of interest
None.
References
1.

Martin-Yuste V, Alvarez-Contreras L, Sabate M, Kelbaek H, Saunamaki K, Jorgensen E, Kocka V (2015) How should i treat subacute stent thrombosis in the context of brain haemorrhage with abciximab? EuroIntervention 10:e1–e6

CrossRef

PubMed

Google Scholar
Copyright information
© Springer-Verlag Berlin Heidelberg 2016