Abstract
Oral anticoagulation has proven to reduce mortality and morbidity of thromboembolic events. One of the most important determinants of the effectiveness and safety of anticoagulation therapy is the adherence to the prescribed therapy. Vitamin K antagonists are characterized by under-utilization, a narrow therapeutic window and multiple food and drug interactions which contribute to a variable dose–response relationship with the risk of insufficient protection and/or increased bleeding risk. The "new" direct oral anticoagulants have demonstrated equal or superior protection and reduced bleeding risks compared to warfarin and are easier to use because of fixed dosing without monitoring of anticoagulation. Controlling of adherence to the direct oral anticoagulants is difficult. Therefore, continuous and regular medication intake represents a pre-requisite for achieving optimal protection. The present review aims to give an overview about the factors that affect drug adherence in patients taking oral anticoagulation drugs and discusses strategies to improve drug adherence.
Access options
Buy single article
Instant access to the full article PDF.
USD 39.95
Price excludes VAT (USA)
Tax calculation will be finalised during checkout.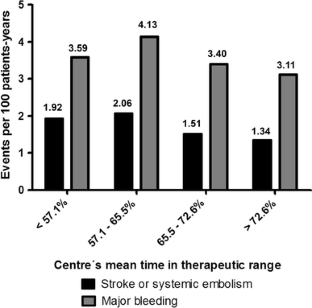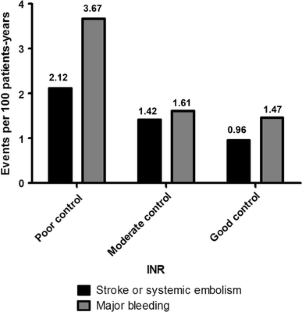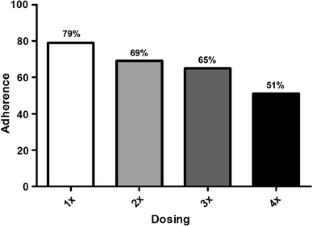 Abbreviations
AF:

Atrial fibrillation

bid:

Twice a day

cTTR:

Center TTR

INR:

International normalized ratio

iTTR:

Individual time in therapeutic range

NOACs:

New oral anticoagulants

OAC:

Oral anticoagulation

qd:

Once a day

TTR:

Time in therapeutic range

VKA:

Vitamin K antagonists
References
Miller NH, Hill M, Kottke T, Ockene IS (1997) The multilevel compliance challenge: recommendations for a call to action. A statement for healthcare professionals. Circulation 95(4):1085–1090

Düsing R (2006) Therapietreue bei medikamentöser Behandlung. Dtsch Med Wochenschr 131:H28–H30. doi:10.1055/s-2006-955059

Nöthen M, Böhm K (2009) Gesundheitsberichterstattung des Bundes. Robert-Koch-Institut, Berlin

Lozano R, Naghavi M, Foreman K, Lim S, Shibuya K, Aboyans V, Abraham J, Adair T, Aggarwal R, Ahn SY, Alvarado M, Anderson HR, Anderson LM, Andrews KG, Atkinson C, Baddour LM, Barker-Collo S, Bartels DH, Bell ML, Benjamin EJ, Bennett D, Bhalla K, Bikbov B, Bin Abdulhak A, Birbeck G, Blyth F, Bolliger I, Boufous S, Bucello C, Burch M, Burney P, Carapetis J, Chen H, Chou D, Chugh SS, Coffeng LE, Colan SD, Colquhoun S, Colson KE, Condon J, Connor MD, Cooper LT, Corriere M, Cortinovis M, de Vaccaro KC, Couser W, Cowie BC, Criqui MH, Cross M, Dabhadkar KC, Dahodwala N, De Leo D, Degenhardt L, Delossantos A, Denenberg J, Des Jarlais DC, Dharmaratne SD, Dorsey ER, Driscoll T, Duber H, Ebel B, Erwin PJ, Espindola P, Ezzati M, Feigin V, Flaxman AD, Forouzanfar MH, Fowkes FG, Franklin R, Fransen M, Freeman MK, Gabriel SE, Gakidou E, Gaspari F, Gillum RF, Gonzalez-Medina D, Halasa YA, Haring D, Harrison JE, Havmoeller R, Hay RJ, Hoen B, Hotez PJ, Hoy D, Jacobsen KH, James SL, Jasrasaria R, Jayaraman S, Johns N, Karthikeyan G, Kassebaum N, Keren A, Khoo JP, Knowlton LM, Kobusingye O, Koranteng A, Krishnamurthi R, Lipnick M, Lipshultz SE, Ohno SL, Mabweijano J, MacIntyre MF, Mallinger L, March L, Marks GB, Marks R, Matsumori A, Matzopoulos R, Mayosi BM, McAnulty JH, McDermott MM, McGrath J, Mensah GA, Merriman TR, Michaud C, Miller M, Miller TR, Mock C, Mocumbi AO, Mokdad AA, Moran A, Mulholland K, Nair MN, Naldi L, Narayan KM, Nasseri K, Norman P, O'Donnell M, Omer SB, Ortblad K, Osborne R, Ozgediz D, Pahari B, Pandian JD, Rivero AP, Padilla RP, Perez-Ruiz F, Perico N, Phillips D, Pierce K, Pope CA 3rd, Porrini E, Pourmalek F, Raju M, Ranganathan D, Rehm JT, Rein DB, Remuzzi G, Rivara FP, Roberts T, De Leon FR, Rosenfeld LC, Rushton L, Sacco RL, Salomon JA, Sampson U, Sanman E, Schwebel DC, Segui-Gomez M, Shepard DS, Singh D, Singleton J, Sliwa K, Smith E, Steer A, Taylor JA, Thomas B, Tleyjeh IM, Towbin JA, Truelsen T, Undurraga EA, Venketasubramanian N, Vijayakumar L, Vos T, Wagner GR, Wang M, Wang W, Watt K, Weinstock MA, Weintraub R, Wilkinson JD, Woolf AD, Wulf S, Yeh PH, Yip P, Zabetian A, Zheng ZJ, Lopez AD, Murray CJ (2013) Global and regional mortality from 235 causes of death for 20 age groups in 1990 and 2010: a systematic analysis for the Global Burden of Disease Study 2010. Lancet 380(9859):2095–2128. doi:10.1016/S0140-6736(12)61728-0

Hart RG, Pearce LA, Aguilar MI (2007) Meta-analysis: antithrombotic therapy to prevent stroke in patients who have nonvalvular atrial fibrillation. Ann Intern Med 146(12):857–867

Böhm M, Schumacher H, Laufs U, Sleight P, Schmieder R, Unger T, Teo K, Yusuf S (2013) Effects of nonpersistence with medication on outcomes in high-risk patients with cardiovascular disease. Am Heart J 166(2):e7. doi:10.1016/j.ahj.2013.04.016

Wittkowsky AK (2008) Dietary supplements, herbs and oral anticoagulants: the nature of the evidence. J Thromb Thrombolysis 25(1):72–77. doi:10.1007/s11239-007-0110-0

Rane A, Lindh JD (2010) Pharmacogenetics of anticoagulants. Hum Genomics Proteomics 2010:754919. doi:10.4061/2010/754919

Cromheecke ME, Levi M, Colly LP, de Mol BJ, Prins MH, Hutten BA, Mak R, Keyzers KC, Buller HR (2000) Oral anticoagulation self-management and management by a specialist anticoagulation clinic: a randomised cross-over comparison. Lancet 356(9224):97–102. doi:10.1016/S0140-6736(00)02470-3

Alberts MJ (2013) Genetics of warfarin dosing-one polymorphism at a time. Lancet. doi:10.1016/S0140-6736(13)60942-3

Beinema M, Brouwers JR, Schalekamp T, Wilffert B (2008) Pharmacogenetic differences between warfarin, acenocoumarol and phenprocoumon. Thromb Haemost 100(6):1052–1057

Cleemput I, Kesteloot K (2002) Economic implications of non-compliance in health care. Lancet 359(9324):2129–2130. doi:10.1016/S0140-6736(02)09114-6

Granger BB, Swedberg K, Ekman I, Granger CB, Olofsson B, McMurray JJV, Yusuf S, Michelson EL, Pfeffer MA (2005) Adherence to candesartan and placebo and outcomes in chronic heart failure in the CHARM programme: double-blind, randomised, controlled clinical trial. Lancet 366(9502):2005–2011. doi:10.1016/s0140-6736(05)67760-4

Osterberg L, Blaschke T (2005) Adherence to medication. New Engl J Med 353(5):487–497. doi:10.1056/NEJMra050100

Simpson SH, Eurich DT, Majumdar SR, Padwal RS, Tsuyuki RT, Varney J, Johnson JA (2006) A meta-analysis of the association between adherence to drug therapy and mortality. BMJ 333(7557):15. doi:10.1136/bmj.38875.675486.55

Gehi AK, Ali S, Na B, Whooley MA (2007) Self-reported medication adherence and cardiovascular events in patients with stable coronary heart disease: the heart and soul study. Arch Intern Med 167(16):1798–1803. doi:10.1001/archinte.167.16.1798

Penning-van Beest FJ, Termorshuizen F, Goettsch WG, Klungel OH, Kastelein JJ, Herings RM (2007) Adherence to evidence-based statin guidelines reduces the risk of hospitalizations for acute myocardial infarction by 40%: a cohort study. Eur Heart J 28(2):154–159. doi:10.1093/eurheartj/ehl391

Fonarow GC, Abraham WT, Albert NM, Stough WG, Gheorghiade M, Greenberg BH, O'Connor CM, Pieper K, Sun JL, Yancy CW, Young JB, O-H Investigators Hospitals (2008) Factors identified as precipitating hospital admissions for heart failure and clinical outcomes: findings from OPTIMIZE-HF. Arch Intern Med 168(8):847–854. doi:10.1001/archinte.168.8.847

Ho PM, Magid DJ, Shetterly SM, Olson KL, Maddox TM, Peterson PN, Masoudi FA, Rumsfeld JS (2008) Medication nonadherence is associated with a broad range of adverse outcomes in patients with coronary artery disease. Am Heart J 155(4):772–779. doi:10.1016/j.ahj.2007.12.011

Ambardekar AV, Fonarow GC, Hernandez AF, Pan W, Yancy CW, Krantz MJ, Get With the Guidelines Steering Committee Hospitals (2009) Characteristics and in-hospital outcomes for nonadherent patients with heart failure: findings from get with the guidelines-heart failure (GWTG-HF). Am Heart J 158(4):644–652. doi:10.1016/j.ahj.2009.07.034

Blaschke TF, Osterberg L, Vrijens B, Urquhart J (2012) Adherence to medications: insights arising from studies on the unreliable link between prescribed and actual drug dosing histories. Annu Rev Pharmacol Toxicol 52:275–301. doi:10.1146/annurev-pharmtox-011711-113247

Ho PM, Bryson CL, Rumsfeld JS (2009) Medication adherence: its importance in cardiovascular outcomes. Circulation 119(23):3028–3035. doi:10.1161/CIRCULATIONAHA.108.768986

Wasserfallen J-B, Bourgeois R, Büla C, Yersin B, Buclin T (2003) Composition and cost of drugs stored at home by elderly patients. Ann Pharmacother 37:731–737. doi:10.1345/aph.1C310

Claxton AJ, Cramer J, Pierce C (2001) A systematic review of the associations between dose regimens and medication compliance. Clin Ther 23(8):1296–1310

Schroeder K, Fahey T, Ebrahim S (2004) How can we improve adherence to blood pressure-lowering medication in ambulatory care? Systematic review of randomized controlled trials. Arch Intern Med 164(7):722–732. doi:10.1001/archinte.164.7.722

Hyre AD, Krousel-Wood MA, Muntner P, Kawasaki L, DeSalvo KB (2007) Prevalence and predictors of poor antihypertensive medication adherence in an urban health clinic setting. J Clin Hypertens 9(3):179–186

Baroletti S, Dell'Orfano H (2010) Medication adherence in cardiovascular disease. Circulation 121(12):1455–1458. doi:10.1161/CIRCULATIONAHA.109.904003

Larsen J, Stovring H, Kragstrup J, Hansen DG (2009) Can differences in medical drug compliance between European countries be explained by social factors: analyses based on data from the European Social Survey, round 2. BMC public health 9:145. doi:10.1186/1471-2458-9-145

WHO (2003) Adherence to Long-term Therapy: Evidence for Action. Geneva: World Health Organization:http://apps.who.int/medicinedocs/pdf/s4883e/s4883e.pdf

Laufs U, Rettig-Ewen V, Böhm M (2011) Strategies to improve drug adherence. Eur Heart J 32(3):264–268. doi:10.1093/eurheartj/ehq297

Brown TM, Siu K, Walker D, Pladevall-Vila M, Sander S, Mordin M (2012) Development of a conceptual model of adherence to oral anticoagulants to reduce risk of stroke in patients with atrial fibrillation. J Manag Care Pharm: JMCP 18(5):351–362

Camm AJ, Lip GY, De Caterina R, Savelieva I, Atar D, Hohnloser SH, Hindricks G, Kirchhof P, Guidelines ESCCfP, Bax JJ, Baumgartner H, Ceconi C, Dean V, Deaton C, Fagard R, Funck-Brentano C, Hasdai D, Hoes A, Kirchhof P, Knuuti J, Kolh P, McDonagh T, Moulin C, Popescu BA, Reiner Z, Sechtem U, Sirnes PA, Tendera M, Torbicki A, Vahanian A, Windecker S, Document R, Vardas P, Al-Attar N, Alfieri O, Angelini A, Blomstrom-Lundqvist C, Colonna P, De Sutter J, Ernst S, Goette A, Gorenek B, Hatala R, Heidbuchel H, Heldal M, Kristensen SD, Kolh P, Le Heuzey JY, Mavrakis H, Mont L, Filardi PP, Ponikowski P, Prendergast B, Rutten FH, Schotten U, Van Gelder IC, Verheugt FW (2012) 2012 focused update of the ESC Guidelines for the management of atrial fibrillation: an update of the 2010 ESC Guidelines for the management of atrial fibrillation. Developed with the special contribution of the European heart rhythm association. Eur Heart J 33(21):2719–2747. doi:10.1093/eurheartj/ehs253

Gallagher AM, Setakis E, Plumb JM, Clemens A, van Staa TP (2011) Risks of stroke and mortality associated with suboptimal anticoagulation in atrial fibrillation patients. Thromb Haemost 106(5):968–977. doi:10.1160/TH11-05-0353

Meinertz T, Kirch W, Rosin L, Pittrow D, Willich SN, Kirchhof P, investigators A (2011) Management of atrial fibrillation by primary care physicians in Germany: baseline results of the ATRIUM registry. Clin Res Cardiol 100(10):897–905. doi:10.1007/s00392-011-0320-5

Connolly SJ, Pogue J, Eikelboom J, Flaker G, Commerford P, Franzosi MG, Healey JS, Yusuf S, Investigators AW (2008) Benefit of oral anticoagulant over antiplatelet therapy in atrial fibrillation depends on the quality of international normalized ratio control achieved by centers and countries as measured by time in therapeutic range. Circulation 118(20):2029–2037. doi:10.1161/CIRCULATIONAHA.107.750000

Horlander KT, Mannino DM, Leeper KV (2003) Pulmonary embolism mortality in the United States, 1979-1998: an analysis using multiple-cause mortality data. Arch Intern Med 163(14):1711–1717. doi:10.1001/archinte.163.14.1711

Connors JM (2013) Extended treatment of venous thromboembolism. New Engl J Med 368(8):767–769. doi:10.1056/NEJMe1215678

Leiria TL, Lopes RD, Williams JB, Katz JN, Kalil RA, Alexander JH (2011) Antithrombotic therapies in patients with prosthetic heart valves: guidelines translated for the clinician. J Thromb Thrombolysis 31(4):514–522. doi:10.1007/s11239-011-0574-9

Gage BF, Cardinalli AB, Owens DK (1996) The effect of stroke and stroke prophylaxis with aspirin or warfarin on quality of life. Arch Intern Med 156(16):1829–1836

Fang MC, Go AS, Chang Y, Hylek EM, Henault LE, Jensvold NG, Singer DE (2007) Death and disability from warfarin-associated intracranial and extracranial hemorrhages. Am J Med 120(8):700–705. doi:10.1016/j.amjmed.2006.07.034

Kimmel SE, Chen Z, Price M, Parker CS, Metlay JP, Christie JD, Brensinger CM, Newcomb CW, Samaha FF, Gross R (2007) The influence of patient adherence on anticoagulation control with warfarin: results from the international normalized ratio adherence and genetics (IN-RANGE) study. Arch Intern Med 167(3):229–235. doi:10.1001/archinte.167.3.229

Mochari H, Ferris A, Adigopula S, Henry G, Mosca L (2007) Cardiovascular disease knowledge, medication adherence, and barriers to preventive action in a minority population. Prev Cardiol 10(4):190–195

Rieckmann N, Gerin W, Kronish IM, Burg MM, Chaplin WF, Kong G, Lesperance F, Davidson KW (2006) Course of depressive symptoms and medication adherence after acute coronary syndromes: an electronic medication monitoring study. J Am Coll Cardiol 48(11):2218–2222. doi:10.1016/j.jacc.2006.07.063

Song X, Sander SD, Varker H, Amin A (2012) Patterns and predictors of use of warfarin and other common long-term medications in patients with atrial fibrillation. Am J Cardiovasc Drugs 12(4):245–253. doi:10.2165/11632540-000000000-00000

Santangeli P, Di Biase L, Bai R, Mohanty S, Pump A, Cereceda Brantes M, Horton R, Burkhardt JD, Lakkireddy D, Reddy YM, Casella M, Dello Russo A, Tondo C, Natale A (2012) Atrial fibrillation and the risk of incident dementia: a meta-analysis. Heart Rhythm 9(11):1761–1768. doi:10.1016/j.hrthm.2012.07.026

Vermeire E, Hearnshaw H, Van Royen P, Denekens J (2001) Patient adherence to treatment: three decades of research. A comprehensive review. J Clin Pharm Ther 26(5):331–342

Hylek EM, Evans-Molina C, Shea C, Henault LE, Regan S (2007) Major hemorrhage and tolerability of warfarin in the first year of therapy among elderly patients with atrial fibrillation. Circulation 115(21):2689–2696. doi:10.1161/CIRCULATIONAHA.106.653048

Bardel A, Wallander MA, Svardsudd K (2007) Factors associated with adherence to drug therapy: a population-based study. Eur J Clin Pharmacol 63(3):307–314. doi:10.1007/s00228-006-0246-4

Dantas GC, Thompson BV, Manson JA, Tracy CS, Upshur RE (2004) Patients' perspectives on taking warfarin: qualitative study in family practice. BMC Fam Pract 5:15. doi:10.1186/1471-2296-5-15

Waterman AD, Milligan PE, Bayer L, Banet GA, Gatchel SK, Gage BF (2004) Effect of warfarin nonadherence on control of the International Normalized Ratio. Am J Health Syst Pharm: AJHP 61(12):1258–1264

Wallentin L, Yusuf S, Ezekowitz MD, Alings M, Flather M, Franzosi MG, Pais P, Dans A, Eikelboom J, Oldgren J, Pogue J, Reilly PA, Yang S, Connolly SJ, Investigators R-L (2010) Efficacy and safety of dabigatran compared with warfarin at different levels of international normalised ratio control for stroke prevention in atrial fibrillation: an analysis of the RE-LY trial. Lancet 376(9745):975–983. doi:10.1016/S0140-6736(10)61194-4

Garcia D, Libby E, Crowther MA (2010) The new oral anticoagulants. Blood 115(1):15–20. doi:10.1182/blood-2009-09-241851

Rasmussen JN, Chong A, Alter DA (2007) Relationship between adherence to evidence-based pharmacotherapy and long-term mortality after acute myocardial infarction. JAMA 297(2):177–186. doi:10.1001/jama.297.2.177

Sokol MC, McGuigan KA, Verbrugge RR, Epstein RS (2005) Impact of medication adherence on hospitalization risk and healthcare cost. Med Care 43(6):521–530

Go AS, Fang MC, Udaltsova N, Chang Y, Pomernacki NK, Borowsky L, Singer DE, Investigators AS (2009) Impact of proteinuria and glomerular filtration rate on risk of thromboembolism in atrial fibrillation: the anticoagulation and risk factors in atrial fibrillation (ATRIA) study. Circulation 119(10):1363–1369. doi:10.1161/CIRCULATIONAHA.108.816082

Investigators AWGotA, Connolly S, Pogue J, Hart R, Pfeffer M, Hohnloser S, Chrolavicius S, Pfeffer M, Hohnloser S, Yusuf S (2006) Clopidogrel plus aspirin versus oral anticoagulation for atrial fibrillation in the atrial fibrillation clopidogrel trial with Irbesartan for prevention of vascular events (ACTIVE W): a randomised controlled trial. Lancet 367(9526):1903–1912. doi:10.1016/S0140-6736(06)68845-4

Mant J, Hobbs FD, Fletcher K, Roalfe A, Fitzmaurice D, Lip GY, Murray E, Investigators B, Midland Research Practices N (2007) Warfarin versus aspirin for stroke prevention in an elderly community population with atrial fibrillation (the Birmingham Atrial Fibrillation Treatment of the Aged Study, BAFTA): a randomised controlled trial. Lancet 370(9586):493–503. doi:10.1016/S0140-6736(07)61233-1

A randomized trial of anticoagulants versus aspirin after cerebral ischemia of presumed arterial origin. The stroke prevention in reversible ischemia trial (SPIRIT) study group (1997). Ann Neurol 42(6):857–865. doi:10.1002/ana.410420606

Olsson SB, Executive Steering Committee of the SIIII (2003) Stroke prevention with the oral direct thrombin inhibitor ximelagatran compared with warfarin in patients with non-valvular atrial fibrillation (SPORTIF III): randomised controlled trial. Lancet 362(9397):1691–1698

Albers GW, Diener HC, Frison L, Grind M, Nevinson M, Partridge S, Halperin JL, Horrow J, Olsson SB, Petersen P, Vahanian A, Investigators SESCftSV (2005) Ximelagatran vs warfarin for stroke prevention in patients with nonvalvular atrial fibrillation: a randomized trial. JAMA 293(6):690–698. doi:10.1001/jama.293.6.690

Patel MR, Mahaffey KW, Garg J, Pan G, Singer DE, Hacke W, Breithardt G, Halperin JL, Hankey GJ, Piccini JP, Becker RC, Nessel CC, Paolini JF, Berkowitz SD, Fox KA, Califf RM, Investigators RA (2011) Rivaroxaban versus warfarin in nonvalvular atrial fibrillation. New Engl J Med 365(10):883–891. doi:10.1056/NEJMoa1009638

Granger CB, Alexander JH, McMurray JJ, Lopes RD, Hylek EM, Hanna M, Al-Khalidi HR, Ansell J, Atar D, Avezum A, Bahit MC, Diaz R, Easton JD, Ezekowitz JA, Flaker G, Garcia D, Geraldes M, Gersh BJ, Golitsyn S, Goto S, Hermosillo AG, Hohnloser SH, Horowitz J, Mohan P, Jansky P, Lewis BS, Lopez-Sendon JL, Pais P, Parkhomenko A, Verheugt FW, Zhu J, Wallentin L, Committees A and Investigators (2011) Apixaban versus warfarin in patients with atrial fibrillation. New Engl J Med 365(11):981–992. doi:10.1056/NEJMoa1107039

Gurwitz JH (2003) Incidence and preventability of adverse drug events among older persons in the ambulatory setting. JAMA 289(9):1107–1116. doi:10.1001/jama.289.9.1107

Roughead EE, Gilbert AL, Primrose JG, Sansom LN (1998) Drug-related hospital admissions: a review of Australian studies published 1988-1996. Med J Aust 168(8):405–408

Budnitz DS, Lovegrove MC, Shehab N, Richards CL (2011) Emergency hospitalizations for adverse drug events in older Americans. New Engl J Med 365(21):2002–2012. doi:10.1056/NEJMsa1103053

Jones M, McEwan P, Morgan CL, Peters JR, Goodfellow J, Currie CJ (2005) Evaluation of the pattern of treatment, level of anticoagulation control, and outcome of treatment with warfarin in patients with non-valvar atrial fibrillation: a record linkage study in a large British population. Heart 91(4):472–477. doi:10.1136/hrt.2004.042465

Monette J, Gurwitz JH, Rochon PA, Avorn J (1997) Physician attitudes concerning warfarin for stroke prevention in atrial fibrillation: results of a survey of long-term care practitioners. J Am Geriatr Soc 45(9):1060–1065

Bungard TJ, Ackman ML, Ho G, Tsuyuki RT (2000) Adequacy of anticoagulation in patients with atrial fibrillation coming to a hospital. Pharmacotherapy 20(9):1060–1065

Petty GW, Brown RD Jr, Whisnant JP, Sicks JD, O'Fallon WM, Wiebers DO (1999) Frequency of major complications of aspirin, warfarin, and intravenous heparin for secondary stroke prevention. A population-based study. Ann Intern Med 130(1):14–22

Gullov AL, Koefoed BG, Petersen P (1999) Bleeding during warfarin and aspirin therapy in patients with atrial fibrillation: the AFASAK 2 study. Arch Intern Med 159(12):1322–1328

White HD, Gruber M, Feyzi J, Kaatz S, Tse HF, Husted S, Albers GW (2007) Comparison of outcomes among patients randomized to warfarin therapy according to anticoagulant control: results from SPORTIF III and V. Arch Intern Med 167(3):239–245. doi:10.1001/archinte.167.3.239

Beyth RJ, Quinn LM, Landefeld CS (1998) Prospective evaluation of an index for predicting the risk of major bleeding in outpatients treated with warfarin. Am J Med 105(2):91–99

van Walraven C, Jennings A, Oake N, Fergusson D, Forster AJ (2006) Effect of study setting on anticoagulation control: a systematic review and metaregression. Chest 129(5):1155–1166. doi:10.1378/chest.129.5.1155

Singer DE, Hellkamp AS, Piccini JP, Mahaffey KW, Lokhnygina Y, Pan G, Halperin JL, Becker RC, Breithardt G, Hankey GJ, Hacke W, Nessel CC, Patel MR, Califf RM, Fox KA, Investigators RA (2013) Impact of global geographic region on time in therapeutic range on warfarin anticoagulant therapy: data from the ROCKET AF clinical trial. J Am Heart Assoc 2(1):e000067. doi:10.1161/JAHA.112.000067

Phillips KW, Ansell J (2008) Outpatient management of oral vitamin K antagonist therapy: defining and measuring high-quality management. Expert Rev Cardiovasc Ther 6(1):57–70. doi:10.1586/14779072.6.1.57

Lee IO, Kratz MT, Schirmer SH, Baumhakel M, Böhm M (2012) The effects of direct thrombin inhibition with dabigatran on plaque formation and endothelial function in apolipoprotein E-deficient mice. J Pharmacol Exp Ther 343(2):253–257. doi:10.1124/jpet.112.194837

Julius RJ, Novitsky MA Jr, Dubin WR (2009) Medication adherence: a review of the literature and implications for clinical practice. J Psychiatr Pract 15(1):34–44. doi:10.1097/01.pra.0000344917.43780.77

Ogedegbe G, Chaplin W, Schoenthaler A, Statman D, Berger D, Richardson T, Phillips E, Spencer J, Allegrante JP (2008) A practice-based trial of motivational interviewing and adherence in hypertensive African Americans. Am J Hypertens 21(10):1137–1143. doi:10.1038/ajh.2008.240

Lowry KP, Dudley TK, Oddone EZ, Bosworth HB (2005) Intentional and unintentional nonadherence to antihypertensive medication. Ann Pharmacother 39(7–8):1198–1203. doi:10.1345/aph.1E594

Wu JY, Leung WY, Chang S, Lee B, Zee B, Tong PC, Chan JC (2006) Effectiveness of telephone counselling by a pharmacist in reducing mortality in patients receiving polypharmacy: randomised controlled trial. BMJ 333(7567):522. doi:10.1136/bmj.38905.447118.2F

Tiessen AH, Smit AJ, Broer J, Groenier KH, van der Meer K (2012) Randomized controlled trial on cardiovascular risk management by practice nurses supported by self-monitoring in primary care. BMC Fam Pract 13:90. doi:10.1186/1471-2296-13-90

Juul L, Maindal HT, Frydenberg M, Kristensen JK, Sandbaek A (2012) Quality of type 2 diabetes management in general practice is associated with involvement of general practice nurses. Prim Care Diabetes 6(3):221–228. doi:10.1016/j.pcd.2012.04.001

Helde G, Bovim G, Brathen G, Brodtkorb E (2005) A structured, nurse-led intervention program improves quality of life in patients with epilepsy: a randomized, controlled trial. Epilepsy Behav 7(3):451–457. doi:10.1016/j.yebeh.2005.06.008

Volpp KG, Loewenstein G, Troxel AB, Doshi J, Price M, Laskin M, Kimmel SE (2008) A test of financial incentives to improve warfarin adherence. BMC Health Serv Res 8:272. doi:10.1186/1472-6963-8-272

Garcia-Alamino JM, Ward AM, Alonso-Coello P, Perera R, Bankhead C, Fitzmaurice D, Heneghan CJ (2010) Self-monitoring and self-management of oral anticoagulation. Cochrane Database Syst Rev (4):CD003839. doi:10.1002/14651858.CD003839.pub2

Dentali F, Riva N, Crowther M, Turpie AG, Lip GY, Ageno W (2012) Efficacy and safety of the novel oral anticoagulants in atrial fibrillation: a systematic review and meta-analysis of the literature. Circulation 126(20):2381–2391. doi:10.1161/CIRCULATIONAHA.112.115410

Steiner T, Böhm M, Dichgans M, Diener HC, Ell C, Endres M, Epple C, Grond M, Laufs U, Nickenig G, Riess H, Rother J, Schellinger PD, Spannagl M, Veltkamp R (2013) Recommendations for the emergency management of complications associated with the new direct oral anticoagulants (DOACs), apixaban, dabigatran and rivaroxaban. Clin Res Cardiol 102(6):399–412. doi:10.1007/s00392-013-0560-7

Garcia D, Barrett YC, Ramacciotti E, Weitz JI (2013) Laboratory assessment of the anticoagulant effects of the next generation of oral anticoagulants. J Thromb Haemost 11(2):245–252. doi:10.1111/jth.12096

Bangalore S, Kamalakkannan G, Parkar S, Messerli FH (2007) Fixed-dose combinations improve medication compliance: a meta-analysis. Am J Med 120(8):713–719. doi:10.1016/j.amjmed.2006.08.033

Lee JK, Grace KA, Taylor AJ (2006) Effect of a pharmacy care program on medication adherence and persistence, blood pressure, and low-density lipoprotein cholesterol: a randomized controlled trial. JAMA 296(21):2563–2571. doi:10.1001/jama.296.21.joc60162

Bernsten C, Bjorkman I, Caramona M, Crealey G, Frokjaer B, Grundberger E, Gustafsson T, Henman M, Herborg H, Hughes C, McElnay J, Magner M, van Mil F, Schaeffer M, Silva S, Sondergaard B, Sturgess I, Tromp D, Vivero L, Winterstein A (2001) Improving the well-being of elderly patients via community pharmacy-based provision of pharmaceutical care: a multicentre study in seven European countries. Drugs Aging 18(1):63–77

Bates DW, Miller EB, Cullen DJ, Burdick L, Williams L, Laird N, Petersen LA, Small SD, Sweitzer BJ, Vander Vliet M, Leape LL (1999) Patient risk factors for adverse drug events in hospitalized patients. ADE Prevention Study Group. Arch Intern Med 159(21):2553–2560
About this article
Cite this article
Ewen, S., Rettig-Ewen, V., Mahfoud, F. et al. Drug adherence in patients taking oral anticoagulation therapy. Clin Res Cardiol 103, 173–182 (2014). https://doi.org/10.1007/s00392-013-0616-8
Received:

Accepted:

Published:

Issue Date:

DOI: https://doi.org/10.1007/s00392-013-0616-8
Keywords