Abstract
Introduction
Coronary angiography is regarded as the gold standard in evaluating graft patency, Multi-slice CT (MSCT) which enable rapid imaging of cardiac structures, including coronary arteries may be a less invasive technique. Therefore in our institution a prospective pilot study was performed combining these procedures.
Patients and methods
Starting from July 2004 a study was done with 13 patients. They received TAR using composite left internal thoracic artery (LITA) and left radial artery (RA) as T-graft. Intra-operative angiography was performed in these patients to confirm graft patency. Follow-up control (9–21 months) was performed with exercise Ergometry and 64 slides MSCT.
Result
Mean procedure time for intra-operative angiography was 13.7 ± 7.3 min and mean fluoroscopy time was 6.2 ± 4.6 min. In one patient, RA-marginal artery side to side anastomoses was stenosed and had to be revised. And in another, there was a kinking of the LITA and was corrected. At follow-up, exercise ergometry showed no signs of angina or ECG-changes in all patients. MSCT showed occluded radial artery grafts in two patients. In two other patients interpretation was difficult due to resolution reasons. In all patients the LITA graft was patent.
Conclusion
The intra-operative graft angiography can be performed in patients undergoing TAR easily. MSCT can be used for post-operative less-invasive angiography with limitations in patients with small graft/coronary diameters and arrhythmias. However, this study shows that an interdisciplinary cooperation is a new possibility toward quality control during and after TAR.
Access options
Buy single article
Instant access to the full article PDF.
USD 39.95
Price excludes VAT (USA)
Tax calculation will be finalised during checkout.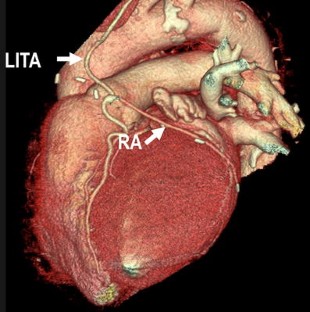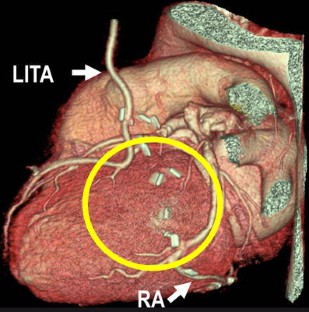 References
Bonatti J, Danzmayr M, Schachner T, Friedrich G (2003) Intraoperative angiography for quality control in MIDCAB, OPCAB. Eur J Cardiothorac Surg 24(4):647–649

Chiurlia E, Menozzi M, Ratti C, Romagnolli R, Modena MG (2005) Follow-up of coronary artery bypass graft patency by multi-slice computed tomography. Am J Cardiol 95:1094–1097

Gurevitch J, Gaspar T, Orlov B, Amar R, Dvir D, Peled N, Aravot DJ (2003) Noninvasive evaluation of arterial grafts with newly released multidetector computed tomography. Ann Thorac Surg 76:1523–1527

Hol PK, Lingaas PS, Lundblad R, Rein KA, Vatne K, Smith HJ, Hauge SN, Fosse E (2004) Intra-operative angiography leads to graft revision in coronary artery bypass surgery. Ann Thorac Surg 78:502–505

Izzat MB, Khaw KS, Atassi W, Yim AP, Wan S, El-Zufari MH (1999) Routine intraoperative angiography improves the early patency of coronary grafts performed on the beating heart. Chest 115(4):987–990

Kobayashi J, Sasako Y, Bando K, Niwaya K, Tagusari O, Nakajima H, Nakamura Y, Ischida M, Kitamura S (2001) Multiple off-pump coronary revascularization with "aorta no-touch" technique using composite and sequential methods. Heart Surg Forum 6291 5(2):114–118

Kröger K, Görge G, Erbel R, Rudofsky G (1997) Arteria radialis als Zugang zur diagnostischen Koronarangiographie. Clin Res Cardiol 86:363–366

Lytle BW, Loop FD, Taylor PC, Simpfendorfer C, Kramer JR, Ratliff NB, Goormastic M, Cosgrove DM (1992) Vein graft disease: the clinical impact of stenosis in saphenous vein bypass grafts to coronary arteries. J Thorac Cardiovasc Surg 103:831–840

Muneretto C, Negri A, Manfredi J, Terrini A, Rodella G, Elqarra S, Bisleri G (2003) Safety and usefulness of composite grafts for total arterial myocardial revascularization: a prospective randomized evaluation. J Thorac Cardiovasc Surg 125:826–835

Scheller B (2007) How to protect from Contrast Media-induced nephropathy? Clin Res Cardiol 96:125–129

Soon KH, Kelly AM, Cox N, Chaitowitz I, Bell KW, Lim YL (2006) Non-invasive multislice computed tomography coronary angiographyfor imaging coronary arteries, stents and bypass grafts. Intern Med J pp 3643–50

Sundt TM 3rd, Barner HB, Camillo CJ, Gay WA Jr (1999) Total arterial revascularization with an internal thoracic artery and radial artery T graft. Ann Thorac Surg 68(2):399–404

Tector AJ, Amundsen S, Schmahl TM, Kress DC, Peter M. Total revascularization with T grafts (1194) Ann Thorac Surg 57(1):33–38

Weinshelbaum EE, Gabe ED, Macchia A, Smimmo R, Suarez LD (1997) Total myocardial revascularization with arterial conduits: radial artery combined with internal thoracic arteries. J Thorac Cardiovasc Surg 114:911–916

Yoo KJ, Choi D, Choi BW, Lim SH, Chang BC (2003) The comparison of the graft patency after coronary artery bypass grafting using coronary angiography and multislice computed tomography. Eur J Cardiothorac Surg 24:86–91
Additional information
The manuscript was presented during the 31st autumn meeting of the German Cardiology Society, Cologne October 2007.
About this article
Cite this article
Shrestha, M., Khaladj, N., Bara, C. et al. Quality control after total arterial revascularisation: multislice computer tomography cannot replace coronary angiography. Clin Res Cardiol 97, 371–375 (2008). https://doi.org/10.1007/s00392-007-0637-2
Received:

Accepted:

Published:

Issue Date:

DOI: https://doi.org/10.1007/s00392-007-0637-2
Keywords
total arterial revascularization

coronary angiography

multislide computer tomogram