Abstract
Background
The incidence of fall-related hip fractures in old patients aged over 85 years was reported to be higher than that in old patients aged between 65 and 84 years; however, there are no known studies that reported differences of these age groups with respect to the falling situation.
Objective
This study investigated the association between age and falling direction in patients with hip fractures.
Material and methods
This study analyzed the medical records of older patients with fall-related hip fractures who were hospitalized in 2011–2018. Demographic (sex, age, and body mass index, BMI), medical and clinical (body mineral density, type of fracture, and cognitive function), and lifestyle variables (use of assistive device for locomotion and place of residence) and characteristics of falling (direction and location) were extracted. These were compared between the patients aged between 65 and 84 years (65–84 group) and over 85 years (85+ group). Multivariable logistic regression analysis was conducted to investigate associations with each falling direction (forward, sideways, and backward) with other variables.
Results
Compared with the 65–84 group, the proportion of hip fractures due to sideways falls was lower in the 85+ group (P < 0.05) while the proportion of hip fractures due to backward falls was higher in the 85+ group. The multivariable logistic regression analysis showed the sideways and backward falling were only associated with the age group.
Conclusion
These results suggested that the falling direction was associated with age but not with other variables investigated in this study in older patients with hip fractures.
Zusammenfassung
Hintergrund
Es ist bekannt, dass die Inzidenz von sturzbedingten Hüftfrakturen bei Patienten ab 85 Jahren höher ist als bei Patienten im Alter zwischen 65 und 84. Uns ist jedoch keine Studie bekannt, die den Unterschied zwischen diesen Altersgruppen bei der konkreten Situation des Sturzes zum Thema hat.
Ziel
Unser Ziel war es, den Zusammenhang zwischen Alter und Richtung des Sturzes bei Patienten mit Hüftfrakturen zu untersuchen.
Materialien und Methoden
Diese Studie analysiert die medizinischen Aufzeichnungen älterer Patienten mit sturzbedingten Hüftfrakturen, die in den Jahren 2011–2018 im Krankenhaus aufgenommen wurden. Demographische Variablen (Geschlecht, Alter und Body-Mass-Index, BMI), medizinische und klinische Variablen (Körpermineraldichte, Art der Fraktur und kognitive Funktion), Lebensstilvariablen (Verwendung von Hilfsmitteln zur Fortbewegung und Wohnort) sowie Sturzmerkmale (Richtung und Ort) wurden dafür extrahiert. Anschließend wurden diese zwischen zwei Gruppen, Patienten im Alter zwischen 65 und 84 (Gruppe 65–84) und Patienten über 85 (Gruppe 85+) Jahren verglichen. Schließlich wurde eine multivariable logistische Regressionsanalyse durchgeführt, um Assoziationen zwischen der Fallrichtung (vorwärts, seitwärts und rückwärts) und anderen Variablen zu untersuchen.
Ergebnisse
Verglichen mit der Gruppe 65–84 war der Anteil der Hüftfrakturen infolge seitlicher Stürze in der Gruppe 85+ niedriger (p < 0,05), während der Anteil der Hüftfrakturen infolge von Rückwärtsstürzen in der Gruppe 85+ höher war. Die Regressionsanalyse zeigte, dass der Seitwärts- und Rückwärtssturz jeweils nur mit der Altersgruppe assoziiert war.
Schlussfolgerung
Diese Ergebnisse legen nahe, dass die Fallrichtung mit dem Alter assoziiert ist, aber nicht mit den anderen Variablen, die in dieser Studie über ältere Patienten mit Hüftfrakturen auch untersucht wurden.
Access options
Buy single article
Instant access to the full article PDF.
USD 39.95
Price includes VAT (USA)
Tax calculation will be finalised during checkout.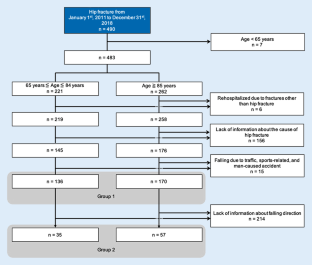 References
1.

Jaul E, Barron J (2017) Age-related diseases and clinical and public health implications for the 85 years old and over population. Front Public Health 5:335

2.

https://www.prb.org/2018-world-population-data-sheet-with-focus-on-changing-age-structures/. Accessed 20 July 2020

3.

http://www.ipss.go.jp/site-ad/index_english/publication-e.html. Accessed 20 July 2020

4.

Sullivan KJ, Husak LE, Altebarmakian M, Brox WT (2016) Demographic factors in hip fracture incidence and mortality rates in California, 2000–2011. J Orthop Surg Res 11:4

5.

Moon A, Gray A, Deehan D (2011) Neck of femur fractures in patient's aged more than 85 years—are they a unique subset? Geriatr Orthop Surg Rehabil 2:123–127

6.

Schwartz AV, Kelsey JL, Sidney S, Grisso JA (1988) Characteristics of falls and risk of hip fracture in elderly men. Osteoporos Int 8:240–246

7.

Parkkari J, Kannus P, Palvanen M, Natri A, Vainio J, Aho H, Järvinen M (1999) Majority of hip fractures occur as a result of a fall and impact on the greater trochanter of the femur: a prospective controlled hip fracture study with 206 consecutive patients. Calcif Tissue Int 65:183–187

8.

Hwang HF, Lee HD, Huang HH, Chen CY, Lin MR (2011) Fall mechanisms, bone strength, and hip fractures in elderly men and women in Taiwan. Osteoporos Int 22:2385–2393

9.

King MB, Judge JO, Wolfson L (1994) Functional base of support decreases with age. J Gerontol 49:258–263

10.

Crenshaw JR, Bernhardt KA, Achenbach SJ, Atkinson EJ, Khosla S, Kaufman KR, Amin S (2017) The circumstances, orientations, and impact locations of falls in community-dwelling older women. Arch Gerontol Geriatr 73:240–247

11.

Kennedy TE (1987) The prevention of falls in later life: A report of the Kellogg International Work Group on the prevention of falls by the elderly. Dan Med Bull 34:1–24

12.

Imai Y, Hasegawa K (1994) The revised Hasegawa's dementia scale (HDS-R)-evaluation of its usefulness as a screening test for dementia. Hong Kong J Psychiatry 4:20

13.

Nishida C, Yajnik CS, Yudkin JS (2004) WHO expert consultation. Appropriate body-mass index for Asian populations and its implications for policy and intervention strategies. Lancet 363:157–163

14.

Soen S, Fukunaga M, Sugimoto T, Sone T, Fujiwara S, Endo N, Ohta H (2013) Diagnostic criteria for primary osteoporosis: year 2012 revision. J Bone Miner Metab 31:247–257

15.

Faul F, Erdfelder E, Lang AG, Buchner A (2007) G*Power 3: A flexible statistical power analysis program for the social, behavioral, and biomedical sciences. Behav Res Methods 39(2):175–191

16.

Lee A, Bhatt T, Smith-Ray RL, Wang E, Pai YC (2019) Gait speed and dynamic stability decline accelerates only in late life: a cross-sectional study in community-dwelling older adults. J Geriatr Phys Ther 42:73–80

17.

Shimada H, Kim H, Yoshida H, Suzukawa M, Makizako H, Yoshida Y, Suzuki T (2010) Relationship between age-associated changes of gait and falls and life-space in elderly people. J Phys Ther Sci 22:419–424

18.

Smeesters C, Hayes WC, McMahon TA (2001) Disturbance type and gait speed affect fall direction and impact location. J Biomech 34:309–317

19.

Kim SH, Yi SW, Yi JJ, Kim YM, Won YJ (2018) Association between body mass index and the risk of hip fracture by sex and age: a prospective cohort study. J Bone Miner Res 33:1603–1611

20.

Li Y, Lin J, Cai S, Yan L, Pan Y, Yao X, Zeng Y (2016) Influence of bone mineral density and hip geometry on the different types of hip fracture. Bosn J Basic Med Sci 16:35

21.

Rapp K, Büchele G, Dreinhöfer K, Bücking B, Becker C, Benzinger P (2019) Epidemiology of hip fractures. Z Gerontol Geriatr 52:10–16

22.

Moon Y, Sosnoff JJ (2017) Safe landing strategies during a fall: systematic review and meta-analysis. Arch Phys Med Rehabil 98:783–794

23.

de Bot RTAL, Veldman HD, Witlox AM (2020) Hip protectors are cost-effective in the prevention of hip fractures in patients with high fracture risk. Osteoporos Int 31:1–13
Ethics declarations
Conflict of interest
U. Yukio declares that he has no competing interests.
For this article no studies with animals were performed by any of the authors. All studies performed were in accordance with the ethical standards indicated in each case.
About this article
Cite this article
Morikawa, M., Urabe, Y., Maeda, N. et al. Association between falling direction and age in older patients with hip fractures. Z Gerontol Geriat 54, 547–554 (2021). https://doi.org/10.1007/s00391-020-01824-0
Received:

Accepted:

Published:

Issue Date:
Keywords
Accidental fall

Aged

Aged, 80 and over

Japan

Osteoporotic fractures
Schlüsselwörter
Sturz

Senioren

Alter, 80 Jahre und älter

Japan

Osteoporotische Frakturen