This is a preview of subscription content, log in to check access.
Access options
Buy single article
Instant access to the full article PDF.
US$ 39.95
Tax calculation will be finalised during checkout.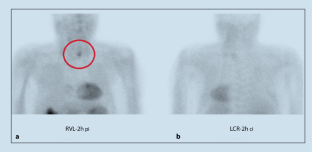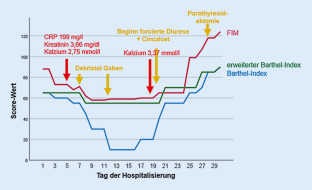 Literatur
1.

Levey AS, de Jong PE, Coresh J, El Nahas M, Astor BC, Matsushita K, Gansevoort RT, Kasiske BL, Eckardt KU (2011) The definition, classification, and prognosis of chronic kidney disease: a KDIGO Controversies Conference report. Kidney Int 80(1):17–28. https://doi.org/10.1038/ki.2010.483. Epub 2010 Dec 8. Erratum in: Kidney Int. 2011;80(9):1000. PMID: 21150873

2.

Payne RB, Little AJ, Williams RB, Milner JR (1973) Interpretation of Serum Calcium in Patients with Abnormal Serum Proteins. BMJ 4(5893):643–646

3.

Schumann C, Lorenz K, Faust M (2017) Hyperkalzämie. Onkologe 24:151–162. https://doi.org/10.1007/s00761-017-0317-4

4.

Parks KA, Parks CG, Onwuameze OE, Shrestha S (2017) Psychiatric complications of primary hyperparathyroidism and mild hypercalcemia. Am J Psychiatry 174(7):620–622

5.

Büttner R (2015) Geriatrierelevante Störungen des Kalziumstoffwechsels. In: Rationelle Diagnostik und Therapie in Endokrinologie, Diabetologie und Stoffwechsel, 4. Aufl. Thieme, Stuttgart (http://www.thieme-connect.de/products/ebooks/lookinside/10.1055/b-0035-104811)

6.

Bilezikian JP, Cusano NE, Khan AA, Liu JM, Marcocci C, Bandeira F (2016) Primary hyperparathyroidism. Nat Rev Dis Primers 2:16033

7.

Wagner R, Seitz K (2009) Hyperkalzämische Krise infolge eines primären Hyperparathyreoidismus. Dtsch Med Wochenschr 134:211. https://doi.org/10.1055/s-0028-1123983

8.

Wong B, Wang X (2016) Treatment of Nonagenarians with Primary Hyperparathyroidism. J Am Geriatr Soc 64(10):e112–e113. https://doi.org/10.1111/jgs.14412

9.

Khokar AM, Kuchta KM, Moo-Young TA, Winchester DJ, Prinz RA (2020) Parathyroidectomy is safe in elderly patients: a national surgical quality improvement program study. World J Surg 44(2):526–536

10.

Jacobs L, Samson MM, Verhaar HJ, Koek HL (2012) Therapeutic challenges in elderly patients with symptomatic hypercalcaemia caused by primary hyperparathyroidism. Neth J Med 70(1):35–38

11.

Morris G, Landry C, Grubbs E, Jimenez C, Busaidy N, Perrier N (2012) Greater than age-predicted functional deficits in older patients with primary hyperparathyroidism. Endocr Pract 18(4):450–455. https://doi.org/10.4158/EP11206.OR
Ethics declarations
Interessenkonflikt
A.M. Meyer, L. Wiebe, M. Faust, C. Chiapponi, P.T. Brinkkötter, M.C. Polidori und M.P. Bartram geben an, dass kein Interessenkonflikt besteht.
Für diesen Beitrag wurden von den Autoren keine Studien an Menschen oder Tieren durchgeführt. Für die aufgeführten Studien gelten die jeweils dort angegebenen ethischen Richtlinien. Für Bildmaterial oder anderweitige Angaben innerhalb des Manuskripts, über die Patienten zu identifizieren sind, liegt von ihnen und/oder ihren gesetzlichen Vertretern eine schriftliche Einwilligung vor.
Additional information
Die Autoren A.M. Meyer und L. Wiebe teilen sich die Erstautorenschaft.
About this article
Cite this article
Meyer, A.M., Wiebe, L., Faust, M. et al. Kognitive Störung, Depression und Gangstörung beim internistischen Patienten – geriatrische Syndrome im Akutkrankenhaus. Z Gerontol Geriat (2020). https://doi.org/10.1007/s00391-020-01811-5
Received:

Accepted:

Published: