Zusammenfassung
Hintergrund
Aufgrund des demografischen Wandels nimmt die Bedeutung der Versorgung älterer Menschen zu. Ein für die nächsten Jahre zentrales Dokument ist die "Nationale Demenzstrategie (NDS)", die 4 Handlungsfelder (HF) definiert, u. a. exzellente Forschung zu Demenz fördern. Auf dieser Basis wird sich die Demenzversorgungsforschung in den nächsten Jahren weiterentwickeln.
Ziel der Arbeit
Die aktuelle Forschung zu einzelnen Themen der NDS wird dargelegt und ein Ausblick auf die Entwicklung in den kommenden Jahren gegeben.
Material und Methoden
Zur Verfolgung der genannten Zielsetzung wurde ein narratives Review erstellt, in dem Konzepte und Beispiele für ausgewählte Kapitel der NDS dargelegt wurden (Versorgungsforschungsförderung, Entwicklung und Transfer evidenzbasierter Präventions- und Versorgungskonzepte in die Routineversorgung, Unterstützung von Menschen mit Demenz [MmD] und ihren Angehörigen, sektorenübergreifende Vernetzung, Partizipation in der Demenzforschung und Netzwerke zur Versorgungsforschung). Diese wurden im Hinblick auf zukünftige Entwicklungen analysiert und anhand aktueller Versorgungs- und Fördermodelle konkretisiert.
Ergebnisse
Es wird ein Einblick gegeben, in die Versorgungskonzepte Dementia Care Management, regionale Versorgungsmodelle wie "Medizin neu denken" und E‑Health. Beispielhaft für aktuelle strukturelle Methoden der evidenzbasierten Gestaltung der zukünftigen Versorgung werden der Innovationsfonds und Forschungspraxennetzwerke beschrieben.
Schlussfolgerung
Die NDS stellt eine ambitionierte Agenda mit sehr umfassenden Zielen und Themen für die Verbesserung der Versorgung von MmD dar. Es ist davon auszugehen, dass sie die Versorgungsforschung und somit auch Versorgung zukünftig maßgeblich prägen wird. Zentrale, sich gegenseitig beeinflussende und verstärkende Bausteine auf dem Weg zur Verbesserung der Situation für MmD und das Gesundheitssystem sind dabei Translation, Partizipation und Vernetzung in der Forschung.
Abstract
Background
Due to the demographic change healthcare for older people is becoming more important. A key strategic document for the near future is the national dementia strategy (NDS), which defines four fields of action including promoting excellent research on dementia. The NDS will guide and influence the further development of dementia healthcare research in the coming years.
Objective
The current research on specific NDS topics is presented and an outlook on expected developments is given.
Material and methods
This article provides a narrative review in which concepts and examples for selected sections of the NDS are presented: funding and promotion of healthcare research, development of evidence-based prevention and healthcare concepts and transfer into routine care, support for people with dementia (PwD) and their caregiver, cross-sectoral networking, participation in dementia research and networks in healthcare research. These were analyzed with respect to future developments and concretized based on current healthcare and promotion models.
Results
Insights are given into the healthcare concept of dementia care management, rethinking regional healthcare models such as medicine and e‑health. The innovation fund and research practice networks are described as examples of current structural methods of evidence-based design of future healthcare.
Conclusion
The NDS represents an ambitious agenda with very comprehensive goals and topics for the improvement of healthcare for PwD and will probably significantly influence healthcare research and thus healthcare in the future. Overarching, mutually influencing and strengthening components on the way to improvement of the situation for PwD and the healthcare system are translation, participation and networking in research.
This is a preview of subscription content,
to check access.
Access this article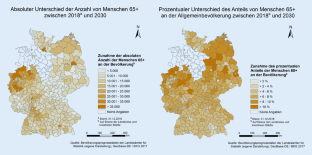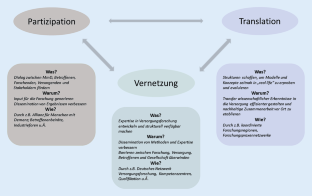 Literatur
Aner K (2016) Diskussionspapier Partizipation und partizipative Methoden in der Gerontologie. Z Gerontol Geriatr 49:153–157

BMFSFJ, BMG (2020) Nationale Demenzstrategie. Bundesregierung, Berlin. https://www.nationale-demenzstrategie.de/. Zugegriffen: 1. Okt. 2020

Broda A, Wübker A, Bremer P et al (2019) Versorgungsplanung fur Menschen mit Demenz am Übergang von der Häuslichkeit ins Pflegeheim: der "Balance-of-Care"-Ansatz im RightTimePlaceCare-Projekt in Deutschland. Z Gerontol Geriatr 52:751–757

Committee on the rights of persons with disabilities (2014) General Comment on Article 12: Equal recognition before the law. United Nations. https://www.ohchr.org/en/hrbodies/crpd/pages/gc.aspx. Zugegriffen: 2. Okt. 2020

DGGG/DGPPN/DGN (2020) Einwilligung von Menschen mit Demenz in medizinische Maßnahmen – interdisziplinäre AWMF-S2k Leitlinie für die medizinische Praxis. Kohlhammer, Stuttgart

Dreier-Wolfgramm A, Michalowsky B, Austrom MG et al (2017) Versorgungsmanagement bei Demenz in der Primärversorgung: Aktuelle kooperative Versorgungsmodelle und der Vorteil von interprofessionellem Lernen. Z Gerontol Geriatr 50:68–77

Dreyer J, Köhler K, Hochgraeber I et al (2018) Stability of home-based care arrangements for people living with dementia: protocol of a meta-study on mixed research. BMJ Open 8:e21156

Eichler T, Thyrian JR, Fredrich D et al (2014) The benefits of implementing a computerized intervention-management-system (IMS) on delivering integrated dementia care in the primary care setting. Int Psychogeriatr 26:1377–1385

Hendlmeier I, Bickel H, Hessler-Kaufmann JB et al (2019) Herausfordernde Pflegesituationen bei älteren Patienten im Allgemeinkrankenhaus: Der Einfluss kognitiver Beeinträchtigung und anderer patientenbezogener Faktoren. Z Gerontol Geriatr 52:212–221

Hewer W, Thiesemann R (2017) Demenz als interdisziplinäres Thema von Alter(n)swissenschaft und Alter(n)smedizin. Z Gerontol Geriatr 50:573–575

Hirschberg M (2010) Partizipation – ein Querschnittsanliegen der UN-Behindertenrechtskonvention. Positionen. Monitoring-Stelle zur UN-Behindertenrechtskonvention, Bd. 3, S 1–4

Jacobs AH, Emmert K, Baron R et al (2020) Neurogeriatrie – eine Vision fur die verbesserte Versorgung und Forschung für geriatrische Patienten mit führend neurologischen Erkrankungen. Z Gerontol Geriatr 53:340–346

Kirchen Peters S, Krupp E (2019) Demenzsensibilität in Akutkrankenhäusern: Warum die Umsetzung so schwierig ist, und wie sie dennoch gelingen kann. Z Gerontol Geriatr 52:291–296

Klein OA, Boekholt M, Afrin D et al Effectiveness of a digitally supported care management programme to reduce unmet needs of family caregivers of people with dementia: study protocol for a cluster randomised controlled trial (GAIN). Trials (submitted)

Kraft M, van den Berg N, Kraft K et al (2012) Development of a telemedical monitoring concept for the care of malnourished geriatric home-dwelling patients: a pilot study. Maturitas 72:126–131

Michalowsky B, Xie F, Eichler T et al (2019) Cost-effectiveness of a collaborative dementia care management—Results of a cluster-randomized controlled trial. Alzheimers Dement 15:1296–1308

Müller P, Schmicker M, Müller NG (2017) Präventionsstrategien gegen Demenz. Z Gerontol Geriatr 50:89–95

Neubert L, Gottschalk S, König HH et al (2020) Vereinbarkeit von Pflege bei Demenz, Familie und Beruf. Z Gerontol Geriatr. https://doi.org/10.1007/s00391-020-01764-9

Nikelski A, Keller A, Schumacher-Schönert F et al (2019) Supporting elderly people with cognitive impairment during and after hospital stays with intersectoral care management: study protocol for a randomized controlled trial. Trials 20:543

Rieser S (2015) Klinische Studien in der Allgemeinmedizin: Viele Fragen, zu wenig Forschung. Dtsch Arztebl 112:A-652

Robert Koch Institut (2015) Gesundheit in Deutschland. Gesundheitsberichterstattung des Bundes. Gemeinsam getragen von RKI und Destatis. RKI, Berlin

Schumacher-Schönert F, Wucherer D, Nikelski A et al (2020) Das Entlassmanagement deutscher Krankenhäuser fur kognitiv beeinträchtigte, ältere Menschen – ein Scoping Review. Z Gerontol Geriatr. https://doi.org/10.1007/s00391-020-01732-3

Schäfer-Walkmann S, Traub F, Peitz A (2016) Die hohe Kunst der Steuerung von Demenznetzwerken in Deutschland. In: Schäfer-Walkmann S, Traub F (Hrsg) Evolution durch Vernetzung – Beiträge zur interdisziplinären Versorgungsforschung. Springer, Stuttgart, S 47–58

Teichmann B, Bauer JM, Beyreuther K et al (2019) Research on the care of people with dementia in acute care hospital settings: opportunities, challenges and limitations. Z Gerontol Geriatr 52:208–211

Thyrian JR (2017) Menschen mit Demenz in der primärärztlichen Versorgung: Prävalenz, Inzidenz, Risikofaktoren und Interventionen. Z Gerontol Geriatr 50:32–38

Thyrian JR, Hertel J, Wucherer D et al (2017) Effectiveness and safety of dementia care management in primary care: a randomized clinical trial. JAMA Psychiatry 74:996–1004

Thyrian JR, Stentzel U (2020) Die Entwicklung der geschätzten Anzahl an Demenz erkrankter Menschen auf Kreisebene in Deutschland für 2030. Psychiatr Prax. https://doi.org/10.1055/a-1228-4974

Thyrian JR, Winter P, Eichler T et al (2017) Relatives' burden of caring for people screened positive for dementia in primary care: results of the DelpHi study. Z Gerontol Geriatr 50:4–13

Vollmar HC, Goluchowicz K, Beckert B et al (2014) Health care for people with dementia in 2030—results of a multidisciplinary scenario process. Health Policy 114:254–262

von Arnim CAF, Bartsch T, Jacobs AH et al (2019) Diagnose und Behandlung kognitiver Störungen. Z Gerontol Geriatr 52:309–315

Weber JE, Audebert HJ (2017) Richtige Therapie des akuten Schlaganfalls zu jeder Zeit und an jedem Ort: Organisationskonzepte und neue Ansätze. Internist 58:1213–1219

Wied TS, Knebel M, Tesky VA et al (2019) The human right to make one's own choices – implications for supported decision-making in persons with dementia. Eur Psychol 24:146–158

Zieschang T, Bauer J, Kopf D et al (2019) Spezialstationen fur Patienten mit kognitiver Einschränkung: Ergebnisse einer Umfrage in Kliniken fur Geriatrie in Deutschland. Z Gerontol Geriatr 52:598–606
Ethics declarations
Interessenkonflikt
M. Boekholt, D. Afrin, M.I. Cardona, C. Dornquast, M. Grond, J. Haberstroh, W. Hoffmann, B. Michalowsky, F. Schumacher-Schönert, U. Stentzel, N. van den Berg, H.C. Vollmar und J.R. Thyrian geben an, dass kein Interessenkonflikt besteht.
Für diesen Beitrag wurden von den Autoren keine Studien an Menschen oder Tieren durchgeführt. Für die aufgeführten Studien gelten die jeweils dort angegebenen ethischen Richtlinien.
About this article
Cite this article
Boekholt, M., Afrin, D., Cardona, M.I. et al. Gesundheitsversorgung der Zukunft – Erkenntnisse und Strategie der (Demenz‑)Versorgungsforschung. Z Gerontol Geriat 53, 735–741 (2020). https://doi.org/10.1007/s00391-020-01802-6
Received:

Accepted:

Published:

Issue Date:

DOI: https://doi.org/10.1007/s00391-020-01802-6
Schlüsselwörter
Keywords