Zusammenfassung
Hintergrund
Die Unterstützung von Angehörigen über eine größere räumliche Distanz ("distance caregiving") zwischen Kindern und ihren Eltern hat in Europa an Bedeutung gewonnen. Gleichzeitig ist über diese Pflegearrangements auf der Basis von repräsentativen, europäischen Survey-Daten wenig bekannt.
Fragestellung und Ziel
Dieser Beitrag greift folgende Fragen auf: Welche Aussagen sind über die Prävalenz von Personen, die mindestens ein Elternteil bei räumlicher Distanz pflegen, in Europa möglich? Welche Unterstützungsformen werden dabei geleistet? Welche weiteren spezifischen sozioökonomischen und gesundheitsbezogenen Merkmale kennzeichnen diese Pflegesituationen? Hierbei wird ein besonderer Fokus auf die Unterschiede zu Angehörigen gelegt, die aus der Nähe Hilfe für ihre pflegebedürftigen Eltern leisten.
Material und Methoden
Es werden Daten des Survey of Health, Ageing and Retirement in Europe (SHARE) der sechsten Befragungswelle aus dem Jahr 2015 genutzt. Dabei erfolgen deskriptive Darstellungen sowie multivariate logistische Regressionsanalysen.
Ergebnisse und Diskussion
Die Berechnungen zeigen, dass Distance caregiving in Europa mit Prävalenzen von 11 % bei einem engen (ab 100 km Wohnentfernung) und 23 % bei einem weiten Distanzbegriff (hier ab 25 km) kein Randphänomen darstellt, wobei große Länderunterschiede erkennbar sind. Die Ergebnisse verweisen zudem auf teilweise signifikante Unterschiede in Bezug auf Ressourcen, Pflegeleistungen und Lebensqualität zu Pflegenden mit geringen Distanzen. Angesichts dieser sich dynamisch entwickelnden Pflegearrangements kann dieser Artikel zu weiterer Diskussion, kritischer Reflexion und Weiterentwicklung von Pflegeleistungen beitragen.
Abstract
Background
The support of relatives living far away in terms of distance caregiving between children and their parents has gained in importance in Europe. At the same time, little is known about these care arrangements based on representative European survey data.
Objective
This article is concerned with the following questions: which statements are possible in Europe about the prevalence of persons caring for at least one parent from a geographical distance? Which forms of support are provided and which other specific socioeconomic and health-related aspects characterize these care situations? In this respect special attention is paid to differences to relatives who provide help close to their parents who are in need of care.
Material and methods
Data from the Survey of Health, Ageing and Retirement in Europe (SHARE) from the sixth wave of the survey in 2015 were used to perform a descriptive analysis and multivariate logistic regression.
Results and conclusion
The analysis showed that distance caregiving is more than a marginal phenomenon in Europe with a prevalence of 11% for a relatively close terminology (over 100 km distance between locations) and 23% for a broader terminology (over 25 km); however, the various countries are very different in terms of prevalence. The findings also point to some significant differences in terms of resources, care tasks and quality of life compared to caregivers in the same household. In light of these dynamically developing distance caregiving arrangements, this article can provide further discussion, critical reflection, and advancement to the operationalization of informal care.
This is a preview of subscription content, log in to check access.
Access options
Buy single article
Instant access to the full article PDF.
US$ 39.95
Price includes VAT for USA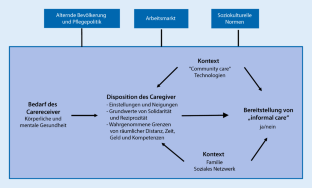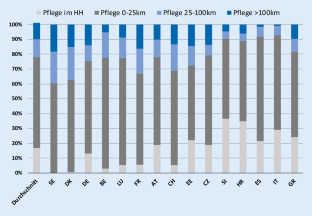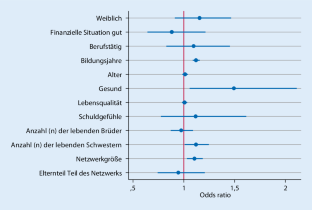 Notes
1.

Diese Analyse nutzt Daten von SHARE [3], Welle 6 (https://doi.org/10.6103/SHARE.w6.610).

Die SHARE-Datenerhebung wurde hauptsächlich von der Europäischen Kommission über das FP5 (QLK6-CT-2001-00360), FP6 (SHARE-I3: RII-CT-2006-062193, COMPARE: CIT5-CT-2005-028857, SHARELIFE: CIT4-CT-2006-028812) und das FP7 (SHARE-PREP: N°211909, SHARE-LEAP: N°227822, SHARE M4: N°261982) finanziert. Zusätzliche Förderung durch das Bundesministerium für Bildung und Forschung, die Max-Planck-Gesellschaft zur Förderung der Wissenschaften, das US-amerikanische National Institute on Aging (U01_AG09740-13S2, P01_AG005842, P01_AG08291, P30_AG12815, R21_AG025169, Y1-AG-4553-01, IAG_BSR06-11, OGHA_04-064, HHSN271201300071C) und aus verschiedenen nationalen Finanzierungsquellen wird dankbar anerkannt (www.share-project.org).

2.

Die Werte unterscheiden sich nicht wesentlich zum gepflegten Vater, weshalb auf eine Darstellung für die Väter verzichtet wird.

3.

Lesebeispiel: Von den 618 Befragten, die ihre Mutter im selben Haushalt oder Gebäude pflegen, bewerten 24 % die Gesundheit der gepflegten Mutter als gut, sehr gut oder ausgezeichnet; die restlichen 76 % schätzen die Gesundheit ihrer Mutter als mittelmäßig oder schlecht ein.
Literatur
1.

Bergmann M, De Luca G, Scherpenzeel A (2017) Sampling design and weighting strategies in SHARE Wave 6. In: Malter F, Börsch-Supan A (Hrsg) SHARE Wave 6: Panel innovations and collecting dried blood spots. Munich Center for the Economics of Ageing (MEA), Munich

2.

Bertram H (2000) Die verborgenen familiären Beziehungen in Deutschland: Die multilokale Mehrgenerationenfamilie. In: Kohli M, Szydlik M (Hrsg) Generationen in Familie und Gesellschaft. Leske + Budrich, Opladen, S 97–121

3.

Börsch-Supan A (2019) Survey of health, ageing and retirement in europe (SHARE) wave 6. Release version: 7.0.0. SHARE-ERIC. Data set. http://www.share-project.org/data-documentation/waves-overview/wave-6.html. Zugegriffen: 12. Mai 2019

4.

Börsch-Supan A, Brandt M, Hunkler C et al (2013) Data resource profile: the Survey of Health, Ageing and Retirement in Europe (SHARE). Int J Epidemiol 42:992–1001

5.

Broese van Groenou M, De Boer A (2016) Providing informal care in a changing society. Eur J Ageing 13:271–279

6.

Döhner H, Kofahl C, Lüdecke D et al (2006) EUROFAMCARE Services for supporting family carers of older dependent people in Europe: Characteristics, coverage and usage: The Nation Survey Report of Germany. UKE, Hamburg

7.

Franke A (2018) Long distance caregiving. Peer Review on "Improving reconciliation of work and long-term care". Host Country Discussion Paper 7–11. https://ec.europa.eu/social/main.jsp?langId=en&catId=89&newsId=9173&furtherNews=yes. Zugegriffen: 11. Mai 2019

8.

Franke A, Kramer B, Weber M, Rosenfeld N (2018) Vereinbarkeit von Beruf und Pflege bei Pflege auf Distanz. Expertise. Bundesministeriums für Familien, Senioren, Frauen und Jugend, Ludwigsburg

9.

Isengard B, König R, Szydlik M (2018) Solidarität trotz Multilokalität? Generationenbeziehungen und Wohnentfernung. In: Kapella O, Schneider N, Rost H (Hrsg) Familie – Bildung – Migration: Familienforschung im Spannungsfeld zwischen Wissenschaft, Politik und Praxis Tagungsband zum 5. Europäischen Fachkongress Familienforschung. Barbara Budrich, Leverkusen, S 77–90

10.

Kaschowitz J, Brandt M (2017) Health effects of informal caregiving across Europe: a longitudinal approach. Soc Sci Med 173:72–80

11.

Mahne K, Huxhold O (2017) Nähe auf Distanz: Bleiben die Beziehungen zwischen älteren Eltern und ihren erwachsenen Kindern trotz wachsender Wohnentfernungen gut? In: Mahne K, Wollf J, Simonson J, Tesch-Roemer C (Hrsg) Altern im Wandel: Zwei Jahrzehnte Deutscher Alterssurvey (DEAS). DZA, Berlin, S 223–239

12.

Malter F, Börsch-Supan A (2017) SHARE wave 6: panel innovations and collecting dried blood spots. Munich Center for the Economics of Aging (MEA), Munich

13.

MetLife Mature Market Institute & National Alliance for Caregiver (2004) Miles away: the metlife study of long-distance caregiving. http://www.caregiving.org/data/milesaway.pdf. Zugegriffen: 10. Okt. 2017

14.

Minahan J, Cimarolli V, Horowitz A et al (2018) Service use and needs among long-distance caregiver. Innov Aging 2:201–202

15.

Otto U, Leu A, Bischofberger I, Gerlich R, Riguzzi M, Jans C, Golder L (2019) Bedürfnisse und Bedarf von betreuenden Angehörigen nach Unterstützung und Entlastung – eine Bevölkerungsbefragung. Bundesamts für Gesundheit (BAG), Bern

16.

Pinquart M, Sörensen S (2007) Correlates of physical health of informal caregivers: a meta-analysis. J Gerontol 62B:126–137

17.

Rothgang H, Müller R (2018) Pflegereport 2018: Schriftenreihe zur Gesundheitsanalyse. Barmer, Berlin

18.

Schneekloth U, Wahl H‑W (2008) Selbständigkeit und Hilfebedarf bei älteren Menschen in Privathaushalten: Pflegearrangements, Demenz, Versorgungsangebote. Kohlhammer, Stuttgart

19.

Van den Broek T, Dykstra PA (2017) The impact of siblings on the geographic distance between adult children and their ageing parents: Does parental need matter? Popul Space Place 23:1–13

20.

Vasireddy S, Sanidad I, Nitz L (2017) Impact on informal care, travel distance, and stress on retirement decision making. Innov Aging 1:606

21.

Von dem Knesebeck O, Hyde M, Higgs P et al (2005) Quality of life and well-being. In: Börsch-Supan A, Brugiavini A, Jürges H, Mackenbach J, Siegrist J, Weber G (Hrsg) Health, ageing and retirement in europe—first results from the survey of health, aging and retirement in Europe. Mannheim Research Institute for the Economics of Aging (MEA), Mannheim, S 199–203

22.

Wagner DL (1997) Caring across the miles: Findings of a survey of long-distance caregivers. Final Report. The National Council on the Aging, Washington, DC

23.

Watari K, Wetherell J, Gatz M et al (2006) Long distance caregivers: characteristics, service needs, and use of a long distance caregiver program. Clin Gerontol 29:61–77

24.

Wepf H, Kaspar H, Otto U et al (2017) Betreuende und pflegende Angehörige: Präzisierung und Öffnung eines schwierigen Begriffs. Pflegerecht 6:140–146

25.

Wetzstein M, Rommel A, Lange C (2015) Pflegende Angehörige – Deutschlands größter Pflegedienst. In: GBE kompakt

26.

Yeandle S, Buckner L (2017) Older workers and care-giving in England: the policy context for older workers' employment patterns. J Cross Cult Gerontol 32:303–321
Ethics declarations
Interessenkonflikt
M. Wagner, A. Franke und U. Otto geben an, dass kein Interessenkonflikt besteht.
Diese retrospektive Studie erfolgte nach Konsultation der zuständigen Ethikkommission und im Einklang mit nationalem Recht.
About this article
Cite this article
Wagner, M., Franke, A. & Otto, U. Pflege über räumliche Distanz hinweg. Z Gerontol Geriat 52, 529–536 (2019). https://doi.org/10.1007/s00391-019-01605-4
Received:

Accepted:

Published:

Issue Date:
Schlüsselwörter
Angehörige

Informelle Pflege

Versorgungsmodelle

Wohnentfernung

Erhebungen und Fragebogen
Keywords
Relatives

Informal care

Logistic models

Living distance

Surveys and questionnaires