Zusammenfassung
Hintergrund
Obwohl Menschen mit einem Down-Syndrom (DS) aufgrund einer Triplikation des APP-Gens einem extrem hohen Risiko für die Entwicklung einer Alzheimer-Demenz ausgesetzt sind, existieren kaum international gebräuchliche Testverfahren zur Erfassung kognitiver Defizite dieser Risikopopulation in deutscher Sprache.
Fragestellung
Ziele waren die Übersetzung und interkulturelle Adaptation der im englischen und spanischen Sprachraum gebräuchlichen Cambridge Examination for Mental Disorders of Older People with Down's Syndrome and Others with Intellectual Disabilities (CAMDEX-DS). Dieses Instrument zur Diagnostik und Verlaufsbeobachtung besteht aus einer testpsychologischen Untersuchung (CAMCOG-DS) und einem Betreuerinterview.
Methoden
Die Übersetzung und Adaptation der CAMDEX-DS erfolgten in einem mehrstufigen Verfahren, wobei nach Anfertigung unabhängiger Hin- und Rückübersetzungen jeweils Konsensusfassungen angefertigt und erprobt wurden. Die Endfassung des Betreuerinterviews wurde an 11 Probanden angewandt, die der CAMCOG-DS an 28.
Ergebnisse
Die deutsche Fassung der CAMDEX-DS erwies sich als problemlos anwendbar. Die CAMCOG-DS konnte von 75 % der Patienten (21/28) in ihrer Gänze bearbeitet werden. Patienten ab dem 45. Lebensjahr zeigten deutlich niedrigere Gesamtpunktwerte als jüngere Patienten (46/109 vs. 73,5/109; p = 0,033).
Diskussion
Mit der CAMDEX-DS steht für Menschen mit DS ein international anerkanntes Werkzeug zu Diagnostik und Verlaufsbeurteilung kognitiver Defizite zur Verfügung. Durch die deutsche Fassung kann die medizinische Versorgung dieser Patienten vereinheitlicht werden. Insbesondere erlaubt sie den Patienten im Sinne der Inklusion erstmals die Partizipation an internationalen Forschungsvorhaben.
Abstract
Background
Although people with Down's syndrome (DS) are at a high risk of developing an Alzheimer type dementia (AD) due to a triplication of the amyloid precursor gene, there are practically no internationally available test procedures to detect cognitive deficits in this at risk population in the German language.
Objective
The aim was to provide a German translation and intercultural adaptation of the Cambridge examination for mental disorders of older people with Down's syndrome and others with intellectual disabilities (CAMDEX-DS), which is available in English and Spanish. This instrument for diagnostics and monitoring consists of a psychological test examination (CAMCOG-DS) and a caregiver interview.
Methods
The translation and adaptation of the CAMDEX-DS were achieved through a multistep translation process, whereby two independent forward and back translations were provided by professional translators and a consensus version was finalized and tested. The final version of the caregiver interview was applied to 11 subjects and the CAMCOG-DS was conducted with 28 patients.
Results
The German version of the CAMDEX-DS proved to be easily administered. The CAMCOG-DS could be fully administered to 21 out of 28 patients (75%). The CAMCOG-DS values were much lower for older patients aged ≥45 years than for younger patients (46/109 vs. 73.5/109; p = 0.033).
Discussion
The German version of the CAMDEX-DS provides an internationally recognized tool for the diagnostics and monitoring of cognitive decline in Down's syndrome. Furthermore, the German version can standardize medical care of these patients. In particular it provides a means of participation in international research trials for this at risk population.
Access options
Buy single article
Instant access to the full article PDF.
USD 39.95
Price excludes VAT (USA)
Tax calculation will be finalised during checkout.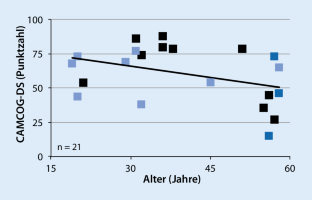 Literatur
Ball SL, Holland AJ, Huppert FA et al (2004) The modified CAMDEX informant interview is a valid and reliable tool for use in the diagnosis of dementia in adults with Down's syndrome. J Intellect Disabil Res 48:611–620

Beaton DE, Bombardier C, Guillemin F et al (2000) Guidelines for the process of cross-cultural adaptation of self-report measures. Spine (phila Pa 1976) 25:3186–3191

Bentele V (2017) Die UN-Behindertenrechtskonvention. Übereinkommen über die Rechte von Menschen mit Behinderungen

Epstein J, Osborne RH, Elsworth GR et al (2015) Cross-cultural adaptation of the health education impact questionnaire: experimental study showed expert committee, not back-translation, added value. J Clin Epidemiol 68:360–369

Esteba-Castillo S, Dalmau-Bueno A, Ribas-Vidal N et al (2013) Adaptation and validation of CAMDEX-DS (Cambridge Examination for Mental Disorders of Older People with Down's Syndrome and others with intellectual disabilities) in Spanish population with intellectual disabilities. Rev Neurol 57:337–346

Fonseca LM, Haddad GG, Mattar GP et al (2018) The validity and reliability of the CAMDEX-DS for assessing dementia in adults with Down syndrome in Brazil. Braz J Psychiatry. https://doi.org/10.1590/1516-4446-2018-0033

Fortea J, Carmona-Iragui M, Benejam B et al (2018) Plasma and CSF biomarkers for the diagnosis of Alzheimer's disease in adults with Down syndrome: a cross-sectional study. Lancet Neurol 17:860–869

Glasson EJ, Sullivan SG, Hussain R et al (2002) The changing survival profile of people with Down's syndrome: implications for genetic counselling. Clin Genet 62:390–393

Hithersay R, Startin CM, Hamburg S et al (2018) Association of dementia with mortality among adults with down syndrome older than 35 years. Jama Neurol. https://doi.org/10.1001/jamaneurol.2018.3616

Holland AJ, Hon J, Huppert FA et al (1998) Population-based study of the prevalence and presentation of dementia in adults with Down's syndrome. Br J Psychiatry 172:493–498

Kuske B, Wolff C, Govert U et al (2017) Early detection of dementia in people with an intellectual disability—a German pilot study. J Appl Res Intellect Disabil 30(Suppl 1):49–57

Mccarron M, Mccallion P, Reilly E et al (2014) A prospective 14-year longitudinal follow-up of dementia in persons with Down syndrome. J Intellect Disabil Res 58:61–70

Penrose LS (1949) The incidence of mongolism in the general population. J Ment Sci 95:685–688

Sheehan R, Sinai A, Bass N et al (2015) Dementia diagnostic criteria in Down syndrome. Int J Geriatr Psychiatry 30:857–863

Spiegel R, Feldmann C, Beutler M, Studer A, Berres M, Stähelin HB, Monsch AU (2001) Erfahrungen mit einer deutschsprachigen Version der SIB. Z Gerontopsychologie -psychiatrie 14:75–86

Startin CM, Hamburg S, Hithersay R et al (2018) Cognitive markers of preclinical and prodromal Alzheimer's disease in Down syndrome. Alzheimers Dement. https://doi.org/10.1016/j.jalz.2018.08.009

Strydom A, Coppus A, Blesa R et al (2018) Alzheimer's disease in Down syndrome: an overlooked population for prevention trials. Alzheimers Dement (n Y) 4:703–713

Uppal HCS, Potluri R (2015) Risk factors for mortality in Down syndrome. J Intellect Disabil Res 59:873–881
Danksagung
Die Autoren danken Claudine Maguth und Katherine Diggory für die Anfertigung der Rückübersetzungen der CAMDEX-DS sowie Leigh Vranjes und Jill Haywood für deren Abgleich. Der "VERUM – Stiftung für die Erforschung von Verhaltens- und Umwelteinflüssen auf die menschliche Gesundheit" danken wir für die finanzielle Unterstützung dieses Projekts.
Ethics declarations
Interessenkonflikt
G. Nübling, S.V. Loosli, E. Wlasich, C. Prix, S. Schönecker, L. Freudelsperger, N. Smrzka, A.M. Strydom, S.H. Zaman, B. Benejam, J. Missios, R. Meister, A. Danek und J. Levin geben an, dass kein Interessenkonflikt besteht.
Alle beschriebenen Untersuchungen am Menschen wurden mit Zustimmung der Ethik-Kommission bei der Medizinischen Fakultät der Ludwig-Maximilians-Universität München (Votum 17-107) im Einklang mit nationalem Recht sowie gemäß der Deklaration von Helsinki von 1975 in der aktuellen Revision (Brasilien 2013) durchgeführt. Von allen beteiligten Patienten bzw. deren gesetzlichen Betreuern liegt eine schriftliche Einverständniserklärung vor.
Additional information
Verfügbarkeit der CAMDEX-DS
Die deutsche Fassung der CAMDEX-DS kann als PDF per E‑Mail bei den Autoren angefordert werden (johannes.levin@med.uni-muenchen.de).
About this article
Cite this article
Nübling, G., Loosli, S.V., Wlasich, E. et al. Eine deutsche Fassung der Cambridge Examination for Mental Disorders of Older People with Down's Syndrome and Others with Intellectual Disabilities. Z Gerontol Geriat 53, 546–551 (2020). https://doi.org/10.1007/s00391-019-01591-7
Received:

Accepted:

Published:

Issue Date:

DOI: https://doi.org/10.1007/s00391-019-01591-7
Schlüsselwörter
Keywords