Abstract
Background
Tools to detect subtle balance deficits in high-functioning community-dwelling older adults are lacking. The Community Balance and Mobility Scale (CBM) is a valuable tool to measure balance deficits in this group; however, it is not yet available in the German language.
Objective
The aim was 1) to translate and cross-culturally adapt the CBM into the German language and 2) to investigate the measurement properties of the German CBM (G-CBM).
Material and methods
The original CBM was translated into the German language according to established guidelines. A total of 51 older adults (mean age 69.9 ± 7.1 years) were recruited to measure construct validity by comparing the G‑CBM against standardized balance and/or mobility assessments including the Fullerton Advanced Balance Scale (FAB), Berg Balance Scale (BBS), 3 m Tandem Walk (3MTW), 8 Level Balance Scale (8LBS), 30 s Chair Stand Test (30CST), Timed Up and Go (TUG) test, gait speed, and the Falls Efficacy Scale International (FES-I). Intrarater and interrater reliability and internal consistency reliability were estimated using intraclass correlations (ICC) and Cronbach's alpha, respectively. Ceiling effects were calculated as the percentage of the sample scoring the maximum score.
Results
The G‑CBM correlated excellently with FAB and BBS (ρ = 0.78–0.85; P < 0.001), good with 3MTW, TUG, and FES-I (ρ = −0.55 to −0.61; P < 0.001), and moderately with 8LBS, 30CST, and habitual gait speed (ρ = 0.32–0.46; P < 0.001). Intrarater (ICC3,k = 0.998; P < 0.001) and interrater (ICC2,k = 0.996; P < 0.001) reliability, and internal consistency reliability (α = 0.998) were also high. The G‑CBM did not show ceiling effects.
Conclusion
The G‑CBM is a valid and reliable tool for measuring subtle balance deficits in older high-functioning adults. The absence of ceiling effects emphasizes the use of this scale in this cohort. The G‑CBM can now be utilized in clinical practice.
Zusammenfassung
Hintergrund
Instrumente zur Identifikation leichter Balanceeinschränkungen bei selbstständig zuhause lebenden, älteren Erwachsenen in einer guten körperlichen Verfassung sind bislang für den deutschsprachigen Gebrauch kaum wissenschaftlich evaluiert. Die Community Balance and Mobility Scale (CBM) ist ein geeignetes Instrument zur Erfassung von Balanceeinschränkungen in dieser Personengruppe. Allerdings existiert für die CBM bislang keine deutschsprachige Version.
Ziel
Ziel dieser Studie war 1. die standardisierte Übersetzung der CBM ins Deutsche (G-CBM) und deren interkulturelle Adaptation und 2. die Überprüfung der Gütekriterien der G‑CBM.
Material und Methoden
Die englischsprachige Original-CBM wurde gemäß internationalen Leitlinien übersetzt. In die Studie wurden 51 ältere Erwachsene (69,9 ± 7,1 Jahre) eingeschlossen. Die Konstruktvalidität wurde anhand von Korrelationen mit etablierten Instrumenten zur Balance- und/oder Mobilitätsprüfung, wie der Fullerton Advanced Balance Scale (FAB), Berg Balance Scale (BBS), 3 m Tandemgang (3MTW), 8 Level Balance Scale (8LBS), 30 s-Aufstehtest (30CST), Timed up and Go (TUG) Test, Ganggeschwindigkeit und Falls Efficacy Scale International (FES-I), bestimmt. Zudem wurden Intrarater- und Interrater-Reliabilität (Intraklassenkorrelationskoeffizient, [ICC]) und interne Konsistenz (Cronbachs α) untersucht. Deckeneffekte wurden als Prozentsatz der Probanden, die die maximale Punktzahl erreichten, berechnet.
Ergebnisse
Die G‑CBM korrelierte hoch mit FAB und BBS (ρ = 0,78 bis 0,85; P < 0,001), gut mit 3MTW, TUG, und FES-I (ρ = −0,55 bis −0,61; P < 0,001) sowie moderat mit 8LBS, 30CST und der Ganggeschwindigkeit (ρ = 0,32 bis 0,46; P < 0,001). Die Intrarater- (ICC3,k = 0,998; P < 0,001) und Interrater-Reliabilität (ICC2,k = 0,996; P < 0,001) sowie interne Konsistenz (α = 0,998) waren hoch. Die G‑CBM zeigte keine Deckeneffekte.
Diskussion
Die G‑CBM ist ein valides und reliables Instrument zur Messung leichter Balanceeinschränkungen bei älteren Erwachsenen in guter körperlicher Verfassung. Das Nichtvorhandensein von Deckeneffekten unterstreicht den Nutzen der Skala in dieser Gruppe. Die G‑CBM ist nun für den Einsatz im deutschsprachigen Raum verfügbar.
Access options
Buy single article
Instant access to the full article PDF.
US$ 39.95
Tax calculation will be finalised during checkout.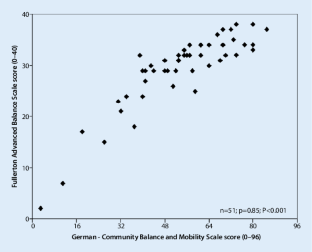 References
1.

Balasubramanian CK (2015) The community balance and mobility scale alleviates the ceiling effects observed in the currently used gait and balance assessments for the community-dwelling older adults. J Geriatr Phys Ther 38:78–89

2.

Bauman A, Merom D, Bull FC et al (2016) Updating the evidence for physical activity: summative reviews of the epidemiological evidence, prevalence, and interventions to promote "Active Aging". Gerontologist 56:S268–S280

3.

Beaton D, Bombardier C, Guillemin F et al (2002) Recommendations for the cross-cultural adaptation of health status measures. American Academy of Orthopaedic Surgeons, New York, pp 1–9

4.

Berg K, Wood-Dauphine S, Williams J et al (1989) Measuring balance in the elderly: preliminary development of an instrument. Physiother Can 41:304–311

5.

Bisson E, Contant B, Sveistrup H et al (2007) Functional balance and dual-task reaction times in older adults are improved by virtual reality and biofeedback training. Cyberpsychol Behav 10:16–23

6.

Blum L, Korner-Bitensky N (2008) Usefulness of the Berg Balance Scale in stroke rehabilitation: a systematic review. Phys Ther 88:559–566

7.

Camicioli R, Panzer VP, Kaye J (1997) Balance in the healthy elderly: posturography and clinical assessment. Arch Neurol 54:976–981

8.

Cha ES, Kim KH, Erlen JA (2007) Translation of scales in cross-cultural research: issues and techniques. J Adv Nurs 58:386–395

9.

Chan K, Guy K, Shah G et al (2017) Retrospective assessment of the validity and use of the community balance and mobility scale among individuals with subacute spinal cord injury. Spinal Cord 55:294. https://doi.org/10.1038/sc.2016.140

10.

Choy NL, Brauer S, Nitz J (2003) Changes in postural stability in women aged 20 to 80 years. J Gerontol A Biol Sci Med Sci 58:525–530

11.

Clemson L, Fiatarone Singh MA, Bundy A et al (2012) Integration of balance and strength training into daily life activity to reduce rate of falls in older people (the LiFE study): randomised parallel trial. Br Med J 345:e4547. https://doi.org/10.1136/bmj.e4547

12.

Delbaere K, Close JC, Mikolaizak AS et al (2010) The falls efficacy scale international (FES-I). A comprehensive longitudinal validation study. Age Ageing 39:210–216

13.

Eremenco SL, Cella D, Arnold BJ (2005) A comprehensive method for the translation and cross-cultural validation of health status questionnaires. Eval Health Prof 28:212–232

14.

Ferrucci L, Bandinelli S, Benvenuti E et al (2000) Subsystems contributing to the decline in ability to walk: bridging the gap between epidemiology and geriatric practice in the InCHIANTI study. J Am Geriatr Soc 48:1618–1625

15.

Ferrucci L, Penninx BW, Leveille SG et al (2000) Characteristics of nondisabled older persons who perform poorly in objective tests of lower extremity function. J Am Geriatr Soc 48:1102–1110

16.

Fitzpatrick R, Davey C, Buxton MJ et al (1998) Evaluating patient-based outcome measures for use in clinical trials. Health Technol Assess (Rockv) 2:i–iv (1–74)

17.

Folstein MF, Folstein SE, Mchugh PR (1975) "Mini-mental state". A practical method for grading the cognitive state of patients for the clinician. J Psychiatr Res 12:189–198

18.

Guralnik JM, Simonsick EM, Ferrucci L et al (1994) A short physical performance battery assessing lower extremity function: association with self-reported disability and prediction of mortality and nursing home admission. J Gerontol 49:M85–M94

19.

Howe JA, Inness EL, Venturini A et al (2006) The community balance and mobility scale—a balance measure for individuals with traumatic brain injury. Clin Rehabil 20:885–895

20.

Isles RC, Choy NL, Steer M et al (2004) Normal values of balance tests in women aged 20–80. J Am Geriatr Soc 52:1367–1372

21.

Jones CJ, Rikli RE, Beam WC (1999) A 30-s chair-stand test as a measure of lower body strength in community-residing older adults. Res Q Exerc Sport 70:113–119

22.

Knorr S, Brouwer B, Garland SJ (2010) Validity of the community balance and mobility scale in community-dwelling persons after stroke. Arch Phys Med Rehabil 91:890–896

23.

Lee KB, Lee P, Yoo SW et al (2016) Reliability and validity of the Korean version of the community balance and mobility scale in patients with hemiplegia after stroke. J Phys Ther Sci 28:2307–2310

24.

Li F, Mcauley E, Fisher KJ et al (2002) Self-efficacy as a mediator between fear of falling and functional ability in the elderly. J Aging Health 14:452–466

25.

Lin MR, Hwang HF, Hu MH et al (2004) Psychometric comparisons of the timed up and go, one-leg stand, functional reach, and tinetti balance measures in community-dwelling older people. J Am Geriatr Soc 52:1343–1348

26.

Lundin-Olsson L (2010) Community-dwelling older adults with balance impairment show a moderate increase in fall risk, although further research is required to refine how balance measurement can be used in clinical practice. Evid Based Nurs 13(3):96. https://doi.org/10.1136/ebn1078

27.

Macintyre NJ, Stavness CL, Adachi JD (2010) The safe functional motion test is reliable for assessment of functional movements in individuals at risk for osteoporotic fracture. Clin Rheumatol 29:143–150

28.

Mcauley E, Mihalko SL, Rosengren K (1997) Self-efficacy and balance correlates of fear of falling in the elderly. J Aging Phys Act 5:329–340

29.

Miller KJ, Pollock CL, Brouwer B et al (2016) Use of Rasch analysis to evaluate and refine the community balance and mobility scale for use in ambulatory community-dwelling adults following stroke. Phys Ther 96:1648–1657

30.

Nasreddine ZS, Phillips NA, Bedirian V et al (2005) The montreal cognitive assessment, MoCA: a brief screening tool for mild cognitive impairment. J Am Geriatr Soc 53:695–699

31.

Nunnally J (1994) Bernstein. Psychometric Theory, New York

32.

Perell KL, Nelson A, Goldman RL et al (2001) Fall risk assessment measures: an analytic review. J Gerontol A Biol Sci Med Sci 56:M761–M766

33.

Peters DM, Fritz SL, Krotish DE (2013) Assessing the reliability and validity of a shorter walk test compared with the 10-meter walk test for measurements of gait speed in healthy, older adults. J Geriatr Phys Ther 36:24–30

34.

Podsiadlo D, Richardson S (1991) The timed "Up & Go": a test of basic functional mobility for frail elderly persons. J Am Geriatr Soc 39:142–148

35.

Portney LG, Watkins MP (2000) Foundations of clinical research: applications to practice. Prentice Hall, Upper Saddle River

36.

Rose DJ, Lucchese N, Wiersma LD (2006) Development of a multidimensional balance scale for use with functionally independent older adults. Arch Phys Med Rehabil 87:1478–1485

37.

Rubenstein LZ (2006) Falls in older people: epidemiology, risk factors and strategies for prevention. Age Ageing 35:ii37–ii41

38.

Scherfer E, Bohls C, Freiberger E et al (2006) Berg-Balance-Scale. Physioscience 2:59–66

39.

Schott N (2011) Assessment of balance in community dwelling older adults: reliability and validity of the German version of the Fullerton Advanced Balance Scale. Z Gerontol Geriatr 44:417–428

40.

Steffen TM, Hacker TA, Mollinger L (2002) Age- and gender-related test performance in community-dwelling elderly people: six-minute walk test, berg balance scale, timed up & go test, and gait speeds. Phys Ther 82:128–137

41.

Strain T, Fitzsimons C, Kelly P et al (2016) The forgotten guidelines: cross-sectional analysis of participation in muscle strengthening and balance & co-ordination activities by adults and older adults in Scotland. BMC Public Health 16:1108

42.

Streiner DL (2003) Starting at the beginning: an introduction to coefficient alpha and internal consistency. J Pers Assess 80:99–103

43.

Takacs J, Garland SJ, Carpenter MG et al (2014) Validity and reliability of the community balance and mobility scale in individuals with knee osteoarthritis. Phys Ther 94:866–874

44.

Terwee CB, Bot SDM, De Boer MR et al (2007) Quality criteria were proposed for measurement properties of health status questionnaires. J Clin Epidemiol 60:34–42

45.

Tinetti ME (1986) Performance-oriented assessment of mobility problems in elderly patients. J Am Geriatr Soc 34:119–126

46.

Whitney SL, Wrisley DM, Marchetti GF et al (2005) Clinical measurement of sit-to-stand performance in people with balance disorders: validity of data for the Five-Times-Sit-to-Stand Test. Phys Ther 85:1034–1045
Acknowledgements
The study was supported by PreventIT receiving funding from the European Union's Horizon 2020 research and innovative programme (No. 689238), and from the Klaus Tschira Foundation. We thank Aileen Currie (AC), Carl-Philipp Jansen (CJ), and Lena Schaaf for supporting the translation process and the video-rating.
Ethics declarations
Conflict of interest
K. Gordt, S. Mikolaizak, C. Nerz, C. Barz, T. Gerhardy, M. Weber, C. Becker and M. Schwenk declare that they have no competing interests.
Ethical approval was obtained from the local institutional review board of each research centre and is in agreement with the Declaration of Helsinki. All study participants provided written informed consent prior to participation.
Caption Electronic Supplementary Material
About this article
Cite this article
Gordt, K., Mikolaizak, A.S., Nerz, C. et al. German version of the Community Balance and Mobility Scale. Z Gerontol Geriat 52, 28–36 (2019). https://doi.org/10.1007/s00391-018-1374-z
Received:

Revised:

Accepted:

Published:

Issue Date:
Keywords
Postural balance

Assessment

Translation

Outcome measures

Elderly
Schlüsselwörter
Gleichgewichtsfähigkeit

Assessment

Übersetzung

Ergebnismessungen

Ältere Menschen