Zusammenfassung
Ziele dieses Beitrags sind eine aktuelle Bestandsaufnahme gerontologisch orientierter Studienangebote in Deutschland und eine kritische Reflexion des skizzierten Status quo. Impulse dafür entstanden aus dem neu gegründeten Arbeitskreis (AK) "Gerontologische Aus- und Weiterbildung", der auf der gemeinsamen Jahrestagung der Sektionen III und IV der Deutschen Gesellschaft für Gerontologie und Geriatrie e. V. (DGGG) 2015 in Mannheim gegründet wurde. Eine systematische Erhebung dieser Studiengänge zeigt eine Zunahme von Angeboten innerhalb der letzten 10 Jahre. Gleichzeitig zeichnen sich erhebliche Standortdynamiken ab – etablierte Studienangebote wurden eingestellt, neue kamen hinzu. Neue Studienangebote entstanden überwiegend an Hochschulen für Angewandte Wissenschaften und an privaten Hochschulen. Es zeichnet sich tendenziell ein Wandel ab, von expliziten Gerontologiestudiengängen hin zu Studiengängen, die in anderen Disziplinen verwurzelt sind (Soziologie, Soziale Arbeit, Psychologie, Sportwissenschaft, Gesundheits- bzw. Therapiewissenschaften) und Letztere mit gerontologischen Inhalten kombinieren. Angesichts dieser sich dynamisch entwickelnden, heterogenen Studienlandschaft kann der AK "Gerontologische Aus- und Weiterbildung" für Studiengangsleitungen, Studierende, Alumni und Praxisinstitutionen ein neues Forum zu kritischer Reflexion und Weiterentwicklung von gerontologischen Qualifikationsmaßstäben bieten.
Abstract
The objective of this article is a state-of-the-art analysis and critical reflection of the status quo of gerontologically oriented study programs in higher education in Germany. The major impulse for writing this article was provided by the newly established working group "Gerontological Education", which was inaugurated at the joint annual conference of sections III and IV of the German Society of Gerontology and Geriatrics in Mannheim in 2015. A systematic review of gerontological study programs shows that the number of such programs has increased in Germany over the past decade. At the same time there has been a dynamic development across the country whereby well-established programs were closed and new ones were initiated. New study programs were primarily initiated at universities of applied sciences and private universities. A tendency away from explicit gerontology programs towards other academic disciplines (e.g. sociology, social work, psychology, sports, health and rehabilitation sciences) in combination with gerontological contents can be observed. These degree programs are rooted in their respective disciplines and focus primarily on health and social issues. Given the heterogeneity of study programs the working group "Gerontological Education" could become a new forum for leaders of such programs, students, alumni and employers of gerontologists for critical reflection and further development of gerontological quality benchmarks.
This is a preview of subscription content, log in to check access.
Access options
Buy single article
Instant access to the full article PDF.
US$ 39.95
Price includes VAT for USA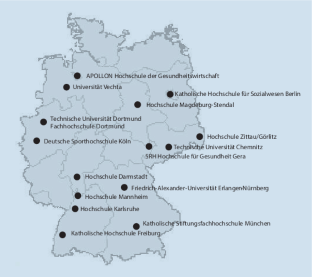 Notes
1.

hochschulkompass.de, studieren.de, studiengaenge.zeit.de, studis-online.de.

2.

Für die weitere Recherche wurden aus dem gewonnenen Pool nur diejenigen eingeschlossen, deren Studienfach nach einstimmiger Einschätzung aller 3 Autor/-innen in der Beschreibung der Studienangebote auf den jeweiligen Hochschulwebseiten und Modulhandbüchern als explizit "gerontologisch" ausgewiesen wurde (d. h. "Gerontologie" im Namen des Studiengangs) oder sich zumindest schwerpunktmäßig am Themenkomplex "menschliches Alter(n)/ältere Menschen" aus multi- und interdisziplinärer Perspektive orientiert.

3.

Nach dem Kongress wurde im Zuge einer weiteren Datenbankrecherche im Februar 2017 noch ein weiterer Studiengang (APOLLON Hochschule der Gesundheitswirtschaft) identifiziert.

4.

Es ist zu erwähnen, dass in Heidelberg ab dem Wintersemester 2017/2018 der Lehramtsstudiengang Gerontologie, Gesundheit und Care BA mit Weiterführung zum MA of Education angeboten werden wird.
Literatur
1.

Kanowski S, Baltes P (1985) Zusammenfassung einer Diskussion zum Thema "Akademische Ausbildung in der Gerontologie/Geriatrie". Z Gerontol Geriatr 18:105–106

2.

Karl F, Zank S (2002) Zum Profil der Gerontologie. Kasseler Gerontologischen Schriften, Bd. 30. Kassel University Press, Kassel

3.

DGGG-Arbeitskreis Studiengänge (2002) Ein Kernprofil der Gerontologie in Studium und Beruf. In: Karl F, Zank S (Hrsg) Zum Profil der Gerontologie. Kasseler Gerontologischen Schriften Kassel 2002, Bd. 30. Kassel University Press, Kassel, S 43–46

4.

Karl F, Augst C, Backes G, Naegele G, Schmitt E (2002) Studienreform und Leitdisziplin. In: Karl F, Zank S (Hrsg) Zum Profil der Gerontologie. Kasseler Gerontologischen Schriften Kassel, Bd. 30. Kassel University Press, Kassel, S S57–S66

5.

Backes GM, Klie T, Lasch V (2007) Stand der Entwicklung der gerontologischen Studienangebote. Z Gerontol Geriatr 40:401–402

6.

Kessler E‑M, Agines S, Schmidt C, Mühlig S (2014) Qualifikationsmöglichkeiten in Gerontopsychologie – empirische Bestandsaufnahme. Z Gerontol Geriatr 47(4):337–344

7.

Pelham A, Schafer D, Abbott P, Estes C (2012) Professionalizing gerontology: why AGHE must accredit gerontology programs. Gerontol Geriatr Educ 33(1):6–19

8.

Wahl H‑W, Tesch-Römer C, Brandt M (2017) Gerontologische Forschung im Bereich der Sozial- und Verhaltenswissenschaften in Deutschland seit 1968: Rückblick, kritische Würdigung und Perspektiven. Z Gerontol Geriatr (in press). doi:10.1007/s00391-017-1257-8
Ethics declarations
Interessenkonflikt
E.-M. Kessler, A. Hoff und A. Franke geben an, dass kein Interessenkonflikt besteht.
About this article
Cite this article
Kessler, E., Hoff, A. & Franke, A. Gerontologisch orientierte Studiengänge in Deutschland. Z Gerontol Geriat 50, 399–409 (2017). https://doi.org/10.1007/s00391-017-1256-9
Received:

Revised:

Accepted:

Published:

Issue Date:
Schlüsselwörter
Ausbildung

Gerontologie

Universitäten

Hochschulen für Angewandte Wissenschaften

Ältere Menschen
Keywords
Training programs

Gerontology

Universities

Universities of applied sciences

Older adults