Abstract
Background and objective
The Wolf motor function test (WMFT) evaluates the upper extremity performance of patients with neurological disorders and traumatic brain injuries by assessing time and functional capacity. It was later modified to also measure the quality of the performed movements. This study aimed to adapt the WMFT for patients with shoulder injuries and to evaluate the inter-rater and intra-rater reliability of this adapted version.
Subjects and methods
A total of 20 individuals with a median age of 80.5 years were assessed using a test-retest design after surgical or conservative treatment of shoulder injuries. Two raters rated performance to determine inter-rater reliability. One rater rated the performance again to determine intra-rater reliability. Both inter-rater and intra-rater agreement were determined by weighted Cohen's kappa statistics with corresponding confidence intervals. Cronbach's alpha was calculated to determine internal consistency.
Results
The inter-rater Cohen's kappa values ranged from 0.84–1.00 for functional capacity and from 0.79–1.00 for quality of movement. For intra-rater reliability the Cohen's kappa ranged from 0.71–1.00. Cronbach's alpha was >0.94 for functional capacity and >0.96 for quality of movement.
Conclusion
The adapted version of the WMFT shows high intra-rater and inter-rater reliability for patients with shoulder injuries.
Zusammenfassung
Hintergrund und Zielsetzung
Der Wolf-Motor-Funktionstest (WNFT) bewertet objektiv die Leistungsfähigkeit der oberen Extremitäten von Patienten mit neurologischen Störungen und Schädel-Hirn-Verletzungen anhand der benötigten Zeit zur Ausführung bestimmter Aufgaben und der funktionellen Fähigkeit. Nach einer durchgeführten Modifikation wird die Bewegungsqualität ebenfalls bewertet. Ziel dieser Studie ist es, den WMFT auf Patienten nach Schulterverletzungen anzupassen und die Inter- und Intrarater-Reliabilität dieser angepassten Version zu überprüfen.
Patienten und Methodik
Bei 20 älteren Patienten (Median: 80,5 Jahre) mit chirurgisch oder konservativ behandelter Schulterverletzung wurde die Leistungsfähigkeit der Schulter in einem Test-Retest-Design erhoben. Um die Interrater-Reliabilität zu bestimmen bewerteten zwei unabhängige Rater die Leistung. Einer der Rater bewertete die Leistung erneut, um die Intrarater-Reliabilität zu erheben. Inter- und Intrarater-Reliabilität wurden durch gewichtete Cohens-Kappa-Statistiken mit entsprechenden Konfidenzintervallen überprüft. Zur Bestimmung der internen Konsistenz wurde Cronbachs Alpha berechnet.
Ergebnisse
Für die Interrater-Reliabilität reichen die Cohens-Kappa-Werte für die funktionelle Fähigkeit von 0,84–1,00 und für die Bewegungsqualität von 0,79–1,00. Für die Intrarater-Reliabilität liegen die Werte bei 0,71–1,00. Die Cronbachs-Alpha-Werte lagen für die funktionelle Fähigkeit über 0,94 und für die Bewegungsqualität über 0,96.
Schlussfolgerung
Die angepasste Version des WMFT zeigt eine gute Intra- und Interrater-Reliabilität für Patienten nach Schulterverletzungen.
Access options
Buy single article
Instant access to the full article PDF.
USD 39.95
Price includes VAT (USA)
Tax calculation will be finalised during checkout.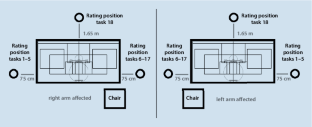 References
1.

Resch DH (2003) Die Humeruskopffraktur. Unfallchirurg 106(8):602–617

2.

Raschke MJ (2009) Alterstraumatologie: Prophylaxe, Therapie und Rehabilitation. Elsevier, Urban & Fischer, Amsterdam, p 586

3.

Riem M et al (2016) Heimunterbringung und Mortalität nach Frakturen für zuhauselebende Senioren. http://www.egms.de/static/en/meetings/altra2016/16altra16.shtml. Accessed 18. Apr 2016

4.

Zech A et al (2009) Neuromuscular training for rehabilitation of sports injuries: a systematic review. Med Sci Sports Exerc 41(10):1831–1841

5.

Franke DS, Ambacher T (2012) Die proximale Humerusfraktur. Obere Extrem 7(3):137–143

6.

Handoll HH, Ollivere BJ (2010) Interventions for treating proximal humeral fractures in adults. Cochrane Database Syst Rev:. doi:10.1002/14651858.cd000434.pub2

7.

Roach KE et al (1991) Development of a shoulder pain and disability index. Arthritis Care Res 4(4):143–149

8.

Germann G et al (2003) Standardisierung und Validierung der deutschen Version 2.0 des "Disability of Arm, Shoulder, Hand" (DASH)-Fragebogens zur Outcome-Messung an der oberen Extremität. Unfallchirurg 106(1):13–19

9.

Dixon D et al (2008) The Disabilities of the Arm, Shoulder and Hand Questionnaire (DASH) can measure the impairment, activity limitations and participation restriction constructs from the International Classification of Functioning, Disability and Health (ICF). BMC Musculoskelet Disord 9(1):114

10.

Boehm D et al (2004) Entwicklung eines Fragebogens basierend auf dem Constant-Murely-Score zur Selbstevaluation der Schulterfunktion durch den Patienten. Unfallchirurg 107(5):397–402

11.

Godfrey J (2007) Reliability, validity, and responsiveness of the simple shoulder test: psychometric properties by age and injury type. J Shoulder Elbow Surg 16(3):260–267

12.

Kohn D, Geyer M (1997) The subjective shoulder rating system. Arch Orthop Trauma Surg 116(6–7):324–328

13.

Richards RR et al (1987) A standardized method for the assessment of shoulder function. J Shoulder Elbow Surg 3(6):347–352

14.

Constant CR, Murley AH (1987) A clinical method of functional assessment of the shoulder. Clin Orthop 214:160–164

15.

Conboy VB et al (1996) An evaluation of the Constant-Murley shoulder assessment. J Bone Joint Surg Br 78(2):229–232

16.

Morris DM et al (2001) The reliability of the wolf motor function test for assessing upper extremity function after stroke. Arch Phys Med Rehabil 82(6):750–755

17.

Bauder H, Taub E, Miltner WHR (2001) Behandlung motorischer Störungen nach Schlaganfall. Die Taubsche Bewegungsinduktionstherapie. Hogrefe, Göttingen

18.

Wolf SL et al (2001) Assessing Wolf motor function test as outcome measure for research in patients after stroke. Stroke 32(7):1635–1639. doi:10.1161/01.str.32.7.1635

19.

Schwickert L et al (2011) Robotic-assisted rehabilitation of proximal humerus fractures in virtual environments: a pilot study. Z Gerontol Geriatr 44(6):387–392

20.

Fried LP et al (2001) Frailty in older adults: evidence for a phenotype. J Gerontol A Biol Sci Med Sci 56(3):146–156

21.

Haidar SG et al (2004) Average versus maximum grip strength: Which is more consistent? J Hand Surg Eur Vol 29(1):82–84. doi:10.1016/j.jhsb.2003.09.012

22.

Placzek JD et al (2004) Shoulder outcome measures: a comparison of 6 functional tests. Am J Sports Med 32(5):1270–1277

23.

Bohannon RW (2006) Reference values for adult grip strength measured with a Jamar dynamometer: a descriptive meta-analysis. Physiotherapy 92(1):11–15

24.

Whitall J (2006) Psychometric properties of a modified Wolf Motor Function test for people with mild and moderate upper-extremity hemiparesis. Arch Phys Med Rehabil 87(5):656–660

25.

Cohen J (1968) Weighted kappa: nominal scale agreement with provision for scaled disagreement or partial credit. Psychol Bull 70(4):213–220

26.

Viera AJ, Garrett JM (2005) Understanding interobserver agreement: the kappa statistic. Fam Med 37(5):360–363

27.

Pereira ND et al (2011) Reliability of the Brazilian version of the Wolf Motor Function Test in adults with hemiparesis. Rev Bras Fisioter 15(3):257–265

28.

Nijland R et al (2010) A comparison of two validated tests for upper limb function after stroke: the Wolf Motor Function Test and the Action Research Arm Test. J Rehabil Med 42(7):694–696

29.

George D (2005) PSS for Windows step-by-step: a simple guide and reference, 13.0 update, 6th edn. Pearson Education, Upper Saddle River, p 400

30.

Bogard K et al (2009) Can the Wolf Motor Function Test be streamlined? Neurorehabil Neural Repair 23(5):422–428

31.

Wu C et al (2011) Assessing the streamlined Wolf Motor Function Test as an outcome measure for stroke rehabilitation. Neurorehabil Neural Repair 25(2):194–199

32.

Taub E, Morris DM, Crago J (2011) Wolf Motor Function Test (WMFT) Manual. Birmingham: University of Alabama, CI Therapy Research Group

33.

Gallo JJ (2006) Handbook of geriatric assessment, 4th edn. Jones & Bartlett, Sudbury, p 475
Acknowledgements
The study was funded and supported by the German Statutory Insurance (Deutsche Gesetzliche Unfallversicherung, DGUV). The DGUV had no influence on data assessment or writing of the manuscript.
Ethics declarations
Conflict of interest
C. Oberle, C. Becker, S. Schölch, J.-U. Lenz, S. Studier-Fischer, P. Augat and L. Schwickert declare that they have no competing interests.
All procedures performed in studies involving human participants were approved by the ethical committee of the University of Tübingen and are in accordance with the 1964 Helsinki declaration and its later amendments or comparable ethical standards. Informed consent was obtained from all individual participants included in the study.
About this article
Cite this article
Oberle, C., Becker, C., Schölch, S. et al. Inter-rater and intra-rater reliability of an adapted Wolf motor function test for older patients with shoulder injuries. Z Gerontol Geriat 51, 293–300 (2018). https://doi.org/10.1007/s00391-017-1226-2
Received:

Revised:

Accepted:

Published:

Issue Date:
Keywords
Wolf motor function test

Reliability

Orthopedic assessment

Shoulder function

Proximal humeral fracture
Schlüsselwörter
Wolf Motor Function Test

Reliabilität

Orthopädische Assessments

Schulterfunktion

Proximale Humerusfraktur