Abstract
Background
Over the last 10 years the German pension system has undergone several reforms including the abandonment of early retirement policies and an increase in the statutory retirement age. Consequently, the average retirement age has increased and future retiree cohorts have adjusted the retirement expectations and preferences as to when they would like to retire.
Objective
This study was carried out to examine discrepancies between the expected and the preferred retirement age of older workers in Germany and to investigate how these discrepancies differ between groups of older workers.
Material and methods
Based on data from the survey "Employment after retirement", the expected and preferred retirement ages of 1500 workers aged 55 years and older were compared. Regression analyses were used to investigate the influence of educational level and professional position on deviances between the expected and preferred retirement ages.
Results
On average older workers would like to retire 1.75 years earlier than they actually expect to. The deviance is significantly larger for employees with a lower professional position, lower income and lower educational level.
Conclusion
The discrepancy between expected and preferred retirement ages, in particular for older workers in vulnerable labor market positions, indicates a potential social inequality regarding the choice of retirement timing. This must be acknowledged when considering further reforms of the German pension system.
Zusammenfassung
Hintergrund
In den letzten zehn Jahren wurde das deutsche Rentensystem mehrfach reformiert. Unter anderem wurden Frühverrentungsmöglichkeiten abgeschafft und das gesetzliche Renteneintrittsalter angehoben. Daraufhin stieg das durchschnittliche Renteneintrittsalter. Zukünftige Rentner haben ihre Erwartungen und Präferenzen, wann sie in Rente gehen würden, an die Reformen angepasst.
Fragestellung
In diesem Beitrag wird die Diskrepanz zwischen erwartetem und gewünschtem Renteneintrittsalter von älteren Arbeitnehmern in Deutschland untersucht. Es wird analysiert, ob sich dabei Hinweise auf soziale Ungleichheiten finden lassen.
Material und Methoden
Basierend auf Daten der Erhebung "Weiterbeschäftigung im Rentenalter" wurden das erwartete und gewünschte Renteneintrittsalter von 1500 Arbeitnehmern in einem Alter von ≥ 55 Jahren gegenübergestellt. Mit Regressionsanalysen wurde der Einfluss von Bildung und beruflicher Stellung auf die Diskrepanz zwischen erwartetem und gewünschtem Renteneintrittsalter untersucht.
Ergebnisse
Im Durchschnitt wollen ältere Arbeitnehmer 1,75 Jahre früher in Renten gehen, als sie erwarten. Der Unterschied ist größer für Arbeitnehmer mit niedriger beruflicher Stellung, niedrigem Einkommen und niedriger Bildung.
Schlussfolgerung
Dass besonders Arbeitnehmer mit niedriger Bildung und niedriger beruflicher Stellung erwarten, länger zu arbeiten, als sie wollen, deutet auf soziale Ungleichheiten beim Übergang vom Erwerbsleben in den Ruhestand hin. Dies sollte bei zukünftigen Reformen des Rentensystems in Deutschland beachtet werden.
This is a preview of subscription content, log in to check access.
Access options
Buy single article
Instant access to the full article PDF.
US$ 39.95
Price includes VAT for USA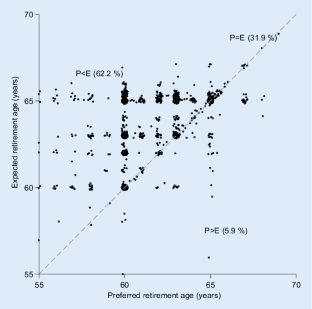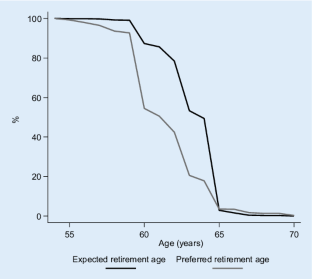 References
1.

Bauknecht J (2013) Einstellungen zur "Rente mit 67". In: Gabriel OW, Trüdinger EM (eds) Reformen des Sozialstaates in Deutschland: Reformbereitschaft und Reformakzeptanz der Deutschen. Nomos, Baden-Baden, pp 181–204

2.

Bauknecht J, Naegele G (2015) Delaying retirement in Germany and Europe. In: Torp T (ed) Challenges of aging: retirement, pensions, and intergenerational justice. Palgrave Macmillan, London, pp 179–204

3.

Buchholz S, Rinklake A, Blossfeld HP (2013) Reversing early retirement in Germany. A longitudinal analysis of the effects of recent pension reforms on the timing of the transition to retirement and on pension income. Comp Popul Stud 38(4):881–906

4.

Buchholz S (2006) Men's late careers and career exits in West Germany. In: Blossfeld HP, Buchholz S, Hofäcker D (eds) Globalization, uncertainty and late careers in society. Routledge, London, pp 55–77

5.

Brussig M (2009) Changes in labour market participation of older employees in Germany. The perspective of labour market research. Z Gerontol Geriatr 42:281–286

6.

Damman M, Henkens K, Kalmijn M (2013) Late-career work disengagement: the role of proximity to retirement and career experiences. J Gerontol B 68:455–463

7.

Deller J, Maxin LM (2008) "Silver Workers": Eine explorative Studie zu aktiven Rentnern in Deutschland. Z Arbeitsforsch Arbeitsgestalt Arbeitspolit 17:166–179

8.

De Vaus D, Wells Y, Kendig H, Quine S (2007) Does gradual retirement have better outcomes than abrupt retirement? Results from an Australian panel study. Ageing Soc 27:667–682

9.

Dietz M, Walwei U (2011) Germany – no country for old workers? Z Arbeitsmarktforsch 44:363–376

10.

Ebbinghaus B, Hofäcker D (2013) Reversing early retirement in advanced welfare economies: overcoming push and pull factors. Comp Popul Stud 38(4):841–880

11.

Esser I (2005) Continued work or retirement. Institute for Future Studies, Stockholm

12.

Frerichs F, Naegele G (2008) Active ageing in employment – prospects and policy approaches in Germany. In: Taylor P (ed) Ageing Labour Forces. Promises and Prospects. Edward Elgar, Northhampton/Mass, pp 174–203

13.

Hochfellner D, Burkert C (2013) Employment in retirement. Continuation of a working career or essential additional income? Z Gerontol Geriatr 46:242–250

14.

Hofäcker D, Naumann E (2015) The emerging trend of work beyond retirement age in Germany. Z Gerontol Geriatr 48(5):473–479

15.

Hofäcker D (2015) In line or at odds with active ageing policies? Exploring patterns of retirement preferences in Europe. Ageing Soc 35(7):1529–1556

16.

Ilmarinen J (2006) The ageing workforce – challenges for occupational health. Occup Med (Chic Ill) 56:361–364

17.

Jensen P (2005) Reversing the trend from "early" to "late" exit: push, pull and jump revisited in a danish context. The Geneva papers on risk and insurance. Issues Pract 30(4):656–673

18.

Leve V, Naegele G, Sporket M (2009) Retirement at 67 – prerequisites for the ability of older female jobholders to continue working. Z Gerontol Geriatr 42:287–291

19.

Micheel F, Roloff J, Wickenheiser I (2010) Die Bereitschaft zur Weiterbeschäftigung im Ruhestandsalter im Zusammenhang mit sozioökonomischen Merkmalen. Comp Popul Stud 35(4):833–868

20.

Naegele G, Walker A (2007) Social protection: incomes, poverty and the reform of pension systems. In: Bond J, Peace S, Dittmann-Kohli, Westerhof G (eds) Ageing in society: European perspectives on gerontology. SAGE, London, pp 142–166

21.

Naegele G, Sporket M (2009) Altern in der Arbeitswelt. Z Gerontol Geriatr 42:279–280

22.

Naegele G, Walker A (2011) Age management in organizations in the European Union. In: Malloch M, Cairns L, Evans K, O'Connor B (eds) The SAGE handbook of workplace learning. SAGE, London, pp 251–268

23.

Nauman E (2014) Raising the retirement age: retrenchment, feedback and attitudes. In: Kumlin S, Stadelmann-Steffen I (eds) How Welfare States Shape the Democratic Public: Policy Feedback, Participation, Voting and Attitudes. Edward Elgar, Cheltenham, pp 223–243

24.

Örestig J, Strandh M, Stattin M (2013) A wish come true? A longitudinal analysis of the relationship between retirement preferences and the timing of retirement. J Popul Ageing 6:99–118

25.

Radl J (2013) Retirement timing and social stratification: a comparative study of labour market exit and age norms in Western Europe. Versita De Gruyter Open, London

26.

Rinklake A, Buchholz S (2012) Increasing inequalities in Germany: older people's employment lives and income conditions since the mid-1980s. In: Blossfeld H‑P, Buchholz S, Kurz K (eds) Ageing populations, globalization and the labour market. Comparing late working life and retirement in modern societies. Edward Elgar, Cheltenham, pp 35–64

27.

Smeaton D, White M (2015) The growing discontents of older British employees: extended working life at risk from quality of working life. Social Policy and Society. doi:10.1017/S1474746415000366 (Advance access)

28.

Wong JD, Hardy MA (2013) Women's retirement expectations: how stable are they? J Gerontol B Psychol Sci Soc Sci 64:77–86

29.

Zappalà S, Depolo M, Fraccaroli F, Guglielmi D, Sarchielli G (2008) Postponing job retirement?: Psychosocial influences on the preference for early or late retirement. Career Dev Int 13:150–167
Ethics declarations
Conflict of interest
M. Hess states that there are no conflicts of interest.
The accompanying manuscript does not include studies on humans or animals.
About this article
Cite this article
Hess, M. Expected and preferred retirement age in Germany. Z Gerontol Geriat 51, 98–104 (2018). https://doi.org/10.1007/s00391-016-1053-x
Received:

Revised:

Accepted:

Published:

Issue Date:
Keywords
Retirement

Occupational status

Social class

Public policy

Social inequality
Schlüsselwörter
Renteneintritt

Renteneintrittserwartungen

Soziale Schichten

Staatliche Regelungen

Soziale Ungleichheit