Zusammenfassung
Hintergrund
Mit den 2009 eingeführten Pflege-Transparenzvereinbarungen für stationäre und ambulante Pflege (PTVS und PTVA) sollte ein objektives Vergleichsmaß für Pflegeheime geschaffen werden. Seither sind die Pflege-Transparenzvereinbarungen Gegenstand intensiver Diskussionen in relevanten Fachkreisen und werden insbesondere hinsichtlich der Objektivität der Pflegenoten, aufgrund subjektiver Bewertungsschemata und heterogener Beurteilungsmaße, kritisiert.
Ziel der Arbeit
Vor diesem Hintergrund liefert diese Arbeit einen ersten empirischen Beitrag unter Verwendung der GKV-Routinedaten Deutschlands größter Krankenkasse (Techniker Krankenkasse). Mithilfe des Datensatzes wird ein objektives Maß zur Beurteilung der gesundheitlichen Entwicklung der Heimbewohner konstruiert, das den tatsächlichen Zusammenhang zwischen veröffentlichten Pflegenoten und der Qualität von Pflegeheimen testet.
Material und Methoden
Die GKV-Routinedaten enthalten individuelle Charakteristika sowie Informationen zu Verletzungen, Vergiftungen und bestimmten anderen Folgen äußerer Ursachen pflegebedürftiger Versicherter ab 65 Jahren, die sich 2009 in stationärer Pflege befanden. Mehrere nichtlineare Regressionsmodelle werden zur Beantwortung der zugrunde liegenden Fragestellung geschätzt.
Ergebnisse
Die Ergebnisse zeigen, dass kein signifikanter Zusammenhang zwischen den Pflegenoten und der Verletzungswahrscheinlichkeit bzw. Anzahl der erlittenen Verletzungen besteht. Signifikante Zusammenhänge ergeben sich insbesondere für bestehende Erkrankungen von Heimbewohnern und ihr Geschlecht.
Diskussion
Die Ergebnisse stützen die Forderung nach einer Weiterentwicklung der Pflegenoten, die im GKV-Spitzenverband bereits intensiv diskutiert wird. Möglicherweise können auch Qualitätsindikatoren unter Einbeziehung von GKV-Routinedaten einen Beitrag dazu leisten.
Abstract
Background
In 2009 a new system for the objective evaluation of nursing homes was introduced in Germany. The so-called nursing transparency agreement (Pflege-Transparenzvereinbarungen) was introduced to provide a reliable tool for an objective comparison of inpatient (PTVS) and outpatient (PTVA) care; however, the new regulations have been the subject of a broad discussion regarding reliability, efficiency and objectivity.
Aims
To overcome the lack of objective health outcomes, this study used administrative data from Germany's largest health insurance fund, the Techniker Krankenkasse, in order to analyze the association between the quality ratings and objective quality measures on an individual level. This is the first study that provides empirical evidence on this topic using administrative data.
Material and methods
The administrative dataset contained information on several individual characteristics as well as data on injuries, poisoning and other extrinsic effects on care-dependent individuals over the age of 64 years who were living in a nursing home in 2009. Based on these data an objective measure was constructed to test whether higher quality ratings of nursing homes led to a better quality of care of the respective patients using non-linear regression models.
Results
The results of the estimated models showed no significant evidence of such a relationship, neither considering the probability nor the number of injuries, poisoning and other extrinsic effects. Significant effects were only observed for gender and specific diseases.
Conclusion
The results of this study support the argument that the current rating procedure for nursing homes has to be refined. Using quality indicators in combination with the administrative data could possibly contribute to such an enhancement.
This is a preview of subscription content, log in to check access.
Access options
Buy single article
Instant access to the full article PDF.
US$ 39.95
Price includes VAT for USA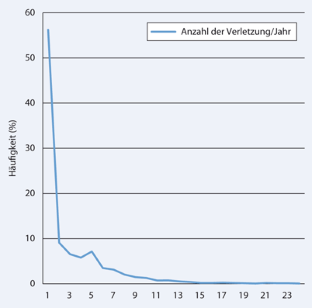 Notes
1.

In der aktuellen Version der PTVS (gültig ab dem 01.01.2014) werden nunmehr jeweils 3 Bewohner aus jeder der 3 Pflegestufen zufällig ausgewählt und in die Prüfung einbezogen.

2.

Castle und Ferguson [5] liefern einen umfassenden Überblick verschiedener Qualitätsindikatoren und der Problematik bei der Einführung von "reporting cards" für Pflegeheime in den USA. Mukamel et al. [9] liefern ebenfalls eine detaillierte Übersicht und zeigen in ihrem empirischen Modell für Pflegeheime in den USA, dass veröffentlichte Reporting cards die Qualität lediglich in bestimmten Qualitätsbereichen beeinflussen.
Literatur
1.

Bauer T, Lindenbaum K, Stroka M et al (2011) Fall risk increasing drugs: the effect on injuries of the frail elderly estimated from administrative data. Pharmacoepidemiol Drug Saf 21:1321–1327

2.

Becker C, Fleischer S, Hack A et al (1999) Unfallfolgen nach Sturz: Funktionelle Defizite und soziale Beeinträchtigungen nach proximalen Femurfrakturen Älterer. Z Gerontol Geriatr 32:312–317

3.

Borutta M (2009) Schulnoten für Heime: Die Pflege-Transparenzvereinbarung als Irrweg. Dr Med Mabuse 34:14–16

4.

Cameron A, Trivedi P (2005) Microeconometrics: methods and applications. Cambridge University Press, Cambridge

5.

Castle N, Ferguson J (2010) What is nursing home quality and how is it measured? Gerontologist 50:426–442

6.

Donabedian A (1980) Explorations in quality assessment and monitoring. Health Administration Press, Ann Arbor

7.

Wingenfeld K, Kleina T, Franz S, Engels D, Mehlan S, Engel H (2011) http://www.bmfsfj.de/RedaktionBMFSFJ/Broschuerenstelle/PdfAnlagen/abschlussbericht-stationaere-altenhilfe,property=pdf,bereich=bmfsfj,sprache=de,rwb=true.pdf. Zugegriffen: 14. Okt. 2014

8.

Möller J, Zieres G (2010) Zur Transparenz der Qualität von Pflegeeinrichtungen. Gesundh Ökon Qual Manag 15:39–44

9.

Mukamel D, Weimer D, Spector W et al (2008) Publication of quality report cards and trends in reported quality measures in nursing homes. Health Serv Res 43:1244–1262

10.

Rothgang H, Borchert L, Müller R et al (2008) GEK-Pflegereport. Schriftenreihe zur Gesundheitsanalyse, Bd. 66

11.

Weibler-Villalobos U, Röhrig B (2010) Methodische Anforderungen an einrichtungsbezogene Qualitätsberichte in der Pflege. Gesundheitswesen 72:780–789

12.

Wissenschaftliche Evaluation Pflege-Transparenzvereinbarungen (PTVA und PTVS) (2010) http://www.pflegenoten.de/media/dokumente/weiterentwicklung/Pflegenoten_Endbericht_Beirat_u__WB_2010_07_21.pdf. Zugegriffen: 14. Okt. 2014
Danksagung
Hilfreiche Kommentare der Teilnehmer der Jahrestagung der Deutschen Gesellschaft für Medizinische Informatik, Biometrie und Epidemiologie sind dankend eingebaut worden.
Wir danken der Deutschen Forschungsgemeinschaft (DFG) für die finanzielle Unterstützung.
Ethics declarations
Interessenkonflikt
A. Przylog, M.A. Stroka, S. Engel und R. Linder geben an, dass kein Interessenkonflikt vorliegt.
Dieser Beitrag beinhaltet keine Studien an Menschen oder Tieren.
About this article
Cite this article
Przylog, A., Stroka, M., Engel, S. et al. Bieten Pflegeheime mit besseren Pflegenoten auch eine bessere Qualität?. Z Gerontol Geriat 49, 308–316 (2016). https://doi.org/10.1007/s00391-015-0983-z
Received:

Revised:

Accepted:

Published:

Issue Date:
Schlüsselwörter
Pflegenoten

Qualitätsberichte

Transparenz

Gesundheitszustand

Verletzungen
Keywords
Rating

Quality reports

Transparency

Health status

Injuries