Zusammenfassung
Hintergrund
Erste noch sporadische Erfahrungen eines Berliner Pflegeheims wiesen darauf hin, dass demenziell erkrankte Heimbewohner auf Tablet-PC gut ansprechen und über diese moderne Technik differenziert therapeutisch erreicht sowie individuell aktiviert werden können. Diese Erfahrungen führten dazu, dass sich die Pflegeheimleitung an das Institut für Medizinische Soziologie und Rehabilitationswissenschaften (IMSR) der Berliner Charité wandte, um ihre Praxisbeobachtung einer wissenschaftlichen Überprüfung zu unterziehen. Unterstützung fand diese Idee beim Zentrum für Qualität in der Pflege, das eine nichtrepräsentative Pilotuntersuchung beim IMSR in Auftrag gab.
Ziel
Praktikabilität und Nutzen von Tablet-PC im Betreuungsalltag dementer Pflegeheimbewohner sollten untersucht werden.
Probanden und Methoden
Im Rahmen einer intensiven Testreihe im Jahr 2013 wurden insgesamt 14 Bewohner (12 Frauen und 2 Männer) eines Sonderpflegebereichs für schwer an Demenz Erkrankte in die Studie einbezogen und über 3 Monate 3-mal wöchentlich mit einem Tablet-PC aktiviert. Dabei kamen qualitative und quantitative Methoden zum Einsatz. Die Hauptmethode war die strukturierte Beobachtung.
Ergebnisse
Vorteile des Tablet-PC-Einsatzes in der Beschäftigungstherapie lagen in der leichten Bedienbarkeit und den multifunktionalen Anwendungsmöglichkeiten. Besonders beeindruckte seine Akzeptanz seitens der Teilnehmer. Die therapeutisch interessantesten und nachhaltigsten Effekte erwiesen sich darin, Kommunikation und Interaktion anzuregen, das Wohlbefinden der Bewohner zu verbessern, das Gedächtnis zu trainieren, herausforderndes Verhalten zu reduzieren und den Kontakt zu Angehörigen zu intensivieren.
Schlussfolgerungen
Der Einsatz von Tablet-PC überzeugte in der Therapie und der Beschäftigung von Demenzkranken in mehrfacher Hinsicht. Die Entwicklung speziell angepasster Software und weitergehende Forschung zum Einsatznutzen scheinen angeraten.
Abstract
Background
Initial sporadic experiences in a Berlin nursing home showed that residents with dementia responded well to activating therapy with tablet computers. This innovative technology seemed to provide a differentiated and individual therapeutic access. These observations encouraged the nursing home management to contact the Institute of Medical Sociology and Rehabilitation Science at the Charité Universitätsmedizin Berlin with the aim to examine the practical experiences. The Centre for Quality in Care (ZQP) sponsored the 1 year pilot study.
Objective
An examination of the feasibility and usability of tablet computers in the daily care of nursing home residents with dementia was carried out.
Materials and methods
In this study 14 residents (12 women and 2 men) of a special care unit for dementia patients were included in a 3-month intervention of tablet activation 3 times a week. Qualitative and quantitative methods were used to analyze data (e.g. observation protocols and videos, staff interviews, document analysis of nursing records and standardized resident interviews/proxy interviews).
Results
Nursing home residents suffering from dementia showed a high degree of acceptance of tablet computers. Most notable benefits were easy handling and the variety of multifunctional applications. Sustainable therapeutic effects resulted in stimulation of communication and interaction, improvement of well-being, memory training and reduction of neuropsychiatric symptoms. Furthermore, contact to family members of several residents was improved.
Conclusions
The use of tablet computers was convincing as an activation therapy for nursing home residents with dementia. Further research and development of specially adapted software are required.
Access options
Buy single article
Instant access to the full article PDF.
USD 39.95
Price excludes VAT (USA)
Tax calculation will be finalised during checkout.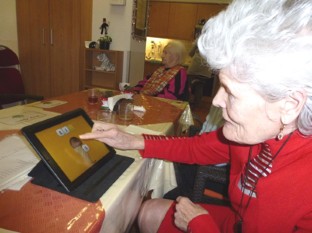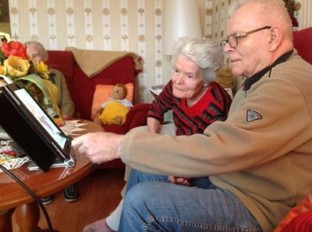 Literatur
Astell AJ, Ellis MP, Bernardi L, Alm N, Dye R, Gowans G, Campbell J (2010) Using a touch screen computer to support relationships between people with dementia and caregivers. Interact Comput 22(4):267–275

Capstick A (2011) Travels with a Flipcam: bringing the community to people with dementia in a day care setting through visual technology. Visual Stud 26(2):142–147

Cummings JL, Mega M, Gray K, Rosenberg-Thompson S, Carusi DA, Gornbein J (1994) The Neuropsychiatric Inventory: comprehensive assessment of psychopathology in dementia. Neurology 44(12):2308–2314

Ettema TP, Dröes RM, De Lange J, Mellenbergh GJ, Ribbe MW (2007) QUALIDEM: Development and evaluation of a dementia specific quality of life instrument. Scalability, reliability and internal structure. Int J Geriatr Psychiatry 22(6):549–556

Folstein MF, Folstein SE, McHugh PR (1975) Mini-mental state. A practical method for grading the cognitive state of patients for the clinician. J Psychiatr Res 12(3):189–198

Gaul S, Ziefle M, Wilkowska W, Arning K, Kasugai K, Röcker C, Jakobs E-M (2010) Technikakzeptanz als integraler Bestandteil der Entwicklung medizintechnischer Produkte. Paper P3. 3, 3. Deutscher AAL-Kongress, 26.–27. Januar 2010 in Berlin. http://www.humtec.rwth-aachen.de/files/aal_2010b.pdf. Zugegriffen: 24. Feb. 2014

Graessel E, Stemmer R, Eichenseer B, Pickel S, Donath C, Kornhuber J, Luttenberger K (2011) Non-pharmacological, multicomponent group therapy in patients with degenerative dementia: a 12-month randomized, controlled trial. BMC Medicine 9:129

Hellman R (2012) Nutzerfreundliche Benutzeroberflächen für Menschen mit Gedächtnisproblemen – Usable user interfaces for persons with memory impairments. 5. Deutscher AAL-Kongress 24.–25.01.2012 in Berlin. VDE, Berlin

Hoey J, Leuty V, Zutis K, Mihailidis A (2010) A tool to promote prolonged engagement in art therapy: design and development from arts therapist requirements. Orlando, Florida, USA: ASSETS'10

Hofbauer MK (2009) Computergestütztes kognitives Training bei geriatrischen LangzeitpatientInnen. Psychologie in Österreich 5:432–438

Kramer B (2013) Die Akzeptanz neuer Technologien bei der Pflege von Menschen mit Demenz. http://www.nar.uni-heidelberg.de/juniorforscher/kolleg/kramer.html. Zugegriffen: 24. Feb. 2014

Lauriks S, Reinersmann A, Van der Roest HG, Meiland FJ, Davies RJ, Moelaert F, Mulvenna MD, Nugent CD, Dröes RM (2007) Review of ICT-based services for identified unmet needs in people with dementia. Ageing Res Rev 6(3):223–246

Lim FS, Wallace T, Luszcz MA, Reynolds KJ (2012) Usability of tablet computers by people with early-stage dementia. Gerontology 59(2):174–182

Logsdon RG, Gibbons LE, McCurry SM, Teri L (1999) Quality of life in Alzheimer's disease: patient and caregiver reports. J Ment Health Aging 5(1):21–32

Mahoney FI, Barthel DW (1965) Functional evaluation: the Barthel index. Md State Med J 14:61–5

Mickus MA, Luz CC (2002) Televisits: sustaining long distance family relationships among institutionalized elders through technology. Aging Ment Health 6(4):387–396

Murphy J, Tester S, Hubbard G, Downs M, MacDonald C (2005) Enabling frail older people with a communication difficulty to express their views: the use of Talking Mats™ as an interview tool. Health Soc Care Community 13(2):95–107

Navarro RF, Favela J (2010) Usability assessment of a pervasive system to assist caregivers in dealing with repetitive behaviors of patients with dementia. In: PETRA'11. Kreta, Griechenland: PETRA '11, ACM, New York

Newell AF, Carmichael A, Gregor P, Alm N (2002) Information technology for cognitive support. In: The human-computer interaction handbook. Erlbaum, New York, S. 464–481

Upton D, Upton P, Jones T, Jutlla K, Brooker D (2011) Evaluation of the impact of touch screen technology on people with dementia and their carers within care home settings. University of Worcester, UK
Ethics declarations
Interessenkonflikt
Die Autoren geben an, dass kein Interessenkonflikt vorliegt.
Bei der im Manuskript vorgestellten Pilotphase handelte es sich nicht um medizinische Forschung im Sinne der Deklaration von Helsinki. Das Vorgehen wurde mit den Datenschutzbeauftragten der Charité sowie des Einrichtungsträgers abgestimmt. Die Angehörigen der 14 Teilnehmer unterzeichneten als gesetzliche Vertreter die Teilnahmeentscheidung.
About this article
Cite this article
Nordheim, J., Hamm, S., Kuhlmey, A. et al. Tablet-PC und ihr Nutzen für demenzerkrankte Heimbewohner. Z Gerontol Geriat 48, 543–549 (2015). https://doi.org/10.1007/s00391-014-0832-5
Received:

Accepted:

Published:

Issue Date:

DOI: https://doi.org/10.1007/s00391-014-0832-5
Schlüsselwörter
Keywords