Zusammenfassung
Hintergrund und Fragestellung
In dieser Arbeit werden Pflegeverlauf von gesetzlich Pflegebedürftigen nach Alter, Pflegestufen sowie Versorgungsart in Abhängigkeit von einer erfolgten oder nicht erfolgten Rehabilitation gegenübergestellt. Ziel war der Erhalt von empirischen Kalkulationsgrundlagen zur Abschätzung der Auswirkungen von Rehabilitationsmaßnahmen auf Pflegeverläufe für versicherungsmedizinische Zwecke.
Methoden
Mittels Sekundärdatenanalyse wurden die Daten von 88.575 Pflegebedürftigen der Deutschen BKK über 10 Jahre (durchschnittliche Beobachtung 2,5 Jahre, 221.625 Beobachtungsjahre) ausgewertet. Endgrößen waren Reaktivierung, Verbleib oder Wechsel der Pflegekategorie sowie Mortalität. Für die Bewertung der Einflussfaktoren auf die Pflegeverläufe wurde eine Indikatorenmessgröße entwickelt.
Ergebnisse
Von der Gesamtheit der Pflegebedürftigen mit Rehabilitation sind 10 Jahre nach dem Pflegebeginn 30,7 % in Pflege, 9,8 % reaktiviert und 59,5 % verstorben. Von den Pflegebedürftigen ohne Rehabilitation sind 10 Jahre nach dem Pflegebeginn dagegen nur noch 9,2 % in Pflege, 3,7 % reaktiviert und 87,1 % verstorben. Die Pflegebedürftigen mit Rehabilitation weisen also höhere Anteile an noch in Pflege befindlichen Pflegebedürftigen und Reaktivierten sowie geringere Anteile an Verstorbenen auf im Vergleich zu Pflegebedürftigen ohne Rehabilitation. Dies gilt grundsätzlich für jedes Alter über alle Pflegestufen bei ambulanter wie stationärer Versorgung. Der Status der Pflegebedürftigen, gemessen mit den Anteilen von Reaktivierung, Pflege in Stufen I–III und Tod in den Pflegeverläufen, hängt wesentlich vom Pflegeeintrittsalter und der Ersteinstufung ab sowie von der Durchführung rehabilitativer Maßnahmen.
Schlussfolgerung
Es besteht ein Zusammenhang zwischen durchgeführten Rehabilitationsmaßnahmen sowie Verminderung oder Beseitigung von Pflegebedürftigkeit bis hin zur vollständigen Reaktivierung. Über alle Altersgruppen und alle Pflegestufen weisen Pflegebedürftige nach rehabilitativen Maßnahmen trotz eingetretener oder andauernder Pflegebedürftigkeit eine Lebensverlängerung auf. Diese kann sich nicht nur bei ambulanter Betreuung, sondern auch bei Versorgung im Pflegeheim einstellen. Bei versicherungsmedizinischen Kalkulationen empfiehlt sich neben Beachtung des Pflegeeintrittsalters, der Pflegestufe und einer Unterscheidung zwischen der Erst- und Folgejahressterblichkeit auch eine Unterscheidung zwischen rehabilitierten und nicht rehabilitierten Pflegebedürftigen. Hypothesen für weitere Forschungsvorhaben werden formuliert.
Abstract
Background and objective
Empirical data, representative of the total population, are necessary for medico-actuarial risk calculations. Our study compares mortalities of long-term care (LTC) patients who are covered by statutory health insurance with regard to age and distribution of care levels when in home or institutional care with a special focus on whether rehabilitative care was performed.
Methods
The data of 88,575 LTC patients were analyzed longitudinally for 10 years, using routine data analyses on the files of the German Federal Health Insurance fund (average observation period 2.5 years, a total of 221,625 observation years). The numbers of LTC patients and their care levels while in home or institutional care were calculated, as were any changes to another care level or discontinuation of LTC benefits (as a result of the need for care falling below the eligibility criteria for care leveI or to death) during 1–10 years after the onset of LTC, always with respect to whether rehabilitative care had taken place or not. For the evaluation of care factors an indicator was developed.
Results
Total mortality was found to decline and reactivation to increase considerably for LTC patients after rehabilitation, basically irrespective of their age or care level and in home or institutional care settings as well. Ten years after the onset of care, 30.7 % of the patients with rehabilitation were still in nursing care, 9.8 % were reactivated and 59.5 % deceased. In contrast, only 9.2 % were still in nursing care, 3.7 % reactivated and 87.1 % deceased without rehabilitation. These results are irrespective of age distribution, care level, and residence in home or institutional care settings. The care status of patients, measured by the percentage in reactivation, care level I–III, and death, substantially depends on age at onset and care level and in addition on rehabilitative procedures. Hypotheses for further research are outlined.
Conclusion
Rehabilitation has a clear-cut potential for life extension as well as reducing or detaining long-term care if applied to (LTC) patients. The group of rehabilitated LTC patients has a comparatively higher degree of reducing or resolving LTC up to a complete reactivation or prolonging of life in spite of care needed. A successful rehabilitative effect occurs over all age groups and all care levels during home care considerably as well as during institutional care to a lower extent. Differentiation between the age at onset of LTC, care level, and first year and follow-up mortalities is recommended as well as between rehabilitated and nonrehabilitated care patients when undertaking medico-actuarial calculations.
Access options
Buy single article
Instant access to the full article PDF.
US$ 39.95
Tax calculation will be finalised during checkout.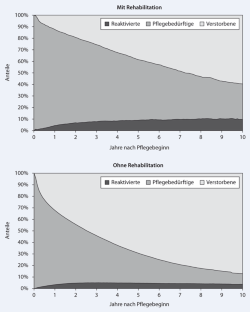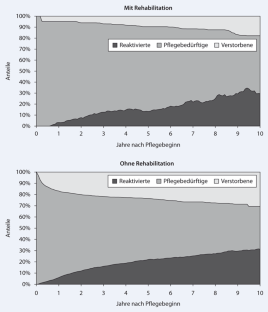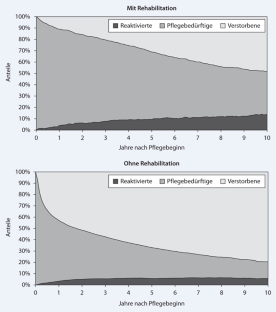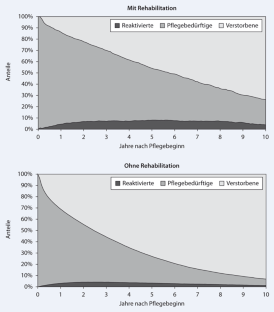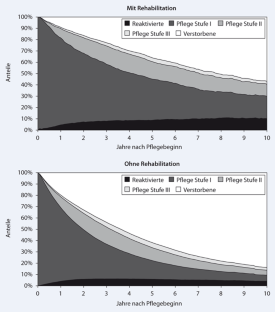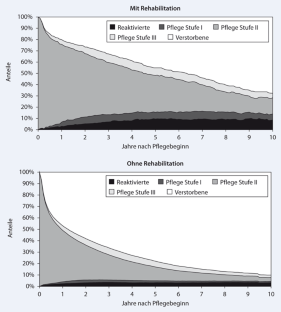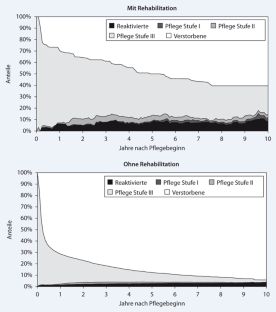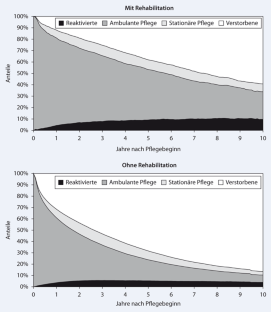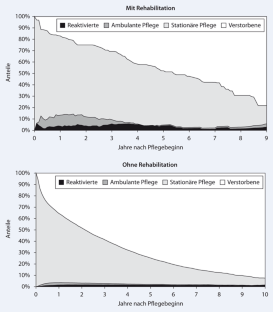 Literatur
1.

Dangel B, Kolleck B, Korporal J (Hrsg) (2005) Rehabilitation Pflegebedürftiger – Konzept -Umsetzung – Ergebnisse. Urban & Fischer, München

2.

Hagen T, Gansweid B (2009) Medizinische Rehabilitation. In: Gaertner T, Gansweid B, Gerber H, Schwegler F, Mittelstaedt G von (Hrsg) Die Pflegeversicherung, 2. Aufl. de Gruyter, Berlin, S 123–128

3.

MDS (2011) Begutachtungs-Richtlinie Vorsorge und Rehabilitation, Medizinischer Dienst der Spitzenverbände der Krankenkassen e. V., aktualisierte Fassung, Essen

4.

MDS (2009) Richtlinien des GKV-Spitzenverbandes zur Begutachtung von Pflegebedürftigkeit nach dem XI. Buch des Sozialgesetzbuches, Medizinischer Dienst des Spitzenverbandes Bund der Krankenkassen, Essen

5.

Rothgang H, Borchert L, Müller R, Unger R (2008) GEK Pflegereport 2008. Schwäbisch Gmünd, S 231

6.

Seger W, Sittaro N-A, Lohse R, Rabba J (2011) Vergleich der Sterblichkeit ambulanter und stationärer Pflegepatienten im Langzeitverlauf – Hannover Morbiditäts- und Mortalitäts-Pflegestudie. Dtsch Med Wochenschr 1465–1471

7.

Seger W, Sittaro N-A, Lohse R et al (2008) Hannover Morbiditäts- und Mortalitäts-Pflegestudie (HMMPS): Langzeitverläufe, Pflegestufenübergänge und Reaktivierungen in der gesetzlichen Pflegeversicherung. Blätter DGVFM, Springer, S 29–43

8.

Sittaro N-A, Seger W, Lohse R, Rabba J (2009) Hannover Morbidity and Mortality Long-Term Care Study (HMMPS): German Social Long-Term Care Insurance – 10 year follow-up of care level and survival. J Assoc Insurance Med Japan 107(2):99–108

9.

Statistisches Bundesamt, Deutsches Zentrum für Altersfragen und Robert Koch Institut (Hrsg) in Gesundheitsberichterstattung des Bundes (2008) Gesundheit und Krankheit im Alter, Berlin
Einhaltung ethischer Richtlinien
Interessenkonflikt. W. Seger gibt an, dass kein Interessenkonflikt besteht. Dieser Beitrag beinhaltet keine Studien an Menschen und Tieren.
About this article
Cite this article
Seger, W., Sittaro, NA., Lohse, R. et al. Vergleich von Pflegeverlauf und Sterblichkeit von Pflegebedürftigen mit und ohne medizinische Rehabilitation . Z Gerontol Geriat 46, 756–768 (2013). https://doi.org/10.1007/s00391-013-0521-9
Schlüsselwörter
Mortalität

Pflegebedürftigkeit

Rehabilitation

Pflegeversicherung

Aktuarielle Berechnungen
Keywords
Mortality

Long-term care

Rehabilitation

Long-term care, insurance

Actuarial analysis