Abstract
Background
Positive psychology studies what is best in people. In their classification of strengths and virtues, Peterson and Seligman [11] assign humor to the virtue of transcendence. Thus far, there is no specific study that deals with age-related changes in humor (as a strength of character) across a lifespan and its relation to well-being in the elderly.
Participants and methods
A total of n=42,964 participants completed an online questionnaire on humor as a strength of character. Participants also completed the Satisfaction with Life Scale and the Orientations to Happiness Scale.
Results
In a cross-sectional design, the scores for humor decreased until the age of 50. Men between 51 and 62 years had higher scores; there was a trend for women older than 70 to score higher (but this was not statistically significant). Humor was robustly positively correlated with life satisfaction, as well with a pleasurable and an engaged life, but was lowest with a meaningful life. The oldest participants had the lowest (yet still meaningful) correlation coefficients (with the exception of a meaningful life).
Conclusion
The study contributes to the understanding of humor across the lifespan and underlines the importance of studies among the elderly within a framework of positive psychology.
Zusammenfassung
Hintergrund
Die Positive Psychologie untersucht das Beste im Menschen. Humor wird als Charakterstärke verstanden, die der Tugend Transzendenz zugeordnet wird.
Stichprobe und Methoden
Insgesamt 42.964 Teilnehmer/innen bearbeiteten online einen Fragebogen für Humor als Charakterstärke, eine Lebenszufriedenheitsskala sowie eine Skala zu Orientierungen zum Glück.
Ergebnisse
In einem Querschnittsdesign sanken die Humorwerte der Teilnehmer bis zum Alter von 50 Jahren. Männer zwischen 61 und 65 erzielten höhere Werte. Humor war bedeutsam mit Lebenszufriedenheit korreliert und ebenso mit dem "vergnüglichen Leben", dem "engagierten Leben", aber am niedrigsten mit dem "bedeutsamen Leben". Dies fand sich (mit Ausnahme des "bedeutsamen Lebens") auch für die ältesten Teilnehmer/innen.
Fazit
Die Studie trägt zum Verständnis von Humor über die gesamte Lebensspanne bei und zeigt den Nutzen, Humor im Rahmen von Konzepten aus der Positiven Psychologie bei älteren Menschen zu erforschen.
Access options
Buy single article
Instant access to the full article PDF.
US$ 39.95
Tax calculation will be finalised during checkout.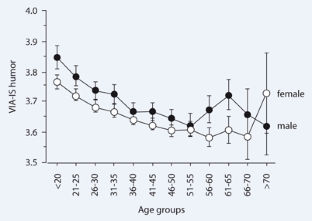 References
1.

Diener E, Emmons RA, Larsen RJ, Griffin S (1985) The satisfaction with life scale. J Pers Assess 49:71–75

2.

Gosling SD, Vazire S, Srivastava S, John OP (2004) Should we trust web-based studies? A comparative analysis of six preconceptions about Internet questionnaires. Am Psychol 59:93–104

3.

Hirsch RD, Kranzhoff EU (2004) Humorgruppe mit alten Menschen: Ergebnisse einer therapiebegleitenden Untersuchung. Gruppenpsychotherapie und Gruppendynamik 40:106–129

4.

McGhee PE, Ruch W, Hehl FJ (1990) A personality-based model of humor development during adulthood. Humor 3:119–146

5.

Nahemov L, McCluskey-Fawcett KA, McGhee PE (eds) (1986) Humor and aging. Academic Press, New York

6.

Ostir GV, Ottenbacher KJ, Markides KS (2004) Onset of frailty in older adults and the protective role of positive affect. Psychol Aging 19:402–408

7.

Park N, Peterson C, Ruch W (2009) Orientations to happiness and life satisfaction: national comparisons. J Posit Psychol 4:273–279

8.

Park N, Peterson C, Seligman MEP (2004) Strengths of character and well-being. J Soc Clin Psychol 23:603–619

9.

Peterson C, Park N, Seligman MEP (2005) Assessment of character strengths. In: Koocher GP, Norcross JC, Hill III SS (eds) Psychologists' desk reference, 2nd edn. Oxford University Press, New York, pp 93–98

10.

Peterson C, Park N, Seligman MEP (2005) Orientations to happiness and life satisfaction: the full life versus the empty life. J Happiness Stud 6:25–41

11.

Peterson C, Seligman MEP (2004) Character strengths and virtues: a handbook and classification. APA, Washington/DC

12.

Proyer RT, Ruch W, Müller L (2010) Sense of humor among the elderly: findings with the German version of the SHS. Z Gerontol Geriatr 1:(this issue)

13.

Ruch W (2009) The relation among measures of humor and the VIA-IS humor scale. Unpublished raw data. Department of Psychology. University of Zurich, Switzerland

14.

Ruch W, Harzer C, Proyer RT et al (2009) Ways to happiness in German-speaking countries: the adaptation of German paper–pencil and online version of the Orientations to Happiness Scale. Eur J Psychol Assess (in press)

15.

Ruch W, McGhee PE, Hehl FJ (1990) Age differences in the enjoyment of incongruity-resolution and nonsense humor during adulthood. Psychol Aging 5:348–355

16.

Ruch W, Müller L (2009) Wenn Heiterkeit zur Therapie wird. Geriatr Prax Osterr 3:22–24

17.

Ruch W, Proyer RT, Harzer C et al (2009) The German version of the self- and peer-rating form of the Values in Action Inventory of Strengths (VIA-IS): adaptation and validation studies. (submitted)

18.

Ruch W, Proyer RT, Weber M (2010) Humor as a character strength among the elderly: theoretical considerations. Z Gerontol Geriatr 1:(this issue)

19.

Vaillant GE (1977) Adaptation to life. Little Brown, Boston

20.

Vaillant GE (1995) Natural history of alcoholism revisited. Harvard University Press, Cambridge/MA

21.

Vaillant GE (2002) Aging well. Little Brown, Boston

22.

Vaillant GE (2004) Positive aging. In: Linley AP, Joseph S (eds) Positive psychology in practice. Wiley, New York, pp 561–578
Acknowledgments
The authors wish to thank the participants who spent their time filling in the various questionnaires at htttp://www.charakterstaerken.org.
Conflict of interest
The corresponding author states that there are no conflicts of interest.
About this article
Cite this article
Ruch, W., Proyer, R. & Weber, M. Humor as a character strength among the elderly. Z Gerontol Geriat 43, 13–18 (2010). https://doi.org/10.1007/s00391-009-0090-0
Received:

Accepted:

Published:

Issue Date:
Keywords
Aging

Humor

Orientations to happiness

Positive psychology

Satisfaction with life
Schlüsselwörter
Altern

Humor

Lebenszufriedenheit

Orientierungen zum Glück

Positive Psychologie