Zusammenfassung
Neurologische Ursachen von Bewusstseinsstörungen sind häufig und erfordern in der Regel eine rasche Therapie. Kritisch für den optimalen Behandlungserfolg ist daher die schnelle und dennoch möglichst zuverlässige Differenzialdiagnose. Ein strukturiertes Vorgehen bei der Untersuchung in der Notfallsituation erleichtert dies. Bewusstseinsstörungen werden häufig in quantitative und qualitative Störungen eingeteilt. Wesentliche Komponente einer quantitativen Bewusstseinsstörung ist die Vigilanzminderung. Qualitative Bewusstseinsstörungen führen z. B. zu Verwirrtheitszuständen oder einem Delir. Für die Identifikation neurologischer Ursachen ist die sorgfältige Untersuchung von Begleitsymptomen kritisch. Da die Vigilanz wesentlich vom aszendierenden retikulären Aktivierungssystem im Hirnstamm gesteuert wird, sind insbesondere neurologische Symptome, die auf eine Hirnstammläsion schließen lassen, topodiagnostisch relevant. Darüber hinaus können neben beidseitigen Thalamusläsionen auch schwerwiegende raumfordernde Läsionen im Bereich der Hemisphären indirekt zu einer Hirnstammschädigung und damit zur Bewusstseinsstörung führen. Neben strukturellen Läsionen kommen als Ursache auch funktionelle Störungen in Betracht. Verwirrtheitszustände und delirante Bilder sind häufig auf mehrfaktorielle Ursachen zurückzuführen, meist in Kombination mit metabolischen oder medikamentösen Faktoren. Sie können aber auch auf nichtkonvulsiven Anfällen beruhen.
Abstract
Neurological conditions frequently cause disorders of consciousness, such as impairment of awareness, coma, or confusion. In most circumstances, quick identification of the underlying disease and rapid therapeutic decisions are mandatory in order to optimize outcome. Therefore, in an emergency situation, analyzing clinical observations in a structured manner helps to achieve this goal. While a widely accepted classification system for coma and confusion does not exist at this point, quantitative and qualitative alterations are frequently distinguished. The key feature of quantitative disorders of consciousness is an impairment of awareness with coma being the worst scenario. In these states, the patient has lost the ability to perceive himself, to control his actions, and to react to external stimuli adequately. In contrast, qualitative disorders of consciousness are characterized by confusion or delirium. In order to quickly establish the diagnosis, precise analysis of accompanying signs and symptoms is crucial. As the ascending reticular activation system in the brainstem is an essential neuroanatomical structure with respect to consciousness, neurological symptoms that indicate brainstem lesions are very important for diagnosis. In addition, bilateral thalamic lesions as well as severe hemispheric lesions of the brain may cause secondary dysfunction of the brainstem, and in turn, lead to coma. Nonstructural lesions, such as status epilepticus or postictal states, may also cause impaired awareness or coma. Delirium and confusion, on the other hand, are frequently multifactorial, commonly combining the effects of metabolic and drug-induced causes. Confusion may also present as the sole symptom of nonconvulsive status epilepticus.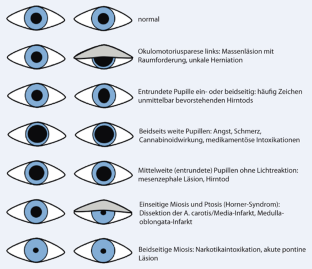 Literatur
1.

Bateman DE (2001) Neurological assessment of coma. J Neurol Neurosurg Psychiatry 71(I):i13–i17

2.

(n a) (2000) Diagnostic and Statistical Manual of Mental Disorders (DSM-IV). American Psychiatric Association, Washington, D.C.

3.

Folstein MF, Folstein SE et al (1975) Mini-mental state. A practical method for grading the cognitive state of patients for the clinician. J Psychiatr Res 12(3):189–198

4.

Stead LG, Wijdicks EF et al (2009) Validation of a new coma scale, the FOUR score, in the emergency department. Neurocrit Care 10(1):50–54

5.

Stevens RD, Bhardway A (2006) Approach to the comatose patient. Crit Care Med 34:31–41

6.

Teasdale G and Jennett B (1974) Assessment of coma and impaired consciousness. A practical scale. Lancet 2(7872):81–84

7.

Teasdale G, Murray G et al (1979) Adding up the Glasgow Coma Score. Acta Neurochir Suppl (Wien) 28(1):13–16

8.

Posner JB, Saper CB, Schiff N, Plum F (2007) Plum and Posner's Diagnosis of Stupor and Coma. Oxford University Press, Oxford

9.

Fong TG, Tulebaev SR, Inouye SK (2009) Delirium in elderly adults: diagnosis, prevention and treatment. Nat Rev Neurol 5:210–220

10.

Confusion Assessment Method (CAM) für Intensivstationen (CAM-ICU) http://www.icudelirium.org/delirium/training-pages/German.pdf

11.

Wijdicks, EFM (2004).Catastrophic neurologic disorders in the emergency department. Oxford University Press, Oxford

12.

Wijdicks EF, Bamlet WR et al (2005) Validation of a new coma scale: the FOUR score. Ann Neurol 58(4):585–593
Interessenkonflikt
Der korrespondierende Autor gibt an, dass kein Interessenkonflikt besteht.
About this article
Cite this article
Topka, H., Eberhardt, O. Neurologische Ursachen von Bewusstseinsstörungen. Intensivmed 47, 109–116 (2010). https://doi.org/10.1007/s00390-009-0144-y
Received:

Accepted:

Published:

Issue Date:
Schlüsselwörter
Koma

Bewusstseinsstörungen

Schlaganfall

Epilepsie

Vigilanzminderung
Keywords
Coma

Disorders of consciousness

Stroke

Epilepsy

Impairment of awareness