Zusammenfassung
Trotz einer Vielzahl verbesserter supportiver und adjunktiver Therapiemaßnahmen hat sich an der hohen Letalität und Morbidität, die der schweren Sepsis und dem septischen Schock geschuldet sind, innerhalb der letzten 20 Jahre wenig geändert. Grund hierfür sind v. a. Defizite in der frühzeitigen Diagnose, der – wann immer möglichen – chirurgischen Herdsanierung und/oder der antibiotischen Therapie des Infektionsfokus. Einer weltweit steigenden Resistenzentwicklung der wichtigsten Infektionserreger gegenüber allen gängigen Antibiotika einerseits steht andererseits keine vergleichbare Entwicklung neuer antiinfektiver Substanzen gegenüber. Vor allem im Bereich gramnegativer Probleminfektionen mit Non-Fermentern wie Pseudomonas aeruginosa sind auf absehbare Zeit keine neuen Substanzen zu erwarten. Schwerpunkt der gegenwärtigen klinischen Versorgung und Forschung müssen daher präventive Maßnahmen und die Optimierung der antibiotischen Strategien darstellen. Von besonderer Bedeutung ist hierbei eine breite, hoch dosierte, frühzeitig applizierte Initialtherapie, eine klinisch und an molekularen Markern orientierte Deeskalationsstrategie und eine – mit Ausnahmen – auf 7–10 Tage begrenzte Therapiedauer. Einer engen Zusammenarbeit von Mikrobiologie, Hygiene und klinischer Infektiologie kommt in Anbetracht der dramatischen infektiologischen Probleme der Zukunft eine entscheidende Bedeutung zu.
Abstract
The high mortality and morbidity of severe sepsis and septic shock had not been reduced during the two recent decades despite a number of advances in the field of supportive and adjunctive sepsis therapies. The reasons might be deficits in important steps towards overcoming sepsis such as progress in the early diagnosis, surgical resection of the infectious focus and an adequate antibiotic treatment. However, growing resistance of pathogens against the common antibiotics has been detected worldwide. In contrast no major progress in the development of new antibiotics, mainly for the treatment of Gram-negative non-fermenter infections such as Pseudomonas aeruginosa, can be predicted for the next years. Therefore, sepsis treatment must focus on prevention of infection and on an optimized application of current antibiotic substances. The key factors are a broad spectrum, high dose and early initiation of treatment, a de-escalation strategy oriented to the clinical course supported by the application of novel molecular markers and, with exceptions, a limitation of treatment to 7–10 days. A closer cooperation between microbiologists, infection control specialists and clinical infectious disease consultants may be a key factor to overcome the dramatic problems of the future.
Access options
Buy single article
Instant access to the full article PDF.
USD 39.95
Price excludes VAT (USA)
Tax calculation will be finalised during checkout.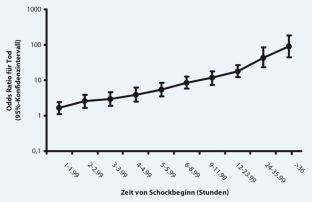 Literatur
Kumar A, Roberts D, Wood KE (2006) Duration of hypotension before initiation of effective antimicrobial therapy is the critical determinant of survival in human septic shock. Crit Care Med 34(6):1589–1596

Levy MM, Fink MP, Marshall JC et al (2003) For the International Sepsis Definitions Conference, 2001SCCM/ESICM/ACCP/ATS/SIS International Sepsis Definitions Conference. Intensive Care Med 29:530–538

Reimer LG, Wilson ML, Weinstein MP (1997) Update on detection of bacteremia and fungemia. Clin Microbiol Rev 10:444–465

Engel C, Brunkhorst FM, Bone HG et al (2007) Epidemiology of sepsis in Germany: results from a national prospective multicenter study. Intensive Care Med 33:606–618

Rangel-Frausto MS, Pittet D, Costigan M et al (1995) The natural history of the systemic inflammatory response syndrome (SIRS). A prospective study. JAMA 273:117–123

Schrenzel J (2007) Clinical relevance of new diagnostic methods for bloodstream infections. Int J Antimicrob Agents Suppl 1:S2–S6

Reinhart K, Brunkhorst FM, Bone HG et al (2006) Diagnose und Therapie der Sepsis: S2-Leitlinien der Deutschen Sepsisgesellschaft e.V.(DSG) und der Deutschen Interdisziplinären Vereinigung für Intensiv- und Notfallmedizin. Internist (Berl) 47:356–373

Meisner M (2000) Procalcitonin. A new, innovative infection parameter, 3rd edn. Georg Thieme, Stuttgart

Harbarth S, Holeckova K, Froidevaux C et al (2001) Diagnostic value of procalcitonin, interleukin-6, and interleukin-8 in critically ill patients admitted with suspected sepsis. Am J Respir Crit Care Med 164:396–402

Chastre J, Wolff M, Fagon JY et al (2003) Comparison of 8 vs 15 days of antibiotic therapy for ventilator-associated pneumonia in adults: a randomized trial. JAMA 290(19):2588–2598

Christ-Crain M, Jaccard-Stolz D, Bingisser R et al (2004) Effect of procalcitonin-guided treatment on antibiotic use and outcome in lower respiratory tract infections: cluster-randomised, single-blinded intervention trial. Lancet 363:600–607

Nobre V, Harbarth S, Graf JD et al (2008) Use of procalcitonin to shorten antibiotic treatment duration in septic patients: a randomized trial. Am J Respir Crit Care Med 177:498–505

Barie P, Williams M, McCollam J et al (2004) Benefit/risk profile of drotrecogin alfa (activated) in surgical patients with severe sepsis. Am J Surg 188:212–222

Kujath P, Eckmann C, Esnaashari H, Bruch HP (2007) The value of different lavage treatment patterns in diffuse peritonitis. Zentralbl Chir 132:427–432

http://www.cdc.gov/ncidod/hip/NNIS/members/2001NNIS_report.pdf

http://www.rivm.nl/earss/Images/EARSS%202007_FINAL_tcm61-55933.pdf

Micek ST, Lloyd AE, Ritchie DJ et al (2005) Pseudomonas aeruginosa bloodstream infection: importance of appropriate initial antimicrobial treatment. Antimicrob Agents Chemother 49(4):1306–1311

Trouillet JL, Chastre J, Vuagnat A et al (1998) Ventilator-associated pneumonia caused by potentially drug-resistant bacteria. Am J Respir Crit Care Med 157:531–539

Baddour LM, Yu VL, Klugman KP et al (2004) Combination antibiotic therapy lowers mortality among severely ill patients with pneumococcal bacteremia. Am J Respir Crit Care Med 170(4):440–444

Safdar N, Handelsman J, Maki DG (2004) Does combination antimicrobial therapy reduce mortality in Gram-negative bacteraemia? A meta-analysis. Lancet Infect Dis 4(8):519–527

Paul M, Benuri-Silbiger I, Soares-Weiser K, Leibovici L (2004) Beta lactam monotherapy versus beta lactam-aminoglycoside combination therapy for sepsis in immunocompetent patients: systematic review and meta-analysis of randomised trials. BMJ 328(7441):668

Canadian Critical Care Trials Group, Heyland D, Dodek P et al (2006) A randomized trial of diagnostic techniques for ventilator-associated pneumonia. N Engl J Med 355(25):2619–2630

http://clinicaltrials.gov/ct2/show/study/NCT00534287?view=results
Danksagung
Mit Unterstützung des Kompetenznetzwerkes Sepsis (SepNet), gefördert vom Bundesministerium für Bildung und Forschung (BMBF), Förderkennzeichen: 01 KI 0106.
Interessenkonflikt
Der korrespondierende Autor gibt an, dass kein Interessenkonflikt besteht.
About this article
Cite this article
Brunkhorst, F., Welte, T. Diagnose und kausale Therapie der Sepsis. Intensivmed 46, 526–533 (2009). https://doi.org/10.1007/s00390-009-0113-5
Received:

Accepted:

Published:

Issue Date:

DOI: https://doi.org/10.1007/s00390-009-0113-5
Schlüsselwörter
Sepsis

Septischer Schock

Diagnose

Antibiotikatherapie

Antibiotikaresistenz
Keywords
Sepsis

Septic shock

Diagnosis

Antibiotic therapy

Antibiotic resistance