Abstract
Aim
To identify the optimal interval from the end of neoadjuvant chemoradiotherapy to surgery (CRT-surgery interval) based on long-term oncological outcome of locally advanced rectal cancer (LARC).
Methods
Retrospective data analysis is reported from patients diagnosed with cT3 or T4 or TxN+ rectal cancer who underwent neoadjuvant treatment and curative-intent surgery between January 2010 and December 2018. With a priority focus on the effect of interval on oncological prognosis, we used recurrence-free survival (RFS) as the primary endpoint to determine the best cutoff point of time intervals. Then, the short-term and long-term outcomes of patients from longer and shorter interval groups were compared.
Results
Data from 910 patients were analyzed, with 185 patients who achieved pCR (20.3%). The trend for increased rates of pCR for groups with a prolonged time interval was not observed (P = 0.808). X-tile determined a cutoff value of 10.5 weeks, and the population was divided into longer (> 10 weeks) and shorter (≤ 10 weeks) interval groups. The shorter interval was associated with a higher wound infection rate (4.7% vs. 1.1%, P = 0.031), but other postoperative complications did not differ between the groups. The 5-year RFS rate was significantly higher in patients in a longer group than those in the shorter weeks group (86.8% vs. 77.8%, P = 0.016). The 5-year OS rates between groups were similar (84.1% vs. 82.5%, P = 0.257). Local recurrence and lung metastases rates were higher in shorter interval group than those of longer group (local recurrence rate: 1.7% vs. 5.1%, P = 0.049; lung metastases rate: 5.7% vs. 10.7%, P = 0.047). Cox multivariate regression analysis confirmed the CRT-surgery interval (HR = 0.599, P = 0.045) to be an independent prognostic factor of RFS.
Conclusion
This study is the first, to the best of our knowledge, to define the optimal CRT-surgery interval based on RFS as the primary endpoint. Prolonging the waiting period to 10 weeks after the completion of CRT with additional chemotherapy cycles during the interval period might be a promising option to improve oncological survival in LARC patients treated with CRT and TME without compromising the surgical safety. Further randomized controlled trials investigating this are warranted to prove a clearly causality.
Access options
Buy single article
Instant access to the full article PDF.
USD 39.95
Price includes VAT (USA)
Tax calculation will be finalised during checkout.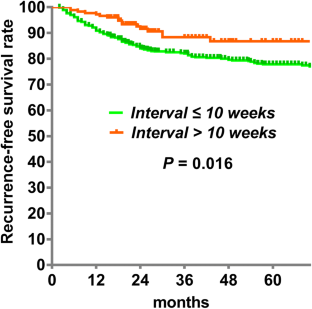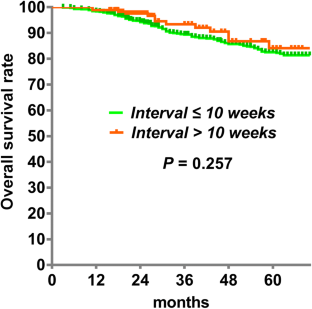 Data availability
The data used and/or analyzed during the current study are available from the corresponding author on reasonable request.
References
1.

Feeney G, Sehgal R, Sheehan M, Hogan A, Regan M, Joyce M, Kerin M (2019) Neoadjuvant radiotherapy for rectal cancer management. World J Gastroenterol 25(33):4850–4869

2.

Tjandra JJ, Kilkenny JW, Buie WD, Hyman N, Simmang C, Anthony T, Orsay C, Church J, Otchy D, Cohen J et al (2005) Practice parameters for the management of rectal cancer (revised). Dis Colon Rectum 48(3):411–423

3.

Planellas Giné P, Cornejo Fernández L, Salvador Rosés H, Buxó Pujolras M, Farrés Coll R, Hernandez Yague X, Canals Subirats E, Gil Garcia J, Rodríguez Hermosa JI, Codina Cazador A (2020) Delaying surgery by more than 10 weeks after long-course neoadjuvant radiotherapy in locally advanced rectal cancer patients improves pathologic complete response. Updat Surg 72(2):453–461

4.

Suit HD, Gallager HS (1964) Intact tumor cells in irradiated tissue. Arch Pathol 78:648–651

5.

Wang XJ, Zheng ZR, Chi P, Lin HM, Lu XR, Huang Y (2016) Effect of interval between neoadjuvant chemoradiotherapy and surgery on oncological outcome for rectal cancer: a systematic review and meta-analysis. Gastroenterol Res Pract 2016:6756859

6.

Rombouts AJM, Hugen N, Elferink MAG, Nagtegaal ID, de Wilt JHW (2016) Treatment interval between neoadjuvant chemoradiotherapy and surgery in rectal cancer patients: a population-based study. Ann Surg Oncol 23(11):3593–3601

7.

Lefèvre JH, Mineur L, Cachanado M, Denost Q, Rouanet P, de Chaisemartin C, Meunier B, Mehrdad J, Cotte E, Desrame J et al (2019) Does a longer waiting period after neoadjuvant radio-chemotherapy improve the oncological prognosis of rectal cancer?: three years' follow-up results of the Greccar-6 randomized multicenter trial. Ann Surg 270(5):747–754

8.

Lefevre JH, Mineur L, Kotti S, Rullier E, Rouanet P, de Chaisemartin C, Meunier B, Mehrdad J, Cotte E, Desrame J et al (2016) Effect of interval (7 or 11 weeks) between neoadjuvant radiochemotherapy and surgery on complete pathologic response in rectal cancer: a multicenter, randomized, controlled trial (GRECCAR-6). J Clin Oncol 34(31):3773–3780

9.

Lefevre JH, Rousseau A, Svrcek M, Parc Y, Simon T, Tiret E (2013) A multicentric randomized controlled trial on the impact of lengthening the interval between neoadjuvant radiochemotherapy and surgery on complete pathological response in rectal cancer (GRECCAR-6 trial): rationale and design. BMC Cancer 13:417

10.

Ryan ÉJ, O'Sullivan DP, Kelly ME, Syed AZ, Neary PC, O'Connell PR, Kavanagh DO, Winter DC, O'Riordan JM (2019) Meta-analysis of the effect of extending the interval after long-course chemoradiotherapy before surgery in locally advanced rectal cancer. Br J Surg 106(10):1298–1310

11.

Bujko K, Kolodziejczyk M, Nasierowska-Guttmejer A, Michalski W, Kepka L, Chmielik E, Wojnar A, Chwalinski M (2010) Tumour regression grading in patients with residual rectal cancer after preoperative chemoradiation. Radiother Oncol 95(3):298–302

12.

Wang X, Chen G, Zhang Y, Ghareeb WM, Yu Q, Zhu H, Lu X, Huang Y, Huang S, Hou D et al (2020) The impact of circumferential tumour location on the clinical outcome of rectal cancer patients managed with neoadjuvant chemoradiotherapy followed by total mesorectal excision. Eur J Surg Oncol 46(6):1118–1123

13.

Korkolis DP, Kapritsou M, Passas I, Kalafati M, Katsoulas T, Konstantinou EA (2017) Chylous ascites after laparoscopic low anterior colorectal resection for rectosigmoid carcinoma: a case report and a literature review. Gastroenterol Nurs 40(6):504–509

14.

Camp RL, Dolled-Filhart M, Rimm DL (2004) X-tile: a new bio-informatics tool for biomarker assessment and outcome-based cut-point optimization. Clin Cancer Res 10(21):7252–7259

15.

Cui J, Fang H, Zhang L, Wu YL, Zhang HZ (2016) Advances for achieving a pathological complete response for rectal cancer after neoadjuvant therapy. Chronic Dis Transl Med 2(1):10–16

16.

Sauer R, Liersch T, Merkel S, Fietkau R, Hohenberger W, Hess C, Becker H, Raab HR, Villanueva MT, Witzigmann H et al (2012) Preoperative versus postoperative chemoradiotherapy for locally advanced rectal cancer: results of the German CAO/ARO/AIO-94 randomized phase III trial after a median follow-up of 11 years. J Clin Oncol 30(16):1926–1933

17.

Tulchinsky H, Shmueli E, Figer A, Klausner JM, Rabau M (2008) An interval >7 weeks between neoadjuvant therapy and surgery improves pathologic complete response and disease-free survival in patients with locally advanced rectal cancer. Ann Surg Oncol 15(10):2661–2667

18.

de Campos-Lobato LF, Geisler DP, da Luz Moreira A, Stocchi L, Dietz D, Kalady MF (2011) Neoadjuvant therapy for rectal cancer: the impact of longer interval between chemoradiation and surgery. J Gastrointest Surg 15(3):444–450

19.

Mei SW, Liu Z, Wei FZ, Chen JN, Wang ZJ, Shen HY, Li J, Zhao FQ, Pei W, Wang Z et al (2020) Impact of interval between neoadjuvant chemoradiotherapy and surgery in rectal cancer patients. World J Gastroenterol 26(31):4624–4638

20.

Sirohi B, Barreto SG, Patkar S, Gupta A, DeSouza A, Talole S, Deodhar K, Shetty N, Engineer R, Goel M et al (2014) Down-staging following neoadjuvant chemo-radiotherapy for locally advanced rectal cancer: does timing of surgery really matter? Indian J Med Paediatr Oncol 35(4):263–266

21.

Yang J, Chen Q, Li J, Song Z, Cheng Y (2020) Short-term clinical and oncological outcome of prolonging operation interval after neoadjuvant chemoradiotherapy for locally advanced middle and low rectal cancer. Cancer Manag Res 12:2315–2325

22.

Lim SB, Choi HS, Jeong SY, Kim DY, Jung KH, Hong YS, Chang HJ, Park JG (2008) Optimal surgery time after preoperative chemoradiotherapy for locally advanced rectal cancers. Ann Surg 248(2):243–251

23.

Kwak YK, Kim K, Lee JH, Kim SH, Cho HM, Kim DY, Kim TH, Kim SY, Baek JY, Oh JH et al (2016) Timely tumor response analysis after preoperative chemoradiotherapy and curative surgery in locally advanced rectal cancer: a multi-institutional study for optimal surgical timing in rectal cancer. Radiother Oncol 119(3):512–518

24.

Gambacorta MA, Masciocchi C, Chiloiro G, Meldolesi E, Macchia G, van Soest J, Peters F, Collette L, Gérard JP, Ngan S et al (2020) Timing to achieve the highest rate of pCR after preoperative radiochemotherapy in rectal cancer: a pooled analysis of 3085 patients from 7 randomized trials. Radiother Oncol 154:154–160

25.

Ludmir EB, Palta M, Willett CG, Czito BG (2017) Total neoadjuvant therapy for rectal cancer: An emerging option. Cancer. 123(9):1497–1506

26.

Glimelius B (2017) On a prolonged interval between rectal cancer (chemo)radiotherapy and surgery. Ups J Med Sci 122(1):1–10

27.

Dossa F, Chesney TR, Acuna SA, Baxter NN (2017) A watch-and-wait approach for locally advanced rectal cancer after a clinical complete response following neoadjuvant chemoradiation: a systematic review and meta-analysis. Lancet Gastroenterol Hepatol 2(7):501–513

28.

Garcia-Aguilar J, Chow OS, Smith DD, Marcet JE, Cataldo PA, Varma MG, Kumar AS, Oommen S, Coutsoftides T, Hunt SR et al (2015) Effect of adding mFOLFOX6 after neoadjuvant chemoradiation in locally advanced rectal cancer: a multicentre, phase 2 trial. Lancet Oncol 16(8):957–966

29.

Terzi C, Bingul M, Arslan NC, Ozturk E, Canda AE, Isik O, Yilmazlar T, Obuz F, Birkay Gorken I, Kurt M et al (2020) Randomized controlled trial of 8 weeks' vs 12 weeks' interval between neoadjuvant chemoradiotherapy and surgery for locally advanced rectal cancer. Colorectal Dis 22(3):279–288

30.

Figueiredo N, Panteleimonitis S, Popeskou S, Cunha JF, Qureshi T, Beets GL, Heald RJ, Parvaiz A (2018) Delaying surgery after neoadjuvant chemoradiotherapy in rectal cancer has no influence in surgical approach or short-term clinical outcomes. Eur J Surg Oncol 44(4):484–489

31.

Matsuda T, Fujita H, Kunimoto Y, Kimura T, Ogino K (2013) Chylous ascites as a complication of laparoscopic colorectal surgery. Asian J Endosc Surg 6(4):279–284
Funding
This study was financially supported by the National Clinical Key Specialty Construction Project (General Surgery) of China (No. 2012-649), National Natural Science Foundation of China (81902378), Young Scientist Foundation of Fujian Provincial Commission of Health and Family Planning (2017-1-39, 2020QNA029), Joint Funds for the Innovation of Science and Technology, Fujian province (2017Y9038, 2017Y9103, 2019Y9101), Natural Science Foundation of Fujian Province (2020 J011030), and Medical Science Research Foundation of Beijing Medical and Health Foundation (B20062DS).
Ethics declarations
Conflict of interest
The authors declare that they have no competing interests.
Additional information
Publisher's note
Springer Nature remains neutral with regard to jurisdictional claims in published maps and institutional affiliations.
About this article
Cite this article
Wang, X., Zheng, Z., Zhu, H. et al. Timing to achieve the best recurrence-free survival after neoadjuvant chemoradiotherapy in locally advanced rectal cancer: experience in a large-volume center in China. Int J Colorectal Dis 36, 1007–1016 (2021). https://doi.org/10.1007/s00384-020-03829-y
Accepted:

Published:

Issue Date:
Keywords
Locally advanced rectal cancer

Neoadjuvant chemoradiotherapy

Time interval

Postoperative complications

Recurrence-free survival