Abstract
Introduction
Naturopathy, Yoga and Dietary interventions are known to improve the quality of life in cancer patients. We aim to evaluate the effect of naturopathy interventions along with adjuvant chemotherapy in patients who underwent surgery for Adenocarcinoma of the Colon.
Methods
A total of 116 adult patients were randomised in to one of the two groups; the experimental group received naturopathy, Yoga and Dietary interventions and the control group received psycho-social counselling in addition to standard chemotherapy. Haematological, biochemical and psychological evaluations were performed at set intervals during a total period of eighteen months starting from the first cycle of adjuvant chemotherapy.
Results
Results showed that the overall hemoglobin (p < 0.0001) and carcinoembryonic antigen (CEA) (p = 0.0038) levels were statistically significant in patients on the experimental arm. The rest of the laboratory parameters, viz. total leukocyte count, platelet counts, and serum creatinine levels, for overall data was not statistically significant in both the groups. Psychological attributes such as anxiety, depression, symptom severity, and Functional Living Index: Cancer (FLIC) were found to be statistically significant (p < 0.0001) in the experimental subjects as compared with those in the control. On the whole, men benefited more than women from the study interventions.
Conclusions
We conclude that Yoga and Naturopathy interventions in addition to chemotherapy show improvement in overall functional life index along with improvement in haemoglobin in patients with stages II and III Adenocarcinoma of Colon.
Access options
Buy single article
Instant access to the full article PDF.
US$ 39.95
Tax calculation will be finalised during checkout.
Subscribe to journal
Immediate online access to all issues from 2019. Subscription will auto renew annually.
US$ 119
Tax calculation will be finalised during checkout.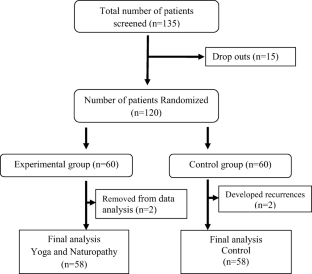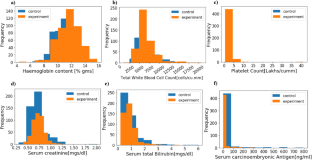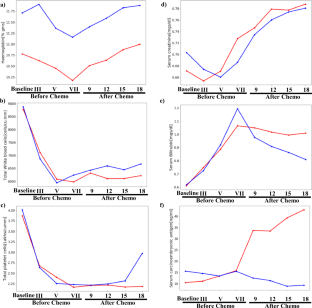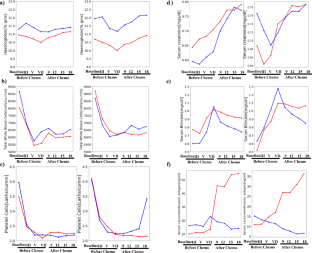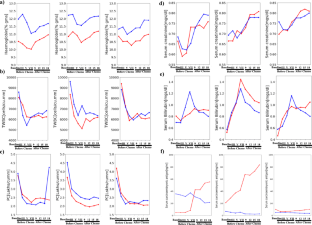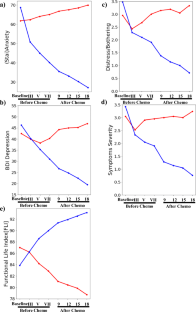 References
1.

Boyle P, Bmj ML-, 2000 Undefined ABC of colorectal cancer: Epidemiology. bmj.com

2.

Janout V, Kollárová H (2001) Epidemiology of colorectal cancer. Biomed Pap Med Fac Univ Palacky Olomouc Czech Repub 145:5–10. https://doi.org/10.5507/bp.2001.001

3.

Ma B, Gao P, Wang H, Xu Q, Song Y, Huang X, Sun J, Zhao J, Luo J, Sun Y, Wang Z (2017) What has preoperative radio(chemo)therapy brought to localized rectal cancer patients in terms of perioperative and long-term outcomes over the past decades? A systematic review and meta-analysis based on 41,121 patients. Int J Cancer 141:1052–1065. https://doi.org/10.1002/ijc.30805

4.

Watanabe T, Muro K, Ajioka Y et al (2018) Japanese Society for Cancer of the Colon and Rectum (JSCCR) guidelines 2016 for the treatment of colorectal cancer. Int J Clin Oncol 23:1–34. https://doi.org/10.1007/s10147-017-1101-6

5.

Raymond E, Faivre S, Woynarowski JM, Chaney SG (1998) Oxaliplatin: mechanism of action and antineoplastic activity. Semin Oncol 25:4–12

6.

Alotaibi A, Baumgartner A, Najafzadeh M, Cemeli E., Anderson D. (2012) In vitro investigation of DNA damage induced by the DNA cross-linking agents oxaliplatin and satraplatin in lymphocytes of colorectal cancer patients. J Cancer Ther 03:78–89. https://doi.org/10.4236/jct.2012.31011

7.

Comella P (2007) A review of the role of capecitabine in the treatment of colorectal cancer. Ther Clin Risk Manag 3:421–431

8.

Twelves C, Wong A, Nowacki MP, Abt M, Burris H III, Carrato A, Cassidy J, Cervantes A, Fagerberg J, Georgoulias V, Husseini F, Jodrell D, Koralewski P, Kröning H, Maroun J, Marschner N, McKendrick J, Pawlicki M, Rosso R, Schüller J, Seitz JF, Stabuc B, Tujakowski J, van Hazel G, Zaluski J, Scheithauer W (2005) Capecitabine as adjuvant treatment for stage III colon cancer. N Engl J Med 352:2696–2704. https://doi.org/10.1056/NEJMoa043116

9.

Sá Lilian A, Vettori Josiane C, Moreira Cláudia LR, Leandro Miraya S, Tirapelli Daniela PC, Perdoná Gleici SC, Souza Hayala CC, Oliveira Harley F, Santos Fabiana N, Rapatoni Liane, Ribeiro Karen B, Almeida Thiago CL, Feres Omar, Rocha José JRR, Peria Fernanda M (2015) Fatigue in patients with colorectal cancer treated with capecitabine and oxaliplatin. Integr Cancer Sci Ther 2. https://doi.org/10.15761/ICST.1000115

10.

Bower JE (2014) Cancer-related fatigue--mechanisms, risk factors, and treatments. Nat Rev Clin Oncol 11:597–609

11.

Othayoth R, Mathi P, Bheemanapally K, Kakarla L, Botlagunta M (2015) Characterization of vitamin-cisplatin-loaded chitosan nano-particles for chemoprevention and cancer fatigue. J Microencapsul 32:578–588. https://doi.org/10.3109/02652048.2015.1065921

12.

Robien K, Oppeneer SJ, Kelly JA, Hamilton-Reeves JM (2013) Drug-vitamin D interactions: a systematic review of the literature. Nutr Clin Pract 28:194–208

13.

Toxqui L, Vaquero MP (2015) Chronic iron deficiency as an emerging risk factor for osteoporosis: a hypothesis. Nutrients 7:2324–2344

14.

Bourke L, Thompson G, Gibson DJ, Daley A, Crank H, Adam I, Shorthouse A, Saxton J (2011) Pragmatic lifestyle intervention in patients recovering from colon cancer: a randomized controlled pilot study. Arch Phys Med Rehabil 92:749–755. https://doi.org/10.1016/j.apmr.2010.12.020

15.

Raghunath K, Sumathi C, Rajappa SJ (2019) Efficacy of yoga and naturopathy as an adjuvant in the management of non-Hodgkin's lymphoma. 9:

16.

Botlagunta M (2016) Nutraceuticals-loaded chitosan nanoparticles for chemoprevention and cancer fatigue. In: Nutraceuticals. Elsevier, pp. 783–839

17.

Kim SE, Paik HY, Yoon H, Lee JE, Kim N, Sung MK (2015) Sex- and gender-specific disparities in colorectal cancer risk. World J Gastroenterol 21:5167–5175. https://doi.org/10.3748/wjg.v21.i17.5167

18.

Stein KD, Denniston M, Baker F, Dent M, Hann DM, Bushhouse S, West M (2003) Validation of a modified Rotterdam Symptom Checklist for use with cancer patients in the United States. J Pain Symptom Manag 26:975–989. https://doi.org/10.1016/S0885-3924(03)00321-X

19.

Schipper H, Clinch J, McMurray A, Levitt M (1984) Measuring the quality of life of cancer patients: the functional living index-cancer: development and validation. J Clin Oncol 2:472–483. https://doi.org/10.1200/JCO.1984.2.5.472

20.

Sadja J, Mills PJ (2013) Effects of yoga interventions on fatigue in cancer patients and survivors: a systematic review of randomized controlled trials. Explor J Sci Heal 9:232–243

21.

Ratnakumari ME, Manavalan N, Sathyanath D, et al Study to evaluate the changes in polycystic ovarian morphology after naturopathic and yogic interventions. Int J Yoga 11:139–147. https://doi.org/10.4103/ijoy.IJOY_62_16

22.

Fleming SA, Gutknecht NC (2010) Naturopathy and the primary care practice. Prim Care - Clin Off Pract 37:119–136

23.

Yüce S, Şeker MM, Koç S et al (2014) Oxaliplatin and ototoxicity: is it really safe for hearing? Turkish J Med Sci 44:586–589. https://doi.org/10.3906/sag-1304-76

24.

Mellios T, Ko HL, Beuth J (2010) Impact of adjuvant chemo- and radiotherapy on the cellular immune system of breast cancer patients. In Vivo (Brooklyn) 24:227–230

25.

Nirmagustina DE, Yang Y, Kumrungsee T et al (2018) Gender difference and dietary supplemental vitamin B6: impact on colon luminal environment. J Nutr Sci Vitaminol (Tokyo) 64:116–128. https://doi.org/10.3177/jnsv.64.116

26.

Desch CE, Benson AB, Somerfield MR et al (2005) Colorectal cancer surveillance: 2005 update of an American Society of Clinical Oncology practice guideline. J Clin Oncol 23:8512–8519. https://doi.org/10.1200/JCO.2005.04.0063

27.

Effect of comprehensive nursing intervention on therapy and life quality of patients with breast cancer | Abstract. https://www.alliedacademies.org/abstract/effect-of-comprehensive-nursing-intervention-on-therapy-and-life-quality-of-patients-with-breast-cancer-8979.html. Accessed 5 May 2020

28.

Ko IG, Park EM, Choi HJ, Yoo J, Lee JK, Jee YS (2014) Proper exercise decreases plasma carcinoembryonic antigen levels with the improvement of body condition in elderly women. Tohoku J Exp Med 233:17–23. https://doi.org/10.1620/tjem.233.17

29.

De Cicco P, Catani MV, Gasperi V, et al (2019) Nutrition and breast cancer: a literature review on prevention, treatment and recurrence. Nutrients

30.

Rao RM, Raghuram N, Nagendra HR, Kodaganur GS, Bilimagga RS, Shashidhara HP, Diwakar RB, Patil S, Rao N (2017) Effects of a yoga program on mood states, quality of life, and toxicity in breast cancer patients receiving conventional treatment: a randomized controlled trial. Indian J Palliat Care 23:237–246. https://doi.org/10.4103/IJPC.IJPC_92_17

31.

Chaoul A, Milbury K, Sood AK, Prinsloo S, Cohen L (2014) Mind-body practices in cancer care. Curr Oncol Rep 16:417

32.

Distasio SA (2008) Integrating yoga in to cancer care. Clin J Oncol Nurs 12:125–130. https://doi.org/10.1188/08.CJON.125-130

33.

Dhruva A, Miaskowski C, Abrams D, Acree M, Cooper B, Goodman S, Hecht FM (2012) Yoga breathing for cancer chemotherapy-associated symptoms and quality of life: results of a pilot randomized controlled trial. J Altern Complement Med 18:473–479. https://doi.org/10.1089/acm.2011.0555

34.

Mooventhan A, Nivethitha L (2014) Scientific evidence-based effects of hydrotherapy on various systems of the body. N Am J Med Sci 6:199–209
Acknowledgments
The study was undertaken by Dr. K. Kalpana Raghunath, Principal Investigator, with the support of the grant In-aid sanctioned to "Addlife Naturopathy Department" part of Basavatarakam Indo-American Cancer Hospital and Research Institute under EMR scheme of Ministry of AYUSH.
Funding
This work is supported by a grant from The Ministry of Ayurveda, Yoga & Naturopathy, Unani, Siddha, Sowa Rigpa and Homeopathy (AYUSH).
Ethics declarations
Conflict of interest
The authors declare that they have no conflict of interest.
Additional information
Publisher's note
Springer Nature remains neutral with regard to jurisdictional claims in published maps and institutional affiliations.
Electronic supplementary material
About this article
Cite this article
Raghunath, K., Sumathi, C., Rajappa, S.J. et al. Impact of naturopathy, yoga, and dietary interventions as adjuvant chemotherapy in the management of stage II and III adenocarcinoma of the colon. Int J Colorectal Dis 35, 2309–2322 (2020). https://doi.org/10.1007/s00384-020-03711-x
Accepted:

Published:

Issue Date:
Keywords
Adenocarcinoma of the colon

Yoga

Naturopathy

Dietary interventions

Hematological parameters

Psychological parameters