Abstract
Purpose
Postoperative ileus (POI) is a common complication after abdominal surgery. Invasive stimulation of the cervical vagus nerve is known to reduce inflammatory response and ameliorated POI after surgery in a mouse model. However, the transcutaneous vagus nerve stimulation (tVNS) is a possible non-invasive approach. In this clinical study, we aimed to investigate the effect of tVNS on the activation of the stomach muscle in humans.
Methods
Patients requiring open laparotomy were screened for this prospective proof of concept clinical study. After open laparotomy, muscle activity of the stomach was measured by a free running electromyography (EMG) before and during tVNS on the ear. Frequency and amplitude of compound gastric action potentials were the electrophysiological parameters we assessed to reveal the changes in electro motor gastric activity. Gastrin levels as a surrogate marker for vagus nerve activation was analyzed before, 1 and 3 h after tVNS.
Results
Fourteen patients were included, no severe adverse events and no medical device related adverse events occurred. tVNS led to significant reduction of action potential frequency and significant elevation of action potential amplitude in the stomach compared to control. Gastrin levels were significantly elevated 3 h after tVNS compared to levels before tVNS.
Conclusion
Application of tVNS is a safe and feasible procedure during surgical intervention. Our results provide evidence that tVNS activates efferent visceral vagal fibers. Therefore, this low risk and easy to perform method could be useful to prevent postoperative ileus.
Clinical trial register number
DRKS00013340.
This is a preview of subscription content, log in to check access.
Access options
Buy single article
Instant access to the full article PDF.
US$ 39.95
Price includes VAT for USA
Subscribe to journal
Immediate online access to all issues from 2019. Subscription will auto renew annually.
US$ 199
This is the net price. Taxes to be calculated in checkout.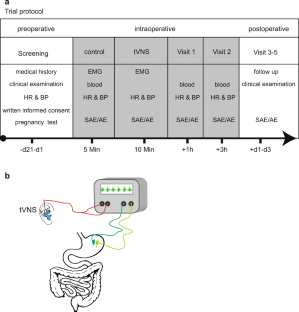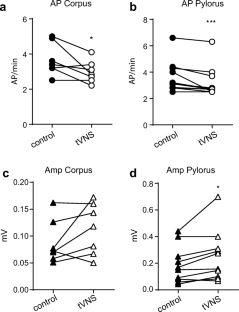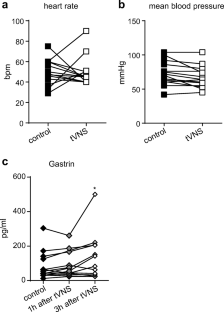 References
1.

Wehner S, Meder K, Vilz TO, Alteheld B, Stehle P, Pech T, Kalff JC (2012) Preoperative short-term parenteral administration of polyunsaturated fatty acids ameliorates intestinal inflammation and postoperative ileus in rodents. Langenbeck's Arch Surg 397(2):307–315. https://doi.org/10.1007/s00423-011-0862-z

2.

Gero D, Gie O, Hubner M, Demartines N, Hahnloser D (2017) Postoperative ileus: in search of an international consensus on definition, diagnosis, and treatment. Langenbeck's Arch Surg 402(1):149–158. https://doi.org/10.1007/s00423-016-1485-1

3.

Asgeirsson T, El-Badawi KI, Mahmood A, Barletta J, Luchtefeld M, Senagore AJ (2010) Postoperative ileus: it costs more than you expect. J Am Coll Surg 210(2):228–231. https://doi.org/10.1016/j.jamcollsurg.2009.09.028

4.

Traut U, Brugger L, Kunz R, Pauli-Magnus C, Haug K, Bucher HC, Koller MT (2008) Systemic prokinetic pharmacologic treatment for postoperative adynamic ileus following abdominal surgery in adults. Cochrane Database Syst Rev (1):CD004930. https://doi.org/10.1002/14651858.CD004930.pub3

5.

Kalff JC, Schraut WH, Simmons RL, Bauer AJ (1998) Surgical manipulation of the gut elicits an intestinal muscularis inflammatory response resulting in postsurgical ileus. Ann Surg 228(5):652–663

6.

Sanders KM, Ward SM (2006) Interstitial cells of Cajal: a new perspective on smooth muscle function. J Physiol 576(Pt 3):721–726. https://doi.org/10.1113/jphysiol.2006.115279

7.

Borovikova LV, Ivanova S, Zhang M, Yang H, Botchkina GI, Watkins LR, Wang H, Abumrad N, Eaton JW, Tracey KJ (2000) Vagus nerve stimulation attenuates the systemic inflammatory response to endotoxin. Nature 405(6785):458–462. https://doi.org/10.1038/35013070

8.

Tracey KJ (2002) The inflammatory reflex. Nature 420(6917):853–859. https://doi.org/10.1038/nature01321

9.

de Jonge WJ, van der Zanden EP, The FO, Bijlsma MF, van Westerloo DJ, Bennink RJ, Berthoud HR, Uematsu S, Akira S, van den Wijngaard RM, Boeckxstaens GE (2005) Stimulation of the vagus nerve attenuates macrophage activation by activating the Jak2-STAT3 signaling pathway. Nat Immunol 6(8):844–851. https://doi.org/10.1038/ni1229

10.

Cailotto C, Gomez-Pinilla PJ, Costes LM, van der Vliet J, Di Giovangiulio M, Nemethova A, Matteoli G, Boeckxstaens GE (2014) Neuro-anatomical evidence indicating indirect modulation of macrophages by vagal efferents in the intestine but not in the spleen. PLoS One 9(1):e87785. https://doi.org/10.1371/journal.pone.0087785

11.

Costes LM, van der Vliet J, van Bree SH, Boeckxstaens GE, Cailotto C (2014) Endogenous vagal activation dampens intestinal inflammation independently of splenic innervation in postoperative ileus. Auton Neurosci 185:76–82. https://doi.org/10.1016/j.autneu.2014.07.006

12.

McAllen RM, Cook AD, Khiew HW, Martelli D, Hamilton JA (2015) The interface between cholinergic pathways and the immune system and its relevance to arthritis. Arthritis Res Ther 17:87. https://doi.org/10.1186/s13075-015-0597-2

13.

Meregnani J, Clarencon D, Vivier M, Peinnequin A, Mouret C, Sinniger V, Picq C, Job A, Canini F, Jacquier-Sarlin M, Bonaz B (2011) Anti-inflammatory effect of vagus nerve stimulation in a rat model of inflammatory bowel disease. Auton Neurosci 160(1–2):82–89. https://doi.org/10.1016/j.autneu.2010.10.007

14.

van Westerloo DJ, Giebelen IA, Florquin S, Bruno MJ, Larosa GJ, Ulloa L, Tracey KJ, van der Poll T (2006) The vagus nerve and nicotinic receptors modulate experimental pancreatitis severity in mice. Gastroenterology 130(6):1822–1830. https://doi.org/10.1053/j.gastro.2006.02.022

15.

Zillekens A, GSH BSB, Schmidt A, Kalff JC, Wehner S (2014) Untersuchung des Effektes einer transkutanen Vagusnervstimulation auf den postoperativen Ileus im Mausmodell. Z Gastroenterol 52(08):777–784a

16.

The FO, Boeckxstaens GE, Snoek SA, Cash JL, Bennink R, Larosa GJ, van den Wijngaard RM, Greaves DR, de Jonge WJ (2007) Activation of the cholinergic anti-inflammatory pathway ameliorates postoperative ileus in mice. Gastroenterology 133(4):1219–1228. https://doi.org/10.1053/j.gastro.2007.07.022

17.

Stakenborg N, Wolthuis AM, Gomez-Pinilla PJ, Farro G, Di Giovangiulio M, Bosmans G, Labeeuw E, Verhaegen M, Depoortere I, D'Hoore A, Matteoli G, Boeckxstaens GE (2017) Abdominal vagus nerve stimulation as a new therapeutic approach to prevent postoperative ileus. Neurogastroenterol Motil 29(9). https://doi.org/10.1111/nmo.13075

18.

Der-Silaphet T, Malysz J, Hagel S, Larry Arsenault A, Huizinga JD (1998) Interstitial cells of cajal direct normal propulsive contractile activity in the mouse small intestine. Gastroenterology 114(4):724–736

19.

Bodin C, Aubert S, Daquin G, Carron R, Scavarda D, McGonigal A, Bartolomei F (2015) Responders to vagus nerve stimulation (VNS) in refractory epilepsy have reduced interictal cortical synchronicity on scalp EEG. Epilepsy Res 113:98–103. https://doi.org/10.1016/j.eplepsyres.2015.03.018

20.

Becker HD, Borger HW, Schafmayer A (1979) Effect of vagotomy on gastrointestinal hormones. World J Surg 3(5):615–622

21.

Xiaoli L, Wu CW, Kim HY, Tian W, Chiang FY, Liu R, Anuwong A, Randolph GW, Dionigi G, Lavazza M (2017) Gastric acid secretion and gastrin release during continuous vagal neuromonitoring in thyroid surgery. Langenbeck's Arch Surg 402(2):265–272. https://doi.org/10.1007/s00423-017-1555-z

22.

Bonaz B, Sinniger V, Hoffmann D, Clarencon D, Mathieu N, Dantzer C, Vercueil L, Picq C, Trocme C, Faure P, Cracowski JL, Pellissier S (2016) Chronic vagus nerve stimulation in Crohn's disease: a 6-month follow-up pilot study. Neurogastroenterol Motil 28(6):948–953. https://doi.org/10.1111/nmo.12792

23.

Bonaz B, Sinniger V, Pellissier S (2017) The vagus nerve in the neuro-immune axis: implications in the pathology of the gastrointestinal tract. Front Immunol 8:1452. https://doi.org/10.3389/fimmu.2017.01452

24.

Koopman FA, Chavan SS, Miljko S, Grazio S, Sokolovic S, Schuurman PR, Mehta AD, Levine YA, Faltys M, Zitnik R, Tracey KJ, Tak PP (2016) Vagus nerve stimulation inhibits cytokine production and attenuates disease severity in rheumatoid arthritis. Proc Natl Acad Sci U S A 113(29):8284–8289. https://doi.org/10.1073/pnas.1605635113
Acknowledgements
We thank Inomed for providing us with the ISIS IOM System®, especially Mrs. C. Wegner for her technical support. We also thank Mrs. Warnken Uhlich and Uta Wolber from the Study Center Bonn.
Funding
This study was supported by a grant from BONFOR (grant number: O-112.0059.1) to GH.
Ethics declarations
Conflicts of interest
GH received research grant support by PlantTec Medical GmbHSW and JCK received royalties from Wolters Kluwer for writing articles about POI in UpToDate® resource tool.
Ethical approval
All procedures performed in studies involving human participants were in accordance with the ethical standards of the institutional and/or national research committee and with the 1964 Helsinki declaration and its later amendments or comparable ethical standard. The study was approved by the federal institute for Drugs and Medical Devices (BfArM) (CIV-1504-013367) and the local ethical board (179/15-MPG).
Informed consent
Informed consent was obtained from all individual participants included in the study.
About this article
Cite this article
Hong, G., Pintea, B., Lingohr, P. et al. Effect of transcutaneous vagus nerve stimulation on muscle activity in the gastrointestinal tract (transVaGa): a prospective clinical trial. Int J Colorectal Dis 34, 417–422 (2019). https://doi.org/10.1007/s00384-018-3204-6
Accepted:

Published:

Issue Date:
Keywords
Transcutaneous vagus nerve stimulation

Neurogastroenterology

Postoperative ileus

Clinical trial