Abstract
Purpose
To determine the impact of expectant management surveillance for patients at risk for squamous cell carcinoma of the anus (SCCA).
Methods
Adult patients at risk for anal cancer, specifically those with human immunodeficiency virus (HIV) or known human papilloma virus (HPV) infections (anal dysplasia, anogenital warts, cervical dysplasia, or cervical cancer), underwent expectant management surveillance with targeted therapy of only grossly abnormal or symptomatic anoderm lesions. A retrospective analysis investigated the SCCA incidence in these surveilled populations and in the general population patients without known HIV or HPV infection.
Results
There were 452 incident SCCA in a population of 5,978,510 patients (mean follow-up per patient of 5.4 years). Four hundred ten cancers (90.7%) developed in 5,750,501 HIV-negative patients without documented history of HPV infection (cumulative incidence 0.007%). In at-risk patient populations, the cumulative incidence was 0.69% in patients with anal dysplasia (6 out of 872 patients), 0.14% in HIV+ patients (8 out of 5626 patients), and less than 0.1% in the remaining at-risk groups: cervical cancer (1 out of 1168 patients), cervical dysplasia (14 out of 125,604 patients), and genital warts (14 out of 94,739 patients).
Conclusions
Expectant management surveillance, with targeted treatment for symptomatic or abnormal lesions, is an effective strategy for the diagnosis of anal cancer in at-risk patient populations. In this study, most patients who developed anal cancer had no known risk factors. A screening strategy for the general population needs to be further delineated.
This is a preview of subscription content, log in to check access.
Access options
Buy single article
Instant access to the full article PDF.
US$ 39.95
Price includes VAT for USA
Subscribe to journal
Immediate online access to all issues from 2019. Subscription will auto renew annually.
US$ 199
This is the net price. Taxes to be calculated in checkout.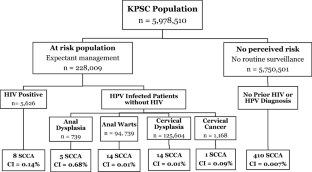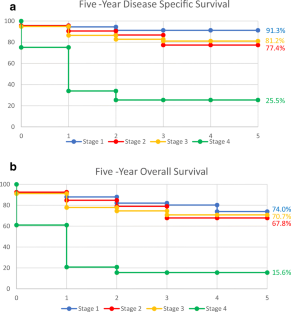 References
1.

Lowy DR, Schiller JT (2017) Preventing cancer and other diseases caused by human papilloma virus infection. JAMA 318(10):901–902

2.

Cachay ER, Mathews WC (2013) Human papillomavirus, anal cancer, and screening considerations among HIV-infected individuals. AIDS Rev 15(2):122–133

3.

Palefsky JM, Giuliano AR, Goldstone S, Moreira ED Jr, Aranda C, Jessen H, Hillman R, Ferris D, Coutlee F, Stoler MH, Marshall JB, Radley D, Vuocolo S, Haupt RM, Guris D, Garner EIO (2011) HPV vaccine against anal HPV infection and anal intraepithelial neoplasia. N Engl J Med 365:1576–1585

4.

Shiels MS, Kreimer AR, Coghill AE, Darragh TM, Devesa SS (2015) Anal cancer incidence in the United States, 1977–2011: distinct patterns by histology and behavior. Cancer Epidemiol Biomark Prev 24(10):1548–1556

5.

National Cancer Institute: Surveillance, Epidemiology, and End Results Program. https://seer.cancer.gov/statfacts/html/anus. Updated 2018. Accessed August 6, 2018

6.

May MT, Gompels M, Delpech V, Porter K, Orkin C, Kegg S, Hay P, Johnson M, Palfreeman A, Gilson R, Chadwick D, Martin F, Hill T, Walsh J, Post F, Fisher M, Ainsworth J, Jose S, Leen C, Nelson M, Anderson J, Sabin C (2014) Impact on life expectancy of HIV-1 positive individuals of CD4+ cell count and viral load response to antiretroviral therapy. AIDS 28(8):1193–1202

7.

Stewart DB, Gaertner WB, Glasgow SC, Herzig DO, Feingold D, Steele SR (2018) The American Society of Colon and Rectal Surgeons clinical practice guidelines for anal squamous cell cancers. Dis Colon Rectum 61:755–774

8.

Saslow D, Solomon D, Lawson HW et al (2012) American Cancer Society, American Society of Colposcopy and Cervical Pathology, and American Society for Clinical Pathology Screening Guidelines for the prevention and early detection of cervical cancer. CA Cancer J Clin 62(3):147–172

9.

Tsu V, Jeronimo J (2016) Saving the world's women from cervical cancer. N Engl J Med 374:2509–2511

10.

Alam NN, White DA, Narang SK, Daniels IR, Smart NJ (2016) Systematic review of guidelines for the assessment and management of high-grade anal intraepithelial neoplasia (AIN II/III). Color Dis 18(2):135–146

11.

Palefsky JM, Holly EA, Ralston ML, Jay N (1998) Prevalence and risk factors for human papillomavirus infection of the anal canal in human immunodeficiency virus (HIV)- positive and HIV-negative homosexual men. JID 177:361–367

12.

Hernandez BY, McDuffie K, Zhu X et al (2005) Anal human papillomavirus infection in women and its relationship with cervical infection. Cancer Epidemiol Biomark Prev 14(11):2550–2556

13.

Patel HS, Silver AR, Northover JM (2007) Anal cancer in renal transplant patients. Int J Color Dis 22(1):1–5

14.

Machalek DA, Poynten M, Jin F, Fairley CK, Farnsworth A, Garland SM, Hillman RJ, Petoumenos K, Roberts J, Tabrizi SN, Templeton DJ, Grulich AE (2012) Anal human papillomavirus infection and associated neoplastic lesions in men who have sex with men: a systematic review and meta-analysis. Lancet Oncol 13:487–500

15.

Crum-Cianflone NF, Hullsiek KH, Marconi VC, Ganesan A, Weintrob A, Barthel RV, Agan BK (2010) Anal cancers among HIV-infected persons: HAART is not slowing rising incidence. AIDS 24:535–543

16.

Pineda CE, Berry JM, Jay N, Palefsky JM, Welton ML (2008) High-resolution anoscopy targeted destruction of anal HGSIL: a ten-year experience. Dis Colon Rectum 51:829–837

17.

Goldstone SE, Johnstone AA, Moshier EL (2014) Long-term outcome of ablation of HGSIL: recurrence and incidence of cancer. Dis Colon Rectum 57:316–323

18.

Dalla Pria A, Alfa-Wali M, Fox P, Holmes P, Weir J, Francis N, Bower M (2014) High-resolution anoscopy screening of HIV-positive MSM: longitudinal results from a pilot study. AIDS 28:861–867

19.

Devaraj B, Cosman BC (2006) Expectant management of anal squamous dysplasia in patients with HIV. Dis Colon Rectum 49(1):36–40

20.

Crawshaw BP, Russ AJ, Stein SL, Reynolds HL, Marderstein EL, Delaney CP, Champagne BJ (2015) High resolution anoscopy or expectant management for AIN for the prevention of anal cancer: is there a difference? Dis Colon Rectum 58:53–59

21.

Henry KA, Swiecki-Sikora AL, Stroup AM, Warner EL, Kepka D (2017) Area-based socioeconomic factors and human papillomavirus (HPV) vaccination among teen boys in the United States. BMC Public Health 18:19

22.

Deshmukh AA, Cantor SB, Fenwick E, Chiao EY, Nyitray AG, Stier EA, Goldstone SE, Wilkin T, Chhatwal J (2017) Adjuvant HPV vaccination for anal cancer prevention in HIV-positive men who have sex with men: the time is now. Vaccine 35:5102–5109

23.

Fazendin EA, Crean AJ, Fazendin JM, Kucejko RJ, Gill HS, Poggio JL, Stein DE (2017) Condyloma acuminatum, anal intraepithelial neoplasia, and anal cancer in the setting of HIV: do we really understand the risk? Dis Colon Rectum 60:1078–1082

24.

Scholefield JH, Castle MT, Watson NFS (2005) Malignant transformation of high-grade AIN. Br J Surg 92:1133–1136

25.

Watson AJ, Smith BB, Whitehead MR, Sykes PH, Frizelle FA (2006) Malignant progression of anal intraepithelial neoplasia. ANZ J Surg 76:715–717

26.

http://www.cancer-rates.info/ca/ Data from 2005 through 2015. Accessed August 6, 2018

27.

Fleshman J (2015) Considering standards of care for anal cancer. JAMA Surg 150(6):569

28.

Cleary RK, Schaldenbrand JD, Fowler JJ, Schuler JM, Lampman RM (2000) Treatment options for perianal Bowen's disease: survey of ASCRS members. Am Surg 66(7):686–688

29.

Berry JM, Jay N, Cranston RD, Darragh TM, Holly EA, Welton ML, Palefsky JM (2014) Progression of anal high-grade squamous intraepithelial lesions to invasive anal cancer among HIV-infected who have sex with me. Int J Cancer 134:1147–1155

30.

Mathews WC, Agmas W, Cachay E (2011) Comparative accuracy of anal and cervical cytology in screening for moderate to severe dysplasia by magnification guided punch biopsy: a meta-analysis. PLoS One 6:e24946

31.

Palefsky JM (2012) Practicing high-resolution anoscopy. Sex Health 9:580–586

32.

Marchesa P, Fazio VW, Oliart S, Goldblum JR, Lavery IC (1997) Perianal Bowen's disease: a clinicopathologic study of 47 patients. Dis Colon Rectum 40:1286–1293

33.

Chang GJ, Berry JM, Jay N, Palefsky JM, Welton ML (2002) Surgical treatment of high-grade anal squamous intraepithelial lesions: a prospective study. Dis Colon Rectum 45:453–458

34.

Singh JC, Kuohung V, Palefsky JM (2009) Efficacy of trichloroacetic acid in the treatment of AIN in HIV-positive and HIV-negative MSM. JAIDS 52:474–479

35.

Richel O, de Vries HJ, van Noesel CJ, Dijkgraaf, and Prins JM. Comparison of imiquimod, topical fluorouracil, and electrocautery for the treatment of AIN in HIV-positive MSM. Lancet Oncol 2013; 14: 346–353

36.

Goldstone SE, Kawalek AZ, Huyett JW (2005) Infrared coagulator™: a useful tool for treating anal squamous intraepithelial lesions. Dis Colon Rectum 48:1042–1051

37.

Goldstone RN, Hasan SR, Drury S, Darragh TM, van Zante A, and Goldstone SE. A trial of radiofrequency ablation for AIN. Int J Color Dis 2017; 32: 357–365

38.

Kulasingam S, Havrilesky L, Ghebre R, et al. Screening for cervical cancer: a decision analysis for the US preventive services task force. Agency for Healthcare Research and Quality, Pub No. 11–05157-EF-1. May 2011
Acknowledgements
The authors would like to thank Michael Batech and Su-Jau Yang for their support in data collection and statistical analysis.
Ethics declarations
Conflict of interest
The authors declare that they have no conflict of interest.
About this article
Cite this article
Tomassi, M.J., Abbas, M.A. & Klaristenfeld, D.D. Expectant management surveillance for patients at risk for invasive squamous cell carcinoma of the anus: a large US healthcare system experience. Int J Colorectal Dis 34, 47–54 (2019). https://doi.org/10.1007/s00384-018-3167-7
Accepted:

Published:

Issue Date:
Keywords
Anal cancer

HIV

HPV

Anal intraepithelial neoplasia

Expectant management