Abstract
Purpose
A loop colostomy may reduce the risk of severe intraabdominal complications in patients with obstructing colorectal cancer compared to an end colostomy. The aim of this study was to relate complications to the type of stoma, and a secondary aim was to evaluate whether the type of colostomy had an impact on time until oncological/surgical treatment.
Methods
All patients who underwent surgery and received a deviating colostomy due to obstructing colorectal cancer between January 2011 and December 2015 in five Swedish hospitals in Region Västra Götaland were included (n = 289). Patient charts were reviewed retrospectively. Patients alive in the end of 2016 were contacted and were sent a questionnaire including questions about stoma function and health-related quality of life.
Results
Some 289 patients were included; 147 received an end colostomy and 140 a loop colostomy. Two patients were excluded from the analysis due to missing data. There was no difference in complications at 90 days between the two groups, 44% (end colostomy) and 54% (loop colostomy) (odds ratio: 0.83 (95% CI: 0.49; 1.41). Time to start of treatment was similar in both groups. Patients with a loop colostomy had significantly higher stoma-related morbidity with retraction, prolapse, leakage and bandaging problems. No differences in quality of life were found.
Conclusion
The hypothesis that a loop colostomy reduced complications could not be confirmed. An end colostomy should be the first choice in these patients particularly in patients who will have their colostomy for the remainder of their life to reduce stoma-related symptoms.
This is a preview of subscription content, log in to check access.
Access options
Buy single article
Instant access to the full article PDF.
US$ 39.95
Tax calculation will be finalised during checkout.
Subscribe to journal
Immediate online access to all issues from 2019. Subscription will auto renew annually.
US$ 199
Tax calculation will be finalised during checkout.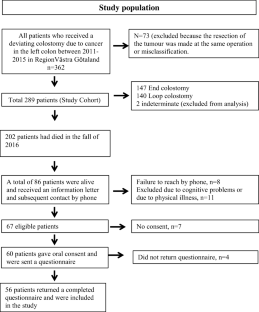 References
1.

Ansaloni L, Andersson RE, Bazzoli F, Catena F, Cennamo V, Di Saverio S, Fuccio L, Jeekel H, Leppaniemi A, Moore E, Pinna AD, Pisano M, Repici A, Sugarbaker PH, Tuech JJ (2010) Guidelenines in the management of obstructing cancer of the left colon: consensus conference of the world society of emergency surgery (WSES) and peritoneum and surgery (PnS) society. World J Emerg Surg 5:29. https://doi.org/10.1186/1749-7922-5-29

2.

Sjo OH, Larsen S, Lunde OC, Nesbakken A (2009) Short term outcome after emergency and elective surgery for colon cancer. Colorectal Dis 11(7):733–739. https://doi.org/10.1111/j.1463-1318.2008.01613.x

3.

Umpleby HC, Williamson RC (1984) Survival in acute obstructing colorectal carcinoma. Dis Colon Rectum 27(5):299–304

4.

Breitenstein S, Rickenbacher A, Berdajs D, Puhan M, Clavien PA, Demartines N (2007) Systematic evaluation of surgical strategies for acute malignant left-sided colonic obstruction. Br J Surg 94(12):1451–1460. https://doi.org/10.1002/bjs.6007

5.

Kronborg O (1995) Acute obstruction from tumour in the left colon without spread. A randomized trial of emergency colostomy versus resection. Int J Color Dis 10(1):1–5

6.

Mukai M, Himeno S, Mukoyama S, Tajima T, Saito Y, Ito I, Nakasaki H, Makuuchi H (2003) Is temporary loop colostomy of the right transverse colon appropriate for complete obstruction by colorectal cancer? Oncol Rep 10(3):693–698

7.

Chereau N, Lefevre JH, Lefrancois M, Chafai N, Parc Y, Tiret E (2013) Management of malignant left colonic obstruction: is an initial temporary colostomy followed by surgical resection a better option? Colorectal Dis 15(11):e646–e653. https://doi.org/10.1111/codi.12335

8.

Tan CJ, Dasari BV, Gardiner K (2012) Systematic review and meta-analysis of randomized clinical trials of self-expanding metallic stents as a bridge to surgery versus emergency surgery for malignant left-sided large bowel obstruction. Br J Surg 99(4):469–476. https://doi.org/10.1002/bjs.8689

9.

Fucini C, Gattai R, Urena C, Bandettini L, Elbetti C (2008) Quality of life among five-year survivors after treatment for very low rectal cancer with or without a permanent abdominal stoma. Ann Surg Oncol 15(4):1099–1106. https://doi.org/10.1245/s10434-007-9748-2

10.

Pachler J, Wille-Jorgensen P (2005) Quality of life after rectal resection for cancer, with or without permanent colostomy. Cochrane Database Syst Rev 2:Cd004323. https://doi.org/10.1002/14651858.CD004323.pub3

11.

Brady RR, Collie MH, Ho GT, Bartolo DC, Wilson RG, Dunlop MG (2008) Outcomes of the rectal remnant following colectomy for ulcerative colitis. Colorectal Di 10(2):144–150. https://doi.org/10.1111/j.1463-1318.2007.01224.x

12.

McKee RF, Keenan RA, Munro A (1995) Colectomy for acute colitis: is it safe to close the rectal stump? Int J Color Dis 10(4):222–224

13.

Wojdemann M, Wettergren A, Hartvigsen A, Myrhoj T, Svendsen LB, Bulow S (1995) Closure of rectal stump after colectomy for acute colitis. Int J Color Dis 10(4):197–199

14.

Dindo D, Clavien PA (2008) What is a surgical complication? World J Surg 32(6):939–941. https://doi.org/10.1007/s00268-008-9584-y

15.

Steineck G, Helgesen F, Adolfsson J, Dickman PW, Johansson JE, Norlen BJ, Holmberg L, Scandinavian Prostatic Cancer Group Study N (2002) Quality of life after radical prostatectomy or watchful waiting. N Engl J Med 347(11):790–796. https://doi.org/10.1056/NEJMoa021483

16.

Asplund D, Prytz M, Bock D, Haglind E, Angenete E (2015) Persistent perineal morbidity is common following abdominoperineal excision for rectal cancer. Int J Color Dis 30:1563–1570. https://doi.org/10.1007/s00384-015-2328-1

17.

Angenete E, Correa-Marinez A, Heath J, Gonzalez E, Wedin A, Prytz M, Asplund D, Haglind E (2012) Ostomy function after abdominoperineal resection--a clinical and patient evaluation. Int J Color Dis 27(10):1267–1274. https://doi.org/10.1007/s00384-012-1463-1

18.

Louis DJ, Hsu A, Brand MI, Saclarides TJ (2009) Morbidity and mortality in octogenarians and older undergoing major intestinal surgery. Dis Colon Rectum 52(1):59–63. https://doi.org/10.1007/DCR.0b013e31819754d4

19.

McArdle CS, Hole DJ (2004) Emergency presentation of colorectal cancer is associated with poor 5-year survival. Br J Surg 91(5):605–609. https://doi.org/10.1002/bjs.4456

20.

Shabbir J, Britton DC (2010) Stoma complications: a literature overview. Colorectal Dis 12(10):958–964. https://doi.org/10.1111/j.1463-1318.2009.02006.x

21.

Shellito PC (1998) Complications of abdominal stoma surgery. Dis Colon Rectum 41(12):1562–1572

22.

Robertson I, Leung E, Hughes D, Spiers M, Donnelly L, Mackenzie I, Macdonald A (2005) Prospective analysis of stoma-related complications. Colorectal Dis 7(3):279–285. https://doi.org/10.1111/j.1463-1318.2005.00785.x

23.

Duchesne JC, Wang YZ, Weintraub SL, Boyle M, Hunt JP (2002) Stoma complications: a multivariate analysis. Am Surg 68(11):961–966 discussion 966

24.

Carlsson E, Fingren J, Hallen AM, Petersen C, Lindholm E (2016) The prevalence of Ostomy-related complications 1 year after Ostomy surgery: a prospective, descriptive, clinical study. Ostomy Wound Manage 62(10):34–48

25.

Yau T, Watkins D, Cunningham D, Barbachano Y, Chau I, Chong G (2009) Longitudinal assessment of quality of life in rectal cancer patients with or without stomas following primary resection. Dis Colon Rectum 52(4):669–677. https://doi.org/10.1007/DCR.0b013e31819eb970

26.

Cornish JA, Tilney HS, Heriot AG, Lavery IC, Fazio VW, Tekkis PP (2007) A meta-analysis of quality of life for abdominoperineal excision of rectum versus anterior resection for rectal cancer. Ann Surg Oncol 14(7):2056–2068. https://doi.org/10.1245/s10434-007-9402-z

27.

Marinez AC, Gonzalez E, Holm K, Bock D, Prytz M, Haglind E, Angenete E (2016) Stoma-related symptoms in patients operated for rectal cancer with abdominoperineal excision. Int J Color Dis 31(3):635–641. https://doi.org/10.1007/s00384-015-2491-4

28.

Asplund D, Bisgaard T, Bock D, Burcharth J, Gonzalez E, Haglind E, Kolev Y, Matthiessen P, Rosander C, Rosenberg J, Smedh K, Sorensson MA, Angenete E (2017) Pretreatment quality of life in patients with rectal cancer is associated with intrusive thoughts and sense of coherence. Int J Color Dis 32(11):1639–1647. https://doi.org/10.1007/s00384-017-2900-y

29.

Concato J, Shah N, Horwitz RI (2000) Randomized, controlled trials, observational studies, and the hierarchy of research designs. N Engl J Med 342(25):1887–1892. https://doi.org/10.1056/nejm200006223422507
Ethics declarations
Ethical considerations
This study has been approved by the ethical committee of Gothenburg EPN 412-15 and all patients included in the questionnaire part of the study gave informed consent.
Funding
Agreement concerning research and education of doctors, ALFGBG-493341 and 426501, VGRFoU and the Swedish Cancer Society CAN 2016/509.
Knut and Alice Wallenbergs Foundation.
Anna-Lisa och Bror Björnssons Foundation.
About this article
Cite this article
Correa-Marinez, A., Grenabo, J., Bock, D. et al. The type of stoma matters—morbidity in patients with obstructing colorectal cancer. Int J Colorectal Dis 33, 1773–1780 (2018). https://doi.org/10.1007/s00384-018-3164-x
Accepted:

Published:

Issue Date:
Keywords
Diverting stoma

Colorectal tumour

Postoperative complications

Stoma complications

Quality of life